NORML, or the National Organization for the Reform of Marijuana Laws, is a non-profit organisation dedicated to establishing fairer, evidence-based laws regarding cannabis. Although the organisation is based in Washington, USA, chapters in other several other countries including Canada, the UK and Australia are now established.
The Original US Chapter
NORML was founded in 1970 by Keith Stroup, an Illinois-based attorney, who decided to establish the organisation after meeting the political activist (and popular independent candidate for the Presidency of the USA) Ralph Nader. After seeing Nader's efforts in founding consumer protection groups, Stroup was inspired to create a similarly set-up organisation that would treat the rights of cannabis users as any other consumer interest group.
NORML's organisational structure served as an example for the formation of several other national and regional branches, known as chapters. Currently, there are 185 chapters and a Legal Committee of 550 lawyers operating under the NORML banner.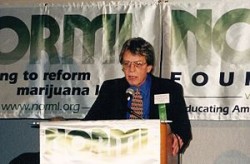 Founding & Notable Members
Executive Directors
Stroup served as executive director until 1979, when he was dismissed by the board of directors following a controversial episode: in response to a political disagreement with then-President Jimmy Carter's drug adviser Peter Bourne over the spraying of Mexican cannabis fields with the herbicide Paraquat, Stroup informed the press that Bourne had taken cocaine at a NORML Christmas Party. Bourne was dismissed from his post, followed shortly by Stroup.
Stroup rejoined NORML on the board of directors in 1994, and a year later reassumed the position of executive director, which he held until 2005. He remains active in the cannabis legalisation process, and continues to provide legal advice to NORML and give lectures at events.
He was succeeded by Allen St. Pierre, who has held the position since 2005. St. Pierre has been an active member of NORML since 1991, when he joined the board of directors as Communications Director; he then worked his way up to become Deputy National Director in 1993, Executive Director of the newly-founded NORML Foundation—NORML's tax-exempt division—in 1997, and finally Executive Director of NORML itself in 2005.
Notable Board Members
Other notable members of NORML include Philip Hart, Democratic Senator for Michigan from 1959 until his death in 1976, who was popularly known as the "Conscience of the Senate" for his outspoken dedication to civil and consumer rights, as well as the furthering of environmental protection laws; Jacob K. Javitz, liberal Republican Senator for New York from 1957 to 1981, who was well-known for his progressive views on social issues and the role of the federal government in ameliorating living conditions for the general public; and Ross Mirkarimi, current Sheriff of San Francisco and former member of the San Francisco Board of Supervisors.
Ross Mirkarimi has a long history of involvement in the cannabis legalisation process: in 2006, he was honoured with NORML's Rufus King Award, in recognition of his cannabis-friendly approach to in 2009, he proposed legislation that would have made San Francisco the first city to legally distribute cannabis to the public.
The NORML Foundation
Established in 1997, the NORML Foundation is the tax-exempt branch of NORML, dealing with research and educational activities. In 1998, the Foundation published the NORML Report on U.S. Domestic Marijuana Production, a well-known and widely-cited report estimating the number and value of the cannabis plants grown in the USA that year.
In 2005, the Foundation released another notable report, Crimes of Indiscretion: Marijuana Arrests in America, followed the subsequent year by Emerging Clinical Applications For Cannabis, a thorough breakdown of contemporary research into the medicinal applications of cannabis and cannabinoids.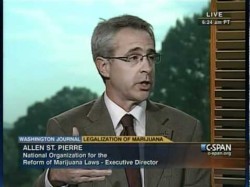 Notable Works and Achievements
In 1970, the year NORML was founded, the Controlled Substances Act was also passed into law. The Act required a presidential commission, which was named the Shafer Commission after its Chairman, Raymond P. Shafer. In 1972, the Shafer Commission recommended that cannabis be decriminalised for personal use; NORML was instrumental in ensuring that all fifty U.S. states were fully informed of the report's findings. Partly due to these efforts, eleven states enacted decriminalisation laws, in a trend that ended when Reagan took office in 1981.
Also in 1972, NORML brought the first ever lawsuit against the DEA demanding that cannabis be rescheduled for medicinal use, and in 1975, the organisation provided vital legal assistance to a Washington, DC resident named Robert Randall, who subsequently became the first ever legal medical cannabis patient.
In 1988, DEA judge Francis Young ruled that NORML's petition to recognise cannabis as a medicine was valid, and that the plant should be rescheduled. However, the DEA and the Reagan administration appealed the decision and cannabis remained a Schedule I narcotic. In 2011, NORML was instrumental in getting the first ever full cannabis legalisation bill introduced to the U.S. Congress.
The work of organisations such as NORML and their various branches—as well as that of other non-profits like the Cannabis College in Amsterdam—is crucial to establishing fairer and more liberal cannabis laws across the world. Without the determined and committed efforts of these organisations, the current trend for liberalisation and decriminalisation of drugs would certainly be far less advanced, and global awareness of cannabis issues would be far lower.