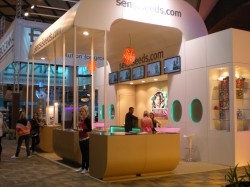 The second annual Cannafest cannabis fair was a great success and thoroughly enjoyed by visitors and the Sensi Seeds expo staff alike. The large, mostly Czech crowd had plenty of room to explore the gigantic venue and mingle among expo booths from hemp and cannabis related vendors from around the world.
The atmosphere was happy and bustling, especially around the brand new Sensi Seeds expo booth where the fabulous Sensi promo girls assisted with translation as well as handing out posters and T-shirts to visitors.
The new booth proved a hit with everyone; featuring large flatscreens and at nearly twice the size of the last one, it enables assistance and information to be given to more people than ever while providing a welcoming and pleasant space to relax.
The Sensi Seeds top selling strain during Cannafest 2011 was the Early Skunk, one of this month's featured cannabis strains. Extremely popular even without a discount, this reliable, easy and heavy-yielding classic can now be enjoyed for 15% less than the usual price!