Amsterdam's word-famous Cannabis College is brightening up the November gloom with four days of music, film, and presentations about the many uses of the cannabis plant. Beginning on Monday 21st November 2011, the Cannabis College – a reliable source of free, unbiased cannabis information for over a decade – will explore a different facet of cannabis each day.
The first is the history of cannabis and the special place it holds in the Netherlands, where recreational use and industrial use have both shaped the country. From the essential role that industrial hemp played in the shipping industry to the groundbreaking cannabis tolerance policy that is being threatened by the current government after thirty years of success – this promises to be a lively and colourful presentation.
Cannabis genetics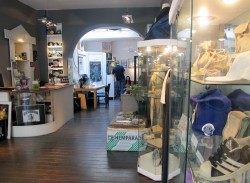 Tuesday 22nd November is devoted to marijuana strains and the complex and fascinating field of cannabis genetics, where breakthroughs occur with increasing regularity, the latest being the advances in genetic mapping of cannabis DNA. On Wednesday 23rd November the focus turns to medicinal marijuana, both its past and future. The use of cannabis for its medicinal properties dates back to the beginning of medicine itself, and modern research continues to uncover new applications.
Hash making
The presentations end on a fun and practical note on Thursday 24th November, as recreational use and hash making are given centre stage. Recreational use of cannabis is often a controversial subject, yet has its roots in the spiritual and creative development in the human race. The history of hash-making is almost as ancient as that of herbal cannabis and modern methods of collecting THC-rich resin allow more parts of the plant to be used and a purer product to be obtained. As well as being more efficient, this is also safer for the consumer as they can be sure that no contaminants have been added; hash bought on the street often contains a large amount of non-cannabis ingredients, many of which are harmful to consume.
Live music
During the day and every evening, local DJs will provide music to keep the mood lively. Following the presentations, the focus shifts from education to relaxation as from 19:00 to 21:00 the Cannabis College hosts vaporizer demonstrations. For those attending the Cannabis Cup, also taking place this week, these sessions make an ideal 'pre-party' for the events at the Melkweg later in the evening.
Cannabis Garden
As an added bonus for Cannabis Cup judges, the Cannabis College is granting free admission to their Cannabis Garden to visitors with a Judge pass during the event. The garden is still open to the public for a small donation, and all the presentations are free to attend.
The Cannabis College is a non-profit organization which relies on donations and sponsorship to continue its work. Sister company Sensi Seeds is proud to be the main sponsor of the Cannabis College.