MARIJUANA MARCH On both sides of the street, shoppers stop to watch in amazement at the brazen display of law breaking during Madrid's 22nd global Marijuana March on Saturday May 5th. Sitting cross-legged on the tarmac in the middle of Gran Via, Javi Puig, president of Galicia's branch of the Federation of Cannabis Associations (ConFAC), is the first to pull out his papers and roll a joint.
Police vans block traffic at either end of the long boulevard. Dozens of marchers sit on the ground around Puig, and behind them a 1,000-strong crowd of cannabis activists, a motley crew of longhaired hippies and tattooed college kids dressed in black with mohawks or dreadlocks, who chant and hold signs calling for the end of marijuana prohibition.
Now in its 22nd year, Madrid's global Marijuana March is a celebration of a parallel universe where cannabis is legal and cultivators can grow weed without risk of incurring problems with the law. The first March took place in 1996, and was organized by Fernando Aranaz Martin a.k.a. Lucky, founding member of Madrid's oldest cannabis association, Associacion Madrilena de Estudios de Cannabis, or as it's commonly known, AMEC.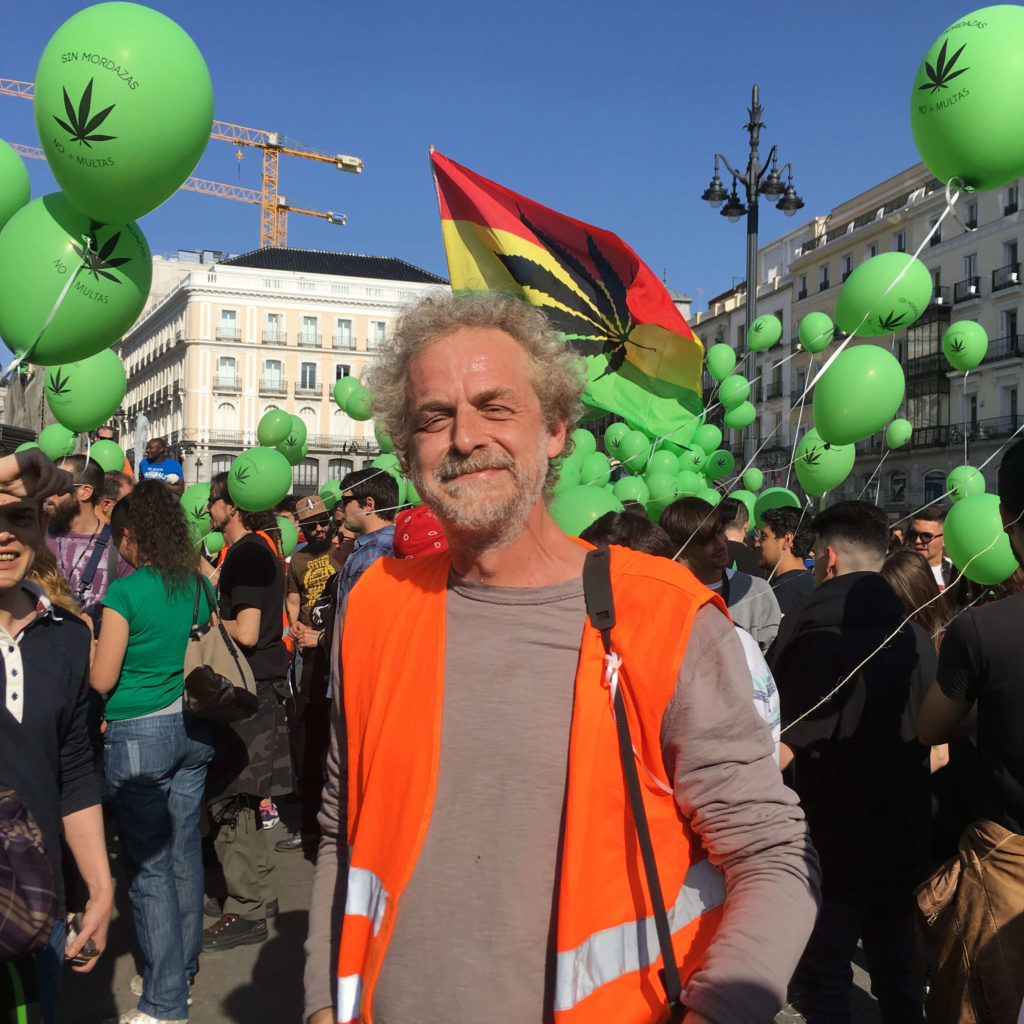 CANNABIS CULTIVATORS ARE NOT CRIMINALS
"It's my life," Lucky, a tall man with a permanent smile and mop of grey curls, says when asked what the March means to him, adding, "Every year we see new people showing up to defend our right to grow marijuana. It's important that young people carry on the tradition and keep fighting. Today is about ending the criminalization of cannabis growers and users."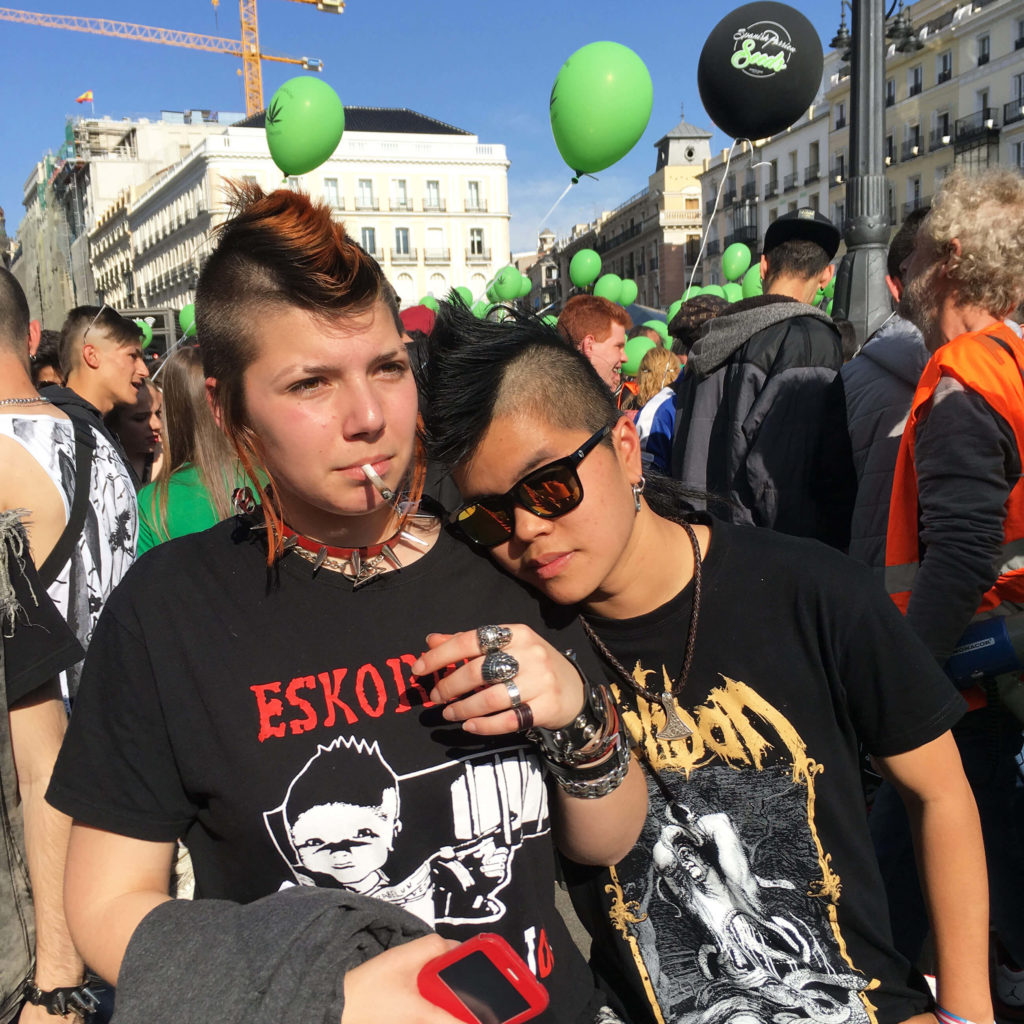 Puig echoes this sentiment when asked about the importance of the global marijuana March. "The system treats us like drug traffickers, but we are different and the law has to change to recognize that. We're cultivators and consumers and we ask not to be classed as criminals."
Since the introduction of Spain's controversial Ley Mordaza or Gag Law in 2015, the number of fines for possession of cannabis has skyrocketed. According to No Somos Delitos, (We're Not Criminals), an activist group fighting for reform of Spain's Penal Code: "Between 2015 and 2016, there were 189,947 fines for possession of marijuana in Spain. That breaks down to 346 fines per day, and adds up to €93 million a year in revenue for the police administration. 80% of those fines were for marijuana."
Patty Amiguet, an activist and spokesperson for ConFAC and Mujeres Cannábicas, highlights the stigma female cannabis users face: "If a pregnant woman is seen smoking a cigarette or having a glass of wine, people will hope it's just the odd one, and won't say anything. But if it's a joint, they're horrified. Mothers who grow or use cannabis have to be so careful, they can't be visible."
MARIJUANA CULTIVATION IS A FAMILY TRADITION IN SPAIN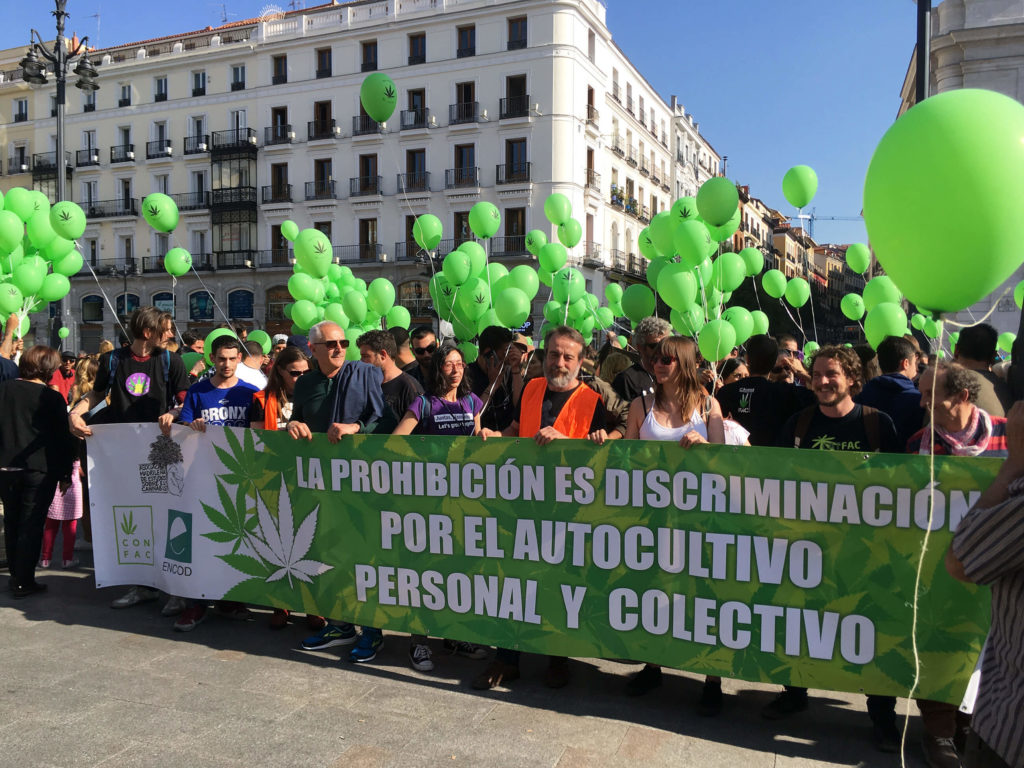 Despite the serious intent of the March, the atmosphere is excited and friendly in AMEC's club office on Calle Ave Maria, a few streets away from the March start point in Puerta del Sol, central Madrid. The organizers have gathered in the club before the March to blow up balloons, each one emblazoned with a marijuana leaf, share stories and celebrate the winner of the 21st Annual Marijuana Cup.
The 2017 Marijuana Cup goes to Antonio Moreno Sr. and Jr., a father and son team from Alicante for a strain called Barcelona Diesel. "Everything I know, I learned from him," Moreno Jr. says, nodding at his father.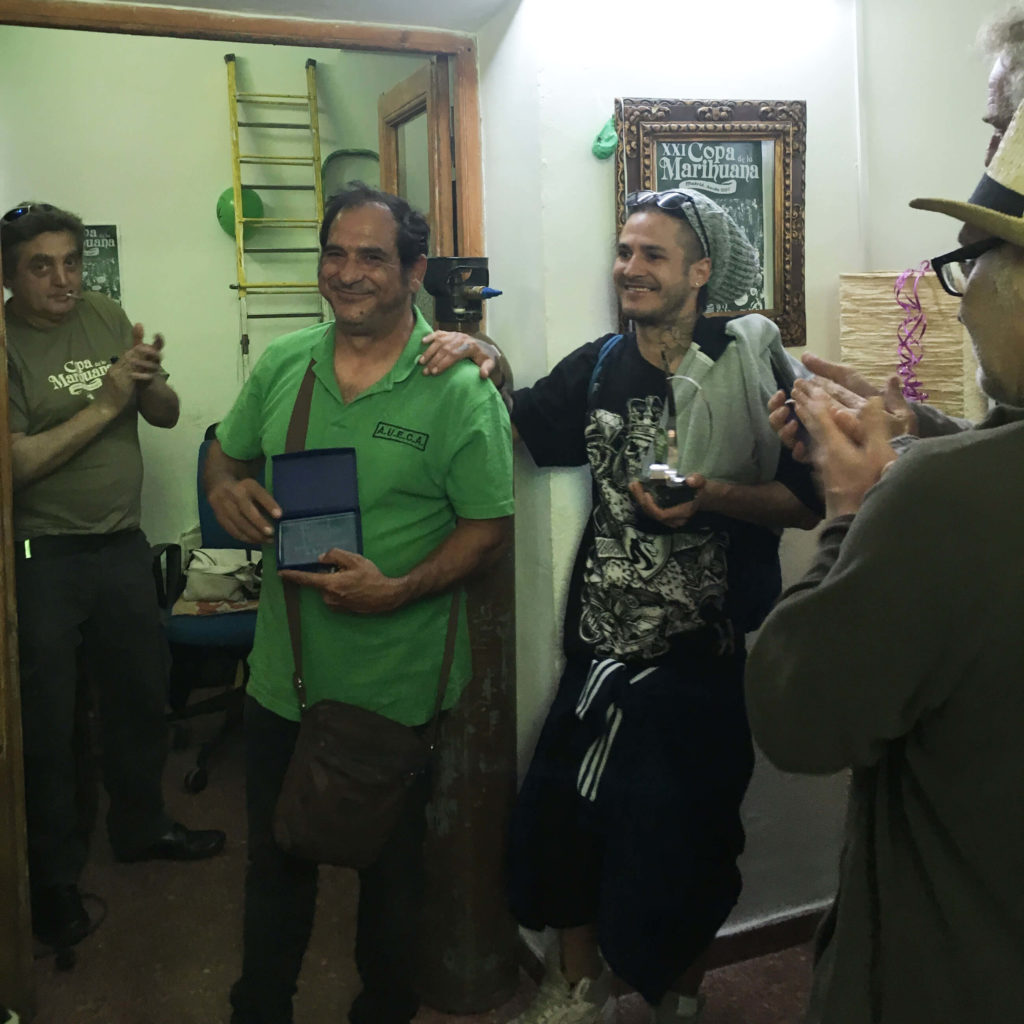 As the Cup represents AMEC's commitment to the study of marijuana cultivation, his reverence for his father's knowledge is a reflection of the importance of tradition and craft in this community. As for what makes the winning bud special, it has what he calls, "Buena pinta," an expression from the south of Spain for something that looks good enough to eat.
MADRID'S 22nd GLOBAL MARIJUANA MARCH BEGINS
In the cobbled lane outside the club, crowds of cannabis activists holding clusters of green balloons are gathered. Just before 6 p.m. they all head off in the direction of Puerta del Sol, and when they arrive at the large square, a crowd of a few hundred marchers greets them with a loud cheer. Pretty soon, the square is packed with activists holding banners, smoking joints, and chanting, "¡No Mas Multas!" (No More Fines) and "¡Basta ya!" (Enough is enough!)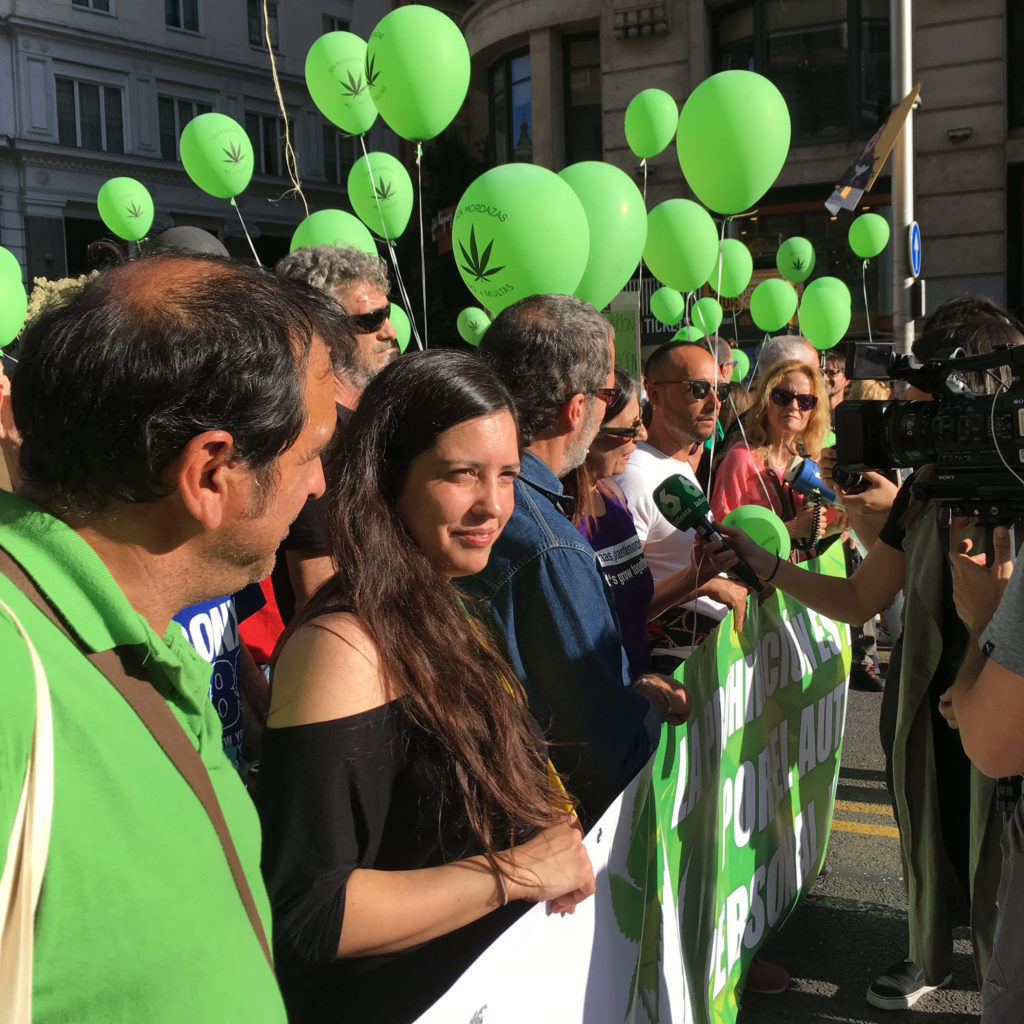 At the front of the Madrid March for Marijuana, a group of activists are holding a green banner. They include Puig, Amiguet, Eloi Esposito, a member of ConFAC's political commission, Anna Afuera of ENCOD, a European coalition for political justice, and Beatriz Macho, cannabis lawyer and spokesperson for ConFAC.
The banner reads: "La Prohibición es Discriminación por el Autocultivo Personal y Colectivo," which translates to: "Cannabis Prohibition Discriminates against Private Cultivators." The concept of private cultivation, or grow for personal use, is a legal situation unique to Spain, and a hotly contested issue that activists are using to bring attention to the country's harsh narcotics laws.
From Puerta del Sol the Madrid March for Marijuana makes its way up Calle de la Montera, a busy shopping street lined with cafés and clothes shops and full of Saturday shoppers, who stop and stare. Loud music blares from speakers pulled by activists leading the March. Another activist shouts chants through a loudspeaker. The marchers chant back: "La policia fuma mi maria!" (The police smoke my weed.)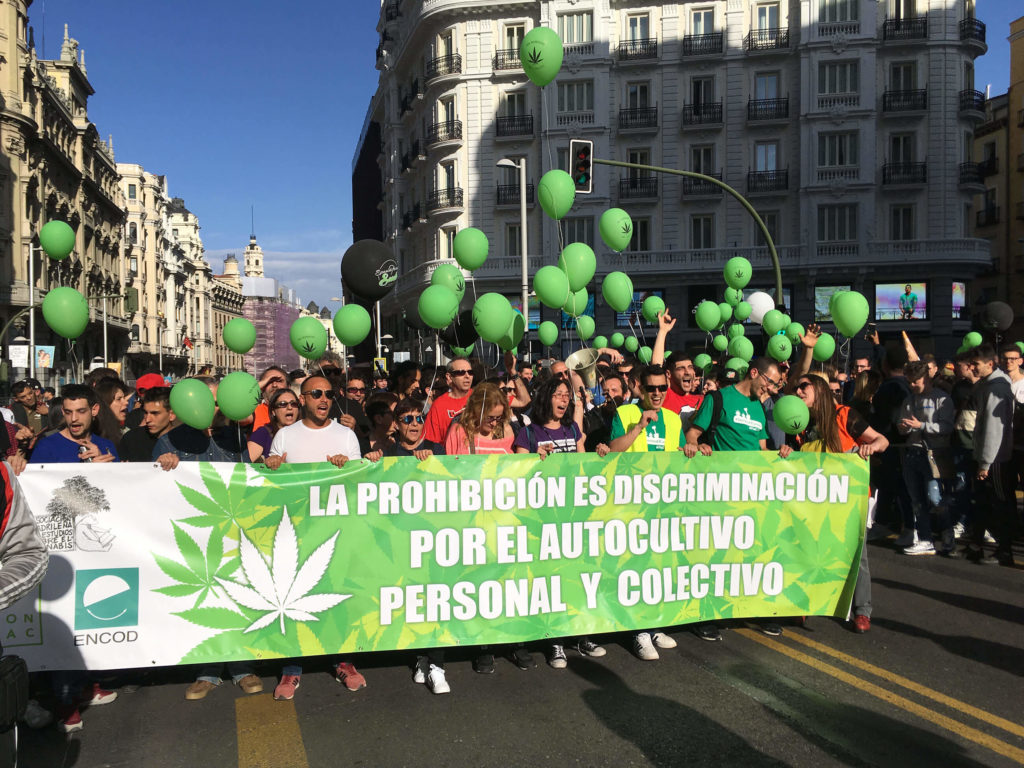 By the time the March reaches Gran Via, the avenue has been cleared of traffic. Blue police vans and motorbike cops circle like hawks but keep a respectable distance. The marchers take up the full width of the wide street, and take their time moving towards their destination point at Plaza España. Onlookers join in the fun, elderly men in suits dance, young women snap selfies with friends, while the marchers roll, smoke and pass joints.
SMOKING SPLIFFS IN PLAZA ESPANA AT SUNSET
The comments from passers-by are varied: "Maria es bueno," (Marijuana is good) says an elderly woman, laughing. "Each to their own," says another. But there are dissenting voices, too. "Legalize?" one woman says, "For what?" For many reasons: "There are more than three million cannabis users in Spain," says Anna Afuera. "Right now, they're being unfairly penalized by a unjust system."
But she adds that Madrid's global Marijuana March is about more than law reform: "Real change means changing attitudes at grassroots. The reality is people are scared of drugs and until that fear is eliminated, we're going to live in a society that penalizes drug users."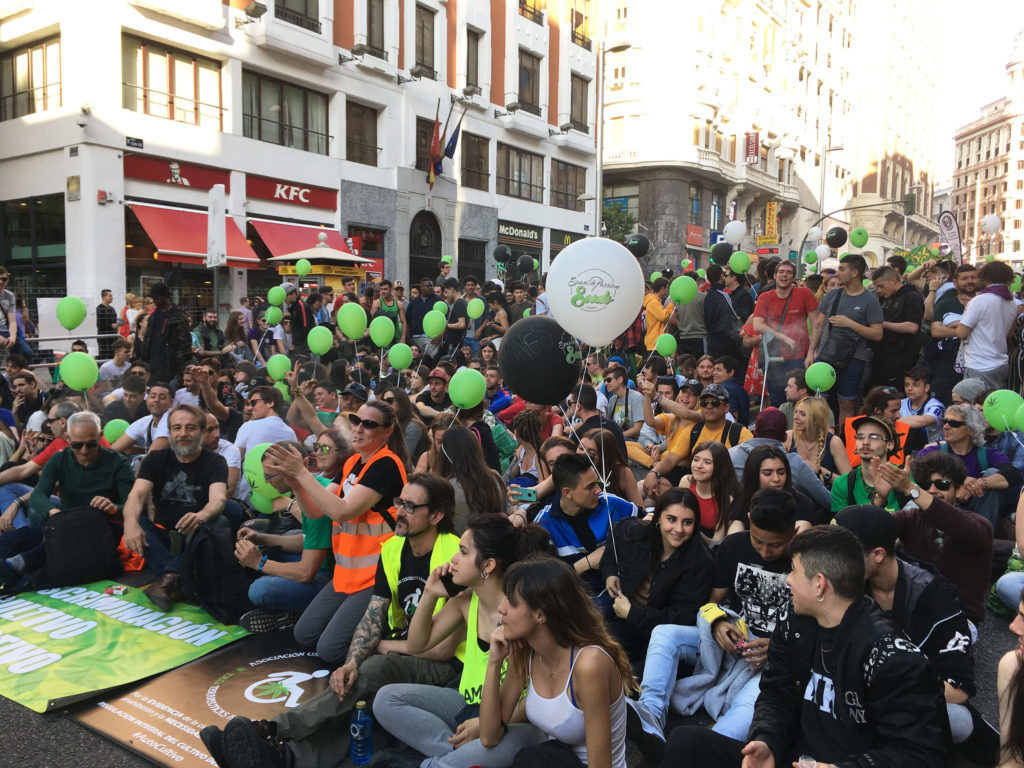 With their reggae music, good vibes, and heartfelt messages, it's hard to see how anyone could be scared by this plant-loving peaceful mob. Bar one moment when a group of stoners ambles ahead of the March, and into the path of the police, the event takes place without incident.
When the March arrives at Plaza España, there are a few more speeches from the organizers calling for the decriminalization of cannabis use, but by then, most of the marchers have spread out on patches of manicured lawn to savor the joy of being able to roll and smoke a joint in public.
One of the highlights of the day is an all-female percussion band, disguised in pink wigs and sunglasses, who drum blinding beats throughout the Marijuana March that blow up the atmosphere. In Plaza Espana, they go full on tribal and beat out a heart-racing set.
By now it's after 9 p.m., the marchers are tired, and stoned, and the sun is setting. The sky is a soft hue of pinks and blues, and there's a dense cloud of ganja smoke wafting across the gardens of Plaza España. The police officers standing by the entrance to the park ignore the tokers, and for one night only, the global Marijuana March provides a glimpse of how chill life could be in a society that permitted personal use of cannabis.