This section introduces some famous cannabis activists who have been detained for cannabis, yet used their sentence to create an even bigger stage on which to highlight the insanity of the war on drugs. A tribute to those who have sacrificed a portion of their lives in the interests of the entire cannabis community.
Although cannabis decriminalisation and legalisation are taking major steps around the world, huge numbers of people are still imprisoned for cannabis. Many countries and U.S. states still wreak havoc on people's lives due to the existence of unrealistic, degrading cannabis legislation. Lest we forget those victims, Sensi Seeds hereby presents a triptych about this topic.
This section introduces some famous cannabis activists who have been detained for cannabis, yet used their sentence to create an even bigger stage on which to highlight the insanity of the war on drugs. A tribute to those who have sacrificed a portion of their lives in the interests of the entire cannabis community.
John Sinclair
John Sinclair (72) is an American journalist, writer, poet, jazz connoisseur, radio DJ and cannabis enthusiast from Flint, Michigan who currently resides predominantly in the Netherlands. In January 1965, he set up LEMAR in Detroit, an organisation focused on the legalisation of cannabis in Michigan. John was also the spokesman of LEMAR and he soon became a well-known advocate of the cannabis plant.
This fame also had a downside. In August 1965, John was tried for possession of cannabis. He used the subsequent trial to bring attention to the vague cannabis laws in Michigan, but in the absence of a good lawyer he was sentenced to six months imprisonment and two years of probation.
After his release, John continued with LEMAR, he became involved in Trans-Love Energies, and he began managing the band the MC-5. Because all of these groups opposed the narcotics laws, they encountered much opposition from the police.
10 years for possession of cannabis
In January 1967, the Trans-Love Energies started planning a big benefit concert to fund the planned activities of the group and to generate a funding buffer to be used in the event members were arrested for cannabis possession. Before the event took place, the police carried out a raid and arrested 56 people, including John Sinclair for the possession of two joints.
This was followed by a long legal battle that John fought in freedom. In 1968 the entire commune moved to nearby Ann Arbor, where they continued their activities under the name White Panther Party, a radical-left, anti-racist political collective under the leadership of the MC-5, entirely focused on the cultural and political revolution of the 60s.
John Sinclair Freedom Rally
In July 1969, the verdict was announced. Despite the defence argument that cannabis is not a drug and therefore should not be punished at all or not severely, John was sentenced to 10 years in prison. This led to several protest rallies and concerts, culminating in the "John Sinclair Freedom Rally" on December 10, 1971. The rally attracted 14 thousand visitors and featured performances by Stevie Wonder, Allen Ginsberg and John Lennon & Yoko Ono, who even wrote a special song for John Sinclair.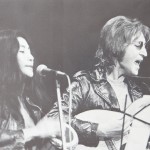 All these initiatives, in addition to John's appeal to the Supreme Court, ultimately led to the Council recognising that cannabis is not a narcotic. The penalty for possession of cannabis was shortened to one year. John was consequently released three days after the rally, and a further 140 people were released soon thereafter.
John Sinclair never stopped fighting for fair cannabis laws. This has contributed to Michigan being fairly liberal. It legalised medicinal cannabis in 2008 and it seems that the legalisation of recreational use will not take much longer. Also read Sensi's interview with John Sinclair.
Marc Emery
Marc Emery (56) is a Canadian politician, advocate of reformed cannabis laws, publisher and seller of cannabis seeds. Marc was the publisher of the Cannabis Culture Magazine, one of the founders of the Freedom Party of Ontario, the Marijuana Party of Canada and the BC Marijuana Party. He is also the founder of the Iboga Therapy House and founder of Pot TV. In 1996, 2002 and 2008 he made a bid for mayor of the city of Vancouver. In short, a pro-cannabis activist with a large platform and a lot of followers.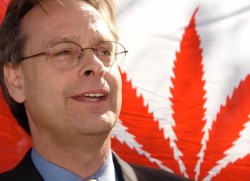 After a visit to the High Times Cannabis Cup in 1994, he, partly through his introduction to Sensi Seeds, became inspired to start a seed company. He did just that and shortly after his visit to Amsterdam he launched Hemp BC. A year later, Marc was featured on the cover of The Wall Street Journal with his seed company, which led to considerable media attention. It earned him even more fame, but also led to a series of raids and lawsuits. A number of trials, brief detentions and fines followed, but never led to a serious conviction.
This changed on July 29, 2005 when his seed business was closed down at the urgent request of the U.S. Drug Enforcement Administration (DEA). They believed that Marc was a drug dealer who traded on U.S. territory and incited people to cultivate and use cannabis. The DEA did not leave it at that. They wanted Marc extradited to the U.S.A. On May 10, 2010 Justice Minister Rob Nicholson ruled that Marc Emery could be extradited to the United States, where he was sentenced to 5 years imprisonment in a U.S. federal prison.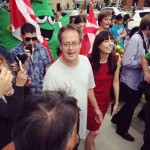 What the U.S. federal court system, however, did not realise is that this story only brought Marc's views more attention: a free and fair cannabis policy. There was a huge amount of publicity for this case, which his wife Jodie significantly contributed to.
On July 9th, 2014, Marc was released, and on the 12th of August he arrived back in Canada. Marc is set to tour Canada in 2015, to fight against the conservative government ahead of the federal election in October that year.
Howard Marks
Described by the press as both "the most sophisticated drugs baron of all time" and "the nicest criminal ever". The life of Howard Marks (68) cannot really be summarised in a few paragraphs. This article would however be incomplete without him, so we have included this very brief summary of his extraordinary life.
In his younger years, Howard Marks studied at various universities and earned, among others, a degree in nuclear physics and post graduate qualifications in philosophy. During his studies he used cannabis, and even sold some to friends. This became more serious after a friend persuaded him to replace a smuggler after they were arrested in Germany. Howard consequently met Muhammad Durrani, a Pakistani hashish exporter, for whom he did some jobs.
Howard quickly made a career as a hash dealer. Through his charisma and extensive network, he had connections with the British Secret Service, the IRA, the Mafia and the CIA, and he even collaborated with some agencies.
When he felt the law was closing in on him in different countries and after friends of his were arrested or in prison, Howard decided to quit in 1988. He was however arrested in that same year as a result of a long term investigation by the DEA and Scotland Yard, assisted by numerous law enforcement organisations around the world. Howard was extradited to the United States where he was sentenced to 25 years in prison and fined 50 thousand pounds.
In January 1995, the papers were signed for Howard's conditional release after a prison officer testified that he was a model prisoner who spent much of his free time devoted to helping his fellow prisoners. Howard Marks was released after 7 years of imprisonment.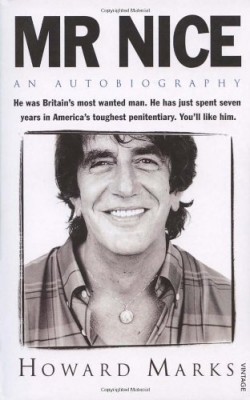 Although Howard earned a lot of money smuggling cannabis, he is a strong proponent of the legalisation of cannabis. After his release, he stood for election to the British Parliament with only one goal: legalisation. He managed to win 4 seats. This led to the formation of the Legalise Cannabis Alliance (LCA), which became the Law Reform Cannabis in 2011. He is also a frequent guest on television programmes, he lectures and regularly tours the country with a one-man show, in which cannabis and his turbulent life as a smuggler still play an important role.
Anyone who wants to know more about Howard Marks can read his autobiography 'Mr. Nice' – named after one of his many aliases. Also have a look at the Mr. Nice G13 x Hash Plant that Sensi Seeds named to honour Howard Marks and his work.
Also check out the previous two parts of 'Imprisoned for cannabis'. Use the links below.