Jesús Mac Jesús Mac is a Valencian pioneer who, in 2001, saw in the Internet a new conduit of information for the Spanish-speaking cannabis community. He founded Lamarihuana.com, a cannabis information portal in Spanish that today has more than 1.5 million visits per month and more than 1.2 million followers on Facebook. Do not miss the full interview!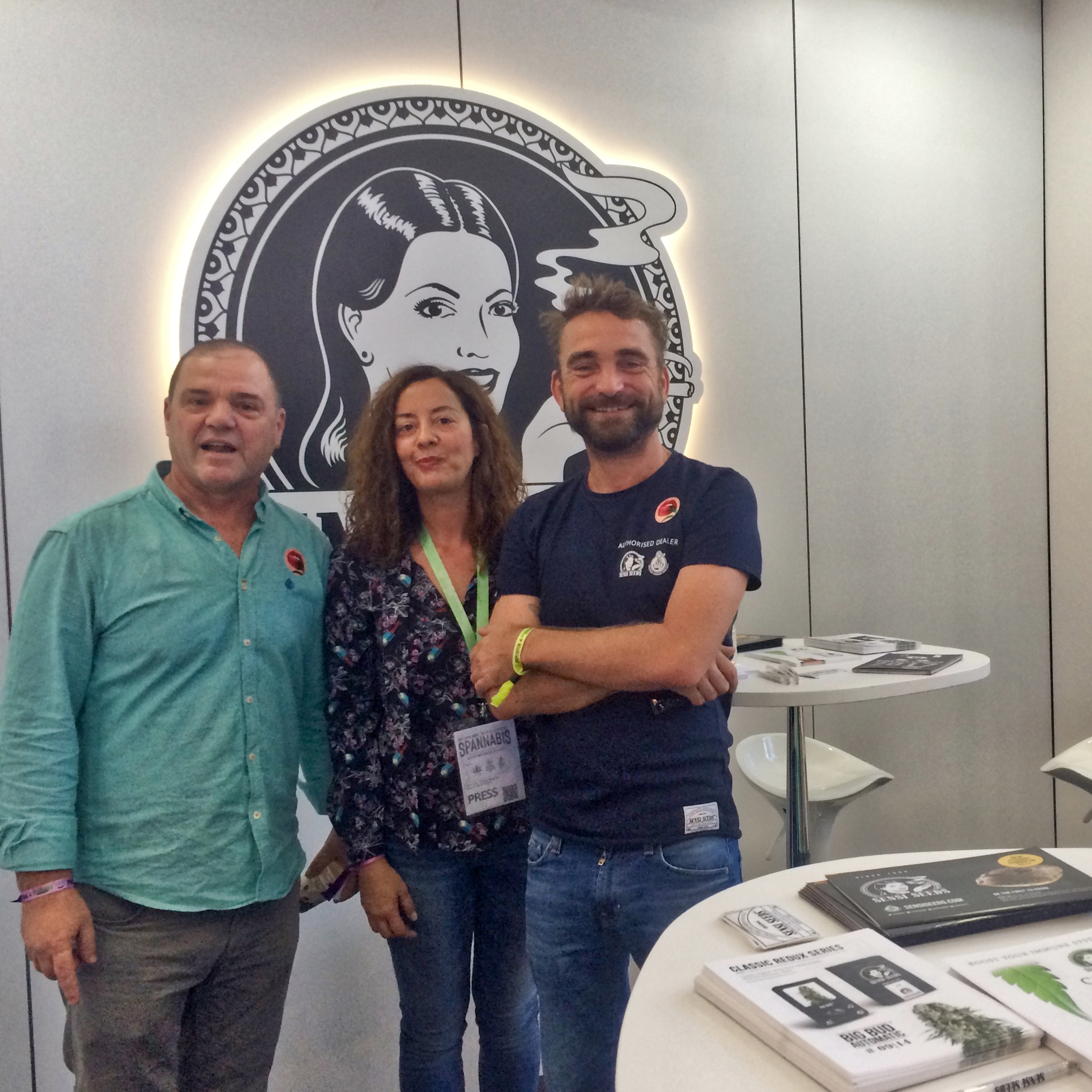 Jesús Mac
"If you want others to be happy, practice compassion. If you want to be happy, practice compassion"
---
Jesús Mac is a Valencian cannabis entrepreneur. He began doing business in other areas, which he still combines with his passion for cannabis. When the Internet made its debut in our lives, Mac saw that this new means of digital communication also had to provide answers and information to the Spanish-speaking cannabis community. Thus, in 2001 in the Spanish city of Turia, along with three other partners, Jesús Mac founded Lamarihuana.com – an information portal on cannabis that has become the leading Spanish-language site of this genre. Lamarihuana has more than 1.5 million monthly visits, and more than 1.2 million followers on Facebook.
After 16 years of hard work and fighting to stay ahead, Lamarihuana.com has been acquired by Freedom Leaf Inc. This big US firm – based in Las Vegas, Nevada –promotes cannabis legalization in the United States. For Jesús -writer, activist and advocate of access to recreational and medical cannabis – the acquisition agreement "makes them see the future with more optimism".
Taking advantage of my attendance at this year's edition of Spannabis Madrid, I pulled some strings to get an interview with Jesús Mac, an important figure on the Spanish cannabis scene. Jesús Mac is undoubtedly a pioneer, but not just in the cannabis sector. He quickly knew how to use the Internet as a sales tool. It's not for nothing that he worked for many years as a salesman, devoting himself to the sale of traditional Spanish products such as wine and ham. And then came cannabis, another of his passions. With Lamarihuana.com, Mac created a milestone in Spanish cannabis history. He now joins a powerful American firm to promote the legalization of the plant worldwide from both continents, and to properly inform the world why change must occur now.
Let's get to know Jesús Mac, the cheerful Valencian with whom I chatted at the Sensi Seeds stand. Sensi Seeds is one of his main sponsors – and longtime friend.
Hello Jesús Mac. Good afternoon. Nice to meet you! Thank you very much for this interview, and spending time with me today to talk, tell your story and share it with our readers. So, let's start at the very beginning.
Tell us, when was your first contact with the cannabis plant?
"When I was 18 years old. I am 52 now, I was in the Spanish Legion in Melilla, I am a military man. You serve 3 years in the legion. I did my military service there. I signed up, stayed for 3 years and then left. But truly, that's when I got in touch with real cannabis. Up until then, what I had tried was some kind of "chocolate" that came in a plastic wrap, and because of its bad quality, we called it "beaten". It was sold for 100 duros, 1 talego.  Those were the terms employed in my day. If I said that to my 20-year-old son…!(laughs)"
Jesús Mac started smoking cannabis in 1983
"That was my first serious encounter with the plant at the consumer level. There I learned what grifa and kifi mean, terms which many people still ignore the meaning of. In Melilla, because of its proximity to Morocco, I learned that kifi is the plant bud, and grifa refers to the left-overs of hash making. The Moroccans took the grifa and put it in a paper cone and sold it as though they were selling popcorn or tiger nuts, and that sold for 100 duros. Kifi was the actual bud. Since 1985, theoretically, I began to delve into the subject more assiduously. But by then I had already smoked, I started in 1983."
So, when did you start working in the cannabis sector, and how long did it take before someone thought of the Internet portal, Lamarihuana.com?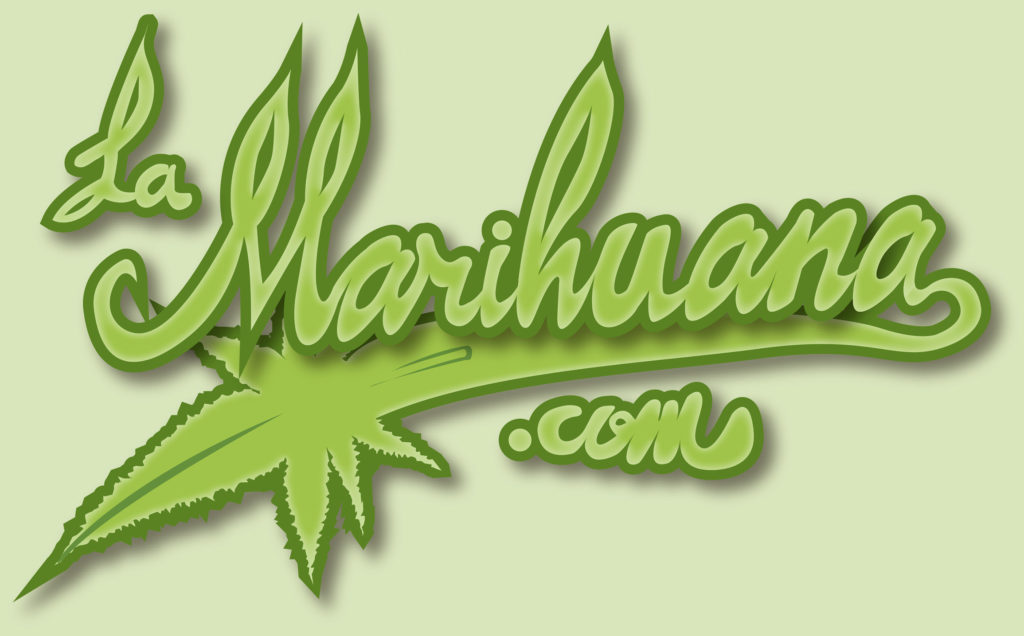 "From that moment on, I never stopped smoking or being interested in the plant. The idea of Lamarihuana.com was born in 1999. In 2000 we released the portal. It took us a little longer than a year to finish it. To build the portal, I went online every night when I was at home. We created a website that allowed me to search all the other sites related to marijuana, and I classified them in our portal. It did not matter if they were about cultivation, music, or for commercial purposes. I inserted each site one by one, as it used to be done in the past. No one had done that before. To give you an idea, this happened in the years 2000-2001. Terra was launched in the years 2002-2003; they bought the Olé search engine that came from Barcelona. The first search engine in Spanish was ole.com, and the second one was ozu.com. Those were the first two Spanish portals. Before them, there weren't any and Google did not exist."
"You can learn whatever you want"
"Now look, for people like me, for instance, who have had to work all their lives, the Internet and a portal like Google have been amazing learning tools. Before, if you did not have a college education or some sort of culture, you were insignificant because you did not know anything. Today, with the internet, and knowing which websites are reliable and which are not, you can learn whatever you want."
Did you ever think at the time that the cannabis plant, Lamarihuana.com, and the Internet would become your livelihood?
"Not at all. But it is true that when I have spoken to the Americans, they have asked me how I got into this in Spain. What I really wanted was to standardize cannabis information. For instance, years ago in Argentina, if someone mentioned the word porro (joint) you could go to jail, or even get a beating. Back then, in Latin America, they were used to linking drugs to prison, including cannabis. But thanks to the Internet and those of us who wrote in Europe in Spanish, we helped to change things. All the information that came from Lamarihuana.com in Spanish has helped normalize the plant there too."
Science, medicine, and LaMarihuana.com
"Those who are against the standardization of cannabis information may think that they could have [punished me], for letting everyone know about it. Others may tell me, listen, we are going to build you a monument. We did all this [building Lamarihuana.com] in a time that was still very repressive. In fact, we were very afraid because there were people in Spain who said that advocating drugs could get you into trouble. We never had any legal problems, but the plant is still banned. Research and the Internet are the reasons why some things have changed. Because two things have come together: science and medicine. If you had only had the Cáñamo (Hemp) magazine at the time, you wouldn't have gotten very far. With the Internet, the news is published instantly. Deceiving one person in Colombia, another in Argentina, another in Spain, is no longer possible. The internet has achieved that; it has given research a huge megaphone. We have only been a channel."
Today, LaMarihuana.com is a reference information portal with a large number of readers and followers. How did you achieve it?
"There is no secret. Very early every morning, I choose content from over 100 websites, good sources, that I have selected throughout the years. Thanks to Google, the language which they are in does not matter. I choose stories according to their subject, and I edit them. What we publish is news that can attract attention, things that people do not usually find everywhere. You may go to a different site and read longer and more elaborate articles. What we offer is a wide variety of information from around the world."
"To date, we are the number one [Spanish language]portal; 50% of our readers are in Spain/Europe and the other 50% are in Latin America. For instance, now that it is low season, we have an average of 33.000 visits per day, sometimes 40.000; for a 30-day period, we get around 990.000 to a million visits. We have a great impact."
LaMarihuana.com and Sensiseeds.com are two of the biggest cannabis websites in the world
"What also happened when Lamarihuana.com was released, was that many people said, hey, this is a successful site, we will copy it. Since I began Lamarihuana.com, there have been 30 or 40 portals like ours. Yes, it is true that sometimes there is a site about which one can say, how beautiful, how well made, how well the information has been organized. But they have not been as successful as LaMarihuana.com and one wonders why, if it was because our site was launched first. For example, I have followed the Sensi Seeds website and I have seen it behind ours. However, today it is the largest cannabis site worldwide. Because it is all over the world. What Sensi Seeds has shown is that if you do it right, and you have resources to back you up, you can endure over the years… that is the problem, to endure for years. I have endured because I gave the portal a commercial approach, to be able to generate an income that has allowed me to earn a living with my work. Other sites that have been launched, that are beautiful, and have all the qualities you can think of, have shut down. Naturally they have, because in the end, you get tired financially. I have been in this for 17 years, a lot of years."
And this is where the agreement with the Americans comes in, right?
"You are right. We have reached an agreement with an American company called Freedom Leaf, Inc. Our company Lamarihuana.com needed to improve its infrastructure and have access to all the technology available. We realized that in the end, other companies with greater financial power would eventually destroy us. So, the best thing to do was to make an alliance. That was the natural and intelligent route to follow. (…) The agreement reached with Freedom is that, in exchange for being shareholders, Lamarihuana.com has become part of their group. This brings us the security we were looking for… and it will improve our quality, which, miraculously, I have kept [for 17 years]. The truth is that now that the agreement is done, it is incredible."
What consequences does the acquisition by Freedom Leaf, Inc have for Lamarihuana.com as a platform, and for you as professionals?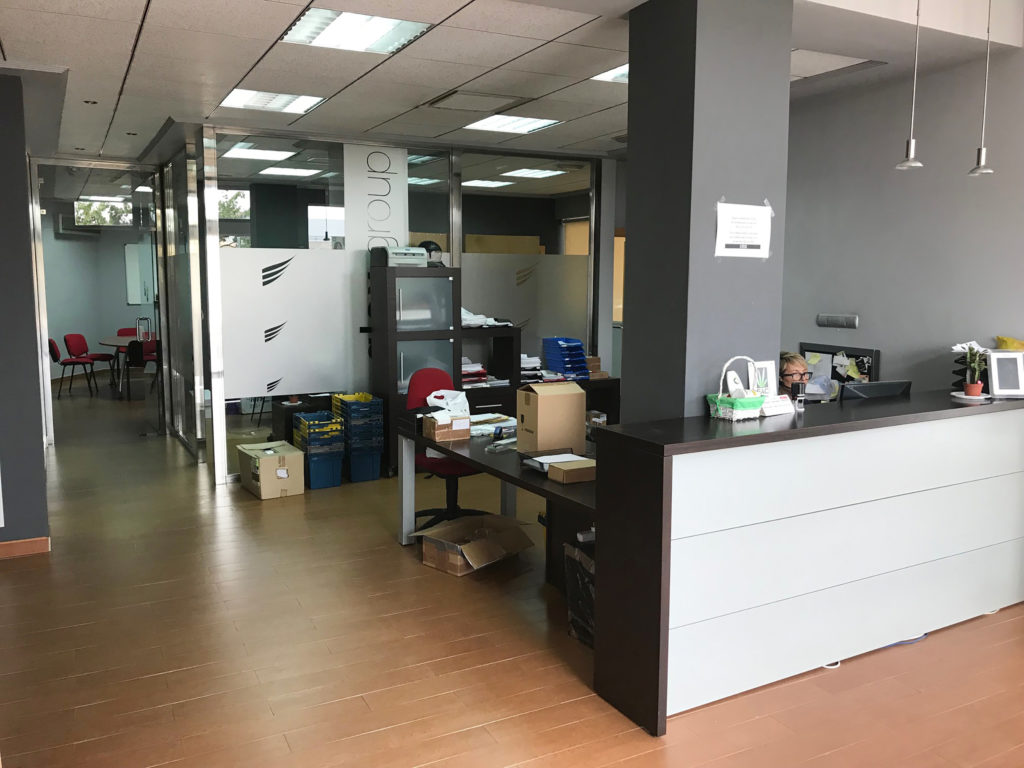 "Well, as a I said, being part of the group gives us security in every way. Especially financially, and this makes us see the future with more optimism. We are talking about a group whose main shareholders are recognized activists in the United States – they are mostly people in their sixties and eighties – who have been working for decades. They have accumulated years of activism, knowledge and experience. All this, along with the capital that backs them up, gives me a lot of security. Now they want to expand to the European market, and they will do it from Spain."
"I used to use the terms hemp and marihuana; now I say low-THC cannabis"
They are also very focused on the hemp market because this is the product that is really changing everything.  For instance, I used to use the terms hemp and marihuana; now I say low-THC cannabis. Americans have generated changes of this type. They prefer the term cannabis to marijuana. Today the focus is science and cannabis. That is something I also did from the beginning [of LaMarihuana.com], looking for information using a different approach, and generalize that news. Before, the information available was all about catching [people with]stashes of marijuana; I have avoided that kind of news. Because that is not what people care about. They would rather know if cannabis can be beneficial to fight a brain tumour, and pain. We talk about news that is relevant to everyone, such as the actions of the government to legalize medical cannabis in Argentina. This way people get to know about things that happen in different countries. They are important issues worldwide."
What has the Lamarihuana.com mission been?
"The mission was to change the image of the [cannabis] consumer and normalize recreational and medical use. As a future parent, I did not want people to identify me with the image of a stoner. I do not identify myself with any cannabis user stereotype. Nor do I believe that cannabis users need to have a particular political affiliation. Hence, I have not adhered to any political agenda, but I collaborate with and support all initiatives for the cause. In my opinion, this is a business. Cannabis should be taxed, that's what I think, and it has to be normalized. You should be able to grow cannabis at home, but there should also be dispensaries or coffee-shop-like stores. In Spain, we should abandon the idea that cannabis users are all the same, that they all fit the same stereotype. There are many kinds of consumers".
"I have adopted this approach based on the American model. We have incorporated a bit of an American type of activism into our company. We are now related to NORML, because our company president and largest shareholder, Richard Cowan, was the president and founder of NORML."
What do you think of the changes that are taking place at the international level, especially regarding medical and recreational cannabis?
"Medical cannabis is the way to get recreational cannabis. The Americans told me that they were struck by the fact that here in Spain, we only spoke of recreational cannabis, but no one said anything about the medical type. Now it is the other way around.(…) Something that all the media have to encourage, in the case of legalization, for example, in the American states where it has been legalized, the evidence they have released shows that consumption by  young people has not increased. That is [something that] would frighten us all, and those of us who have young children. However, things are quite the opposite. Consumption by people between the ages of 40 and 60-75 has increased. Older people use medical cannabis because they do not want to take more medication, and people our age, in their 40s and 50s, use cannabis in a more medical and responsible way".
How do you see the current legal situation in Spain? Do you think that politicians will do something about cannabis regulation or legalization? Will they take into account the all the initiatives that have been proposed? It seems like something is happening…
"Yes, but no. Let's see, we all know what Rajoy [Prime Minister of Spain since 2011 – ed.] has done. In fact, sometimes I think that we should join the party because that would be the only way to transform it, to create a cannabis wing within the PP (Popular Party). What our president is going to do, as a good Galician, is to wait and see how things go; if everybody chooses legalization, we shall do the same as them. Now, abroad, Spain is known and respected for being very tolerant. We have portals, growshops, seed banks, where are these really? Only in Holland and Spain, and in Holland they are having many problems. Here, you are even legally allowed to have a plant at home. But there is still much to be done. So, even though the 'law is the law', there are some that can be changed, and there are mechanisms to do it. But we all have to do it together".
And finally, tell us a little about your relationship with Sensi Seeds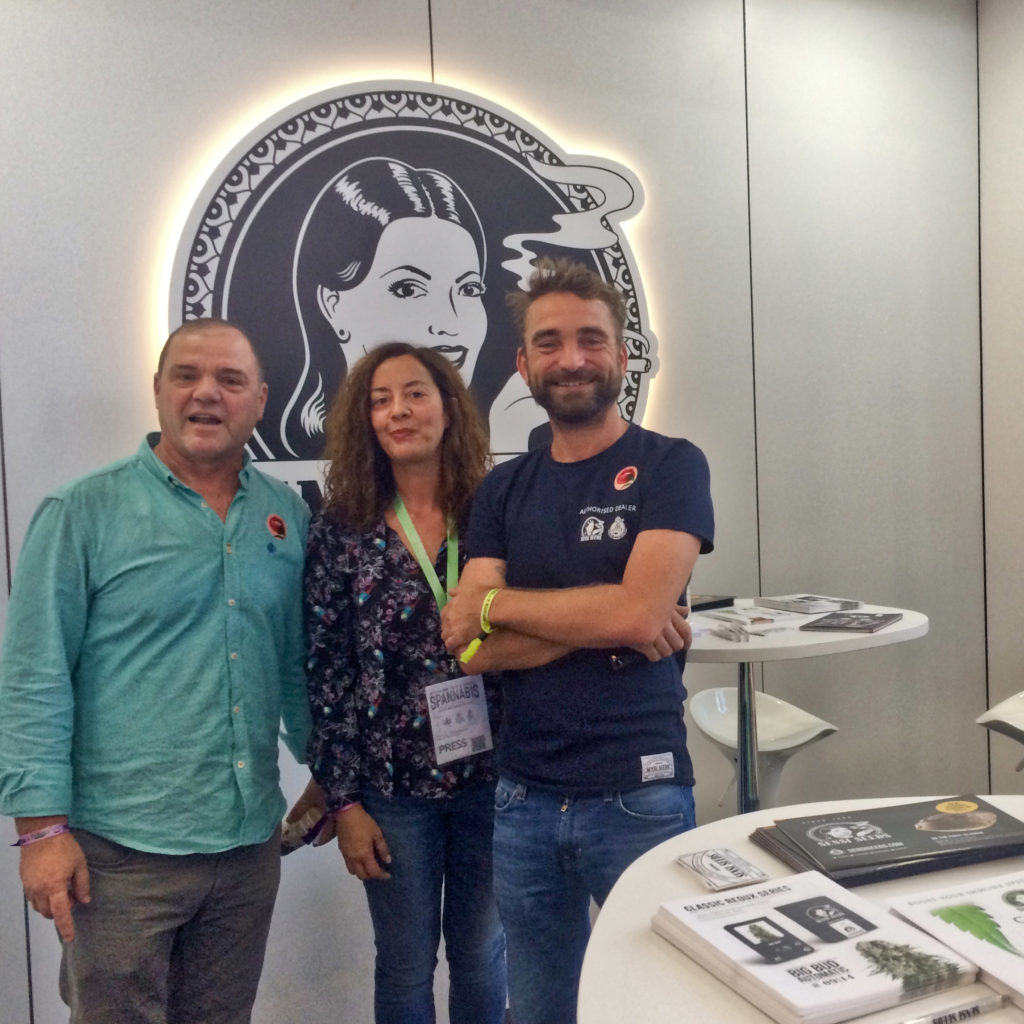 "For me, Sensi Seeds has played a very important role. Lamarihuana.com is strong largely due to the support of Sensi Seeds. They have been my sponsor for a long time. I am very lucky to have the support of the most serious and responsible company that exists, not only in Europe, but worldwide. It is great to have them as my clients and sponsors. I have always had a very high image of them. Besides, Sensi has also promoted and assisted everyone in the industry. Ben Dronkers is a personality in the cannabis sector; and now he is also in the hemp industry with HempFlax.  I have always loved hemp. I admire Sensi Seeds' history; they have done everything they do with class and style. I have always maintained an excellent relationship with them, they are a great company".
I said goodbye to Jesús Mac and thanked him greatly for giving me this lively and interesting interview during his visit to Spannabis. This Spanish cannabis pioneer had one of those happy life changing ideas, which also helps to change the life of others by providing varied and contrasting information on all aspects of the cannabis plant.  His contribution to normalizing cannabis is undeniable.
There is a typo in the original: change resplada for respalda.
Todo eso, junto con el capital que les resplada, a mí me da mucha seguridad. Ahora quieren expandirse al mercado europeo, y lo van a hacer desde España."