Maine has now also fully legalized cannabis, with 50.2% of voters approving Question 1 on November 9th. Residents will be able to cultivate up to six flowering plants and possess 7.9g of cannabis.
On the same day, Montana voted to expand its medicinal cannabis legislation to include more conditions for which it can be prescribed, and lift the limit on the number of patients a caregiver can grow plants for (previously three).
×
Results As well as a new president, the US has new cannabis policies in six states. Both medicinal and recreational use of cannabis has gained new ground. Here is an overview of the results from today's voting.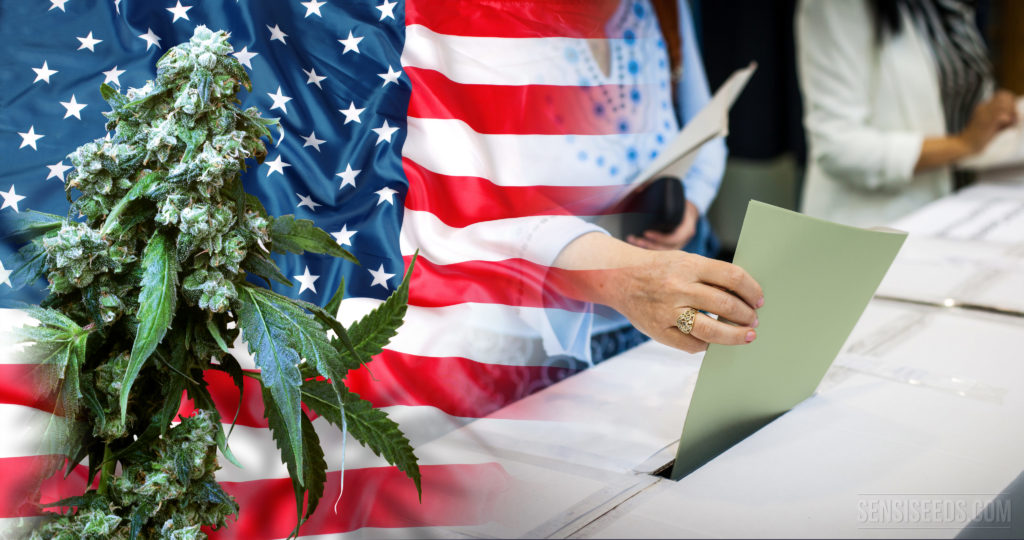 The November 8th, 2016 election has seen solid progress in the fight to legalise cannabis. Various other issues were voted on (you can find a good overview here); below we present a run-down of the results for cannabis initiatives.
 Recreational Use Results
 As predicted by many, California has fully legalised cannabis. Twenty years and three days after Proposition 215 went into effect, recreational use joins medicinal use as a right of Californians. Nevada and Massachusetts have also added recreational use to their existing medicinal legislation. Arizona voted against legalising recreational use, but by a fairly narrow margin: 47.8% were in favour, 52.2% against.
Medicinal Use Results
Medicinal cannabis use measures were passed in Florida, North Dakota, and Arkansas. The specific terms of use differ from state to state. Florida has expanded access to prescription cannabis to sufferers of ten ailments, and beyond the non-smoked, low THC cannabis which was previously the only permissible form of medicinal treatment available. North Dakota requires patients to possess a physician's recommendation, which will allow them to buy medicinal cannabis from dispensaries licensed by the state. A sensible inclusion of this measure is that patients living 64 km or more away from a dispensary can grow up to 8 flowering plants in their homes. Finally, four years after the failure of a similar bill, Arkansas has voted 53% in favour of medicinal dispensaries opening across the state.