2016 It's just over halfway through 2016 and a lot has happened in the world of cannabis and hemp this year already! We've been diligently reporting on events from around the world on the Sensi Seeds blog, and are happy to present you with this Cannabis News Review 2016 part one, to summarize the highlights of the year so far.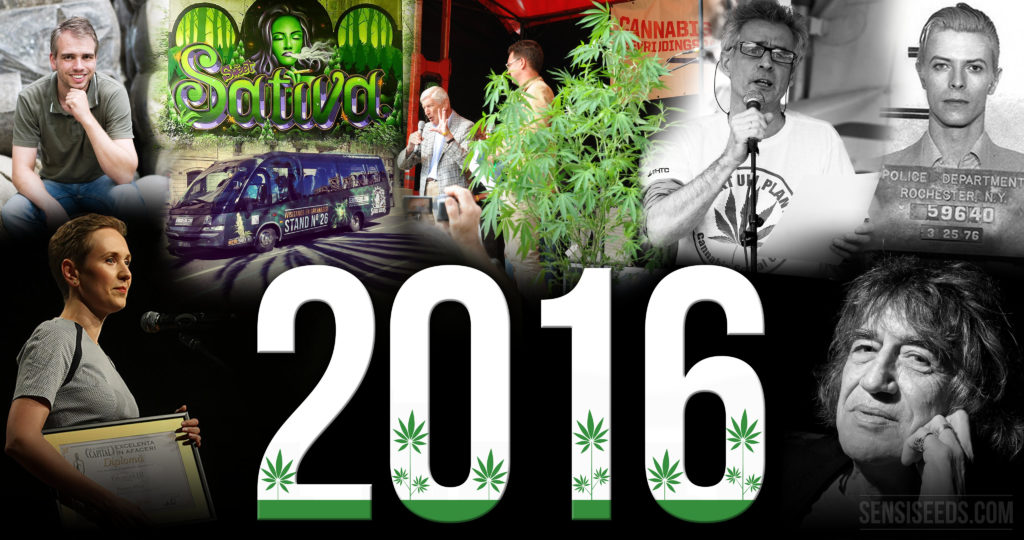 In many ways, the first half of 2016 has been one of the most turbulent times of recent years. We have lost legends, and seen political upheaval on every continent. But there has been good news too, and events that signify hope for the future and a global shift in how cannabis is perceived and (legally) treated. This article presents an overview of some of the most important news stories, for Sensi Seeds and for cannabis in general, from the first half of 2016.
January:
The year began with positive intimations from Canada and Germany that their cannabis policies could soon be updated to allow for more freedom of use. Justin Trudeau's solid victory in the Canadian elections for Prime Minister was partly thanks to his campaign promises to overhaul cannabis legislation, and he wasted no time in getting the Department of Justice on the case. In Germany, the Federal Ministry of Health proposed changes to the Narcotics Act which would enable medicinal cannabis to be sold in pharmacies, prescribed by doctors and reimbursed by health insurance companies in cases of "severe and chronic" illness.
In South Africa, where January has the kind of temperatures that make a three day outdoor festival viable rather than terrifying, Weedstock welcomed cannabis enthusiasts to a stunning World Heritage site known as the Cradle of Life. Live acts, food stalls, celebrity speakers and a hemp and cannabis-themed market were all on offer to make the event go with a bang, or possibly with a bong.
As well as being an informative and fun opportunity for visitors to celebrate their favourite plant, Weedstock also raised funds to help in the trial of the Dagga Couple. Myrtle Clarke and her partner Jules Stobbs have been preparing a court case for the last five years, after being raided by police who found their personal supply of cannabis in their house. Despite being busy with preparations for Weedstock, they also visited Amsterdam where Sensi Seeds interviewed them about what has become known as The Trial of the Plant.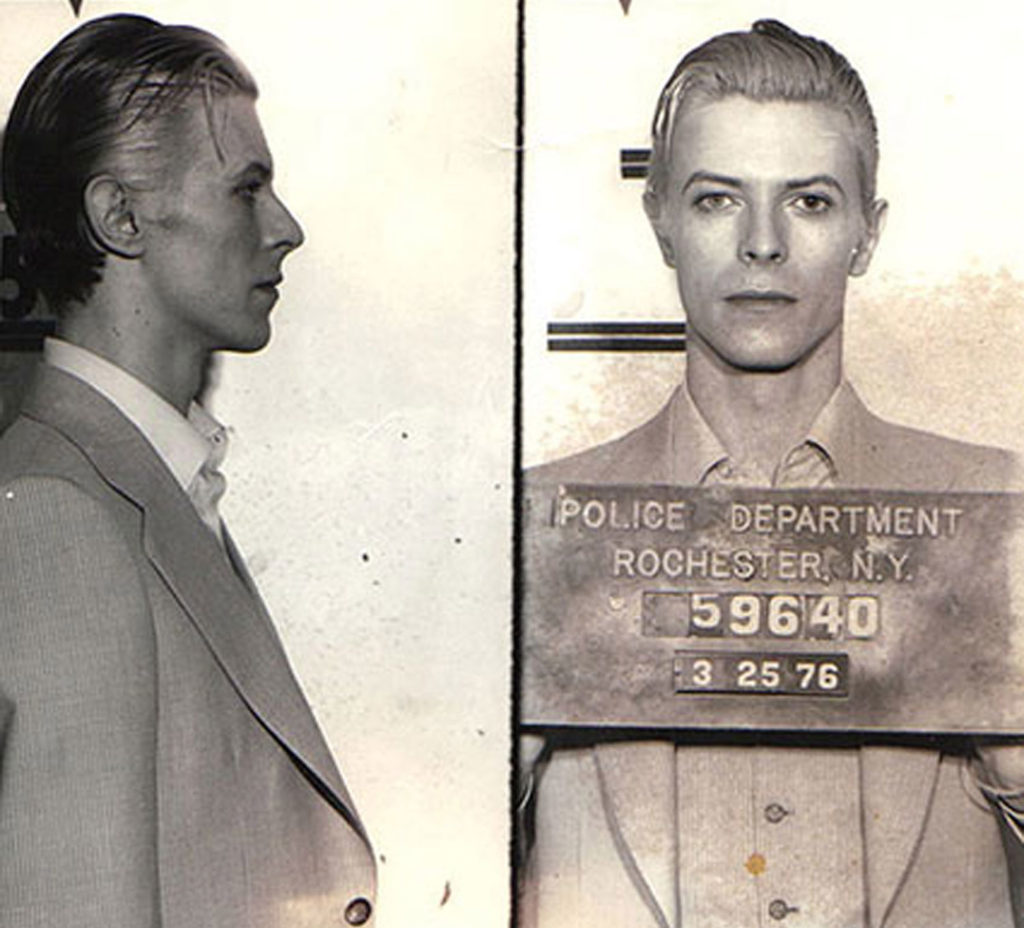 Despite all this positive news, January was overshadowed by the loss of a unique talent. Obviously best known for his gigantic impact on music and culture, David Bowie was also a psychonaut who included cannabis in his armoury of substances for exploring art and consciousness. Back in 1976, he was arrested along with fellow musician Iggy Pop for possession of about 200 grams of cannabis. Being David Bowie, he posed for possibly the most beautiful police mugshot ever taken and then escaped penalties when a grand jury refused to indict him.
February:
February began with the long-awaited launch of the first new Sensi Seeds strain since 2007 – Eagle Bill. A sativa-dominant hybrid almost a decade in the making, this cannabis variety is a fitting tribute to the man known as the Father of Vapour and a long-time friend of Sensi Seeds founder Ben Dronkers. It was eagerly received by the cannabis community and we expect to see more news about it in the coming months as the annual round of harvest festivals begins.
Canada followed up on January's promises of rapid reform with the news that its approximately 28,000 licensed medicinal cannabis users could now grow their own medicine; Germany followed suit by publishing details of their proposed bill for prescription, protection and insurance reimbursement for medicinal cannabis use. The Netherlands also had a significant breakthrough for medicinal users with the acquittal of Rudolf Hillebrand, charged with cultivation and possession of cannabis which he used to relieve both the symptoms of HIV and the side effects of the medication he must take to control it. Belgium, however, took a step backwards when Michel Degens, President of the Mambo Social Club, was found guilty of cultivating cannabis (although he was acquitted of "encouraging people to use cannabis").
Also in February, the Sensi Seeds expo crew travelled to Rome for the second annual edition of cannabis and hemp trade fair Canapa Mundi. Everyone had a great time and the Sensi Seeds booth gave away free t-shirts until they ran out!
March: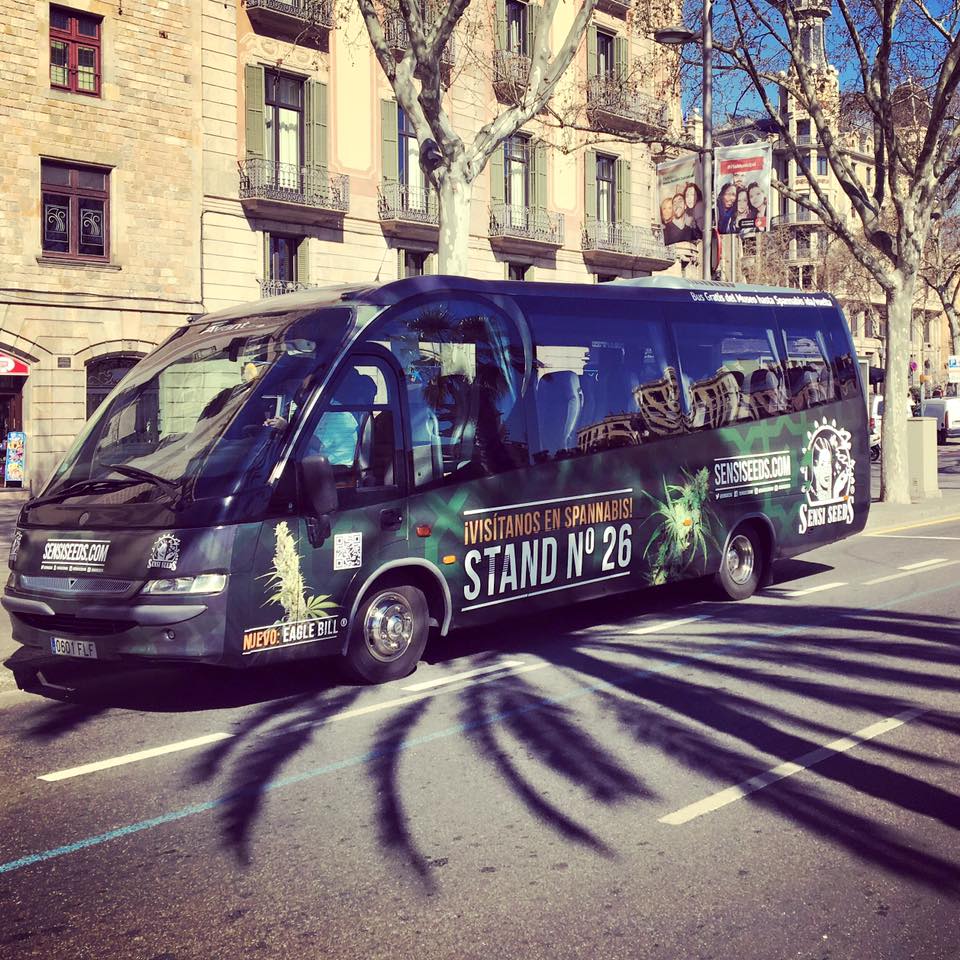 Almost as soon as our expo booth was unpacked, it was restocked and hit the road again for Spannabis, Europe's biggest hemp and cannabis expo. Since it is held in Barcelona, where the Hash Marihuana & Hemp Museum opened a second location in 2012, it was only natural for us to provide transport between the two venues! The Sensi Seeds 'Cannabus' was a striking addition to Spannabis and many visitors took advantage of it.
Back in Amsterdam, Sensi Seeds' friends and neighbours HempStory celebrated their first year of being open. This light, airy shop and coffee bar has a plethora of high-quality products made from hemp, and is a far cry from the usual tacky tourist traps stocked with rasta wigs and cannabis-flavoured lollies.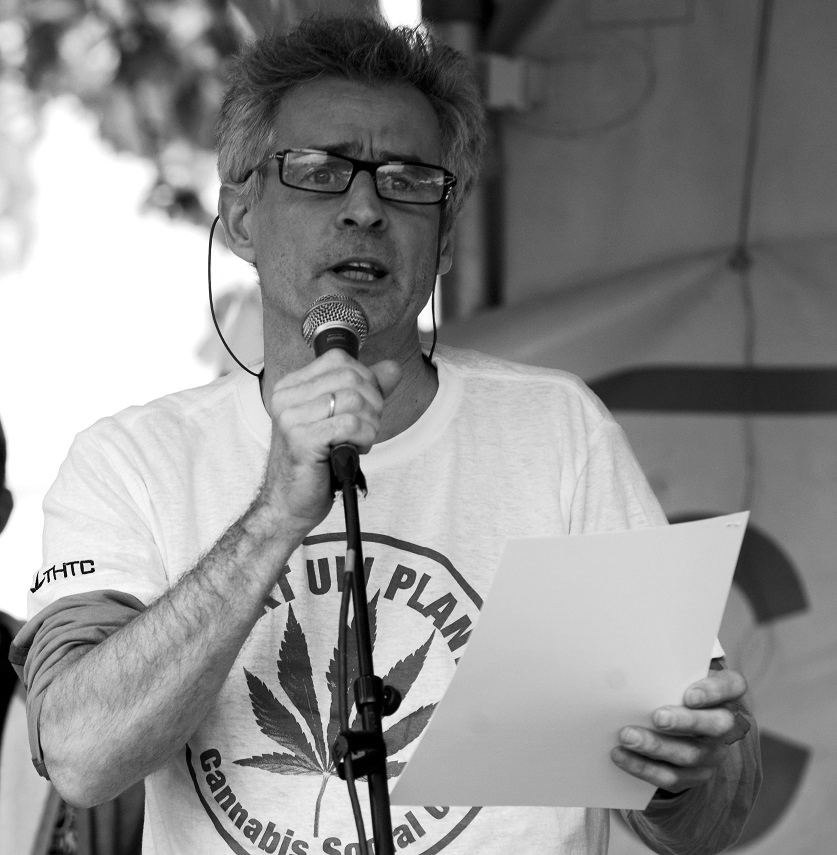 Tragically, the Dutch cannabis community lost one of its most active and longest-standing members with the death of Joep Oomen. The co-founder of several advocacy groups including Encod, the Cannabis Social Club 'Trekt Uw Plant', and the Union for the Abolition of Cannabis Prohibition (VOC), Oomen was only 54 when he passed away from natural causes at home in Antwerp.
On the other side of the world, Australia became the latest country to introduce a bill for the medicinal use of cannabis. Small-scale trials of Epidolex had been taking place in several areas for some time, but the new legislation would have a positive effect on patients throughout the land.
April:
April began positively with Germany issuing its first ever permit for growing cannabis at home, to a 52-year-old MS patient. Although this was just one license, it is a landmark decision which opens the door for further reform.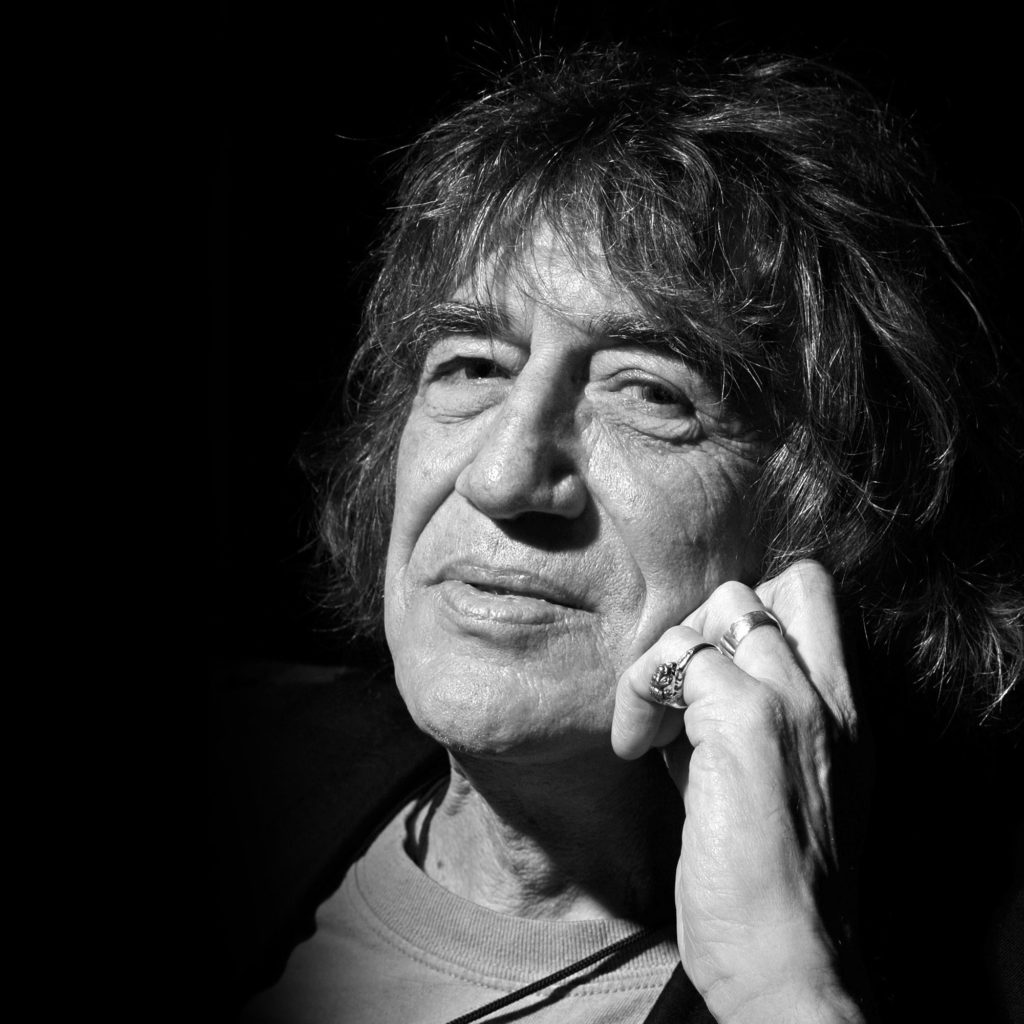 We mourned the loss of another great activist when Howard Marks, drug smuggler, author and raconteur extraordinaire, succumbed to cancer at his home in Leeds on the 11th of April. Mr Nice was a good friend of Ben Dronkers, a frequent visitor to Amsterdam, and of course the namesake of our award-winning G13 x Hash Plant. This remembrance of him was our tribute to one of the greats of contemporary counterculture.
Ironically, on the same day, Professor Raphael Mechoulam received the Lifetime Achievement Award at CanMed 2016, in recognition of his half-century of research into cannabis. This first annual  Conference on Personalised Medicine with Cannabinoids was held at the Joseph B. Martin Conference Centre of Harvard University's Faculty of Medicine and focussed on the therapeutic applications of cannabinoids for neurological disorders, and the involvement of the endocannabinoid system in the processes of disease.
April is, of course, the month that features the closest thing we have to an International Day of Cannabis. No Cannabis News Review 2016 would be complete without a mention of 420! The 20th of April – 4/20, thanks to our US friends – was celebrated around the world with marches, "smoke-ins", festivals, parties and various other events. This year there was even more excitement around it than usual, as whether by accident or design, the United Nations General Assembly Special Session on Drugs was held during the same week. Canada took the opportunity afforded by the attention paid to UNGASS (and cannabis in general) by the world's press on the 20th to announce a project aiming for total legalization of recreational cannabis use.
May:
The links between cannabis and creativity are long-established, and have been highlighted on our blog several times over the years. To give our fans and followers the chance to demonstrate their own artistic proclivities, Sensi Seeds launched our first cannabis art contest at the beginning of May. With a focus on street art and graffiti, this opened the floodgates to literally hundreds of entries that were submitted via social media.
Also taking to the streets in May was the annual NYC Cannabis Parade, proudly sponsored by Sensi Seeds for the second year running. Cannabis News Network was there to film a special report, which can be seen here.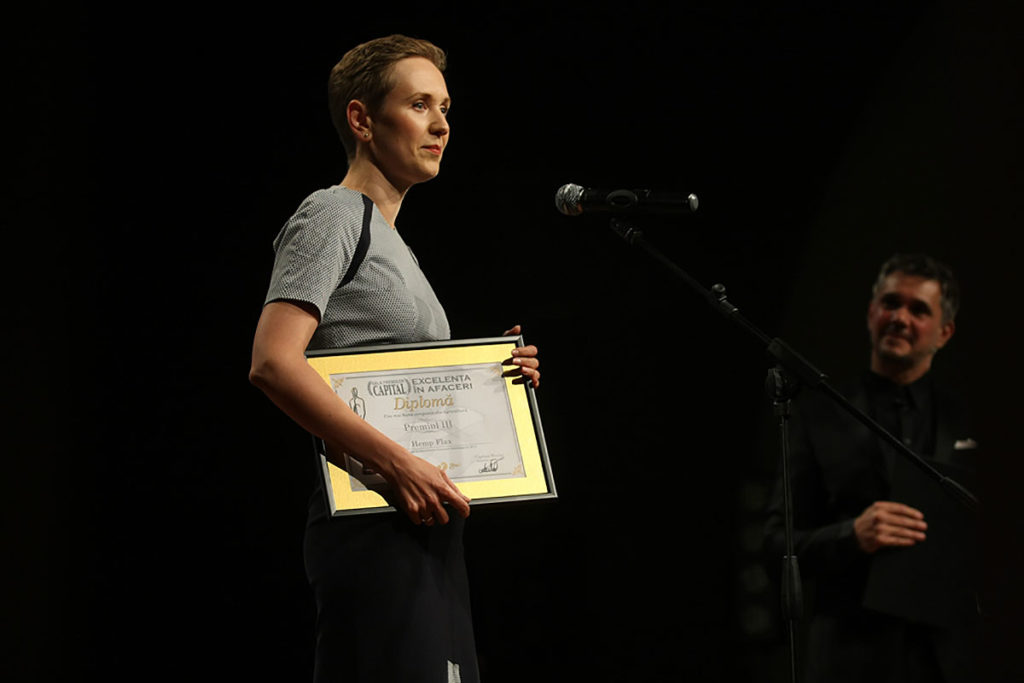 Meanwhile in Romania, the recently opened branch of HempFlax received the prestigious "Excellence in Business" Award at the Gala Capital Awards evening. Less than a year after it opened with a €5 million investment in the neglected Romanian hemp industry, HempFlax Romania garnered over a quarter of all the votes that were cast. Oana Suciu, the general manager, gave an enthusiastic acceptance speech in which she outlined the plan to return Romania to its place in the top three hemp processing countries.
June:
The Hash, Marihuana & Hemp Museum  in Barcelona opened its latest temporary exhibition, 'The Pope Smokes Dope', on June 1st. Running until August 28th, its name is taken from the album "The Pope Smokes Dope" by New York musician David Peel. This 1972 album, produced by John Lennon and Yoko Ono, contains six tracks, including the song "Everybody's Smoking Marijuana". As could be expected, the exhibition showcases record covers from many musical genres that demonstrate the age-old connection between cannabis and musical inspiration. A must-see for all overs of music and cannabis!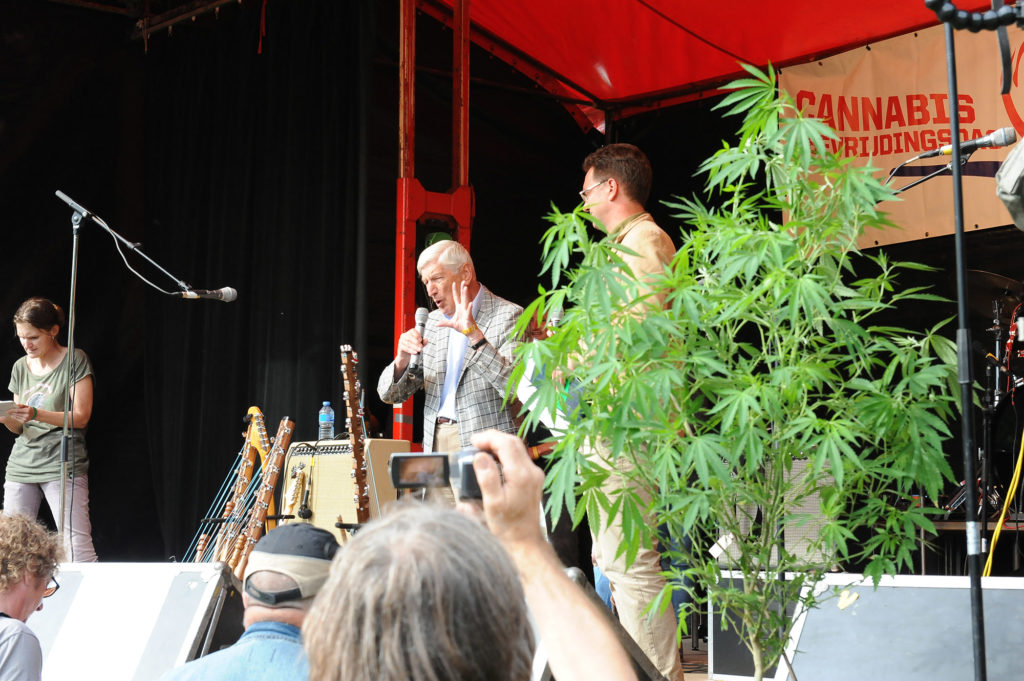 One of the most anticipated events on the cannabis calendar is, of course, Cannabis Liberation Day. 2016 was the 8th annual edition of this free festival, and featured speakers, music, food stalls, a market and Sensi Seeds as the main sponsor. Rick Simpson, known from the documentary Run From The Cure, was one of the main speakers and received the Koos Zwart Award for his contribution to cannabis liberation. Sensi Seeds also had the opportunity to interview him whilst he was in Amsterdam, and the full article and video of this interview will soon be on our blog.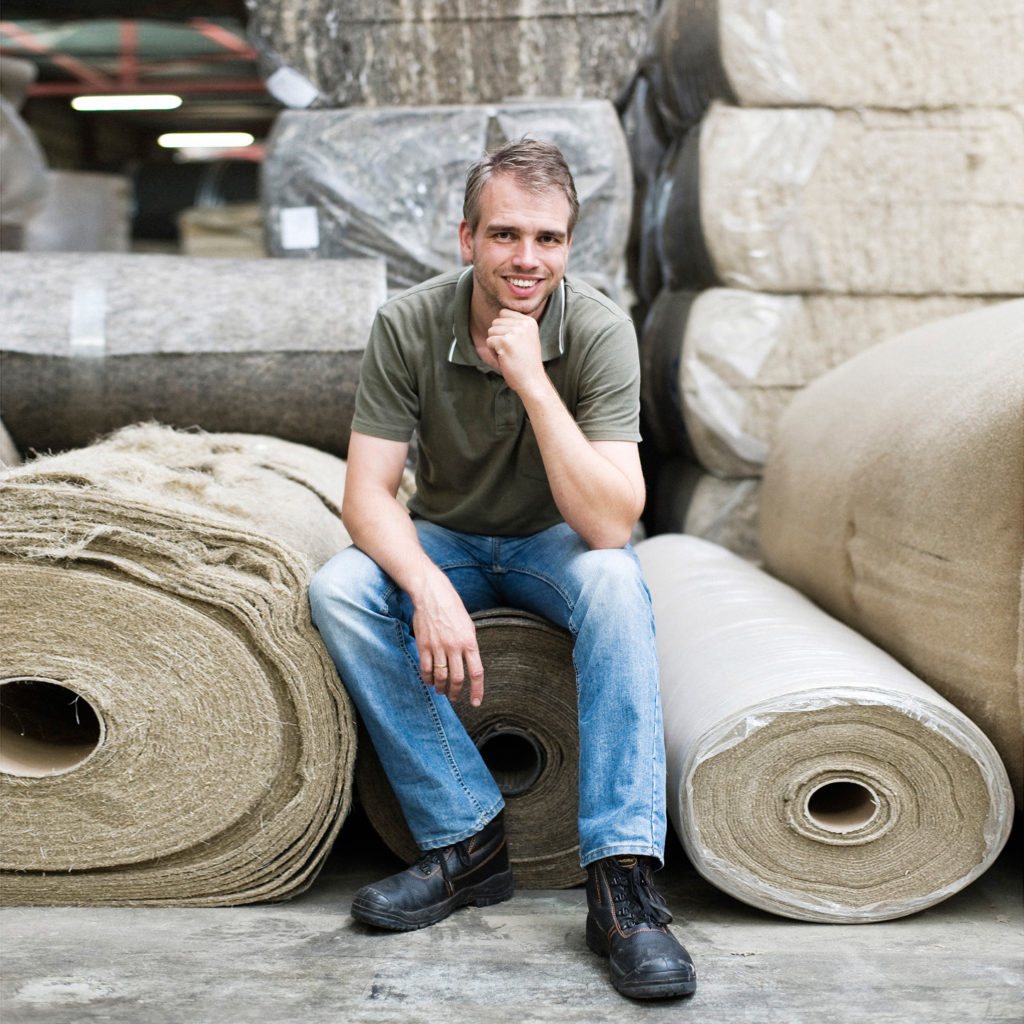 In Germany, the largest conference ever on industrial hemp took place in Wesseling near Cologne. The atmosphere at the conference was inspiring and optimistic, with the focus on how to meet the growing demand for hemp products by expanding  cultivation and processing throughout Europe. The importance of HempFlax to this process was underlined by the election of Mark Reinders, CEO of HempFlax, as the new president of the European Industrial Hemp Association (EIHA).
July:
The triumphal return of industrial hemp to the world stage continued in July with the Kyoto Hemp Forum. Delegates from around the world gathered in the historic Japanese city to discuss the opportunities offered by hemp, and the changes that need to happen for it to truly fulfil its potential. Sensi Seeds founder Ben Dronkers was one of the keynote speakers and Chris Conrad, author of 'Hemp: Lifeline To The Future' and previously a curator of the Hash, Marihuana & Hemp Museum, moderated the forum.
In Uruguay, the first legal harvest of recreational cannabis was successfully completed and the government ratified its plan of legal cannabis sales, something that had not been certain following the departure of President Mujica. 50 pharmacies thus far have agreed to sell cannabis, and the government is looking for more outlets.
Closer to home, Sensi Seeds announced the three winners of the Cannabis Art Contest! The first prize, flights for two people to Amsterdam and accommodation in a luxury apartment in the city centre, along with 10 Sensi Seeds Skunk #1 Feminized seeds, a Sensi Seeds t-shirt and a Sensi Seeds cap, was won by Smoka_bbq for this fantastic piece.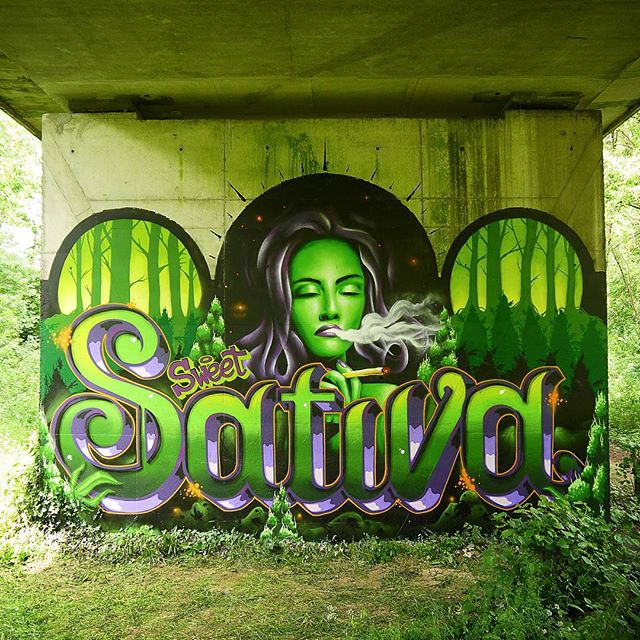 This concludes the first half of our Cannabis News Review 2016! It's been an exciting year so far, and Sensi Seeds is very much looking forward to the second half and all the new developments it is sure to bring. There have been major steps forward in the fields of hemp, recreational and medicinal cannabis, political and legislative change all around the world, and we will continue to report on all the news as it happens.
What do you think was the most exciting moment of 2016 so far? What do you hope to see in the second half? Did we miss a story that you would like to see covered on the blog? Let us know in the comments below!