Customer Service If you are a long-time Sensi Seeds customer, you may already know our Customer Service team is dedicated to answering your questions, and ensuring your order is handled by our shipping partner in the best way possible. Some of the most frequent questions they receive every day are listed here.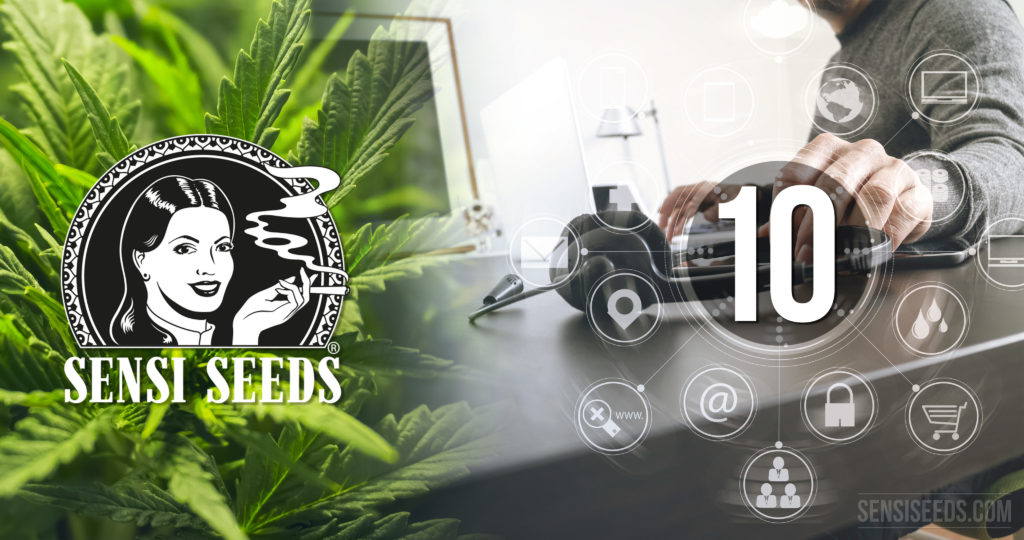 Sensi Seeds is proud to sell cannabis seeds in Amsterdam, where we are based. Locals as well as visitors are welcome in our shops, and can ask all their questions to our dedicated staff – we are always happy to help!
Yet, we know many of our customers like to shop for our cannabis seeds and other products from home, which is why our webshop customers are of the utmost importance to us. Have you ever wondered what are the most frequent questions handled by our Customer Service team? If so, just read on! Here is our top 10 of most asked Customer Service questions, and their answers.
1 – Why have I not received my package?
We understand – ordering cannabis seeds can be a little intense.
First, check if your order has been processed and sent by our shipping partner. Your package may already be on its way.
To do so, visit the Sensi Seeds website and click on "My account" (top right). Login with your credentials and click on "Orders". If the status of your order indicates the package has been shipped by our partner, consider waiting the maximum amount of time a package takes to reach your country from abroad.
If you think your package should already have arrived, contact Customer Service.
More shipping questions in our FAQ.
2 – Why don't my cannabis seeds germinate?
Seeds germination is the first step of growing cannabis. Unfortunately, many common techniques do not guarantee the best results. Sensi Seeds recommends you use what we consider the best germination method.
If you have followed this procedure and your seeds have not germinated, contact Customer Service.
3 – I want to know more about CBD oil!
What is the texture of Sensi Seeds' CBD oil?
Our CBD oil is not as thick as common oils, such as cooking oil (olive oil, grapeseed oil, etc.). Its consistency is the same than that of water mixed with a slightly thicker substance. Understand: thicker than plain water, albeit perfectly drinkable without being diluted.
What does Sensi Seeds' CBD oil taste like?
Our CBD oil tastes very 'green': a little bit like hempseed oil, a little bit like cannabis (without the psychoactive parameter, of course). Nutty, earthy, with a hint of salt.
How do I use CBD oil?
Our CBD oil comes in a bottle with a built-in pipette. You can drop the oil directly into your mouth using the pipette.
What is the recommended dosage?
As a dietary supplement, use twice daily. Place up to 1/2ml (15 drops) under the tongue, hold for 60 seconds, and then swallow. 1 drop contains approximately 1mg of CBD. If this is not sufficient to relieve whichever symptoms you wish to alleviate, we recommend you consult a healthcare professional for different dosage recommendations.
Read more about our CBD oil here.
4 – How to customise the postal address Sensi Seeds sends my orders to?
Visit the Sensi Seeds website and click on "My account" (top right). Login with your credentials and click on "Change account details". You can modify your address on this page, and confirm with the "Save address" button.
Beware! If you have already been notified that our partner is processing your shipment, the address change will not affect your order.
5 – Did Sensi Seeds receive my payment?
Everything about your order is on our website!
Go to www.sensiseeds.com and click on "My account" (top right). Login with your credentials and click on "Orders". The order status indicates whether the payment has been received.
If you think your payment should already have been processed, we recommend you contact your bank for more information.
If you are paying by cash, please ensure you have followed the steps listed in our FAQ.
6 – I need advice regarding my cannabis plants!
The Sensi Seeds team can't provide you with grow advice, for legal reasons. We suggest you subscribe to the Sensi Seeds forums. Our community of experienced growers may be able to help you!
7 – I have a medical question
The Sensi Seeds team has no authority to dispense medical advice. For any medical question, we recommend you contact your general practitioner or specialist. Please also consider reaching out to medicinal cannabis associations of your country of residence.
8 – How can I pay?
The method with which you pay depends on your chosen mean of payment. You can consult a list of accepted payments in our FAQ.
9 – Can your products be shipped to my country?
At Sensi Seeds, we understand our customers are located all over the world. This is why we have created an interactive map in which you can see where our cannabis seeds, and where our other products can be shipped by our partner.
Consult the map here.
10 – Is it safe to send your products to my country?
When our shipping partner sends cannabis seeds, CBD oil, or other products to a specific country, this means that the legislation in said country allows us to instruct them to do so.
Our interactive map shows you where our products can be sent.
You may be concerned about the shipment itself, and how it will appear to your local postal service.
Consult this FAQ entry to see exactly what our shipping partner sends you. We hope this puts your mind to rest!
Need more? Read our FAQ.
And for any additional detail, our Customer Service team is at your disposal, Monday to Friday, 9:00 to 17:00.
Send them an email at info@sensiseeds.com, or call them at +31 (0)20 6262988.