The UFCM symposium has moved!
Due to unforeseen circumstances, the UFCM ICare symposium 2018 will take place at a different location within Université La Sorbonne. Check out the details on the right!
For any question, please contact UFCM ICare.
×
UFCM For the first time, UFCM ICare (French-speaking Association for Cannabinoids in Medicine) will host its symposium during springtime, in 'Université de La Sorbonne'. Since its creation, the association has gathered medical professionals from all over the world, for them to learn from each other, and stay up-to-date on the use of cannabinoids in modern medicine.
What |UFCM ICare symposium 2018
When | 01/06/2018
Where |Université de la Sorbonne, 91 Boulevard de l'Hôpital, 75013 Paris, France (Métro Saint Marcel)
Calling all medical professionals
The UFCM ICare symposium will take place June 1st, 2018, from 8:30am to 6:30pm. Find the entrance at 91 Boulevard de l'Hôpital, 75013 Paris.
Medical professionals, patients, students, and anyone interested in the topic of cannabinoids in medicine is encouraged to attend!
Don't want to miss out? Book your seat before May 22, 2018.
Important note: the UFCM ICare website is only available in French language. However, all conferences during the symposium will be simultaneously translated into English.
International attendees more than welcome!
Why attend?
This year, the symposium will be hosted by Bertrand Rambaud, co-founder and President of UFCM ICare, as well as medical professionals involved in eminent addiction-focused and AIDS and hepatitis-focused associations.
Our highlights;
Dr François-Rodolphe Ingold will speak of cannabis as a treatment for PTSD.
Yann Bisiou, Esq., and Senior Lecturer in Private and Criminal Law, will delve into the use of medicinal cannabis during times of prohibition.
Molecular Biologist Dr Christina Sanchez will run an 'FAQ' session on the topic of cannabis and cancer.
Constance Finley, patient turned medicinal cannabis entrepreneur, will recount her experience with CBD in the US.
… and many more. The full program of the UFCM ICare Symposium is available here. You can also download a PDF version here.
The UFCM symposium is a conference designed and organised every year by medical professionals and patients alike. The main objective is to inform and prepare the medical community for the inevitable rise of cannabis as medicine, as well as to allow interaction and debate between doctors and consumers of medicinal cannabis– two communities usually kept apart by legislation and taboo.
Governments may not be ready to welcome the multi-purpose plant into the lives of their constituents, said constituents don't have time to wait.
UFCM ICare ups its conference game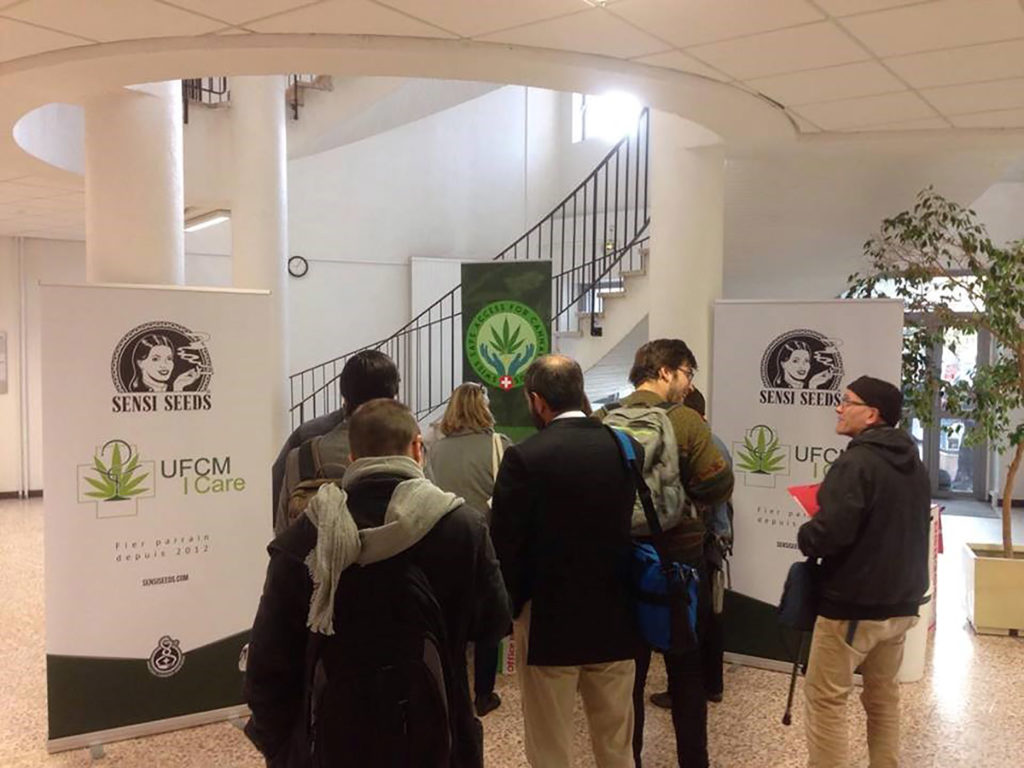 As assiduous readers of the Sensi Seeds blog may know, the UFCM ICare symposium generally takes place in October, in the Alsace region, in which the association was originally created.
Sensi Seeds has fervently supported UFCM ICare since its creation in 2013. This is why we are extremely proud of the fact that this year, 'La Sorbonne', one of the best regarded universities in Paris, and internationally known as a staple of French education, accepted to host the 7th edition of the symposium.
While legislation around cannabis in France remains one of the most restrictive systems in Europe, the fact that cannabinoids are now viewed as a topic worthy of discussion is definitely progress. Congratulations, Mr Rambaud and UFCM ICare!
UFCM ICare will be awaiting you on June 1st, 2018 in Université de La Sorbonne.
See you there.