Hemp surfboards The ocean has been turned into a large marine waste dump that harms its ecosystems. The world of surfing wants to "reinvent the future" with a clean alternative that replaces the use of polluting materials: Hemp.
The Ocean: A Global Dump
The ocean has become a giant deposit of marine debris that poses a great threat to its ecosystems. According to Greenpeace, each second more than 200 kg of plastic are dumped in the oceans of the world, this amounts to more than 8 million tons of plastic waste per year.
Some of this plastic waste – which accounts for 80% of marine pollution – is degradable and may disappear in little over six months, but much of the rest will take hundreds of years to be degraded. In the meantime, before this happens, they leave a polluting trail: each year, more than 1 million sea birds and 100,000 marine mammals die due to the deterioration of the aquatic environment.
The plastic, chemical, and petroleum residues are drowning our seas and oceans, and depleting their flora and fauna. As a great defender and lover of the marine world, Jacques Cousteau, said years ago: "Water and air, the two essential fluids on which all life depends, have become global garbage dumps".
International measures have already begun to be taken by governments and environmental organizations in order to stop this great ecological damage that threatens us all. However, each one of us must try to do our bit to innovate, change mentalities and respect the environment. Our life depends on it.
Catch the Waves With Hemp and Reinvent the Future
The world of surfing wants to "reinvent the future" and has set to work to find clean, ecological, sustainable and renewable alternatives to replace the use of polluting materials in the surf industry. And that material, that raw material, is hemp.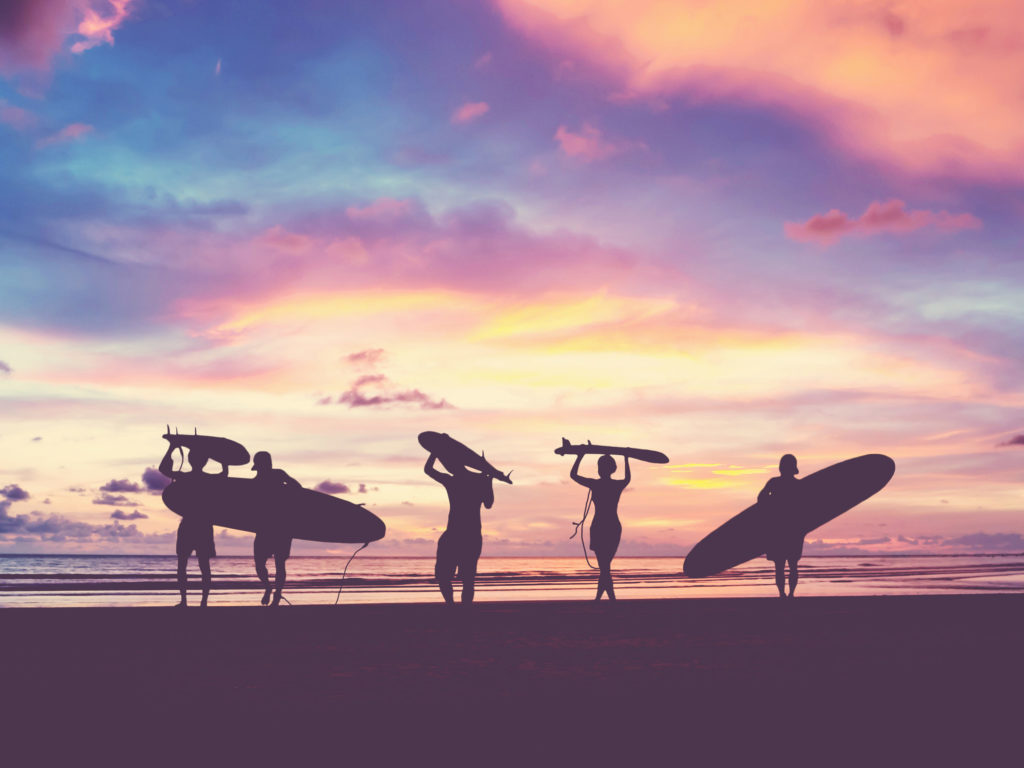 It has become easier to find products aimed at the sports sector, specifically surfing, made from vegetable fibers, such as flax, coconut and, of course, hemp, in order to replace the polluting materials with which they were produced until very recently. Hemp can be used instead of materials like plastics in the manufacturing of surfboards, surf suits, ropes, etc., helping to reduce marine pollution.
You can also find surfboard covers and carriers made of hemp. Hemp fiber is used for boards instead of fiberglass, because it makes them much lighter, flexible and strong, in addition to giving them a sensational grip and buoyancy. Using hemp does not only imply an ecological commitment, but also improves the quality and the benefits of the products that contain it.
But hemp is not a new material that responds to a specific ecological trend, not even in the surf industry. In fact, it is a raw material that has been brought back from the past to help us reinvent the future in order to save it. For thousands of years hemp has been used for its nutrition properties and multiple health benefits, as well  as a raw material for the production of endless food, textiles, and medicinal products.
Hemp is the plant that creates more biodiversity around it. Its cultivation allows us to obtain three raw materials at low cost: seeds, fiber and pulp. Fiber has always been widely used for its magnificent qualities, since it is the most resistant and absorbing vegetable fiber, as well as the most insulating and longest lasting. This is perhaps why 3000 years ago, the Peruvian indigenous people built the well-known boats called "los caballitos de Totora" (Totora's horses) – which are considered to be the forerunners of current surf – using hemp fiber.
Dreamers and Innovators Launch Revolutions
It is clear that to change the world there must be dreaming and innovation. This is exactly what Sensi Seeds, and its subsidiary HempFlax, a world leader in the production of industrial hemp, do. Since 1994, the company founded by Ben Dronkers, has the objective of bringing back this ancestral crop to the place it deserves, and it is achieving it. HempFlax defines itself as a socially responsible and ethical company, that works to build a cleaner planet for future generations. Their products are already in use in building projects. In the future, there may well be a place for the hemp grown at HempFlax on the sea, as well as on the land. Stay tuned to the Sensi Seeds blog to stay up to date with all the latest developments.