Facebook To our surprise and disappointment, Facebook has removed several posts from our wall! We investigated thoroughly and discovered that other cannabis companies have had the same problem. So what's behind this purge on perfectly legitimate businesses? Read on.
In early 2016, a wave of action by Facebook removed numerous cannabis-related pages from their platform. In the US, both dispensaries and fully legal recreational cannabis outlets had their pages shut down with no notice and little explanation. Now it could be Europe's turn for potential cannabis social media deletion, if recent communication between Sensi Seeds and Facebook is anything to go by.
Just like most businesses, Sensi Seeds has a Facebook page. It's a base for our online community, a useful hub for our fans and customers to interact with each other and our social media staff. We post competitions, fun facts, relevant news, exciting images, and naturally, links to this blog. And (because we are a business!) we use Facebook to inform people about special offers and discounts on our products. Apparently, this practice is causing cannabis businesses serious problems on social media.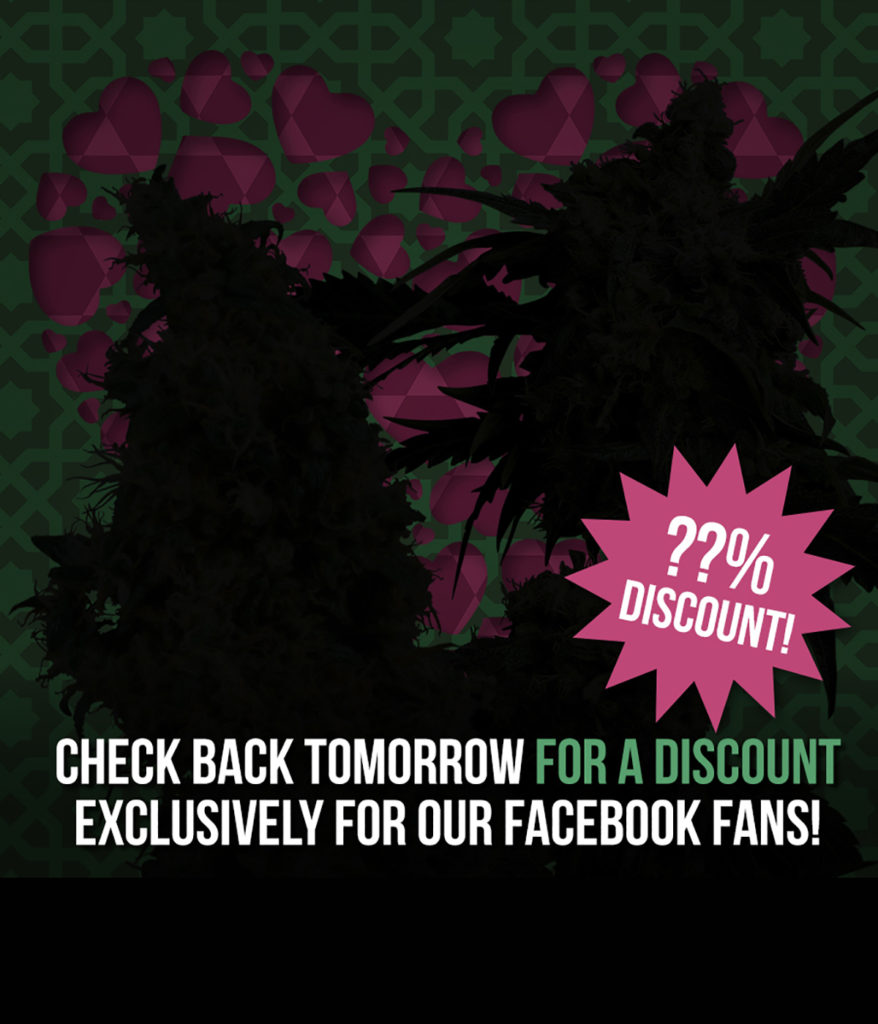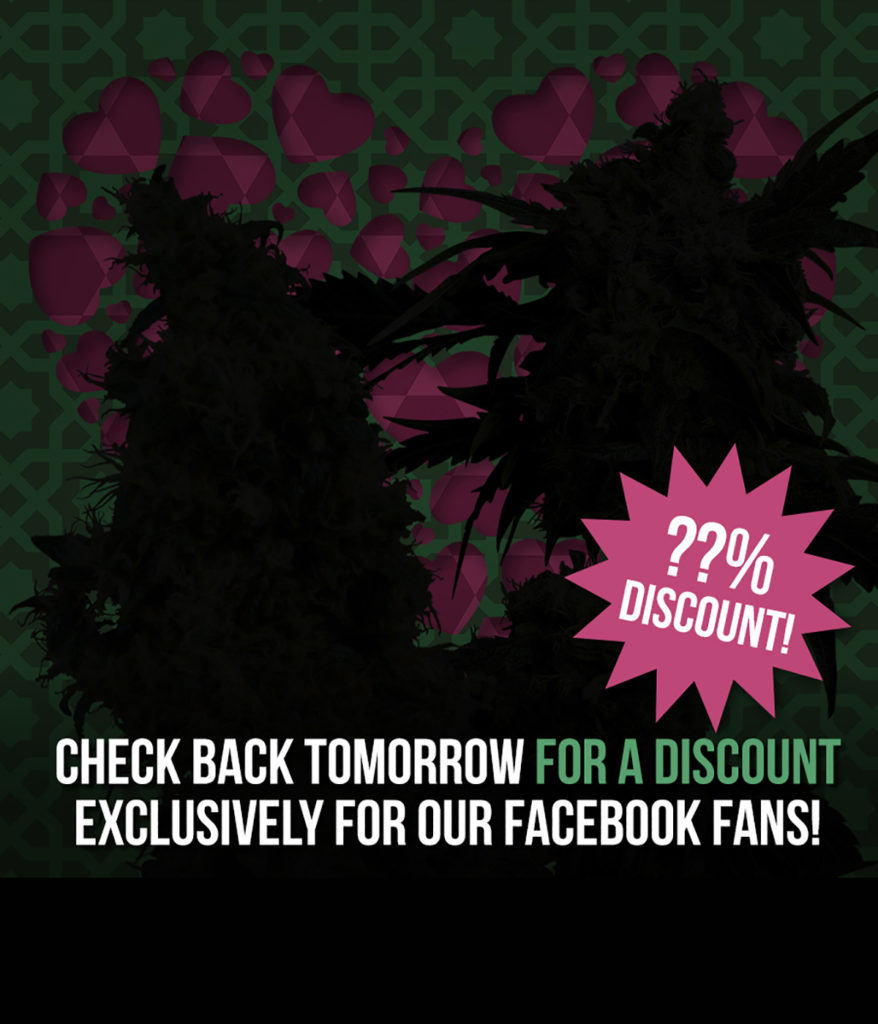 We learned this the hard way. For our Valentine's Day special, we published a teaser image (above) the day before. Because it was so 'anonymous' in terms of both imagery and discount, there was no response from Facebook (although there were plenty of responses from our excited fans!). On the day itself, love and affection should have been sloshing all over our social network, inspired by the romantic couple of Mr Nice and First Lady both being offered at 30% off. Instead of a Valentine's card, however, we received an unpleasant missive from Facebook. It stated that we were in violation of their guidelines and therefore Facebook had removed the image.
But it didn't end there. The removal of one cannabis image from our Facebook page swiftly escalated to a veritable St Valentine's Day massacre, with several more images of cannabis plants which had been shared by our fans being removed by Facebook in quick succession.
This is the image that Facebook decided to remove for your safety (we hope you don't feel unsafe because we've shown you here!). Apart from the graphic showing the discount, this is no different from many images that we have previously posted on Facebook. We think, based on information from anonymous sources, that it was the discount graphic that tipped the balance. But we can't confirm our suspicions, because Facebook won't tell us – or anyone – exactly what the problem is.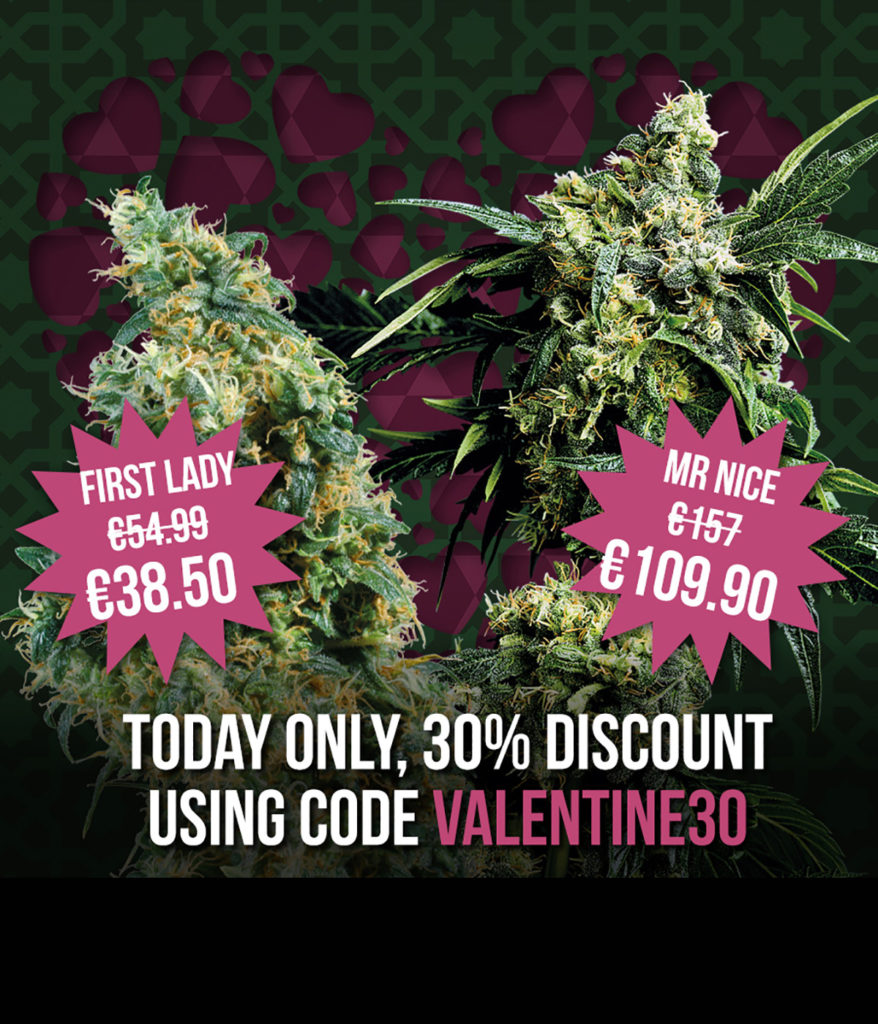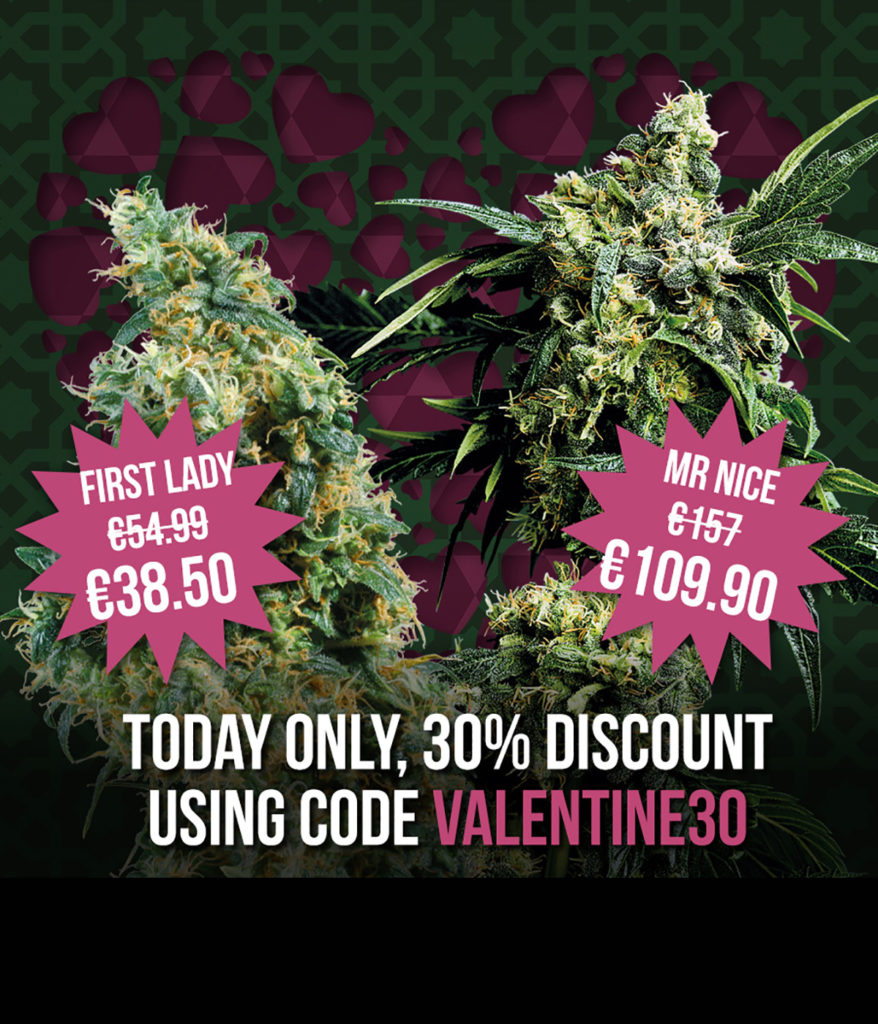 How can cannabusinesses keep their Facebook pages safe?
The simple answer to this question is: they can't. When posts vanish, too many variables are in play to know for sure what the causes of deletion are. Some of them (such as users reporting cannabis images) are impossible to guard against. However, there are two measures that we have taken to safeguard our social media as much as possible.
Firstly, we won't be displaying discount codes, as this has been agreed by several sources to be high risk behavior. Although we really regret this, as we enjoy treating our fans to discounts, fear not! You can still get discount codes by signing up for our newsletter, and you'll actually receive the codes before they are shared anywhere else.
Secondly, we're cutting back on publishing bud photos. Again, it's a real shame that we have to do this, but it's the other major factor mentioned as being a problem for Facebook. We love seeing the pictures of your plants, and you can still post them on our wall. We, as a company, can even Like them. But we can't re-post or otherwise share them. (Incidentally, if you're not yet on the Sensi Seeds Forums, it's super quick and easy to become a member, and you can view and share a whole trove of bud pictures!)
Finally, we're keeping a close eye on what's happening with our fellow cannabuisnesses and their social media. Our social media manager regularly checks up on what seems to be acceptable, and whether Facebook have made changes to their community guidelines regarding cannabis.
Mysterious Facebook community guidelines
This is one of the most frustrating things about Facebook and their 'community guidelines'. As our social media manager says, "Facebook never specifically detail how you violate their community guidelines. They will not give details like "Because you said X or Y, that's too much". There have been cases of people persistently asking Facebook to go into detail, but they never do. When pressed for answers, they just keep repeating lines from their community standards statement. So people can't concretely learn from it, and never really know what specifically crossed the line."
In the Regulated Goods section of Facebook's Community Guidelines, it is clear that they "…prohibit any attempts by private individuals to purchase, sell, or trade prescription drugs, marijuana, firearms or ammunition."  Facebook operates a blanket policy on cannabis. Despite the fact that this is treating companies as though they are private individuals, despite the hundreds, if not thousands, of legal cannabis dispensaries in the US and Canada, they are not permitted the rights of other legitimate companies. Even businesses that promote and sell alcohol and tobacco products can (and do) take advantage of the immense reach and influence of Facebook.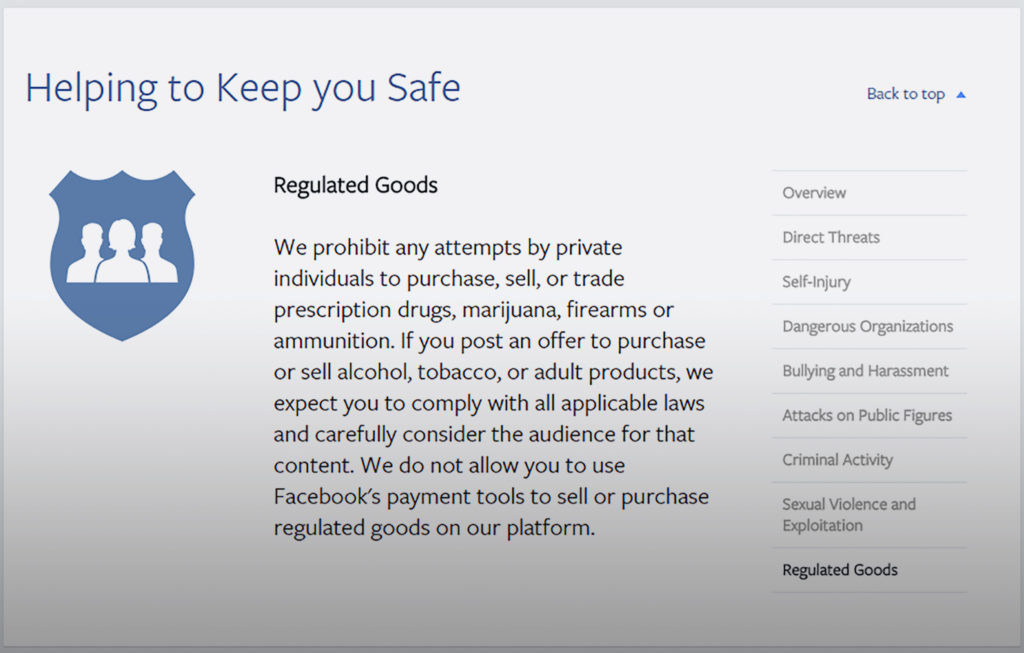 Social media sites have no obligation to host content
It's important to remember in any discussion of Facebook, and indeed any social media platform, that these sites have no obligation to host content. Uploading anything, whether it be text, photo or video, does not guarantee that it will stay there. Nor does it entitle the uploader to any rights. On the contrary, there is evidence that more than a few Facebook employees believe that once images are uploaded to the platform, they become Facebook's property. This is not strictly true. However, Facebook does have your basic permission to use your 'intellectual property' content; you gave them this right when you signed up for the service.
In principle, everything and anything that is put on Facebook can be deleted by Facebook. The continued existence of the Sensi Seeds Facebook page is due to the fact that we have a skilled and conscientious social media team who are very careful about what we communicate. Nevertheless, when the rules are unclear, unwritten, and subject to change without notice, it is extremely difficult to know whether we are staying within Facebook's tolerance policy! We are not alone in having this problem. There are plenty of companies who only know they've crossed the line when their pages are removed or deleted.
How do we know when we've crossed the Facebook cannabis line?
Well, our social media manager did some detective work. There is some unofficial indication of where that line is. Several sources who wished to remain anonymous, and are facing the same issues, pointed to posts that promote sales of cannabis-related items (such as the Valentine's day offer and our spring discount giving 30% off all our products,) and show discount codes, as "going too far" in Facebook's eyes. Posts with imagery that clearly show cannabis plants and buds can also earn a warning for pages that publish them.
An article on Marijuana Business Daily confirmed this, citing a source in Colorado who also chose to remain anonymous. One wonders what the anonymous sources fear. Singling themselves out and never being able to have a Facebook account again? Incriminating friends who work for Facebook and leaked the information in the first place? Making Mark Zuckerberg actually turn pale at the very thought of cannabis?
To further complicate matters, anyone on Facebook can report a photo if they don't like it. When the BBC contacted Facebook about the sudden wave of cannabis disappearances, the reply was an official statement that seemed to actually shift the blame away from Facebook, and onto their users: "In order to maintain a safe environment on Facebook, we have Community Standards that describe what is and is not allowed on the service. Anyone can report content to us if they think it violates our standards. Our teams review these reports rapidly and will remove the content if there is a violation."
When is an illegal drug not an illegal drug?
One of the options that can be selected as a reason for reporting a photo is "Illegal drug use". Again, it's unclear exactly what is meant by this. Is growing a plant "using a drug"? If the plant is being legally grown, how can it be "illegal"? One of the people who spoke to the BBC, Graham Sorkin, posited that it could be "a competitor that flagged our page just because they didn't like that we had more followers than them". Much as we do not like the idea of cannabis companies trying to undermine each other in such an underhanded way, it cannot be discounted as a possible cause. However, disgruntled and misinformed anti-cannabis fanatics should not be discounted as an equally likely scenario. Both of these things would also account for the seeming randomness of the posts being removed.
We want to be open and straightforward with you, and provide as much information as we can about our decisions (hence the length of this post!). We hope that you can appreciate the changes we have had to make to our social media strategy in order to preserve our Facebook presence. Please let us know your thoughts and feedback in the comments, and please keep interacting with us on social media – our community really is important to us, both on and offline.