Since their conception at the end of the 19th century, comics have gone through a continuous evolution. Over the years, the universe of comics has adopted multiple forms: graphic comic strips, children's stories, social critique, and later on many others such as animation, and the underground comics of the 60s. From Popeye to the superheroes.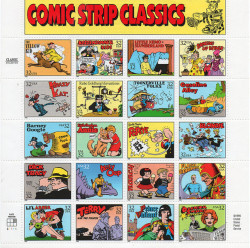 Since their conception at the end of the 19th century, comics have gone through a continuous evolution. They emerged in the USA around 1890, preceded by a long narrative and iconographic tradition in Europe and by considerable developments in illustration. This hybrid melange combining text and images got its name because in their origin, comics and comic strips were basically comical. Over the years, the universe of comics has adopted multiple forms: graphic comic strips, children's stories, social critique, and later on many others such as animation, the underground comics of the 60s and, last but not least, comic books starring superheroes.
From the time they started being published in the USA, comics became a means of expression between classes, generations and even races. As a result, comics became a vehicle for ideologies, which turned them into fodder for many detractors among the dominant classes, which considered them a source of destabilisation, disturbance and even anti-patriotism, placed with no qualms within the reach of the youth and the more underprivileged sections of society. It wasn't long before comics became an object of persecution and a form of socio-political resistance.
The art of comics is much more complex than it appears at first sight, as evidenced by its history and evolution. What started off as a simple Sunday comic strip became a means of artistic and narrative expression spanning all possible genres and an infinite number of subjects. Nothing escaped the scrutiny of their creators, authentic chroniclers of the social and political times in which they lived, and of the reality surrounding them. Humour, drama, religion, violence, sex, politics and of course… drugs.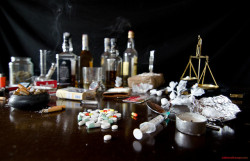 We are referring here to legal substances such as alcohol and tobacco, and to illegal ones, such as cannabis psychoactive and psychotropic substances, opiates and later on, designer and synthetic drugs such as methamphetamine. All of these substances make an appearance over the course of the history of comics, openly or covertly, in a great variety of stories where they are naturally intertwined with their characters as a reflection of our own historic, social and cultural situation at the time of their publication. Additionally, politicians, lobbies and pressure groups have used comics in the fight against the use of drugs and to negatively influence their use in society.
By analysing some of the most well-known characters of the history of comics, we see a chronicle of the social and political zeitgeist of our most recent past, which reflects the progressive prohibitions introduced, basically, by the USA, to restrict or eradicate the supply, demand and consumption of substances known as drugs.
POPEYE THE SAILOR MAN
Popeye appeared for the first time as the star of a comic strip in 1929. Popeye has gone through many different writers, artists and formats since he was first created by Elzie Crisler Segar. Since his creation, Popeye the Sailor Man has been one of the world's most well-known and beloved characters. The original comic was much more complex than the short animated films. Segar introduced weird and wonderful characters in Popeye's world and the comic strips were full of adult humour. Popeye is one-eyed, speaks in a peculiar way, always with a pipe in his mouth, and has muscly forearms. Eating spinach affords him superhuman strength. Yet is the spinach that gives Popeye his super-strength really a metaphor for another magical herb? The evidence is circumstantial, but it is there, and when added together it presents a compelling picture that, for many readers at least, Popeye's strength-giving spinach is meant as a clear metaphor for the miraculous powers of marijuana.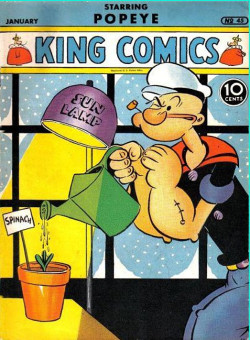 According to Dana Larsen, a Canadian pro-legalisation activist who wrote an article on the subject, in the 20s and 30s, the word 'spinach' was street slang for marijuana. In those times, in the clubs where people could smoke pot, they used to play 'The Spinach Song', recorded by the popular jazz band Julia Lee and Her Boyfriends, which used spinach as an obvious metaphor for marijuana, alongside other tracks such as 'Sweet Marijuana'. Equally, after analysing a strip from 1954 in which Popeye tells his nephews about his ancestor Hercules, and the scene in which he appears sniffing white garlic and eating spinach to gain more strength, Larsen considers that both of these foodstuffs are really metaphors for cocaine and marijuana respectively, and notably, Hercules gives up white garlic to switch over to spinach. In a number of 60s' strips, Popeye sucks spinach through his pipe several times. Although it is more probable that the superhuman strength spinach gives Popeye is related to the coca leaf, we must not forget the fact that Popeye has a habit of spitting. Popeye's creator sadly died in 1938 from leukaemia, so we can perhaps suppose that he was familiar with the use of drugs because of his illness.
Added to this, marijuana propaganda advocated the dangers of marijuana use among the youth and their parents, describing how it produced superhuman strength. Press reports from the, sadly, famous era of Reefer Madness, proclaimed that cannabis users acquired extraordinary strength, making them almost immune to bullets. It therefore seems obvious that in those times, Popeye's impressive strength obtained from spinach would be linked to marijuana.
Plus, as a sailor, Popeye could be expected to know about exotic herbs from faraway places. In reality, sailors had a lot to do with the introduction of marijuana in stateside culture and in that of many other places in the world, as they brought pot back from their voyages. Of course, we mustn't forget either that hemp was used for centuries to make sails for boats, ropes, maps, log books, bibles and of course as paint and lamp oil.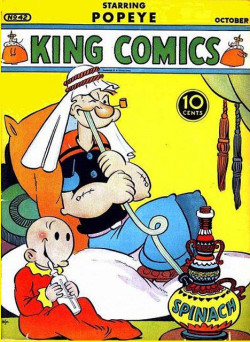 There have been many interpretations of this comic strip, some of which are far removed from what its authors meant it to reflect, but they give us a good idea of the iconic status that Popeye has attained among some parts of the cannabis community. I would like to end with a mention of another of the many references to cannabis that appears in the comics and sketches of the 60s: Popeye has a dog called 'Birdseed'. The writers who gave the dog its name during this time, the hippy period par excellence, must surely have been aware that cannabis seeds were most commonly used to feed birds before it was prohibited.
SUPERHEROES AND VILLAINS
In the mid-30s, small companies emerged such as All Star Comics, Action Comics, and Detective Comics. The quality of the stories became better, and writers and cartoonists acquired a characteristic style, which is now known as 'American'. Detective stories emerged as well as stories of scientists and more attractive characters with superior abilities, who went about saving the planet or their community from impending major catastrophes. This format, a type of comic book with adventure stories, became famous in the 30s and 40s, and has been the most popular format for comics in the States since the 60s. These comics recount the feats and exploits of superheroes, heroic characters with extraordinary or superhuman skills and abilities, or even divine powers and attributes, and describe the universes they inhabit.
With the arrival of Superman in 1938, the trend for superheroes in disguise with extraordinary powers and a double personality burst onto the scene. This was the birth of a golden era for this form of expression and comic books dedicated to superheroes grew to become a great genre, coinciding in time with the Wall Street Crash or the Great Depression, the major economic crisis that carried on until the end of the 30s and the beginning of the 40s, i.e. until the start of the Second World War.
The sociocultural and political context in which each of these characters appear is deeply intertwined with their personal history and the origin of superpowers (pop-culture term to describe superhuman qualities in fiction) or that of their enemies or antagonists.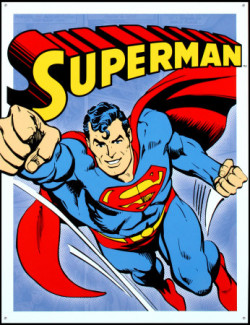 We must remember that the 19th century saw the birth of the 'new drugs', including notably morphine (1806), cocaine (1860), heroin (1883) and barbiturates (1903) as described by Antonio Escohotado in his famous work 'Historia General de las Drogas' [The History of Drugs]. At the time, using small quantities of such substances, including marijuana, and in many cases on a daily basis, was legal and fairly common. However, at the start of the 20th century, a moralist wave of social and legal reform occurred in the USA against vices, which erupted into a global crusade to eradicate drugs. The prohibition of drugs in the USA occurred in 1906, when American lawmakers approved a first law, Pure Food and Drug Act  aimed at controlling the sale of cocaine, which was increasingly being abused, and a little later, the Opium Exclusion Act entered into force in 1909, followed by the Harrison Narcotics Tax Act in 1914.
These legislative changes caused a huge price rise on all of these substances, which benefited illegal trafficking. In 1930, the company DuPont launched a PR campaign against hemp, with the sole aim of vilifying and prohibiting its culture and cultivation and evidently to promote and advertise nylon, a strong synthetic and elastic fibre made by the firm, in the textile industry. This campaign reaped its rewards to some extent when in 1937 the Marijuana Tax Act was approved, which criminalised cannabis users.
In the second and third parts to this article, we will focus on some of the most charismatic superheroes and villains that emerged in the 30s and the substances that appear, openly or covertly, in their stories, to put together a chronicle as a reflection of our own historic, social and cultural zeitgeist at the time of their publication.