addiction Years of practical experience, confirmed by recent research, have shown that the so called 'stepping stone theory' is wrong and that cannabis can in fact support treatment for alcohol and drug addiction.
For years now, the mainstream media have been telling us that cannabis is a so-called 'gateway drug'. This viewpoint is also known as the 'stepping stone theory' and it assumes that people who use cannabis will in all probability step up to using hard drugs at some point. However, years of practical experience have shown — and this has been confirmed by recent research — that the opposite is true and that cannabis can in fact support treatment for alcohol and drug addiction. This is yet another prime example of a lie, which has been drummed into us so persistently that many people take it for truth.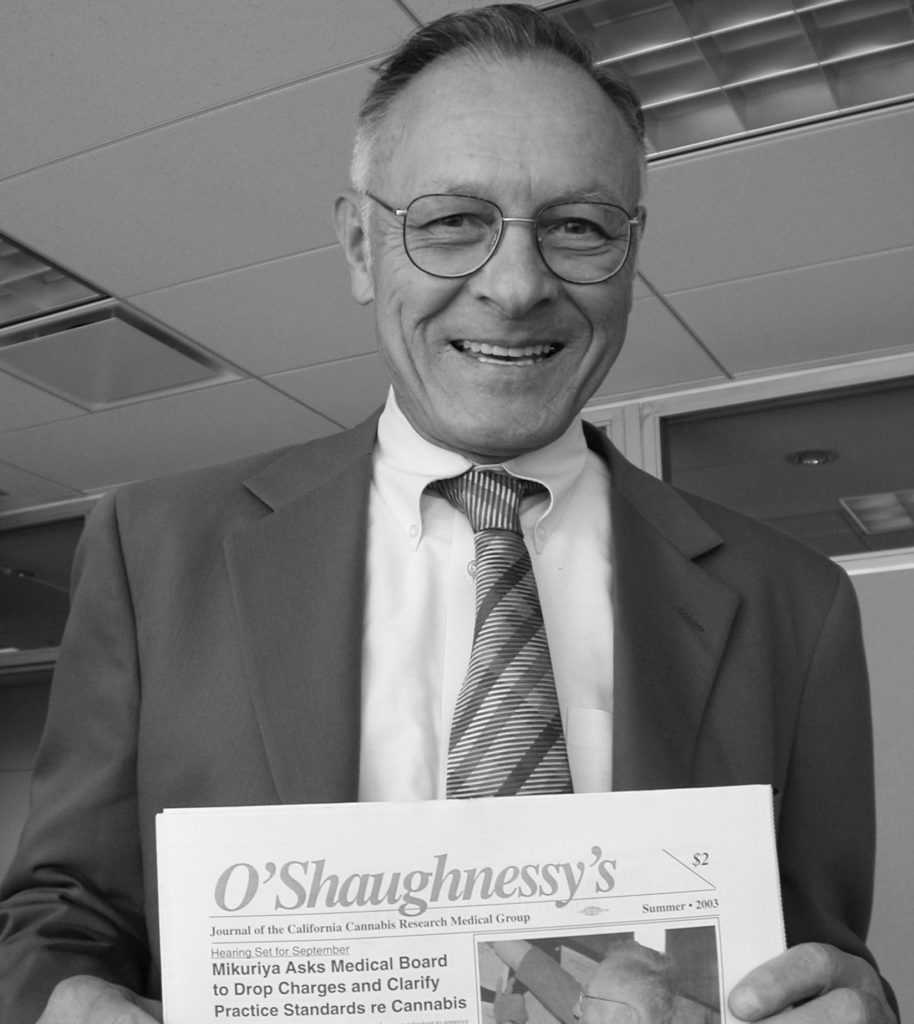 It has been known for over 100 years that the cannabinoids in cannabis can help people to kick their opiates or alcohol habit. Doctor Tod Hiro Mikuriya (1933-2007) was a renowned champion of medicinal marijuana in general and of cannabis as a remedy for addiction in particular. He is seen as one of the architects of the current medicinal cannabis policy in the United States. Mikuriya said the following in an article dating from 1969 (Marijuana in Medicine: Past Present and Future):
"Because cannabis did not lead to physical dependence, it was found to be superior to the opiates for a number of therapeutic purposes. Birch [Dr. E. A. Birch, ed.], [in The Lancet, ed.], in 1889, reported success in treating opiate and chloral [sedative, ed.] addiction with cannabis, and Mattison [Dr. J. B. Mattisson, red.] in 1891 recommended its use to the young physician, comparing it favorably with the opiates…"
What are opiates?
The term opiate refers to the alkaloids in opium, which are extracted from the capsule of the poppy. The best-known opiates are heroin, codeine, thebaine and morphine. Alkaloid extracts affect the central nervous system and are used as a stimulant as well as a basic ingredient in painkillers. The pharmaceutical industry is doing well from selling all sorts of synthetic opiates that effectively alleviate pain. However, these drugs also produce side effects such as tolerance, resulting in increasingly higher doses, while long-term or heavy use of opiates causes severe addiction. Pain is the single most important reason for people to see a doctor and in many cases they are prescribed opiate-based painkillers, which is why many people worldwide are addicted to painkillers such as OxyContin or Xanax. Several episodes of National Geographic's Drug Inc. television programme have shown that in some parts of the U.S.A. the market for illegal painkillers is booming. Several people have even become addicted to heroin after their prescription painkiller treatment had come to an end. How's that for a 'gateway drug', compared to cannabis?
Prevention is better than cure
Cannabis, next to opiates, was the most widely-prescribed medicinal plant extract in the world, until it was suddenly banned in many parts of the world in the 1930s. Fortunately, its medicinal properties are being rediscovered, a process to which Sensi Seeds is only too happy to contribute. The feedback that Sensi Seeds gets, together with the feedback that patients' associations such as MarijuanaPatients.org receive, shows that patients who use medicinal cannabis as a painkiller have been able to substantially reduce or even altogether end their consumption of opiates. In addition, they report that the side effects of the opiate painkillers have all but disappeared as well, such as constipation, nausea and depression.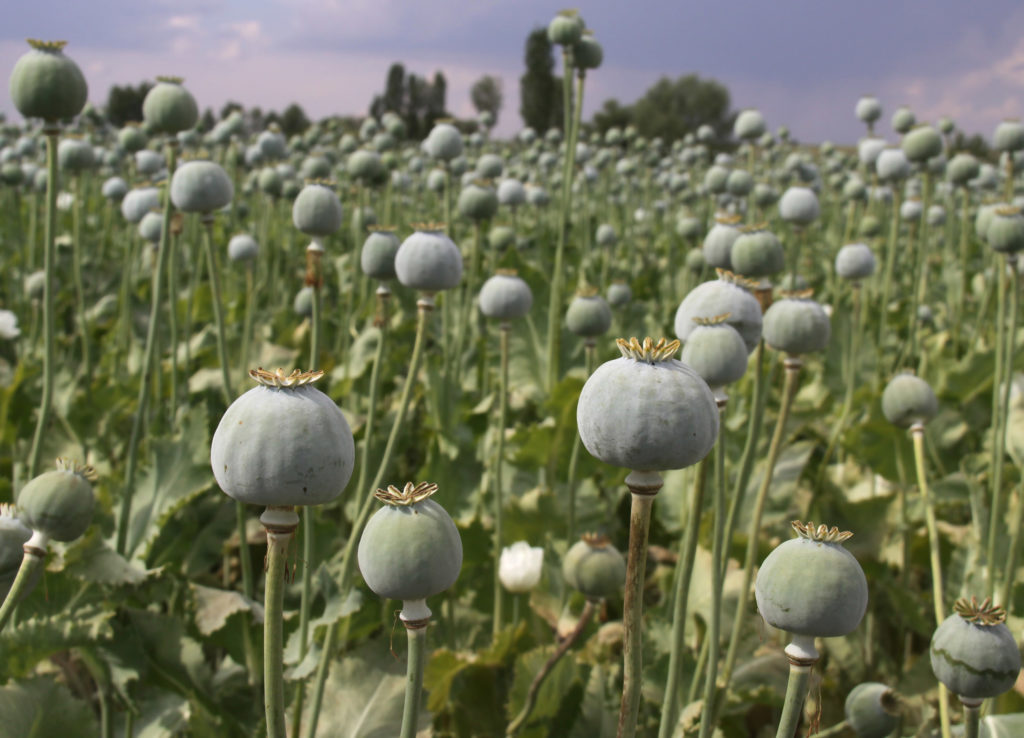 A common phenomenon among patients who use cannabis as a painkiller is that it doesn't always completely kill the pain, but makes it bearable, easier to ignore. This exciting finding has drawn scientists' attention and by and by, the medical world is starting to acknowledge the synergy between cannabinoids and opiates. By adding cannabis to the treatment, the dose of opiates can be reduced considerably, reducing the risk of an overdose, and neutralizing or almost neutralizing the side effects and the chance of becoming addicted. Sensi Seeds will continue to monitor these developments.
Cannabis in treating alcohol addiction
In 2009, the Harm Reduction Journal reported on an anonymous survey that was conducted by the Berkeley Patients Group (BPG), a medicinal cannabis dispensary in Berkeley, California (U.S.A.). Of the 350 patients surveyed, 40% indicated that they had substituted cannabis for alcohol, 65.8% said that they had substituted cannabis for prescription drugs, 57.4% indicated that they now used cannabis instead of prescription drugs because it treated their symptoms better, and 26% indicated that they had stopped using illegal drugs in favour of cannabis. Although this is only a minor survey among patients who have come to these views through self-medication, the results are significant. Fortunately, a scientific study dating from October 2013 produced similar results. Several research institutes, including the Universities of Kentucky and Maryland, have collaborated in this study, which seems to indicate that cannabidiol (CBD) does positively contribute to the treatment of alcohol addiction. In brief, this is how it works. The human brain consists of approximately 100 billion neurons – or nerve cells – that communicate with one another. This communication enables a range of functions to be performed, such as storing memories, controlling muscle movement and passing on the information of the eyes' light receptors. Excessive alcohol use results in degeneration of the neurons, which means that they progressively lose their structure or function, or even die off completely.  This, in turn, will result in behavioural and cognitive disorders, which are supposed to contribute to the chronic and relapsing nature of alcoholism… The study shows that CBD restores the neurons' structure, while at the same time reducing the disorder as well as the risk of relapsing into addiction. More research is needed to corroborate these initial and tentative conclusions, but Sensi Seeds is happy nonetheless that finally the truth is emerging and – perhaps even better – that the lies are being exposed.
Cannabis safer than alcohol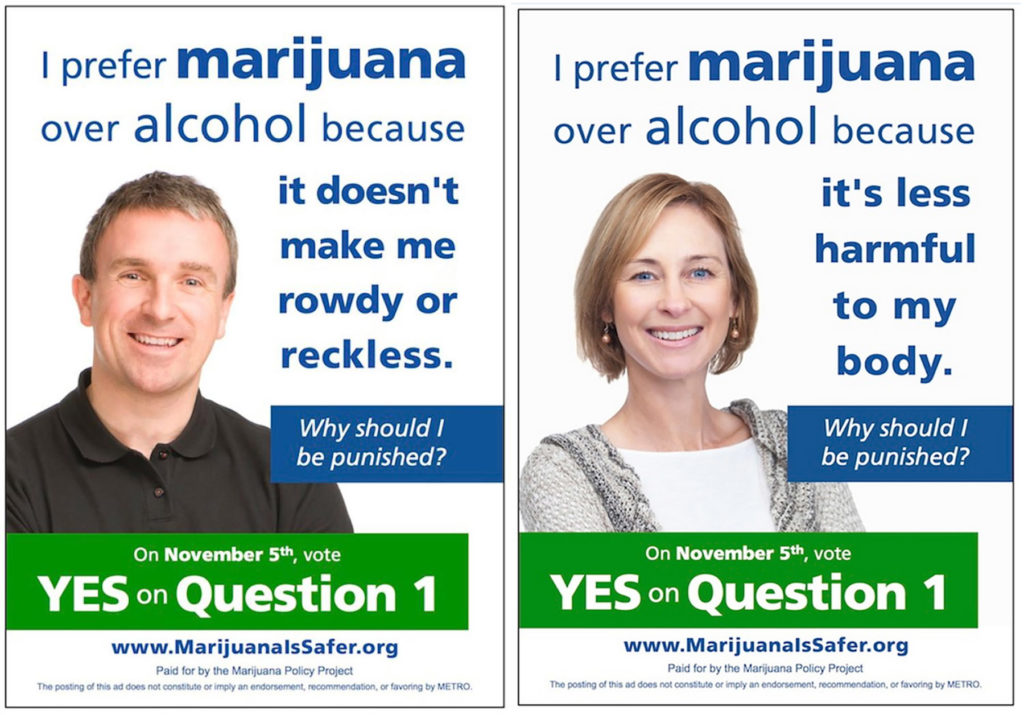 The debate is also intensifying as to whether cannabis is safer than alcohol. Sensi Seeds has reported on this issue recently in, among other things, an article in which Professor Robin Room openly advocates the use of cannabis as a possible solution to Australia's alcohol problem. Even the major news networks are contributing to the debate, such as with this opinion piece by Dan Riffle on CNN. Finally, this particular subject was the point of departure for a promotional campaign by the Marijuana Policy Project in Maine (U.S.A.) to vote in favour of the legalisation of the recreational use of cannabis in the city of Portland, Maine. The ballot took place on November 5, 2013. The promotional campaign made use of posters in public transport, one of which is shown here. Sensi Seeds is convinced that alcohol is much, much more harmful than cannabis and furthermore lacks the long list of beneficial properties of the latter. This becomes evident by casting just a single glance at these histograms from a study by David Nutt. Sensi Seeds hopes that more research will be conducted into this matter and, obviously, the company will continue to monitor developments closely.