This is a unique event - never before has Amsterdam's finest seedbank released four new strains simultaneously!
Following several years of extensive work, Super Skunk Automatic, Skunk # 1 Automatic and Northern Lights Feminized will soon be available.
In keeping with the unique nature of both their release and the exclusivity of their genetics, the new Sensi strains will only be sold by the Sensi Seeds online shop for the first two weeks.
These exceptional and unique varieties are some of the most exciting types of cannabis to emerge since the beginning of autoflowering breeding projects, and it is with great joy that the Northern Lights Automatic is made available starting today!
Northern Lights Automatic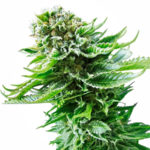 With our new Northern Lights Automatic, the legendary Afghani Indica makes her debut as a feminized auto-flowering strain!
With no need to identify and eliminate males, and no need to even change lights cycles to induce flowering, it's never been easier to grow the definitive example of cannabis Indica – Northern Lights from Sensi Seeds!
Super Skunk Automatic

Sensi Seeds is proud to announce the third incarnation of one of our all-time top strains – feminized Super Skunk Automatic!
For growers who are new to the scene, Super Skunk is one of the best all-round strains and one of the most consistent performers in the world of cannabis cultivation.
Extremely potent and fast flowering, Super Skunk Automatic produces delicious, fat and fragrant buds.
Skunk#1 Automatic

Northern Lights Feminized

As far back as the Eighties, Northern Lights was setting the standard by which other Indicas are still judged and she remains one of the most trusted names and sought-after varieties in modern cannabis culture.
Northern Lights Feminised continues the traditions of her classic ancestors; she produces fast, solid harvests with surprisingly little growing-odour.
Nevertheless, her buds are sweetly fragrant and, due to their thick coating of THC-rich trichomes, remarkably powerful!