Glass As soon as cannabis enthusiasts learned how to smoke with the help of glass paraphernalia, glass art was born. Even more so than wood, acrylic or other materials, glass has caught the attention of seasoned cannabis smokers. Nowadays, there seems to be increased interest around the topic … and not only from cannabis users!

Glass, the favourite child of the stoner family
Consuming cannabis by way of combustion is one of the most common methods used by recreational users. While the simplicity and potential for portability that come with rolling joints are appreciated by many, an important demographic among smokers seems to naturally have more affinities with glass.
Whether the preferred hardware is a pipe, a full-blown bong, or anything in between, glass most definitely has a special place in the heart of regular and occasional consumers alike.
And let's be honest: unless you operate under some sort of size restriction, the bigger, the better. The more elaborate, the better. The prettier, the better!
This is why glass bongs in particular are very much smokers' favourites, and may even be better represented in pop-culture than blunts, joints, vaporisers, or edibles. Vape pens are most definitely a new and popular addition to the pack, while joints are generally shown when cannabis consumption needs to merely be part of a specific cultural background without becoming overwhelming. This leaves Hollywood and company with bongs: the ultimate representative of the cannabis industry.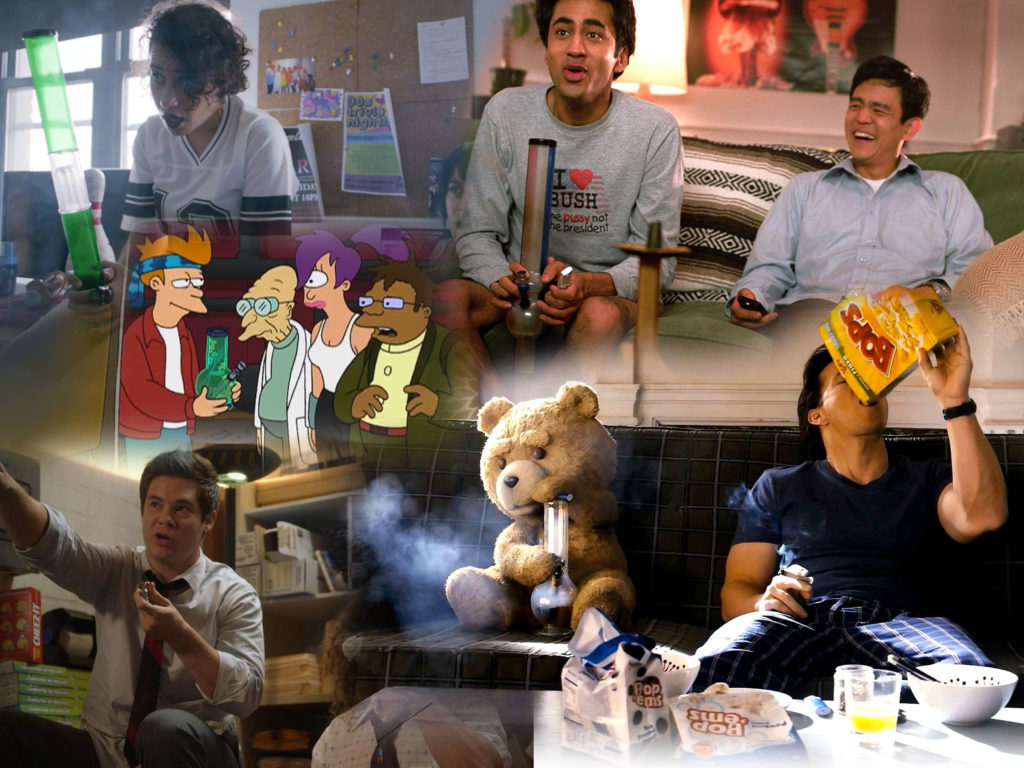 Bongs everyday cannabis consumers can be proud of
In every retail market, there is a demographic that seeks for the best; the best quality, the best design, the most impressive, the most refined, you name it. The market of glass did not exactly wait for full legalisation of cannabis to cater to these needs. The most elaborate bongs have been sold for decades under the assumption they would be used to smoke shisha, tobacco, and other non-cannabis-related herbs.
But now that said full legalisation is in fact happening, the average consumer is increasingly eager to, if not advertise, at least display their love for the cannabis plant in no unclear terms (depending on their country of residence, of course). Thus, the industry observed an increase in sales of glass smoking paraphernalia directly linked to changes in cannabis policies, which was somewhat to be expected.
The range of thematic, 'luxury' bongs has been getting larger over the years. Upon reading these words, you may have immediately imagined over-the-top objects covered with diamonds, sheets of gold, or whichever option screams "EXCESS" to you. Well, there is some of that. But that's not what the functional glass art industry is prominently about; first and foremost, there is a demand for custom(isable) bongs, that can weather a regular, heavy-duty cannabis use.
Nowadays, one can easily purchase functional glass products with designs inspired from movies, television, music, religion, the generally whimsical, and more. Just see this trend as the new 'customise your sneakers with your own design' type of deal. Not necessarily more expensive, as strangely specific as the user wants it to be, and probably a soon-to-be favourite for those who like to strike a chord with special, personal gifts.
For instance, you could gift your favourite smoker a Menorah bong from Grav to help them kick off the (Jewish) holiday season with style.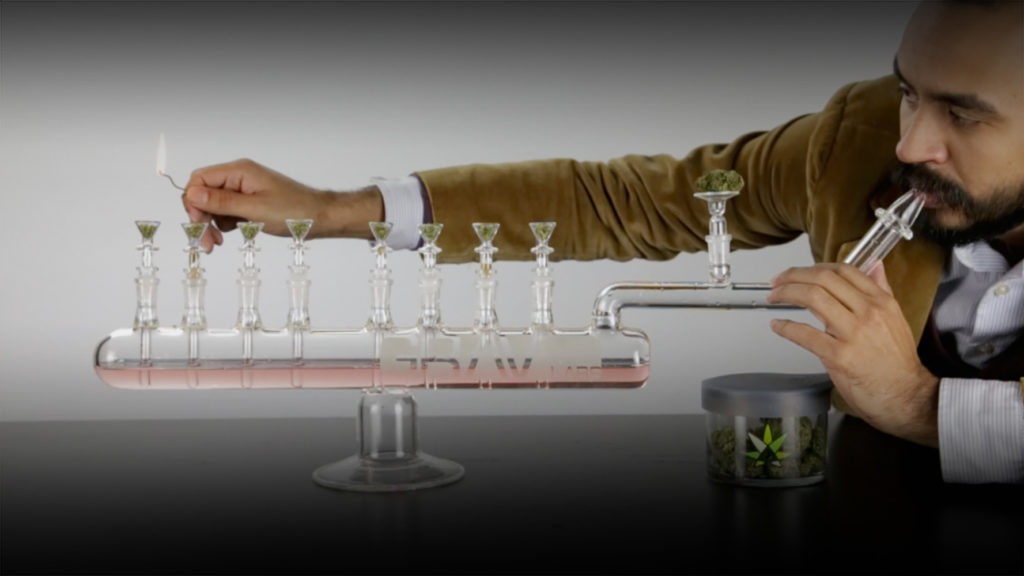 Are you a proud fan of The Simpsons? Then maybe this Bart Simpson bowl would make your day(s), as it does Charly, our forum expert (join the Sensi Seeds forum here).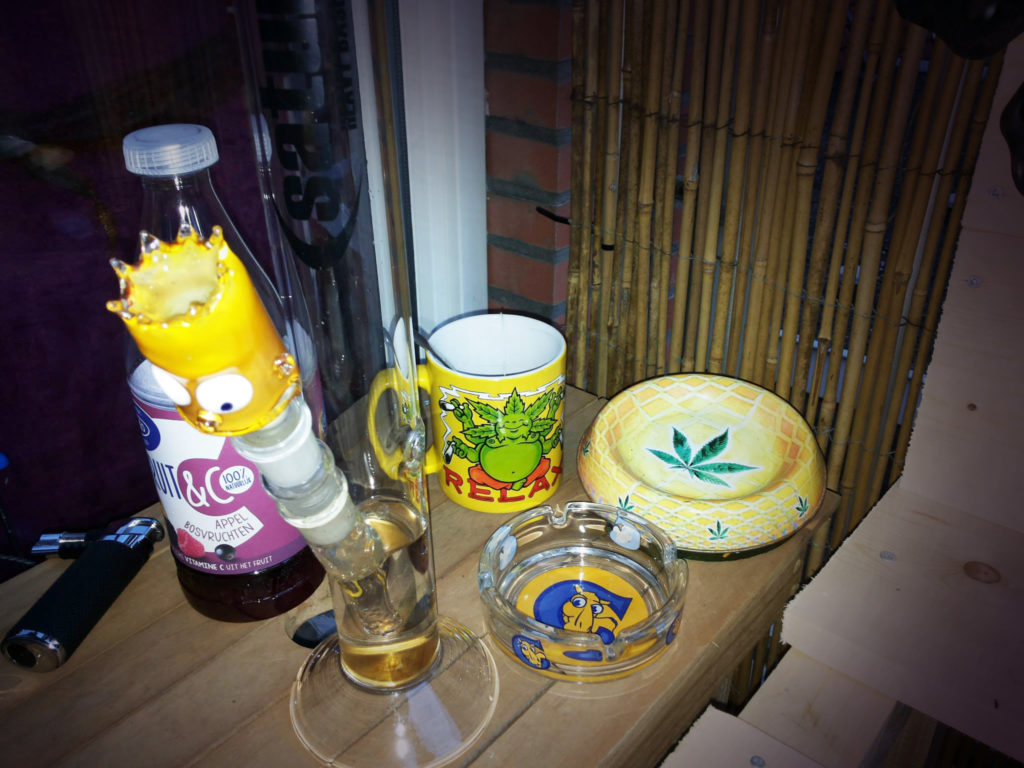 Of course, count on cannabis-friendly celebrities to one-up this trend. Back in 2014, singer, actress, and activist Miley Cyrus, a known recreational smoker, showcased her DIY-customized bong to her fans, as well as one meant to feature in her art exhibit. Following her social media post, many shared pictures of their similarly-customised bongs; a temporary connectedness ensued between those who were already of the DIY school. And if you are not to be trusted around glass objects, many options allow you to pick a text, pic or else and have it added to a 'standard' bong.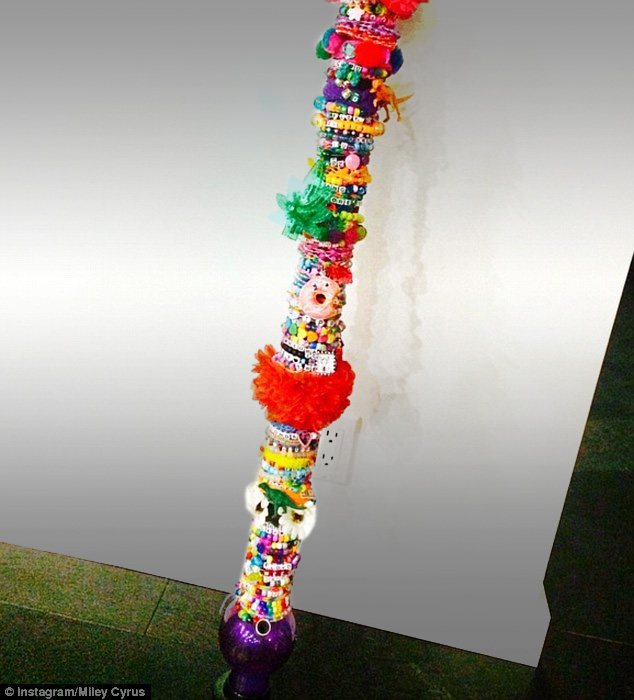 In summary, there are countless designs available to satisfy every craving, every fandom, every aesthetic. If someone thought of it, you can be sure it exists. Will bongs become the new smartphones as fully legal cannabis makes its way to the public? Indispensable, highly functional, customisable to the utmost? Time will tell.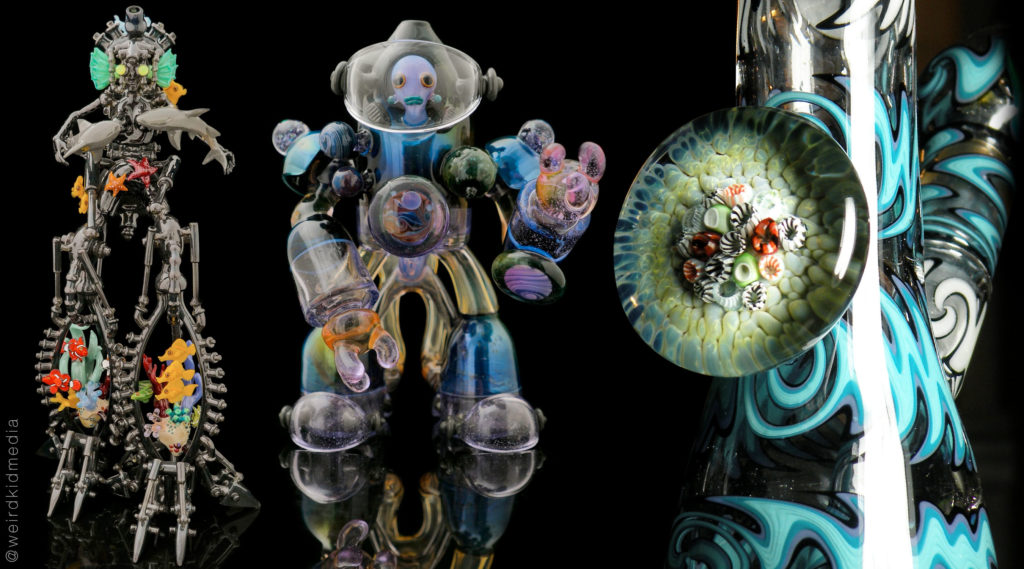 Glass art is … ART
While bongs of all sorts have always been sold to all sorts of customers, the openness around owning such objects seems to have increased. Even further, the appearance of these objects, rather than their functionality, has taken more and more importance. That is, in the cannabis world, but also outside of it.
There was a time when people would glance at a particularly beautiful water pipe and be instantly fearful of it. Not despite its beauty: because of it. How could something so beautiful be so dangerous? Drugs! Depravation! Think of the children! In all seriousness, to a novice, what difference is there between a large bong and the spoon/lighter combo popularly associated with heroin? Both seem mysterious, strangely tortuous, and ever so slightly intimidating. What's with the water part? Why so much smoke? Why are the tubes so brown and 'dirty'? Is that safe? Or are you too busy being "HIGH ON DRUGS" to clean it! No, mum, the resin deposit is normal, ugh.
You get the idea.
The aforementioned almost-worldwide loosening of cannabis policies contributes, of course, to the current change in public perception. The non-cannabis-friendly are encouraged to reconsider the harmful nature of smoking paraphernalia by association: if your PTSD-suffering grandparent enjoys using their bong, who are you to judge this book by its back cover. Judge it by its front cover instead!
So, what is a glass bong when you don't consume cannabis out of it? A very intricate work of art.
It is likely you have found yourself in a blown glass factory at some point of your life, be it for a school field trip or on vacation; as one does. Cannabis glass art stems from the very same industry, and has been making its nest within the worlds of fashion, and art. The interesting part: a lot of these wonderful bongs are not really meant to be smoked with.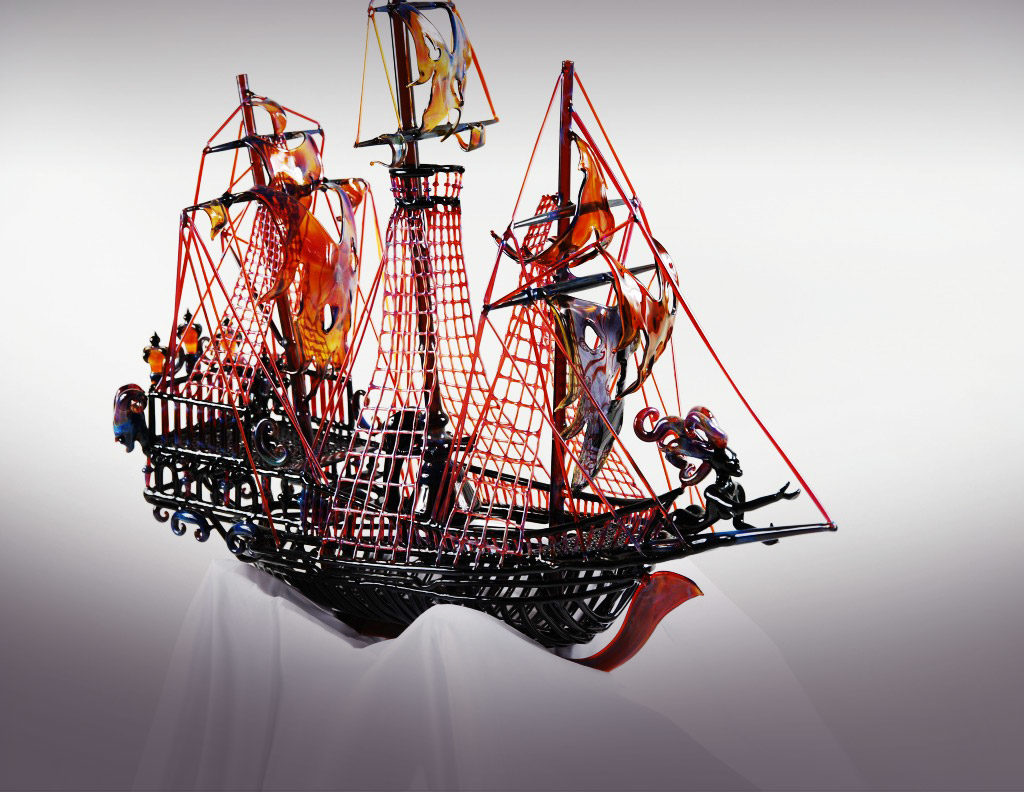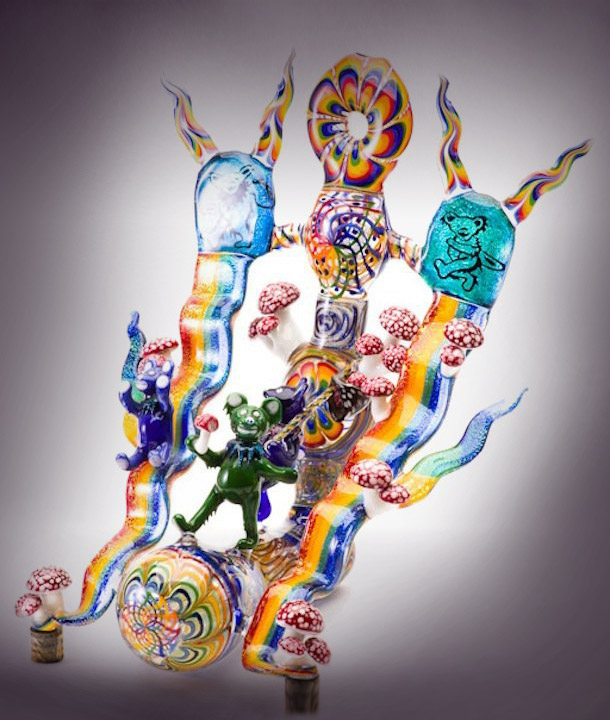 Whoever is interested can find more equally masterful items (functional or not) in the many glass galleries and museums that exist the world over, as well as in headshops, smartshops, dispensaries, cannabis-related museums, and of course, online.
Back in September 2016, NYC gallery "Grey Space Art" hosted a sizeable exhibit in which a large sample of the most famous and most intricate bongs were on display. The event was created in order to match in dates with the city's Fashion Week, giving much exposure to this otherwise relatively 'underground' art.
In an interview with LA Weekly, publisher Nicholas Fahey compared the current presence of cannabis glass art in the larger art world to what happened with photography back when it was not considered a valid form of creativity. His book focuses on cannabis glass art, but also acknowledges it as an evolution of 'Glass Art', period.
"When I started hearing about Venetian glass blowers, whose traditions date back to the 13th century, coming to the Pacific Northwest to learn new techniques, I knew something exciting was happening — and that it needed to be documented."
Of course, the 'non-psychoactive' blown glass industry continues to produce artwork, but cannabis glass art brings many new perspectives to a domain still widely considered in the realm of traditional arts & crafts.
It is safe to say cannabis glass art has reached a certain level of conventional fame that was quasi-inexistent not so long ago.
Also last year, popular male-focused publication GQ released an entertainment video showing a famed, cannabis-friendly rapper casually test-driving the most expensive glass bongs the magazine's crew could get their hands on. The result? Perhaps the most anxiety-inducing video of stoner history. Regardless, it is out there for all their readers, and for everyone else to see. From Reefer-Madness-inducing item, the beloved bong became art that can finally be shown, to art that can be casually destroyed, just for the hype. Also known as: the epitome of cool, at least according to media standards. And that's without mentioning the rise of counterfeit items.
Cannabis glass art has gone through many revolutions since the '80s. From the birth of colour-changing pipes that came with Bob Snodgrass and its Grateful Dead-fuelled mind, to 'Celebrity Bongs' (and its by-product, celebrity imprisonment) … it is safe to say this so-called niche was never one to begin with, just hindered by considerations of the legal variety.
It seems the times when our friends from The Flying Dutchmen in Amsterdam were "Glass Art Central", showing off Cannabis Cup Glass Winners and welcoming artists from all countries, are long gone. And we're delighted.