For years, the typical cannabis smoker, colloquially known as a dope or pot head, has been depicted by popular culture as a rather lazy and idle guy, who likes to indulge in his habit with his mates. Women smokers, meanwhile, have been marginalised, ridiculed, and even forgotten. Moreover, much of the cannabis industry has chosen an equally sexist focus in order to try to attract mostly male consumers.
For years, the typical cannabis smoker, colloquially known as a dope or pot head, has been depicted by popular culture as a rather lazy and idle guy, who likes to indulge in his habit with his mates. Women smokers, meanwhile, have been marginalised, ridiculed, and even forgotten. Moreover, much of the cannabis industry has chosen an equally sexist focus in order to try to attract mostly male consumers.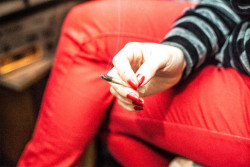 But as the movement for legalisation has become more international, women have finally started to come out of the cannabis closet, and popular culture depictions of women smokers have shifted.
It is becoming increasingly common to hear about women getting involved in the cannabis industry, and we are now seeing a greater presence of female stakeholders in the cannabis scene. Women have proven to be clever activists and serious marijuana consumers, and their numbers can no longer be ignored, so much so that the industry has started to recognise their importance.
Cannabis stereotypes are changing
In general, popular culture has depicted the typical pot head as a rather lazy guy, who has little motivation in life beyond that of enjoying his vice with his mates and buddies, and for this reason the cannabis sector has normally been associated with almost exclusively male groups. While there have been all sorts of caricatures of male marijuana dope heads, from Cheech and Chong in the 1960s to Seth Rogen more recently, women smokers have been especially marginalised, and even ridiculed, that is, if they are even mentioned at all. Generally, the 20th century examples of women who have been portrayed casually smoking in films such as Annie Hall, have been the exception rather than the rule.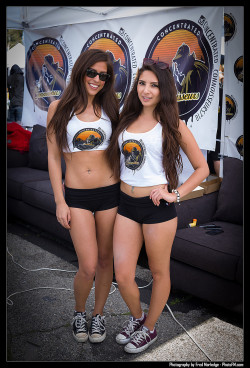 Much of the cannabis industry has had an equally sexist focus (which has traditionally been the norm in all sectors) in order to attract mostly male consumers. Fairs tend to have a proliferation of skimpily dressed hostesses who hand out promotional material for the exhibited products, and some specialist magazines feature suggestive photos of bikini-clad girls surrounded by strategically positioned marijuana plants and leaves, as they smoke from phallic-looking water pipes. It is evident that one of the common problems of the cannabis scene and industry has been the sexism which is deeply ingrained, and which features heavily, from the labelling to the advertising of the products.
There is something distinctive about the role of women in the cannabis sector and their relationship with the cannabis industry, which means that the way in which men and women approach the sector, has tended to differ. While, until quite recently, women have discretely smoked and grown cannabis and become activists by supporting cannabis, things appear to be finally changing. There is an increasing number of women who are active in high-profile roles within the sector.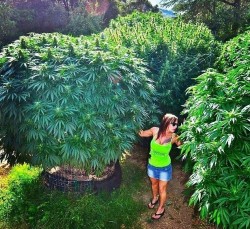 At the same time, the popular view of women smokers has become less narrow, and women have shown themselves to be serious consumers of an increasing number. The marijuana industry begun to acknowledge the importance of women's support for a successful outcome of the legalisation campaign, as well as the fact that women are good for business. In order to attract female consumers, many companies, especially in the United States, have been changing their advertising and business strategies.
In the not-so-distant future women will become the most important consumers of cannabis-based products and they look set to encourage the growth in the market for wellness products. The aim is to replace, among other things, prescribed medicines such as sedatives, antidepressants and sleeping pills, which are widely consumed by women. But in order to achieve access to the female market, the industry will have to convince women so that they feel comfortable adopting a pastime that has traditionally portrayed cannabis consumers as "lazy and maladjusted men".
The issue of gender
The consumption of drugs in general, and specifically cannabis, do not mean the same thing for men and women, and are not seen in the same light by others. While for men the consumption of cannabis is seen as a natural, sociable pastime, and is seen as culturally acceptable, for women this entails a defiance of prevailing cultural norms. In most cases women tend to be the main carer or parent, and even for women who have no children there is still a lingering stigma. There is a tendency to think they if they do have children, they might encourage them to take drugs.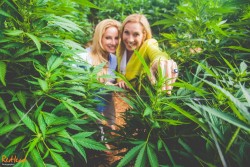 For this reason, and in order to instil fear and alarm, the media endlessly publishes articles which, among other things, inform and warn of the dangers of smoking cannabis during pregnancy, even though the results of one of the most recent and serious studies on this supposed risk suggests precisely the opposite. Moreover, we are warned that marijuana consumption reduces fertility and accelerates the ageing of cells, which is likewise, highly debatable. The result is that if you are a woman smoker of child-bearing age, you will feel as though you are gambling with your chances of having children, rapidly ageing, and to cap it all, being accused of being incompetent.
As long as marijuana is illegal, most women and mothers who smoke cannabis will continue to exercise discretion and care. The threat is all too real. In many western countries, if a woman is found guilty of breaking the law regarding cannabis, the prevailing legislation will deprive her of her children's custody. If people find out that you are a cannabis user, many friends and family members will point an accusing finger at you and stigmatise your habit. Unfortunately, in most cases, usage along is enough to bring this about.
Coming out of the cannabis closet
Whether cultural representations of marijuana smokers have affected women's choices, or whether these merely reflect real life, the fact remains that many more men than women consume marijuana. In the United States, there are almost twice as many men as women (9.6% versus 5%) who consume marijuana regularly, according to a National Survey on Drug Use and Health in 2012. And while 47% of men have tried marijuana at least once, only 30% of women have done the same, according to a Gallup survey in 2013.
In the EU, according to the European Monitoring Centre for Drugs and Drug Addiction (EMCDDA), cannabis is the most consumed illegal drug in all age groups, and the data suggests that there are more male than female cannabis users, although it appears that the gap is narrowing. Depending on the specific age group and gender, the prevalence of cannabis consumption varies enormously from one country to another.
In the United States, where recreational marijuana is currently legal in four states as well as the District of Columbia and has been decriminalised in 14 other states, cultural differences also seem to be on the wane. As for TV shows, there are more and more series and films where the issue of marijuana is openly discussed, as in the series Weeds, or where female characters are depicted consuming marijuana as part of their daily lives, as with the ladies in Sex and the City. These representations are increasingly leaving behind the common stereotype of the pot head.
The debates no longer focus on marijuana per se, but rather, on the reasons why people smoke it. They point out for instance that among groups of people who are first-time smokers, those who smoke occasionally and even regular smokers, there are people from all walks of life. As the hugely successful series High Maintenance shows, getting high on marijuana is no longer seen as making a character more cool, dumb, or irresponsible. Quite simply, it is just something that people do, irrespective of gender. People of all sorts.
While the movement for legalisation grows, women have finally started to come out of the cannabis closet. In real life, there have been many famous or public personalities who have openly and publicly revealed their cannabis use or their stance in favour of legalisation, such as the widely publicised remarks of Rihanna, Lady Gaga and Miley Cyrus. During the most recent Emmy Awards, the comedy actor Sara Silverman showed off her pot vaporizer pen which she was carrying in her elegant clutch bag as she walked down the red carpet.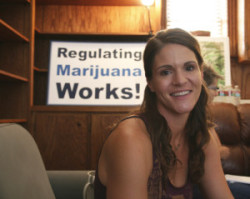 There have also been initiatives, such as the one initiated by a group of women in Los Angeles called Marijuana Moms who are seeking to subvert the stereotype according to which smoking marijuana automatically turns you into a bad parent. Likewise, last summer, Jane West co-founded, along with a large group of women, the network Women Grow, which "connects, educates and enables the next generation of cannabis sector stakeholders, through the creation of programs, community projects and events for aspiring and current business leaders", as stated on their official website. Public perception of marijuana is rapidly changing in all countries, and globally.
Although women have always consumed marijuana, it now seems that thanks to popular culture and other factors, they feel more comfortable talking about it. And we have images of women who have achieved both personal and professional fulfilment, on screen as well as in real life, consuming marijuana as if it were a glass of wine. Their actions don't turn them into failures or bad mothers.
Women in favour of legalisation
Women who openly participate on debates on marijuana have had a major impact on the movement in favour of legalisation in the United States. According to the recent study "Cannabis selling regulation", women's votes have been decisive in the majority of states where marijuana has been legalised.
The data gathered by the Global Drug Policy Observatory in the study shows that the support of women in the 2012 amendment to legalise marijuana in Colorado rose by seven percentage points during the last month of voting, while support from men declined during the same period. Women's support for the vote on marijuana in Washington state surged from 48% to 53% in the last few days before the election.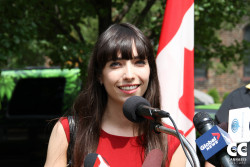 It appears that society at large takes notice whenever women are in favour of, and support something, and for this reason, the consumption of marijuana in general is becoming more widely accepted thanks to the strong women who have been encouraging the movement.
A thriving business run by and for women
What is not in doubt is the fact that the cannabis sector is mobilising many millions of people all over the world and legalisation will be history's next great reversal. The sector's companies are already developing new market strategies to bolster their positive image and target a much wider and more diverse range of customers, and move away from the negative connotations of the cannabis smoker's or pot head's scene.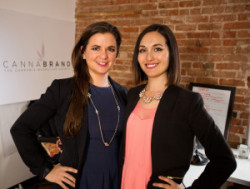 A new generation has thus emerged, particularly in the United States, of marketing companies specifically targeting cannabis, which associates cannabis consumption with people from all walks of life: successful professionals, full-time fathers and mothers, senior citizens, healthy and respectable people. One of these companies, Cannabrand, is a firm run by a group of women. This company has very clearly and emphatically led the way in terms of what the sector in general needs to work on, which involves an overhaul of its image.
In this emerging landscape, women are as likely to consume cannabis products as men and it is no longer acceptable to objectify women shamelessly. Marijuana has been traditionally packaged for men, however, over the last couple of years, and as a growing number of states legalise it, the shrewdest entrepreneurs have started to refocus their products in order to target women. Some clinics in Denver already have policies in place according to which they refuse to sell any products with sexist connotations so as not to alienate female customers.
Likewise, the change in attitudes can be seen in advertising, which has left behind "the traditional pot head style" by shifting towards the image of a healthy lifestyle, which tends to attract women. There is an enormous difference between this type of advertising and what used to be the norm just a few years ago. This is illustrated by the advertisement of the Seattle-based North American company Dama for promoting its oil, which depicts a healthy couple taking a long walk together. This could have easily been mistaken for the advertisement of a company specialising in outdoor pursuits. Dama is just one of many companies whose aim is to sell pot to women who lead a healthy lifestyle. Many women use marijuana differently from men and do not consume it to get high, but rather for its therapeutic effects. They use it to relax, relieve pain and regard it more as a wellness supplement.
Furthermore, until quite recently, inhaling cannabis by smoking it was really the only way of consuming marijuana, but nowadays there is a huge variety of methods for consuming the product. Cannabis delivery methods range from placing it under the tongue, using it as an ingredient in soft drinks, as skin creams, inhaling it through a pen vaporiser which actually minimises any health risks, to the less common skin patches and suppositories. The more options the product has, the more women will be enticed to try it out.
Another point worth noting is that it is estimated that only 10% of workers in the industry are women, and far less than that in managerial roles. Although it seems obvious that men outnumber us, more and more women are taking up senior positions. There are an increasing number of initiatives and women's presence and participation are on the rise in various areas of the cannabis industry and scene. This is the brave new world of cannabis, where its consumption can be regarded as healthy, fun, chic and safe. A thriving business run by and for women.
The role of women in the cannabis sector has changed
Given cannabis's unstoppable legalisation and normalisation, the magnitude of the shift which has been happening with regard to cannabis cannot be assessed purely in economic or social terms. There have also been profound changes, and cultural, social and financial transformations. The place of marijuana in our lives is being rethought, reconsidered and reconfigured, and women also matter. An era has drawn to a close and a new one has started.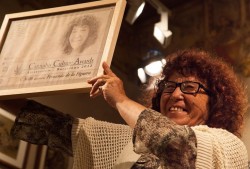 The growing presence of women in the cannabis sector. There is no doubt that the outdated stereotypes from the past will soon fade from the collective consciousness. And as gender equality gains traction, the presence of women will increase in all sectors, including in that of cannabis.
Ultimately, we are talking real-life women. They are activists, mothers, lawyers, sociologists, scientists, politicians, publishers, journalists, business women, entrepreneurs, women with a variety of lifestyles, beliefs, thoughts, concerns, but who share the same goal: to support publicly the consumption and responsible regulation of cannabis, which currently remains an illegal substance in many parts of the world, and to continue to work towards its normalisation.