NYC Cannabis Parade in the USA is the world's largest cannabis parade and rally. It aims to bring an end to the plant's prohibition. In addition to the parade, there's also a 'speak-out' featuring activists and political figures, plus music performances. The event doesn't just take place in NYC, it also happens in many other locations around the world.
Where? New York, USA
When? 2nd May 2020
First started: 1970s (originally started as a 'smoke-in')
Type of event – Parade and rally
Official website – https://cannabisparade.org/
What to expect from NYC Cannabis Parade 2020?
The 2020 NYC Cannabis Parade, like all the previous years' events, will be held on the first Saturday of May. The line-up hasn't been announced yet – this section will be updated as soon as more information becomes available.
What to expect from Sensi Seeds at NYC Cannabis Parade 2020?
Practical information / things to keep in mind when visiting NYC Cannabis Parade
Location – The Parade starts in midtown Manhattan (usually at 32 St. and Broadway). The Rally is at Union Square Park, which is on 14 St. (between University Place and Fourth Ave.). To get to Union Square, take the 4, 5, 6, L, N, Q or R train to Union Square – 14th Street Station.
Cost – NYC Cannabis Parade is free to attend.
Opening hours – The Parade officially starts with a 'speak-out' at 11am, with the parade departing at 12:30pm. Then the Rally starts at 1pm (when the Parade arrives), with speeches and music, before coming to an end at 5pm.
Staying there – NYC Cannabis Parade is situated in the heart of New York City, so there are several hotels in the vicinity. Good examples include: Walker Hotel Greenwich Village, Hyatt Union Square New York, or the Chelsea Inn – 17th Street.
Rules / Legalities
Banners and signs – Banners and signs are permitted at the Parade, and are actively encouraged.
USA's cannabis laws – Using cannabis is illegal in NYC, both at state and federal level. CBD is permitted, as long as the THC levels are below 0.3%.
Check out this comprehensive article about the USA's cannabis laws to find out more.
Past editions
NYC Cannabis Parade is one of the USA's leading cannabis events, attracting visitors from across the continent. Here's some insight into what happened in previous years.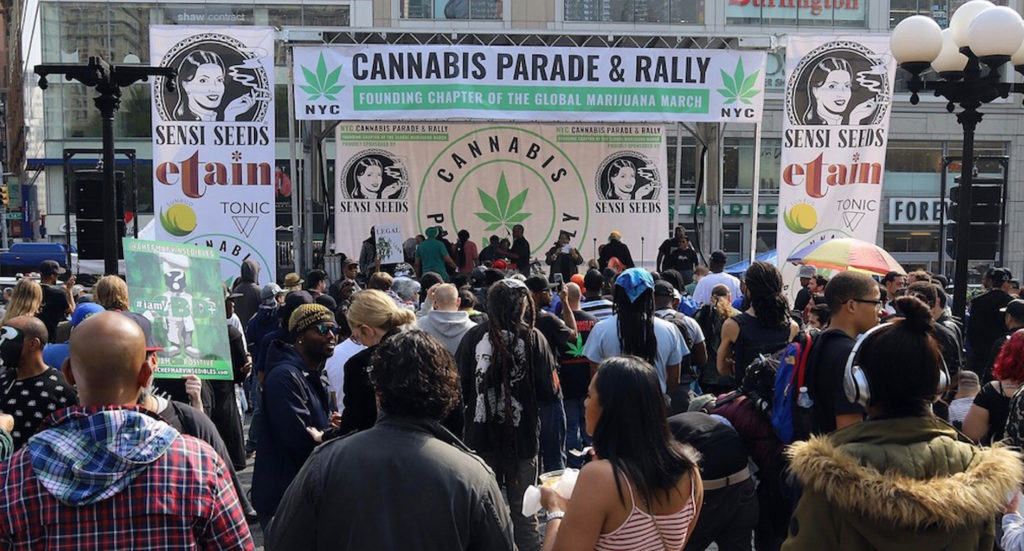 What happened at NYC Cannabis Parade 2019?
One of the key speakers at this year's event was Arlene Williams (the 'Ganja Granny') who spoke out about empowering women.
Jumaane Williams, an NYC Public Advocate, talked about the negative impact the War on Drugs has had on people of colour.
Sensi Seeds were proud to once again be sponsors of this important event.
Here's a video, capturing the atmosphere of NYC Cannabis Parade 2019:
What happened at NYC Cannabis Parade 2018?
Cynthia Nixon (at the time running for New York governor) was present at NYC Cannabis Parade 2018, speaking out in support of cannabis legalisation.
Other key speakers included Steven Hager (former Chief Editor of High Times), and Dana Beal, the founder of Global Marijuana March and co-founder of Cures Not Wars.
Here's some footage of Cynthia Nixon speaking at the event:
What happened at NYC Cannabis Parade 2017?
Various cannabis advocacy groups joined in this year's parade, such as Empire State NORML, Veterans Allied for Cannabis Legalisation, and the Stop Mass Incarceration Network.
Key speakers for this year included: Aron Kay (Yippie Pie Thrower and activist cancer survivor), Frank Sha Francois (candidate for the Green Party), and Rob Robinson (co-founder of NY Cannabis Alliance Host: NY Harvest Fest).
If you'd like to gain some insight into what the 2017 Parade was like, watch this: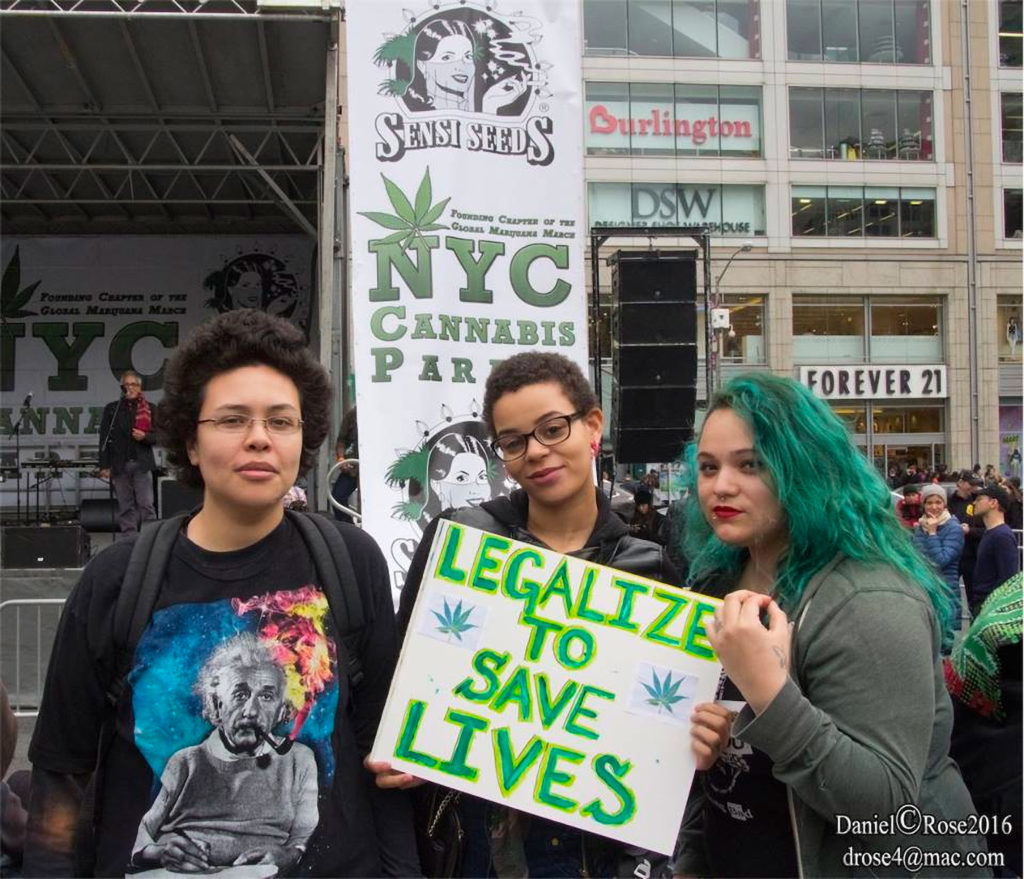 What happened at NYC Cannabis Parade 2016?
At this year's event, Cannabis News Network had exclusive interviews with Lieutenant Jack Cole (LEAP) and Doug Green (Empire State NORML). Cole spoke out about the importance of the Parade. "Since 1970," he said, "we have made over 50 million arrests for non-violent drug offences. Some countries don't even have 50 million people!"
Speakers for NYC Cannabis 2016 included: Donna Schweir, a patient advocate for Compassionate Care New York, Vanessa Maria, director for East Coast Cannabis Coalition, and Dana Beal, the founder of Global Marijuana March.
Here's a video covering the 2016 event:
What happened at NYC Cannabis Parade 2015?
At the 2015 NYC Cannabis Parade, speakers included: Occupy Wall Street, Joseph 'Jazz' Hayden (All Things Harlem), Betty Aldworth (Executive Director of Students for Sensible Drug Policy), and Mike Krawitz (Veterans for Medical Cannabis Access).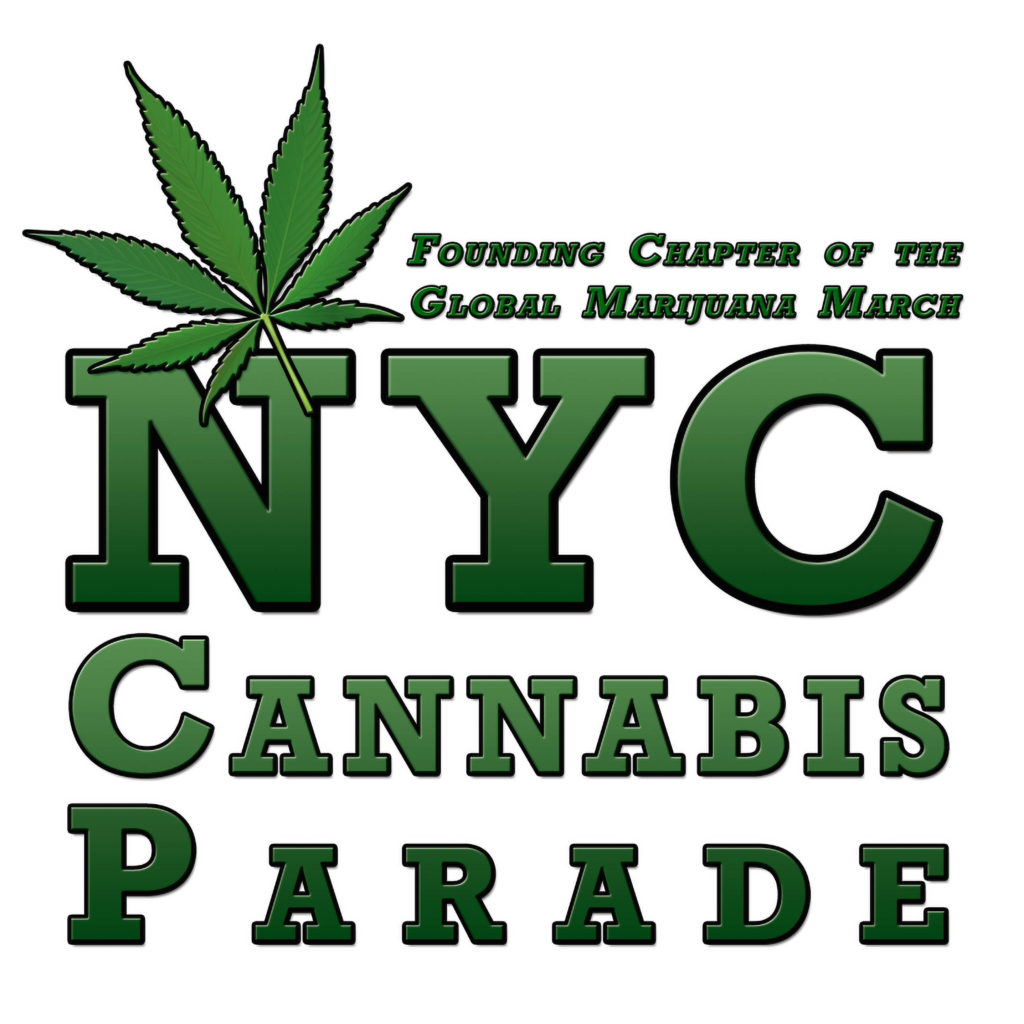 The history of the NYC Cannabis Parade
The NYC Cannabis Parade has all the atmosphere and personality of a modern event. However, it's actually been going since the 1970s.
The exact date of the first parade is unknown. Originally, the event was a 'smoke-in' organised by the Yippies in 1973. However, notable figures were fighting against cannabis prohibition in NYC before this. A good example is the beat poet Allen Ginsberg, who organised LeMar (short for Legalise Marijuana), which protested outside Jefferson Market Courthouse.
Although the Yippie organisers weren't aware at the time, their 'smoke in' would be the first of a series of annual events in NYC, calling for cannabis to be legalised. So far, there have been 47 parades/'smoke-ins', every year since 1973.
Unsurprisingly, some of these ended in arrests. Despite this risk, people kept on taking part. Numbers of attendees varied from parade to parade, depending largely on how hard the police force was cracking down on drugs at the time. It's thought that the biggest crowds were in 1995 and 1996, with over 30,000 in attendance at each.
In the 2000s, the event's influence spread. Like-minded activists across the world started their own parades, and now, they occur in numerous countries. London was one of the first international cities to join in, followed swiftly by Paris. They're often known by other names, such as Global Marijuana March, Global Cannabis March, and Drug Peace March.