Bhang Ki Thandai is a well known beverage in India and Bangladesh. It is made of milk and cannabis paste. Grab your ingredients and follow the 6 steps in this recipe to taste your own, homemade, Bhang Ki Thandai.
About Bhang Ki Thandai
Bhang Ki Thandai is a drink made with milk and cannabis paste, and is consumed for the annual festival of Shiva, "Lord of Bhang", primarily in India and Bangladesh. Bhang is an umbrella term for various cannabis preparations, including bhang golis (balls of cannabis paste and water), although most are in the form of a drink.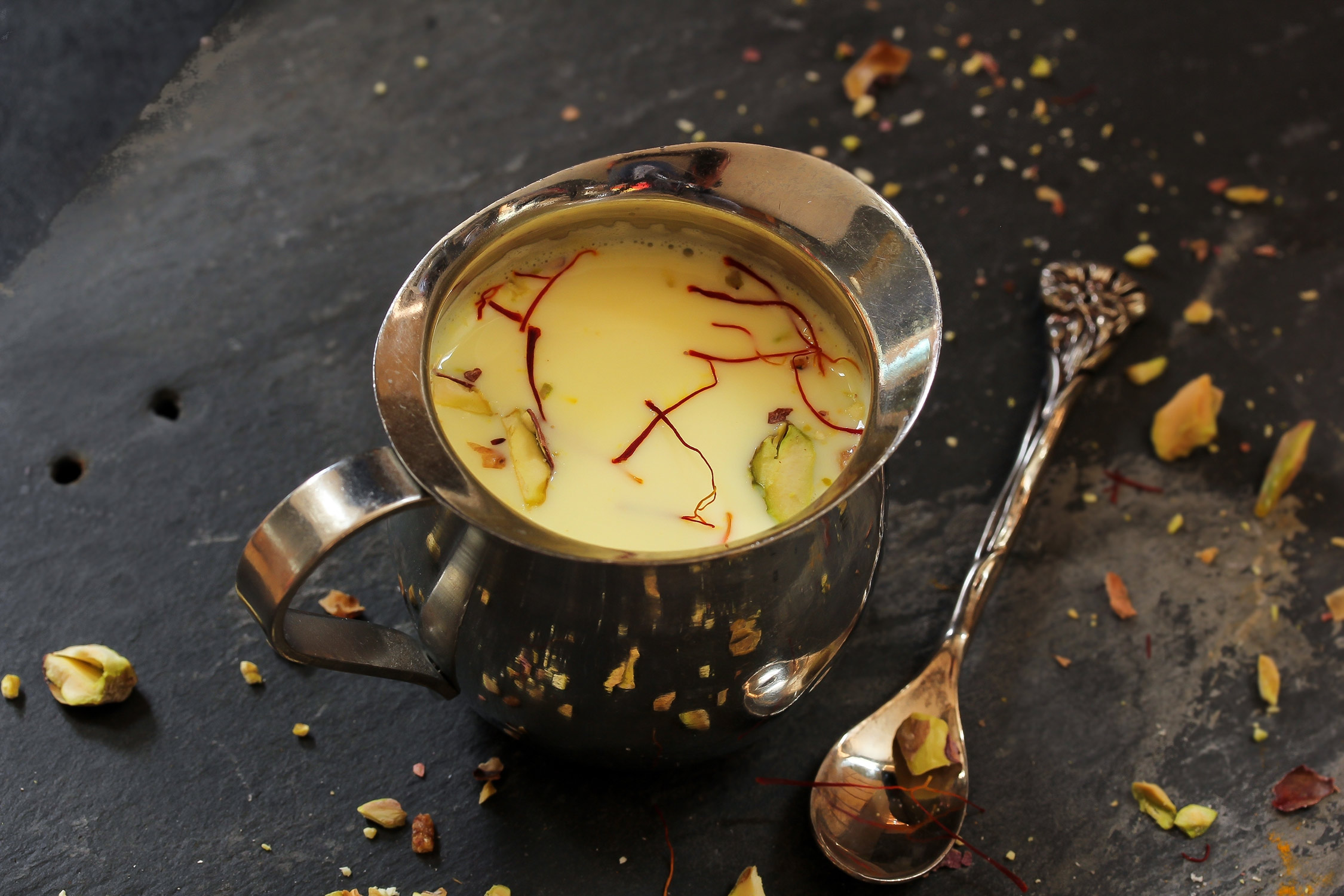 Where is bhang usually consumed?
The heartland of bhang consumption is arguably Varanasi, the holiest of the seven holy cities, which is situated in Uttar Pradesh along the banks of the River Ganges. Elsewhere, consumption of bhang is highest in the Bengal region, which is divided between the Indian state of West Bengal and the nation of Bangladesh.
Although cannabis is technically illegal in India, the laws are rarely enforced and consumption is usually tolerated. In Bangladesh there are no laws relating to cannabis, rendering it effectively legal.
Although bhang is deeply associated with the worship of the Hindu deva Shiva, its use at religious festivals is widespread, and it has become synonymous with the Holi festival in particular. This festival, usually celebrated in February or March, is associated with various gods, although particularly Krishna, and is fundamentally a festival of colours. As well as Holi, bhang is often consumed during Vaisakhi, the Hindu New Year, and Maha Shivaratri, the annual festival to Shiva.
Production of bhang
Throughout India and Bangladesh, it is common to observe men preparing bhang in the traditional way, usually seated upon the ghats or steps that lead down to the banks of streams or rivers. To make basic bhang cannabis paste, the fresh leaves and flowers are pounded to a thick green paste using a pestle and mortar, with the addition of a small amount of water if necessary to render it entirely liquid.
This paste can be used to make bhang halva, by adding ghee and sugar, bhang golis, the afore-mentioned cannabis-paste balls, and various types of beverage. For Bhang Ki Thandai, the paste is added to a thandai preparation: thandai (also known as sardai) is a blend of milk, sugar, and various spices including saffron, cardamom, fennel, pepper and vetiver.
Tools & ingredients
Clean work surface
Good-sized plastic or ceramic mixing bowl
Pestle and mortar
Fine straining material such as muslin (cheesecloth)
400ml water
15-25g fresh female cannabis leaves and flowers
800ml milk
¼ tsp each: garam masala, ginger, fennel
½ tsp aniseed, cardamom powder
200g sugar
Rose petals, mint leaves, chopped almonds to garnish
Instructions
The six steps to make Bhang
Grind all the dry ingredients to powder using the pestle and mortar and set aside
Pound the fresh cannabis to a pulp and add to the bowl along with the water and sugar
Add the dry ingredients to the bowl and set aside for two hours
Strain the mixture using fine muslin, until the residue is dry to the touch
Add milk to the extracted liquid, and chill until ready to serve
Prior to serving, garnish with chopped nuts, rose petals or mint leaves
This recipe should yield around 8 glasses of bhang ki thandai. If desired, the method and quantities used can be modified to obtain the best results.
Serve your bhang ki thandai in tall glasses, making sure that is it well-chilled, and be sure to exercise caution as the effect can vary greatly according to the potency of the cannabis used, the tolerance of the individual and various other factors.