Creativity The relationship between cannabis use and the creative process is well-known but remarkably complex. As with so many of the psychological and neurological effects of the drug, it appears that cannabis' effect on creativity depends on various factors including existing mental health and frequency of use.
The relationship between cannabis use and the creative process is well-known but remarkably complex. As with so many of the psychological and neurological effects of the drug, it appears that cannabis' effect on creativity depends on various factors including existing mental health and frequency of use.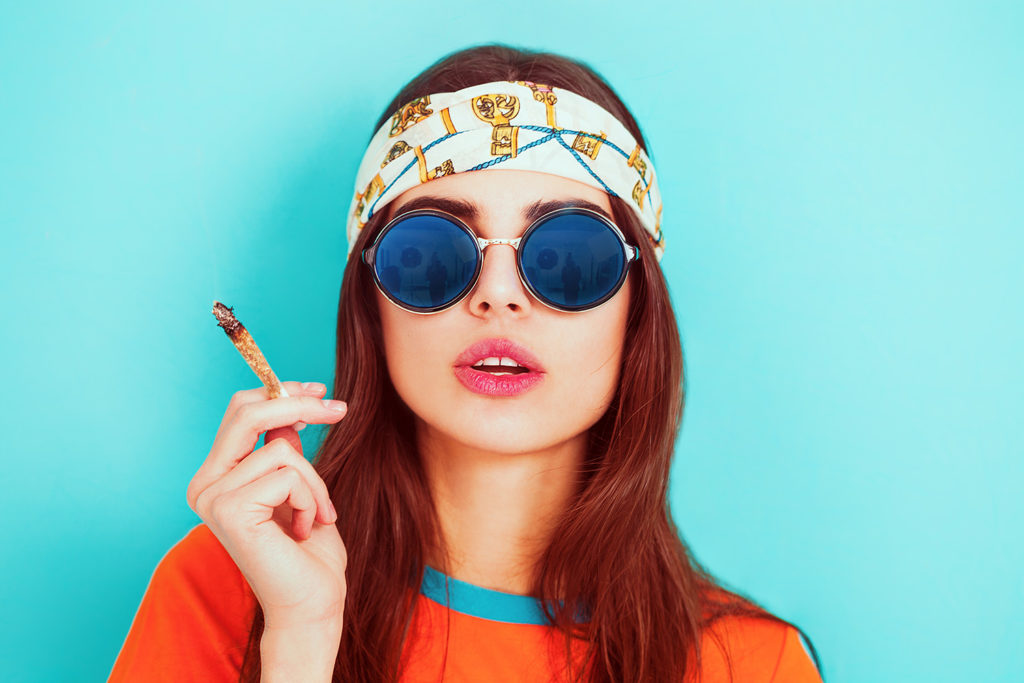 What is creativity?
Defining human creativity in an empirical fashion is very difficult, as our usual methods of measuring it are subjective and open to interpretation. Subjectively, creativity simply refers to the outward expression of novel thought processes, and can be expressed in countless ways including speech, the written word, art or music.
Efforts to introduce a standardised creativity test similar to intelligence quotient tests have so far been unsuccessful, although several measures are in use to establish individual levels of creativity to some extent. It is impossible to measure the quality of creative expression empirically as that depends so completely upon social, cultural and individual response to whatever is created.
How is creativity measured?
However, it is possible to measure the "quantity" of creative thoughts engendered in different individuals in response to standardised tests. A psychometric approach pioneered by American psychologist Ellis Paul Torrance in 1966, the Torrance Tests of Creative Thinking, assessed subjects via a set of simple problem-solving tests in order to ascertain the fluency, originality and elaboration of creative thought.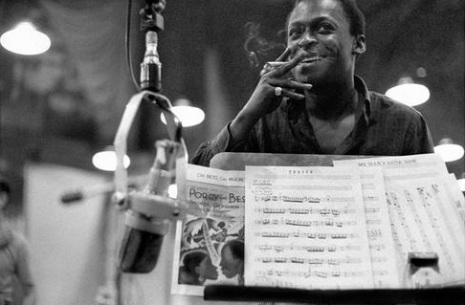 Fluency (essentially equivalent to divergent thought, outlined below) in this case refers to the total number of ideas generated in response to a stimulus, while originality refers to the rarity of a subject's ideas compared with the rest of the group, and elaboration refers to the level of detail given in the response.
While some researchers have focused on the tangible expression of creative thought, others hold that the true measure of creativity can only be gained from a social-personality approach, whereby the individual's self-confidence, willingness to take risks, and independence of decision-making are included in the measurement. American psychologist Gregory Feist has postulated that creative people are "more open to new experiences, less conventional and less conscientious, more self-confident, self-accepting, driven, ambitious, dominant, hostile, and impulsive".
Schizotypy and divergent thought
The concept of schizotypy was developed in order to describe the spectrum of personality traits found in humans, from "normal" imagination to that experienced by psychotic or delusional individuals. The more schizotypal an individual is, the more likely they are to experience unusual perceptive and cognitive phenomena (at the most extreme, hallucinations and delusions), cognitive disorganisation, introverted anhedonia (introverted, "joyless" behaviour), and impulsive nonconformity, particularly with regard to social situations.
Divergent thought, or the ability to create a range of responses to a stimulus (as opposed to convergent thought, in which the one "correct" answer is sought), is often higher in those with a higher level of schizotypy. Individuals with excessively high measures of schizotypy and divergent thought may be more likely to suffer from schizophrenia or dissociative disorders.
The existing research
Various studies have been performed in the last few years that have focused primarily on cannabis' effect on the creative process, although results have not been entirely consistent throughout these studies. As well as this, dozens of studies into specific brain functions affected by cannabis have yielded results which give us some degree of insight into the vast, complex process of human creativity.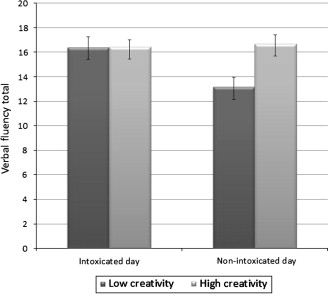 A 2012 study into the relationship between schizotypy, divergent thought and cannabis use demonstrated a clear relationship. Acute cannabis use (administered via smoking) increased verbal fluency in "low creatives" to the same level as that found in "high creatives", as well as increasing levels of schizotypy.
A 2009 study comparing creativity in (abstinent, formerly chronic) cannabis and MDMA users and a control group demonstrated that cannabis users exhibited greater numbers of "rare-creative" responses than the control group, indicating that the level of original thought is greater. Interestingly, MDMA users self-rated as being more creative than controls, while not demonstrating evidence of this in their responses; cannabis users, on the other hand, were more likely to exhibit creativity but did not self-rate as being more creative than controls.
However, not all studies have established such a link. A 2001 study into cannabis use and creativity used the Torrance set of measurements to compare creative responses in a cannabis-using group to those of a control group new to cannabis use. This study did not find any increase in divergent thinking in the control group, and found a decrease among regular users.
Cannabis, hyperpriming and semantic memory
In psychology, "priming" is a function of memory, whereby exposure to stimulus elicits a response to a subsequent stimulus. Semantic priming refers to the memory association between two items that are semantically related, e.g. "dog" and "wolf"; when an individual is exposed to a stimulus in a particular semantic category, the neural networks of the brain are stimulated and other related items are remembered.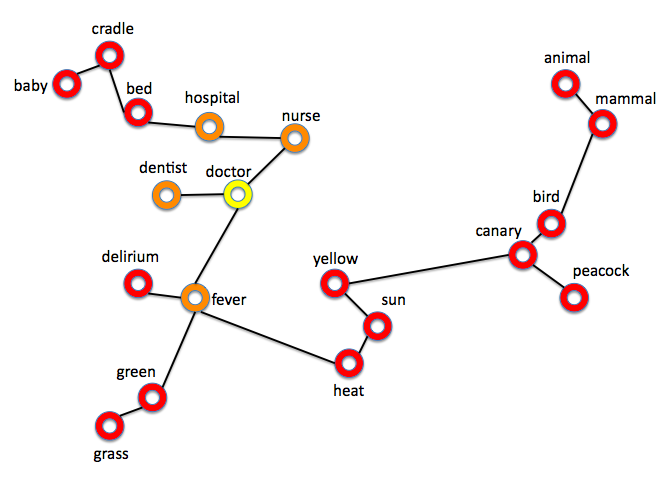 Hyperpriming refers to a condition in which unusual and unpredictable connections are made between items that are loosely or not at all related. A 2010 study determined that levels of semantic hyperpriming were higher in regular cannabis users even when abstinent, and were significantly higher when intoxicated compared with a non-using control group. This study also found that although intoxicated individuals exhibited increases in schizotypy, when abstinent levels of schizotypy did not vary from controls.
The thin line between madness and genius
Clearly, much work remains to be done—indeed, the definition of creativity must be better established—before we can achieve consensus on the relationship between cannabis use and creativity. In order to reduce the level of inconsistency across different studies, better methods of empirical measurement must be found to accurately assess individual levels of divergent thought. However, although the research is essentially in its infancy, a generally positive relationship between cannabis use and creativity has thus far been found.
Due to the strong association between use of cannabis and divergent thought, there may be some increased risk of abnormal divergence occurring with prolonged, heavy use. This may greatly assist in explaining the link between cannabis use and schizophrenia itself (as well as a number of related conditions), as the hyperpriming effect of the former paves the way for the uncontrolled responses of the latter. However, more narrowly-focused research is required to accurately assess the validity of this hypothesis.