Withdrawal Opponents of cannabis like to call it a gateway drug. They say it is just one of many illegal substances, a launch pad toward a druggie lifestyle. Although this theory has long been disproved scientifically, this alternative fact is repeated endlessly like a mantra by opponents of legalisation. But what about withdrawal treatment? More on that.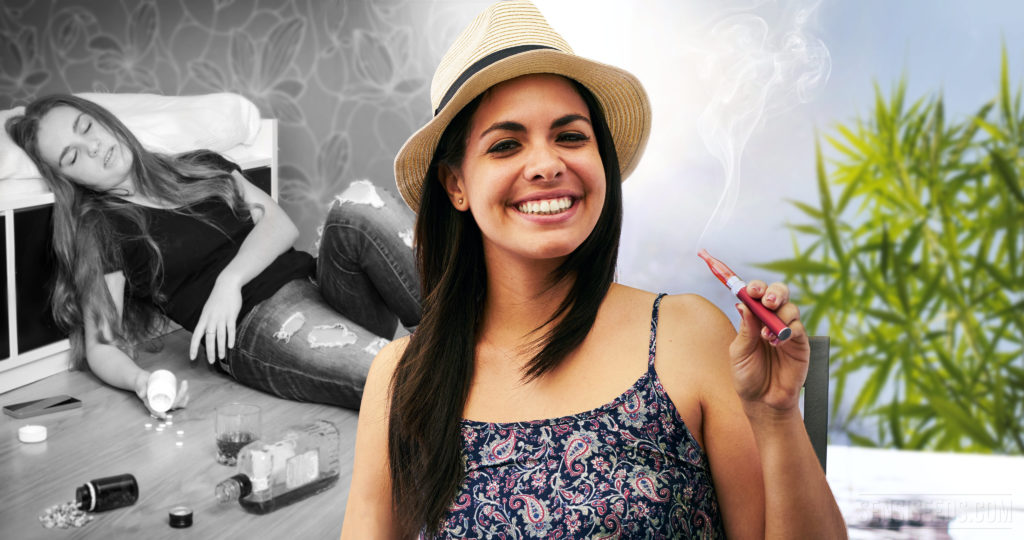 Opponents of cannabis like to call this forbidden plant a gateway drug. Cannabis, they say, is just one of many far more dangerous illegal substances, making it a stepping stone to a destructive, drug-ridden lifestyle. Although this theory has long been disproved scientifically, and you can even read about it on drugcom.de, the German Federal government's information project about cannabis, this alternative fact continues to be repeated endlessly like a mantra by opponents of legalisation.
Even the US NIDA (National Institute of Drug Abuse), which categorically rejects any consumption of drugs, is no longer quite so sure that cannabis is a gateway drug, because "the majority of people who use marijuana do not go on to use harder drugs."
In this context, it is more likely that it is the illegality that is really dangerous, because anyone who has to get his weed from murky channels will keep coming into contact with people who take other substances alongside cannabis. Otherwise, there is no proof that cannabis encourages people to consume other substances. Quite the contrary: from a medicinal point of view, cannabis ticks all the boxes of a withdrawal drug.
The research literature is promising
Two studies from the USA and Canada have confirmed this, along with numerous anecdotal examples.
In 2012, Canadian researchers, with the help of the staff in four cannabis pharmacies in British Columbia and their patients, collected data about past and present cannabis, alcohol and substance use, then evaluated these demographically. As part of the study, data from 404 anonymised cannabis patients was reviewed, looking at the phenomenon of the substitution effect of medicinal cannabis flowers. The aim was to discover whether the consumption of one substance can be influenced by the use or availability of another substance.
More than 41% (158 people) stated that they used cannabis as "an alcohol substitute," 36.1% (137 people) used cannabis as a substitute for illegal substances and 67.8% (259) stated that they used cannabis as a substitute for prescription medication. The three main reasons for substituting cannabis were "fewer withdrawal symptoms" (67.7%), "fewer side-effects" (60.4%) and "better symptom management." In total, 75.5% (305) of those questioned were substituting cannabis for another substance that posed greater risks to their health. That indicates that, even now, with cannabis not being available in the official substitution programmes, many patients use cannabis as an effect substitution aid, and as a safe complement or alternative to their prescription medication, the Canadian researchers concluded in the study.
The first study from the University of Berkeley in 2009 was not so decisive, but it basically reached the same conclusion. At that time, 350 patients of a medicinal cannabis collective in Berkeley, California, were asked about their consumption habits. In total, 71% of the participants said they suffered from chronic illnesses. 52% of those questioned used cannabis to treat chronic pain and 75% used cannabis due to a psychological condition. The authors concluded that "medicinal marijuana patients are substituting cannabis, by taking it as an alternative to alcohol or prescription drugs and illegal drugs." 40% were using medicinal cannabis as a substitute for alcohol, 26% as a substitute for other, illegal substances and 66% as a substitute for prescription medication. The most frequently quoted reasons for substitution were milder side effects from cannabis than medication (65%), better reduction of symptoms (57%) and fewer withdrawal symptoms (34%).
The latest meta-study in 2016 provides further support for the conclusions of the earlier research. A meta-study is not based on new research, but instead analyses and summarises research results from other studies. In this case, the data from 60 different studies of the medicinal and non-medicinal consumption of cannabis were evaluated. The researchers did point out that a large number of the evaluated studies had insufficient subjects, which in turn was due to the difficult circumstances involved in researching an illegal substance. Nevertheless, the conclusions here also speak clearly for themselves:
The 60 studies that were evaluated confirm that cannabis interacts in some way with other illegal substances and influences their consumption. Many addicts are more willing to use cannabis as a substitute than to use the classic substitution substances. Because of this, and because the long-term use of methadone has more worrying implications for health than pure heroin, doctors in Germany and Switzerland have managed with great success to also enable the substitution of pure heroin as an alternative to methadone for long-term addicts.
The substitution of one psychoactive substance for another with the goal of limiting detrimental health and social effects, is one of the four pillars of the German drug policy. It is known as "survival assistance and harm reduction". Cannabis patients are doing exactly the same thing when they use their flowers as an alternative to alcohol, medication and illegal drugs.
The Canadian researchers propose allowing the use of medicinal cannabis as a legal withdrawal drug within the context of treatment by a doctor, in order to reduce the use of other substances such as opioids and opiates, which are far more detrimental to our health. This effect has already been proven statistically. In the US, the number of legal opioids and illegal opiates has on average grown immensely across the country since the turn of the century. Only those states that have legalised cannabis for recreational or medicinal purposes showed a fall in deaths from opioids, at least until 2014.
"Cannabis takes away my urge to drink"
In Germany too there are more and more reports about "cannabis the withdrawal drug," even if the national list of studies on using cannabis as a substitute substance is still a blank page. But, as an addict, it is already possible to acquire a special permit to buy cannabis flowers if your doctor is convinced that including them in your treatment will result in success. Cannabis patient Karl "Shorty" Huber was previously an alcoholic and has been using cannabis as a substitute for years, initially illegally. But now, the 52-year old has had a special permit since April 2015 to treat himself using cannabis flowers. "Cannabis takes away my urge to drink. Alcohol is a narcotic poison, cannabis is a narcotic substance," is how Shorty describes the workings of his plant-based substitute drug, which has allowed him to lead a stable life without harm to his social environment for many years. As of next month, a simple prescription for narcotic substance will replace "Shorty's" special permit and will probably make it easier for him to acquire his medicinal flowers. Back in 2013, the Hemp Journal (Hanf Journal) also reported on a former heroin addict who was treating himself successfully with cannabis without any other substitute substances. Overall, using cannabis as a substitute is still the exception rather than the rule in Europe, unlike in the US and Canada. However, the results from abroad and the reports on many individual cases from Europe should be justification enough to thoroughly study the potential of cannabis for use as a withdrawal treatment, and soon!