Jahki Revi, president of La Kalada cannabis club stands on the sides of the indoor football pitch egging on his team who, with minutes to go before the game's end are two goals down. Defeat is certain but Revi is upbeat, happy his club is part of Barcelona's Mary Jane Football League.
A collaboration between GolAGol.com, an organization set up to promote sporting activities within cannabis culture, and Dany Ramos, a Barcelona-based cannabis activist, the Mary Jane Football League was the first intra-club football league of its kind in Barcelona – the city that recently took the title as Europe's cannabis capital.
The event brought together around 20 Barcelona-based cannabis clubs and associations over two days in 5 and 7-a-side playoffs to show a different side of the culture, and break the stigma that stoners sit around all day smoking fat blunts, playing video games or binge-watching Breaking Bad.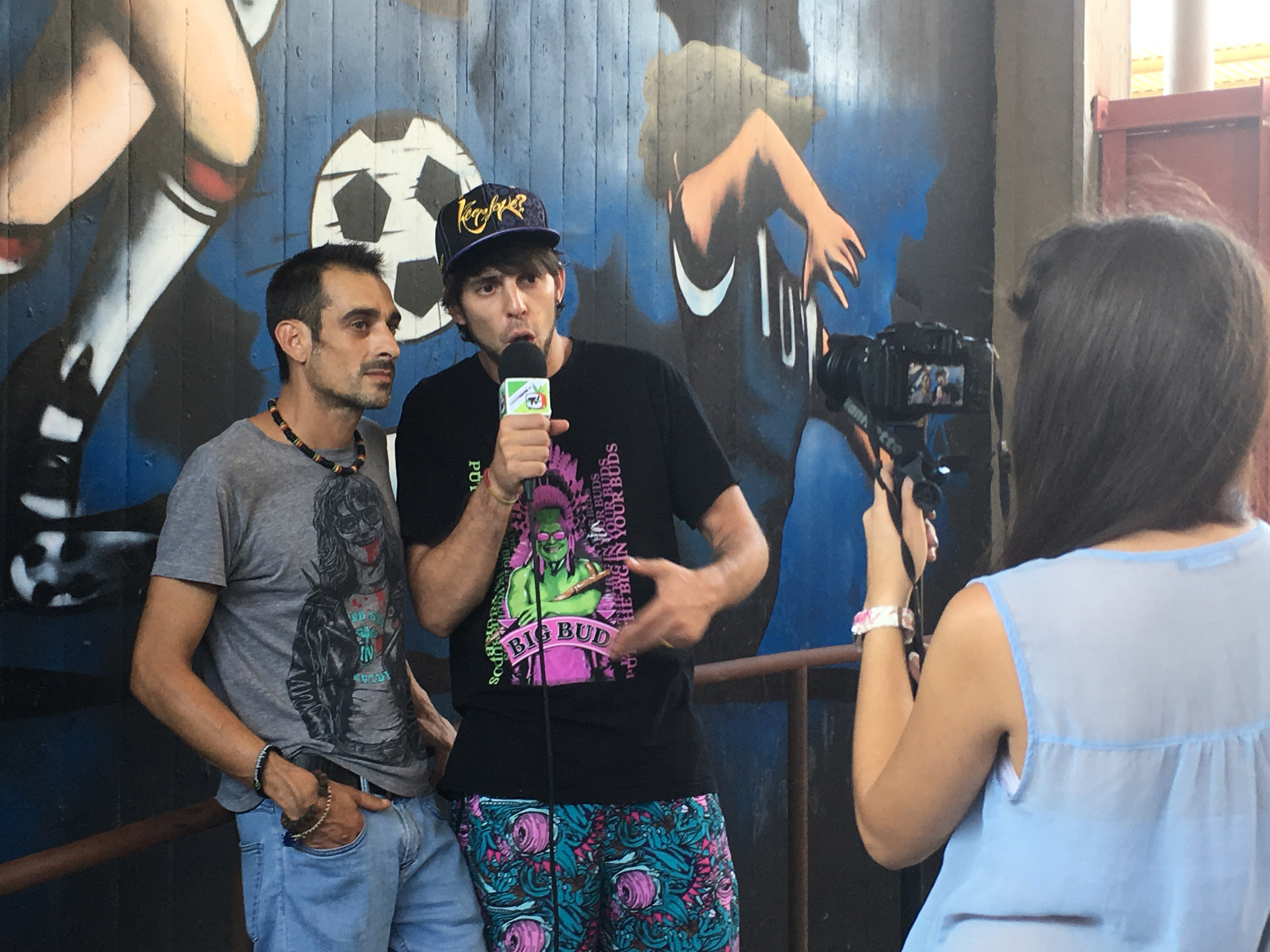 "Because of the World Cup, we still have football fever," said Daniel Ribas, a member of Freya Cannabis Club. "This is a chance to relive the excitement but also make contacts in a different environment. We wouldn't normally get to talk to these people, which is crazy because we have a lot in common."
The participating clubs included HQ BCN, Greenardo, A.G.O.R.A., Undergrow Team, Freya, Pandora, The Plug, Chamaneria, La Pausa Verde, Sweet Hope, Green Brothers and Asoma BCN, with support from event collaborators including Undergrow TV, Technical Crops, Low Cost Seeds, Sumo Seeds, and Dutch Green.
"We're on the frontline of a big change in how society views cannabis," said Romain Jouenne, one of the founders of GolAGol.com. "We've wanted to host this event for a long time and are grateful for the connection with Dany. Through him, we got the link to Barcelona's cannabis clubs and associations, and are really happy with the turnout. The clubs really showed up for us."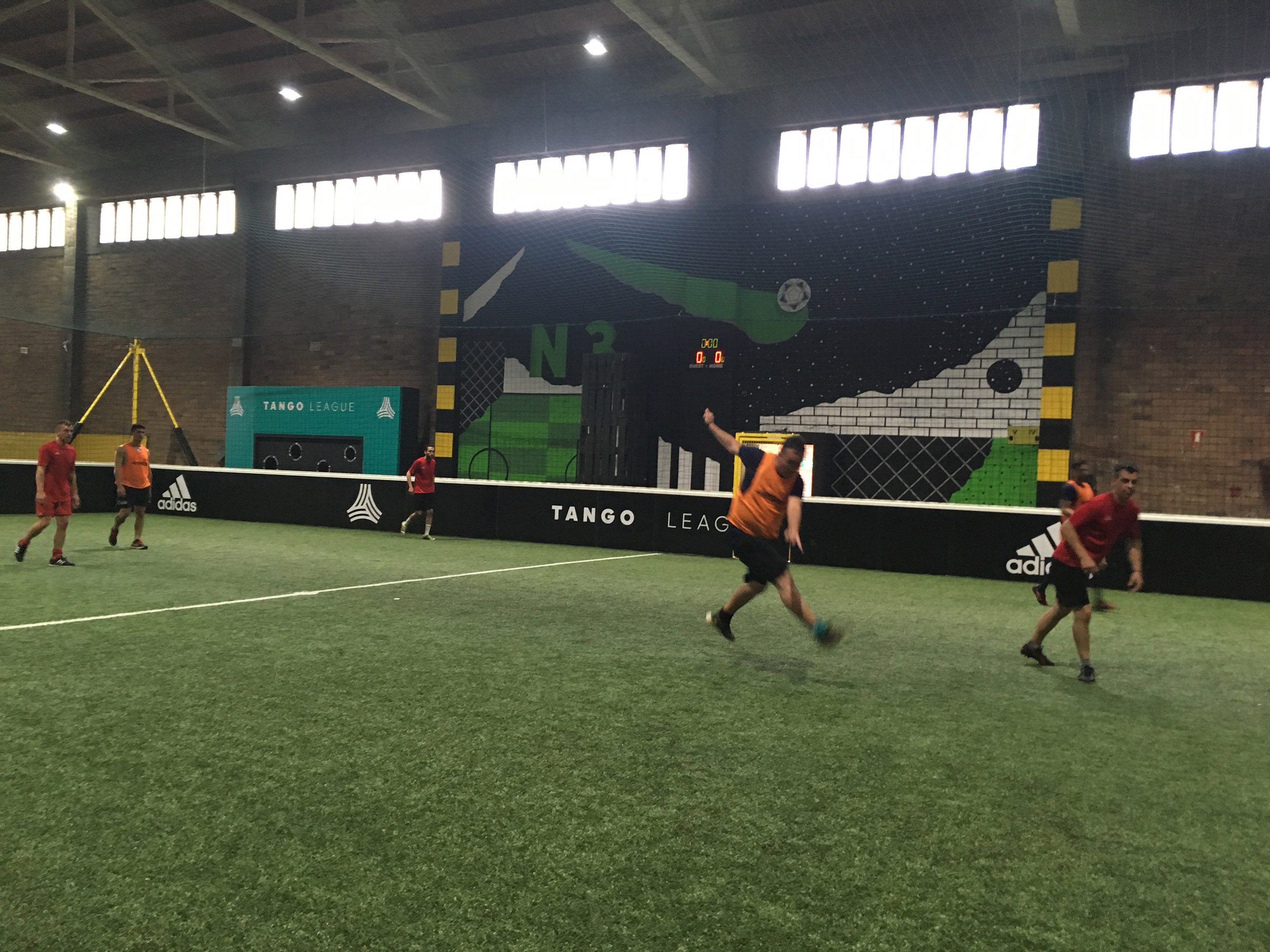 Let the Games Begin
The games began early on Saturday morning in an indoor football hall in an industrial park, in the L'Hostipalet de Llobregat area of Barcelona. All of the hall's five pitches were busy throughout the morning, a steady stream of players in jerseys – some had made team jerseys with their club logo – piled in to play while gangs of sweaty guys exited the airless hall with flushed faces, and in need of refreshment. The mood was tense.
Outside, it was 38 degrees in the shade, making any physical exertion a challenge – no surprise then that some club teams failed to show. By afternoon, it was clear that the non-arrival of a few teams had messed up the schedule so bad, the players had no idea whom they were playing against. When the Green Brothers team exited the hall, they said they'd had lots of fun, but didn't know who'd just beat them.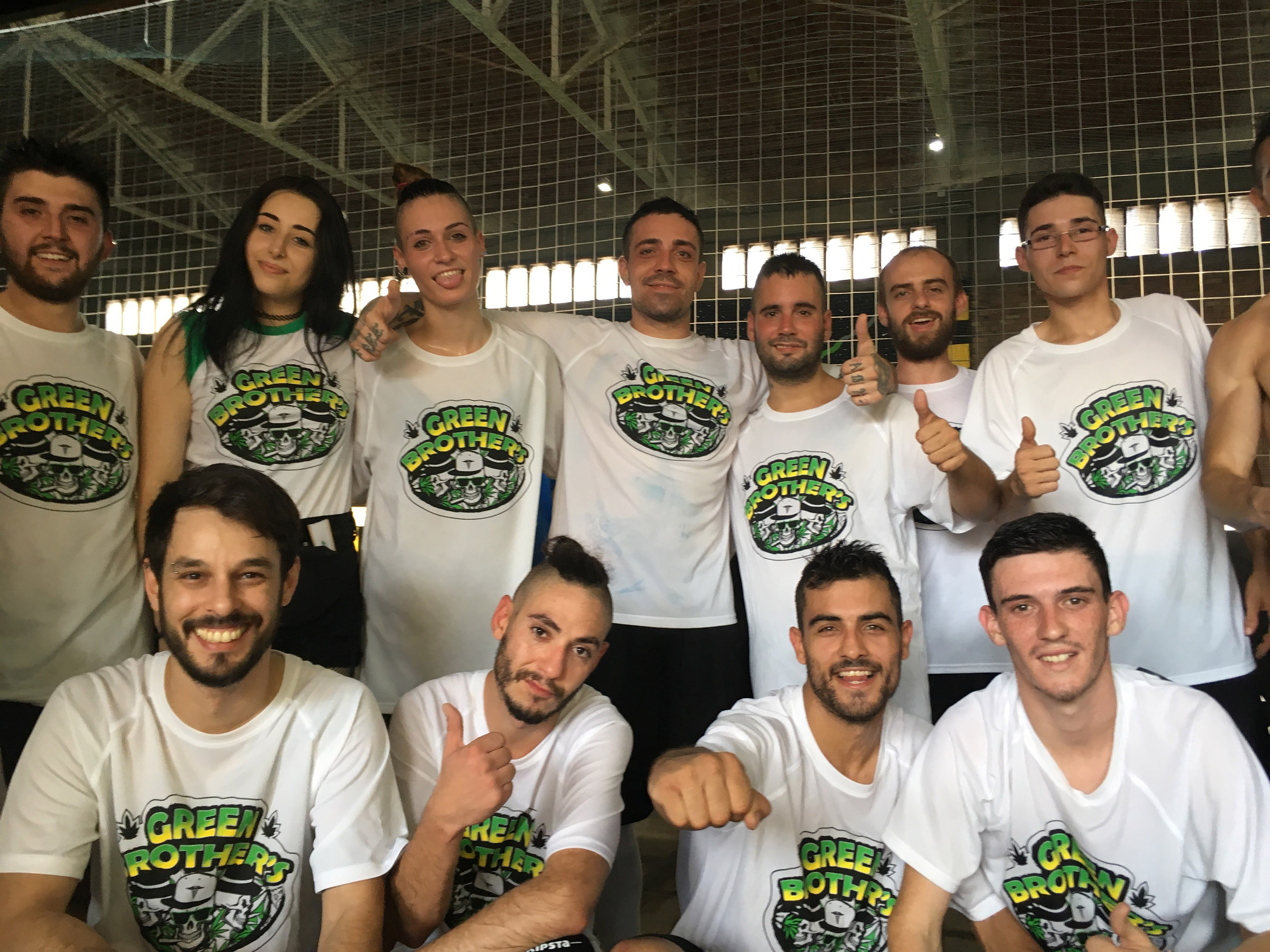 Qualifying teams were scheduled to play four times throughout the day. The winners hung around until a pitch freed up. Till then, they waited in the concrete lobby where they could buy BBQ food from a trailer, drink cheap beer, and smoke. Bottles of water were available for €2 from the bar. There were two fans in the hall large; one was situated next to the DJ booth and sponsor stand.
By seven, the winning teams still had to play two more games in order to get the board in shape for the next day. They were exhausted. Two of Freya's club team members were putting on their boots for the third time that day, their tired faces wincing as they tied up the laces.
"If we win this, we have to play again later," Ribas said, with a sleepy smile that suggested he'd rather be home binge-watching anything at this point. "Either way, it's been a great day. No one cares about winning. Don't get me wrong, we're competitive, but this is about building a community, and showing who we are."
The Freya team would go on to play two more games, and win both.
Flying the Green Flag
The prizes for the Mary Jane Football League included a trophy for the winning team, plus baskets of hemp and CBD products. There was also a raffle for a fancy hamper. Nice stuff, but not particularly compelling. No matter, as the prizes were not the point for many of the competitors who were more interested in using the occasion to make friends.
When the games finally ended after midnight on Saturday, everyone went out for a well-earned drink. Which meant that more team members failed to show up on Sunday morning, and those that did were a bit war-torn, though still in high spirits.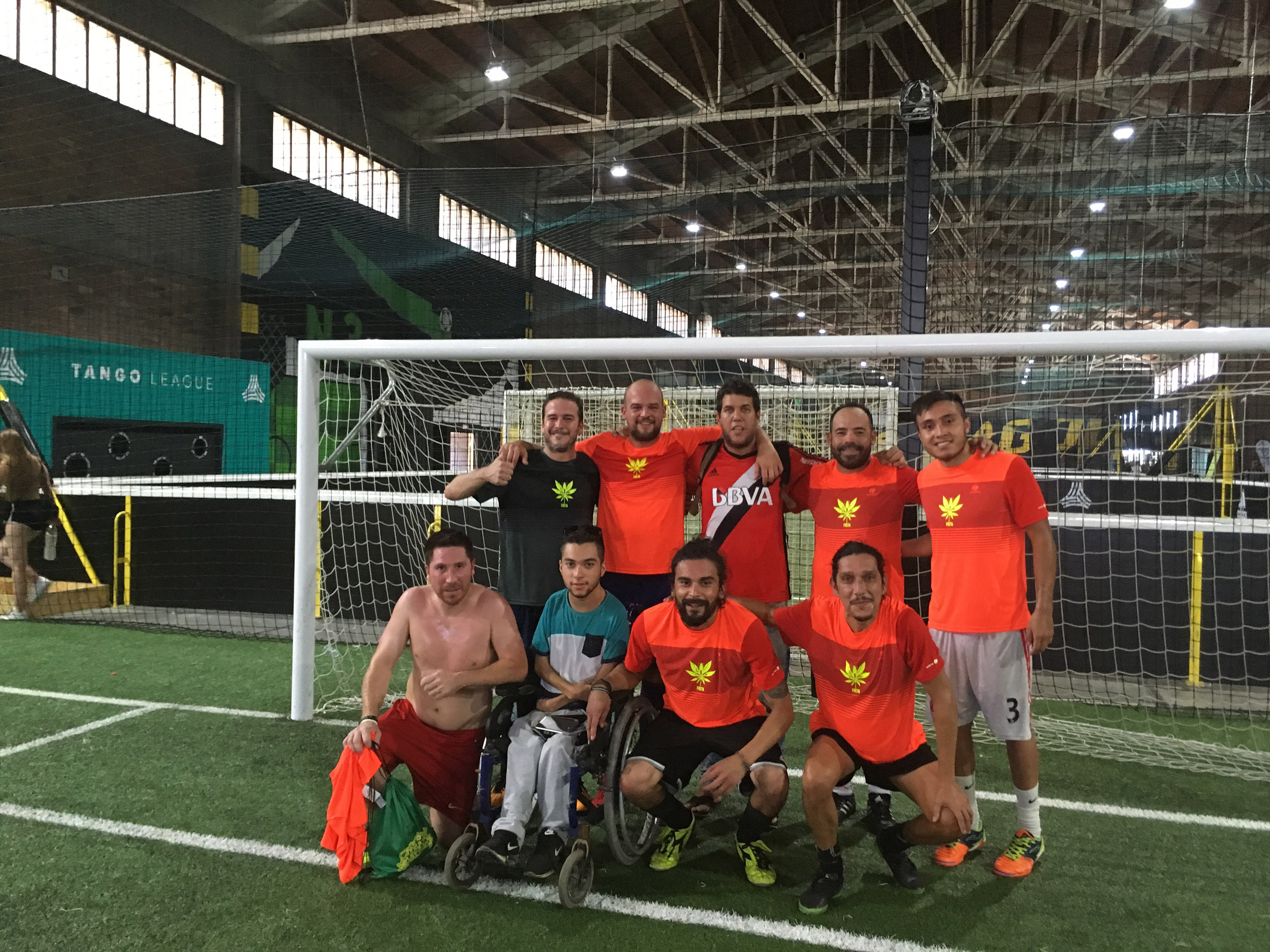 Freya played a tough game late morning, winning in the last fifteen minutes, four goals to three. No one knew the club name of the losing team. The Freya team was surprised and chuffed to make it so far, and looking forward to the arrival of sub-team members later that day. By Sunday afternoon, missing players had become an issue. To make up numbers, members of different clubs teamed up together, Chamaneria players stepped in to play on behalf of missing HQ BCN players, and so on.
Good intentions weren't enough to save the League, which fizzled to an unfinished end by Sunday evening, felled by the heat and lack of organization. There was no winner of this year's inaugural Mary Jane Football League, and it's not clear if it will happen again.
But what this event showed is that there is a hunger for cohesion within the Barcelona cannabis community, as well as a willingness to work together to make the network stronger, and find a platform that unites it in an innovative way. Despite its flaws, this event showed why Barcelona earned the title of cannabis capital of Europe.
"Information and interest is growing in the medicinal and therapeutic properties of marijuana, but there's a lot of misinformation out there," said Maka, a presenter with the popular cannabis Youtube channel, Undergrow TV. "The people at events like this are experts. They know what this plant is capable of, and have a unique wealth of experience. That's why it's important to build connections within the community that created the culture."