Visit Sensi Seeds at stand #40 and get a free Sensi Seeds T-shirt with each seed purchase!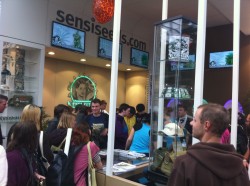 Last year's Cannafest was the first official cannabis expo in the Czech Republic and a thorough success. Once again, Sensi Seeds is proud to be the main sponsor of this event. Taking place on the 25th , 26th and 27th of November at the impressive Prague Exhibition Grounds, Cannafest 2011 will feature even more exhibitors and activities than last year. The Sensi Seeds Expo Staff will be on hand at booth 40 with our full range of both feminized and standard cannabis seeds, as well as free T-shirts for everyone who purchases seeds! 
Building on the varied and interesting program of events last year, including seminars and workshops with an emphasis on medicinal marijuana usage and the potential of industrial hemp, Cannafest 2011 promises to be an exciting opportunity to learn more about the many uses of the cannabis plant. While the official languages of the expo are English and Czech, the large amount of visitors and exhibitors from all over the world ensures that this is a truly international event. The exhibitors have been organized into six main categories this year: Natural Resources, Growing, Paraphernalia, Art, Media, and Institutions; marijuana movies and live music will also be part of the entertainment.