There are over 150 coffeeshops in Amsterdam alone, and with so many options, it is hard to know where to go for quality products and a joyful atmosphere. Nevertheless, do not fear. We have compiled a list of the top eleven coffeeshops in the city.
Here at Sensi Seeds, we believe growing your own cannabis is the most reliable method of getting the best product. However, it is not an option for everyone, and there is something special about visiting a coffeeshop. An exciting place to interact with other cannabis users or a quaint retreat where you can relax and enjoy the tranquil surroundings. So for this article, we visited 11 of the best coffeeshops in Amsterdam.
1. Club Media – De Pijp

Club Media opened its doors in 1986 and has become an iconic coffeeshop in the trendy De Pijp neighbourhood. It is within walking distance of the famous Albert Cuyp market and is popular with cannabis enthusiasts.
The interior resembles a luxurious dinner lounge, with various comfy seating options, from stylish purple and black cushioned benches to slick leather bar stools. Cannabis-based artwork is displayed on the walls, and Club Media is very comfortable and cosy.
Once you have purchased cannabis products at the counter, you will pass into the main smoking area. Like all coffeeshops, Club Media does not permit tobacco consumption but does supply a natural herbal mix, and they have excellent ventilation throughout. If you are looking for safer consumption methods, like vaporizing, they also have a Storz & Bickel volcano available.
Multilingual personnel are incredibly accommodating and cater for many international visitors. They provide excellent customer service and are highly knowledgeable about their products. Their menu includes a wide assortment of flowers and a unique selection of imported hashish. For the munchies, they also have a small range of drinks and refreshments, which can be purchased from the bar in the lounge.
Soft lighting and relaxing background music create a chill atmosphere where you can spend hours relaxing. Board games and chess are also available to keep the avid cannabis user occupied on rainy days. With free wi-fi and a wide range of snacks and refreshments, Club Media is the perfect coffeeshop to relax and unwind after a day in the city.
2. Bluebird – Nieuwmarkt
Coffeeshop Bluebird has been a staple of the Amsterdam coffeeshop scene for over three decades, opening in 1982. It is located near the Nieuwmarkt metro station, within walking distance of Waterlooplein and the Red Light District.
The personnel at Bluebird are very knowledgeable about their products, and, as with many of the best Amsterdam coffeeshops, the staff are multilingual. Staff are welcoming and willing to go the extra mile for customers.
This coffeeshop is based across two floors. The first floor has a quaint lounge with comfy benches and mirrored walls. The second floor has the main lounge and counter. There is bar seating, a large open area with seating options, and a separate closed-off area with window seating, ideal for watching the world go by. Colourful murals are painted throughout, and the first floor has a fantastic jungle-themed piece. Of course, there is excellent wi-fi throughout.
The Bluebird has been on the cannabis scene for many years, and its extensive menu represents this, from Original Haze to Northern Lights and White Widow. They also offer an exceptional range of hashish and are renowned for their Moroccan dry-sift and space cakes.
If you are a coffee fanatic, the Bluebird has an onsite barista grinding the finest coffee beans, and they also provide food and refreshments. The Bluebird is the perfect coffeeshop if you want to relax and lounge around while consuming high-quality cannabis.
3. The Dolphins – Grachtengordel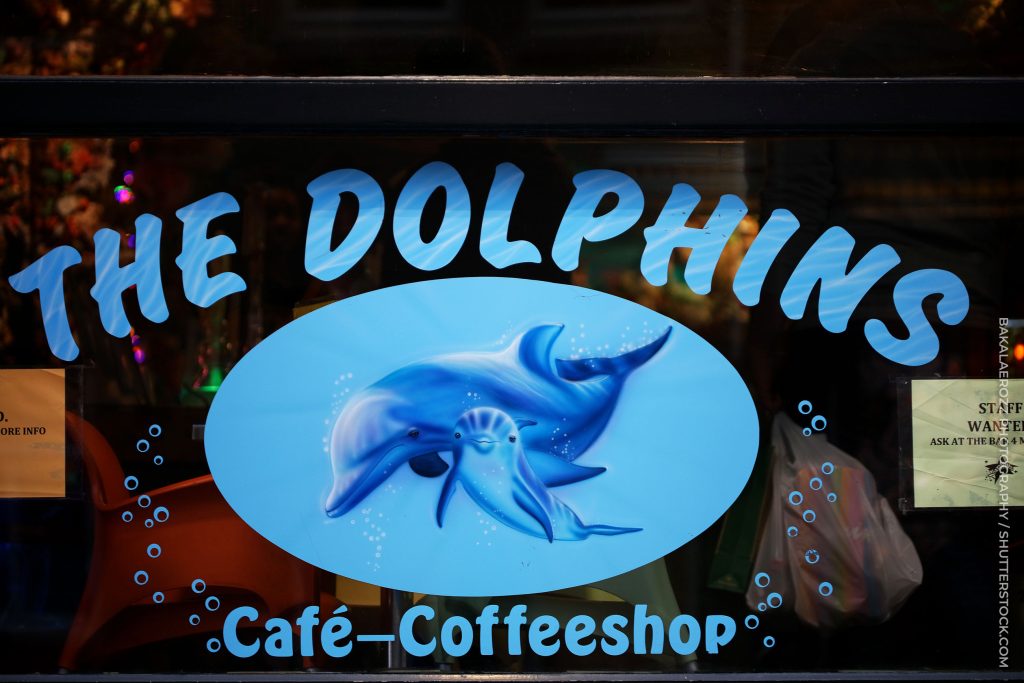 The Dolphins Café & Coffeeshop is based in the Grachtengordel district, close to Leidseplein. It is themed like an underwater world and is covered in 3D models representing all types of marine life. Any visible patches of the wall are painted blue or airbrushed to resemble the ocean. Outside, there is even a sizeable model of a dolphin which greets customers before entering.
This ocean wonderland is situated across two levels, with wi-fi is available throughout. Upstairs has the main counter, a small seating area, and a bar to purchase refreshments. You can also find the pool table and table football here if you're looking for a challenge!
Downstairs is the main lounge, which acts as The Dolphins 'under the sea' themed room. It is well-ventilated and spacious. Large comfy Moroccan -themed booths welcome customers, and the room is decorated entirely with nautical décor. If you do not fancy climbing the steep stairs to return to sea level, there is also a vending machine for the munchies.
The Dolphins have been in attendance throughout many of the cannabis cups here in Amsterdam, and subsequently, the staff at the Dolphins are amiable and knowledgeable. They also have a De Verdamper available for customers, a glass vaporizer popularised by Eagle Bill in the mid-1990s, which is one of the healthiest ways to consume cannabis.
Their collection includes classic European strains such as White Widow and Northern Lights hybrids and a limited selection of hashish. The Dolphins also have a few of their own genetics, including White Dolphin and Royal Dolphin. Along with quality strains, the Dolphins are famous for their highly potent edibles and should not be missed.
4. Family First – Rembrandtplein
Family First coffeeshop is relatively new to the Amsterdam coffeeshop scene, and since 2018, it has been renowned for high-grade cannabis and professional expertise. They are located just south of the city centre, within walking distance of Rembrandt square.
This coffeeshop is small and cosy, with lush green décor and a polished floor. The main counter is positioned at the back, and wooden seating lines the walls. However, do not let the simple décor fool you; Family First has a fantastic range of cannabis products and exceptional staff.
Family First stands out from the other coffeeshops because of their attention to detail and expert knowledge, with both patient and well-educated budtenders. They have also won various cannabis competitions, including the 2019 Clouds in the City, where Family First came home with three 1st place awards.
They have an exceptional range of high-quality cannabis products and noteworthy extractions, including local genetics, Northern Lights and Skunk #1, quality US genetics and a remarkable array of imported hashish. Family First also has a nice variety of beverages and snacks.
If you want a coffeeshop with unique genetics, head to Family First.
5. Grey Area – Central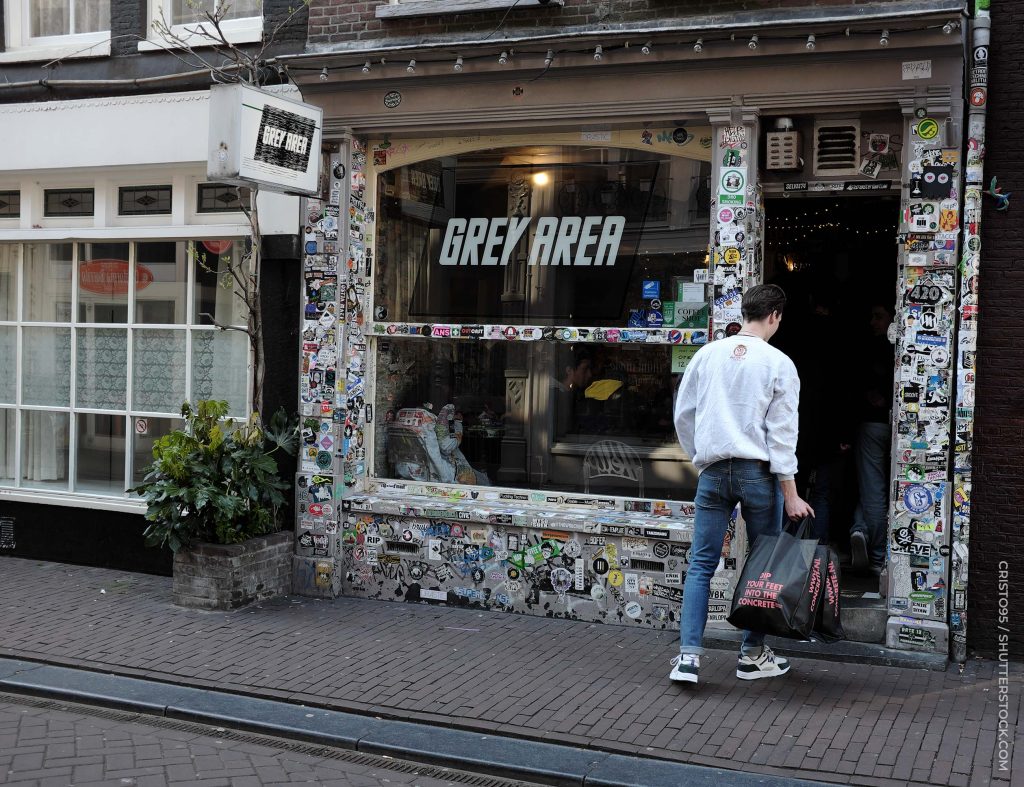 Located in the Grachtengordel-West, The Grey Area has an exceptional reputation in the Amsterdam coffeeshop scene and has been a stop for cannabis connoisseurs for decades. The Grey Area is a small but cosy coffeeshop, with a tiny counter and seating area that holds three tables. Although the lounge is small, customers are welcome to use one of the house bongs or the Volcano they offer.
However, do not expect luxury here; the Grey Area is focused primarily on cannabis genetics. The interior of the Grey Area coffeeshop is covered in stickers and graffiti from all parts of the world, and the time is constantly 4:20 here!
Since opening in the early 90s, Grey Area has won countless awards and cups, including the 2017 and 2018 High Times Cannabis Cup in Amsterdam. With years in the cannabis coffee shop scene, the staff at the Grey Area are professional and provide extensive knowledge about the genetics available.
The Grey Area has a sizeable range of genetics and in-house strains, such as Grey Haze, Evergrey and Grey Mist Crystal. They also have one of the largest selections of high-quality US genetics in the Netherlands and an excellent range of solventless hashish.
The seating area is limited and always packed, so if you want to get a table and enjoy some fantastic genetics, get there early.
6. La Tertulia – Jordaan
La Tertulia has been on the coffeeshop scene since 1983 and is respected by locals and cannabis connoisseurs worldwide. It is situated close to the trendy Jordaan neighbourhood on the Prinsengracht canal.
Bright and colourful murals of Van Gogh liven up this coffeeshop's outside walls, which are hard to miss. The outdoor area is bustling during the summer due to its prime location near the canal.
This coffeeshop is spectacular. La Tertulia has three sections: the main floor, the upstairs balcony and the outside terrace. The main counter is on the ground floor, and wooden stairs lead to the lounge. La Tertulia is like a small botanical garden with a plethora of foliage on both floors. Beautiful crystals are displayed throughout the coffeeshop, and the atmosphere is magical.
The staff at La Tertulia are super welcoming and friendly. They are experienced and passionate about cannabis and willing to go the extra mile for their customers. Check out their iconic Himalayan Gold to Jack Herer and Mango Haze. Delicious infused brownies and a wide variety of imported hashish complete the menu. They also carry the same De Verdamper device as Dolphins coffeeshop, if you're looking for a healthier alternative to combustion.
If you're after refreshments, they also have an excellent range of food and drink, from toasties and juices to hot teas and coffees. La Tertulia is perfect for a relaxing afternoon in Amsterdam.
7. Mr. K and Co – Lauriergracht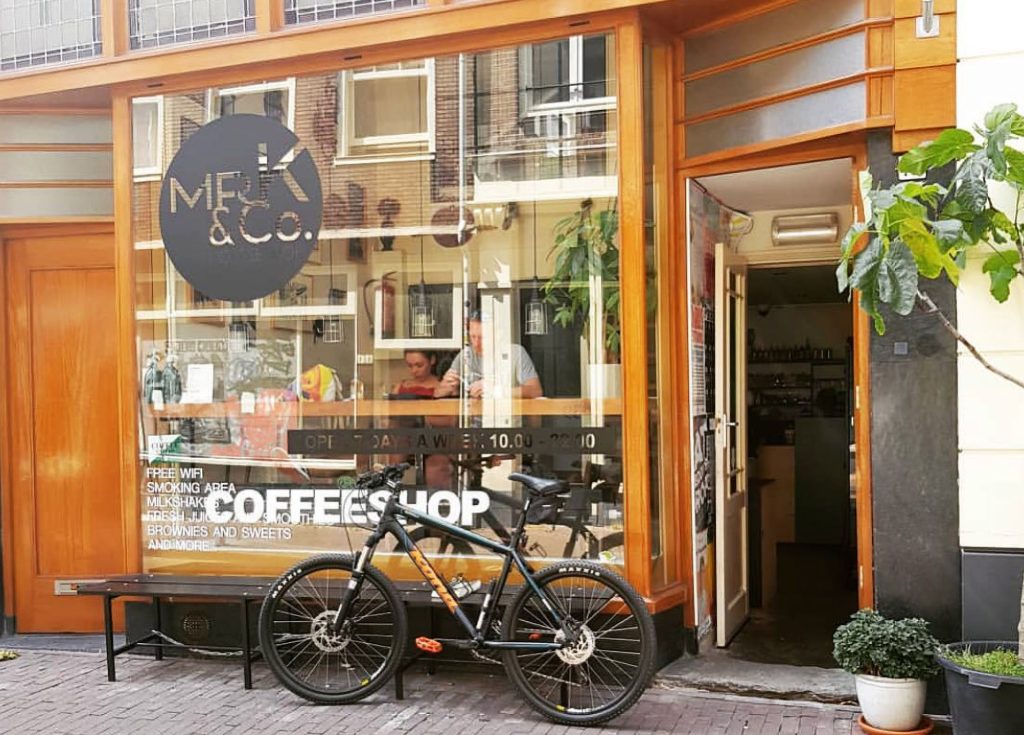 Mr K and Co coffeeeshop is located in the city's heart and is a few minutes from the iconic Leidseplein. It is a fresh and airy coffeeshop that's renowned for high-grade flowers.
This cosy and quaint coffeeshop is based on two floors with a primarily wooden interior. The front of the coffeeshop is smooth and stylish, and a large front window makes this small establishment airy with lots of light. Wooden seats surround a classic pine dining table, and there is also seating in the front window.
The personnel are all highly passionate about cannabis and ready to answer any questions you have about the menu. If you're into chess and board games, Mr K and Co has a many to keep you occupied for hours.
There is an excellent assortment of international genetics from Cereal Milk, Mintz, Gushers, Mochi and Gelato 41 to the iconic Super Silver Haze. Mr K and Co also have an impressive medley of hashish, from the Zombie Kush and Forbidden Fruit dry-sift to isolator. Their edibles are famously pungent and dangerously delicious – so watch out!
Mr K and Co also have refreshments with delicious hot drinks and refreshing juices. Trained baristas provide customers with the freshest coffee beans if you are a coffee lover. Mr K and Co is an amazingly friendly coffeeshop, and it should not be missed.
8. Solo – Nieuwmarkt
Coffeeshop Solo is located in the Nieuwmarkt district and near the Red Light District. It has been renowned for top-shelf cannabis and excellent customer service since 2007. Solo has a more local vibe than most coffeeshops and is an ideal place to sample some international and domestic genetics in a relaxed environment.
As you enter Solo, the counter extends to the bar, with stools available for customers. They have a lovely dark wooden floor, with a creamy white interior and local concert flyers covering the walls. There is booth seating to the right, and tables are available close to the window. The two main windows are open in the summer and give you a fantastic view of the bustling streets.
The staff at Solo are professional, friendly and enthusiastic about cannabis and their menu. They have a fantastic miscellany of locally grown outdoor and indoor flowers, from outdoor-grown Purple Haze to indoor sativas, such as their Somari. It also has an impressive collection of Cali strains and delicious infused chocolate cakes. Along with excellent quality cannabis products, Solo has fantastic coffee, fresh teas and snacks.
If you're close to Nieuwmarkt, you have to stop at Solo!
9. Terps Army – Centrum
Terps Army is located in Amsterdam centre, and since June 2021, It has been renowned for high-grade cannabis and professional expertise. Although Terps Army is new on the scene, this coffeeshop has some of the finest cannabis products in the city, and if you're an extraction fan, Terps Army is your place!
The large window at the front of this coffeeshop makes Terps Army bright and spacious. The interior is luxurious. Purple walls, polished wooden floors, soft green wooden trimmings, and elegant glass shelving make Terps Army one of the classiest coffeeshops around.
Terps Army has a quality range of cannabis strains and has won countless awards, including Dab-a-Doo and Masters of Rosin. They are up to date with technological advancements, and Terps Army is heavily involved in promoting cannabis throughout the metauniverse.
This coffeeshop has the most extensive range of hashish in Amsterdam, and if you are looking for bubble or filtered hash, this is the place to be. Customers can choose from their extensive selection of hashish made using 70, 90 and 120-micron bags. Lower micron bags provide more thorough filtration, while the higher micron bags allow for a heavier resin concentration.
They also have a plethora of imported US genetics, such as their Cereal Milk, White Runtz, and Sunset Sherbert. Top-shelf local genetics, such as Big Buddha Cheese and G13, are also available. Do not worry; snacks and beverages are available if the munchies kick in.
If you are looking for a luxurious coffeeshop for the cannabis terpene connoisseur, head to Terps Army.
10. 1E HULP Coffeeshop – Marnixstraat
1E HULP coffeeshop is located on Marnixstraat, within walking distance of Jordaan on the city's western edge. The name translates to "First Aid" in English.
It has an Arabian-styled interior and is spread across three different levels. Guests are welcomed into the main dispensary area, which is located on the ground floor, before being buzzed into the elegant smoking area. The downstairs lounge has luxurious booths with a Middle Eastern aesthetic with beautiful stone-washed walls, and the upstairs Is spacious with comfortable sofas.
This coffeeshop has a super relaxing atmosphere where you can easily spend half the day relaxing. Moreover, if you are an animal lover, there's an amiable torbie cat called Rizla welcoming customers.
Staff are very well-educated, and 1E HULP has won countless cannabis awards. They were recently awarded third place in the Unity Cannabis Cup 2016 for their heavy-hitting sativa, Somari. Look forward to excellent local outdoor and indoor strains, from Lemon Haze, Amnesia, Super Silver Haze, and White Widow. They also have an impressive range of American genetics, such as their Zkittlez OG, Ice Cream Punch, and Slurricane. Don't forget their moonrocks!
If you are a hashish connoisseur, check out their remarkable selection of imported Moroccan hash. They also offer infused muffins, brownies, pre-rolls, and other delicious snacks. If you're looking for a friendly coffeeshop with a wide variety of top-shelf genetics, 1EHULP is the place to visit.
11. Green Place – Nieuwmarkt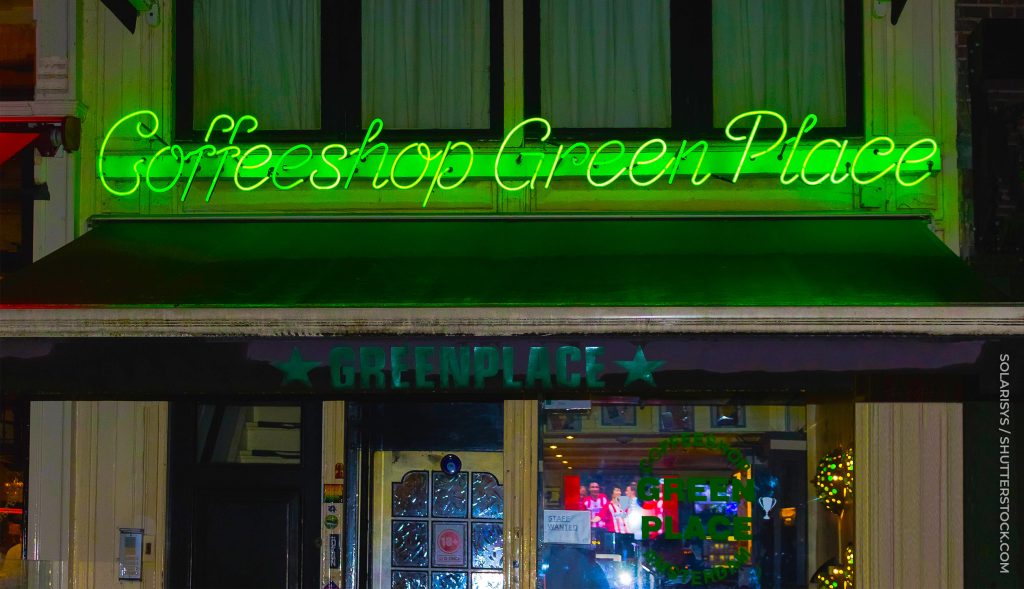 Green Place is positioned along the Kloveniersburgwal canal, metres away from the thriving Nieuwmarkt square. It's a small, cosy coffee shop and is one of Snoop Dogg's favourite places to smoke in Amsterdam.
The outside is covered in stickers from around the globe, and the interior is similar to a local bar, with wooden floors, bar stools and two-person tables along the wall. In the back is a separate smoking lounge with a Moroccan-themed interior with leather booths. If you are an 80s gaming enthusiast, they have an arcade machine with many classics.
Personnel are incredibly welcoming, and their menu includes a diverse selection of local and international top-shelf genetics, from, Biscotti, Sour Runtz to Wizard OG and Strawberry Cake. They also have an excellent selection of live rosins, bubble hash and dry-sift. We highly recommend checking out their Pink Panties rosin. Highly potent edibles and a range of snacks and refreshments are also available.
If you want something that stands out, head to Green Place!
What is your favourite?
These are our favourite coffeeshops across Amsterdam, but what about you? With so many to choose from, you might have a personal favourite! Maybe because it's close to your house, or you simply cannot get enough of their high-quality flowers. Let us know in the comments below.
Furthermore, do not forget to get your cannabis products tested at the Cannabis College. Additionally, while you are in the area: Visit the Hash Marihuana & Hemp Museum before calling into our canalside store to say hello!
Rest assured; there is a coffeeshop for everyone in Amsterdam, so get out and find yours today!
Disclaimer:

Laws and regulations regarding cannabis use differ from country to country. Sensi Seeds therefore strongly advises you to check your local laws and regulations. Do not act in conflict with the law.