There are thousands, if not tens of thousands of cannabis-related apps available today for use on smartphones and tablets. Many of them are buggy, poor imitations of better products, or just downright useless! But there are some incredibly useful and valuable apps if you know where to look – so let's see what we can find.
Here's our top ten of the current most useful apps out there serving the cannabis community. Let us know of your comments, opinions, user experiences and anything else on the subject in the comments!
simLeaf
simLeaf is something like the Tamagotchi of cannabis apps – but there's a lot more to it! In fact, it's a pretty comprehensive grow simulator with a whole bunch of different settings and variables that can be adjusted. You can choose which strain you want to grow, you can pick either a 600W or 1000W lamp, or adjust your pH or nutrient regime, and a whole lot more.
You're charged with the task of looking after every single one of your plant's needs – and if you fail to look after it properly, it'll die just like those hundreds of poor Tamagotchis my sister neglected as a child! But if you manage to take proper care of it, you will be well-rewarded with a virtual harvest – and you'll learn a lot along the way.
The basic app is full of features as it comes, but there are also various extras that can be purchased to make the process even more involving – such as extra strains and advanced grow techniques and equipment. It's aimed more at the novice grower, and could be a useful way to learn what's required before ever even putting a seed into soil.
simLeaf is available on iOS for $1.99.
MassRoots
MassRoots has gained a big following over recent years (it now has around one million active members), and can be very useful for creating networks of cannabis enthusiasts that span the sectors of industry, healthcare and recreation.
MassRoots offers the ability to view cannabis-related news and content local to your area, or to look at the bigger picture with the Global view. As well as this, you can share pictures, videos, news, and anything else that's cannabis-related with your "Buds" (that's MassRoots jargon for friends or contacts).
Massroots is available on iOS and Android for free – but it's not on the Google Play Store right now, so try the Amazon App Store instead.
Hemp Inc
We haven't listed many cannabis games here, for the simple reason that we haven't found many we like! But Hemp Inc is a little different. First, they are very proactive about promoting the cannabis activist group NORML, and their stated aim is to "speed up cannabis legalization".
Hemp Inc works on a broadly similar basis to Farmville, and while there are lots of other cannabis apps that are similar, we feel this one is on a somewhat elevated level. It doesn't become tedious, and it's fun and engaging through and through. It features several cannabis celebs including Jimi Hendrix, Snoop Dogg, B-Real from Cypress Hill and Tommy Chong, who you can interact with and maybe even sell weed to, if your game is tight!
All aspects of managing a weed empire are covered here – you can grow and sell any of twenty different strains, you can buy property to expand your business, and much more!
Hemp Inc is available on iOS and Android for free.
WeedMaps
WeedMaps has been growing year on year since its inception in 2008, and is now a behemoth of the cannabis industry! Its aim is to cover as many of the world's cannabis specialists and businesses as possible, including dispensaries, doctors, and delivery services.
On opening the app for the first time, you'll be invited to share your location. Then, you'll be shown a list of the closest locations from which you can purchase cannabis or cannabis-based medicines. You can also search by location, brands, products, and a lot more.
As well as all this, WeedMaps will help you find deals local to you and people to network with, and offers exclusive content including full-length documentaries, how-to's, and much more on their WeedMaps TV channel!
WeedMaps is available on iOS and Android for free.
Growtronix
Growtronix is a heavy hitter on the cannabis apps market – and really, it's in a whole other class. It's not available on standard app stores, meaning that you have to contact the maker directly to get hold of it.
Far from being a simulation or a game, Growtronix is an all-out automation system for your growroom, comprising various pieces of hardware and software. With the basic package, you'll receive controllers, a network interface, temperature and humidity sensors, and a comprehensive software suite including desktop and smartphone apps.
Growtronix is not available on iOS and Android – contact the maker for solutions (which start at $489.99!)
Ultimate Weed Trivia
One way to dispel any last remaining myths about the mental sharpness and reaction times of stoners is to show off your skills at this awesome little trivia game designed for stoners, patients and all-round cannabis scholars! Answers thousands of questions related to the history, culture, chemistry, geography, and botany of cannabis – and if you're not already a world expert, you will be by the time you've answered even half of these questions!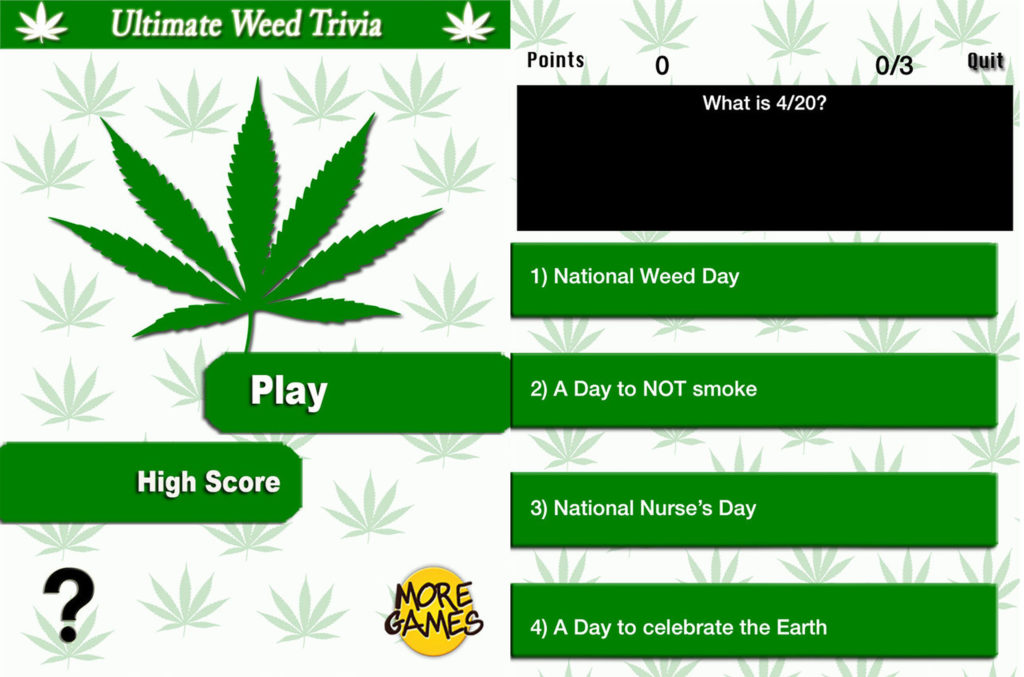 Ultimate Weed Trivia gives you three lives at the outset, and you'll lose a life for every incorrect answer. It's set up as a system of levels going from 1-100; if you do lose all your lives, you'll have to restart from the beginning, but all the questions will be exactly the same the second time round so it should be no problem to progress up the levels.
Ultimate Weed Trivia is available on iOS and Android for free.
Leafly
Leafly is one of the world's most famous, well-rated and popular cannabis-related apps. Users can rate and reviews strains, dispensaries, edibles and many other cannabis-based products. With millions of active users, you can be almost certain that someone will have something to say about the strain you are looking for.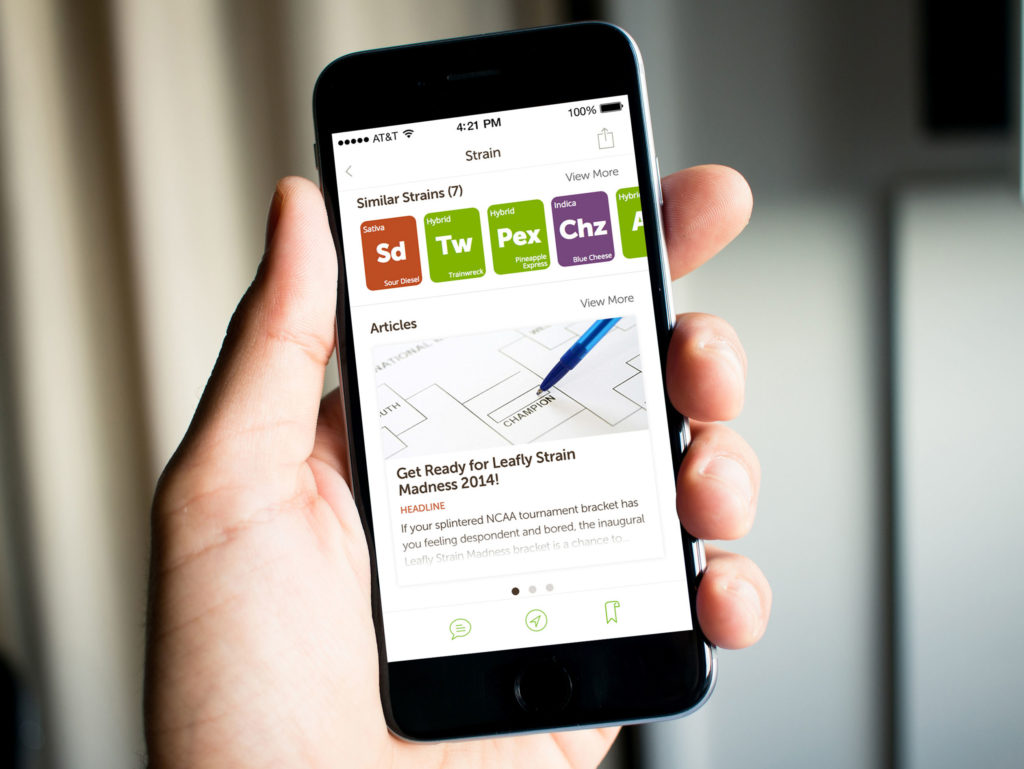 Patients, recreational users and growers all regularly leave ratings and reviews of strains, dispensaries and so on, often posting a lot of useful information about growing requirements, medical indications and so on. As well as reviews, Leafly also offers cannabis news, reports, event coverage and much, much more!
Leafly is available on iOS and Android for free.
Eaze
Eaze is a simple, genius app that closely follows the Uber or Lyft format. You place an order, then you can track your driver until he or she arrives at your front door – with a package of prime cannabis flowers, extracts or edibles for your medicinal needs!
But that's not all. Eaze can actually connect you to a doctor who will prescribe the cannabis-based medicines that you need, and will even help you to get hold of a medicinal marijuana card if you don't already have one. So you can get medicinal cannabis without even needing to leave the house, which could be a blessing for patients with lesser mobility!
Eaze is available on iOS and Android for free (but only in the US for now).
My Canary
My Canary is a useful little app that has been designed and promoted by the cannabis activist group NORML. Its premise is simple – it will help the user assess their level of inebriation (how stoned you are, basically!) and determine whether you are fit to drive a car. The app takes you through a series of sobriety tests, based on tests that have been used by law enforcement for decades.
Tests include ability to balance on one foot, memorizing a series of numbers, and estimating time spans. Based on the combined results from all the tests, the app will give you a "red", "yellow" or "green" light – meaning you are either stoned, semi-sober or sober! Obviously, this app is only as useful as you make it – it can't stop you from driving, but it can help you to make the right decision.
My Canary is available on iOS and Android for free.
High There!
High There! has been billed as the Tinder of the cannabis community, and is essentially what the description implies – a dating app for stoners all over the world (although currently much more popular in the US than outside), which is location-based and allows users to swipe left and right to select or reject potential partners. The app matches users not just on location, but also on a set of variables based on users' individual likes and dislikes.
For example, users that describe themselves as high-energy are less likely to be paired with low-energy dates (this is based on stated preference for sativa, indica – or both, which gets you classed as "medium-energy"). People that prefer vaping may be matched with other vapers in preference to smokers or lovers of munching edibles.
There's also a set of lifestyle and activity choices including Outdoors, Culture and Food, which add an extra layer of common interest to potential pairings. Lastly, you can even choose from three options to specify what you want to do with a prospective date – Chat, Stay In or Go Out!
High There is available on iOS and Android for free.