For the last few decades, purchasing and consuming cannabis legally was always a dream. Now more countries are opening their borders to cannabis enthusiasts, and it is possible to enjoy cannabis tourism throughout many countries worldwide. We have collated the need-to-know information on eight enchanting locations to help plan your next vacation!
What is canna-tourism?
Cannabis tourism is the concept of travelling to cannabis-friendly locations. Enthusiasts can enjoy spectacular tourist attractions while legally having the freedom to consume cannabis products.
Medicinal cannabis has been legalised throughout most states in the US and is recreationally legal in almost half of them. In October 2018, Canada became the first G7 country to legalise cannabis recreationally, laying the foundations for a global market. With recreational sales continuing to surge within the US and Canada, cannabis has become more accepted throughout many North American societies.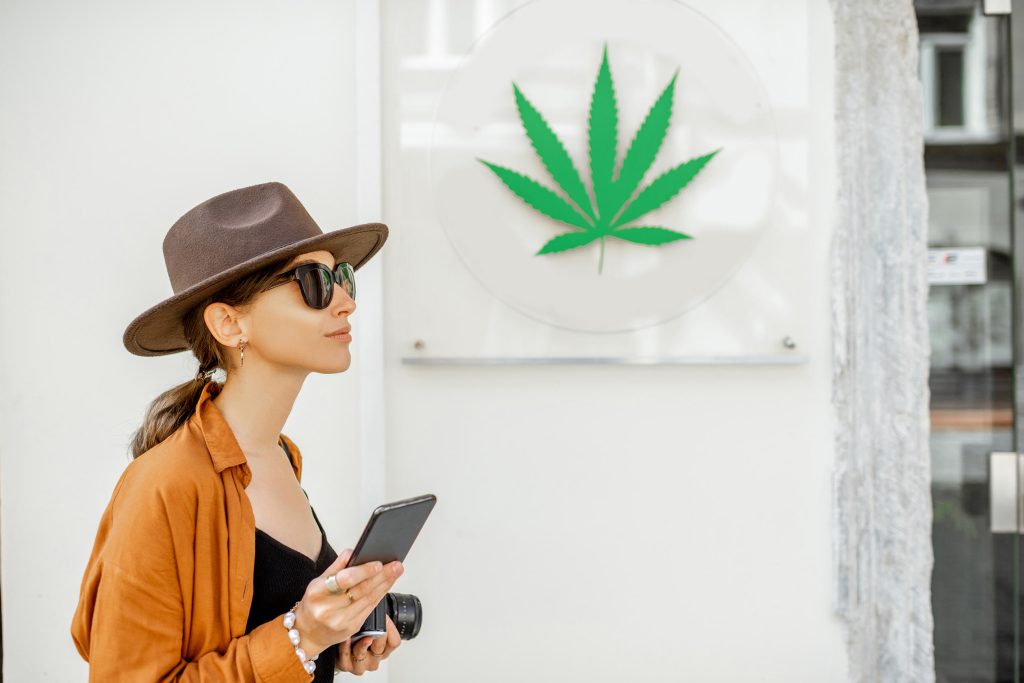 Widespread legalisation has opened a niche window for cannabis and travel enthusiasts. There is now an abundance of recreational dispensaries, cannabis-friendly B&Bs, and workshops throughout the North American continent.
Cannabis isn't yet legalised across the European continent. However, cannabis hot spots flourish across Europe, with Amsterdam's coffeeshops and Barcelona's cannabis associations thriving. Cannabis-friendly destinations are closer than you think!
Join us as we explore eight of our favourite destinations below.
1. Denver, Colorado, USA
Denver is the capital city of Colorado and is located in the western region of the United States. It is home to the Rocky Mountains and is renowned for its exceptional beauty and outdoor adventure activities.
Medicinal cannabis has been legal throughout the state of Colorado since 2000. Two years later, Colorado passed Amendment 64, which legalised cannabis recreationally. It has since become a magnet for cannabis tourism, and cannabis dispensaries and attractions are abundant throughout the state. Cannabis has become the state's highest tax earner, with recreational sales surpassing $10 billion since 2014 – a trend seen throughout other states.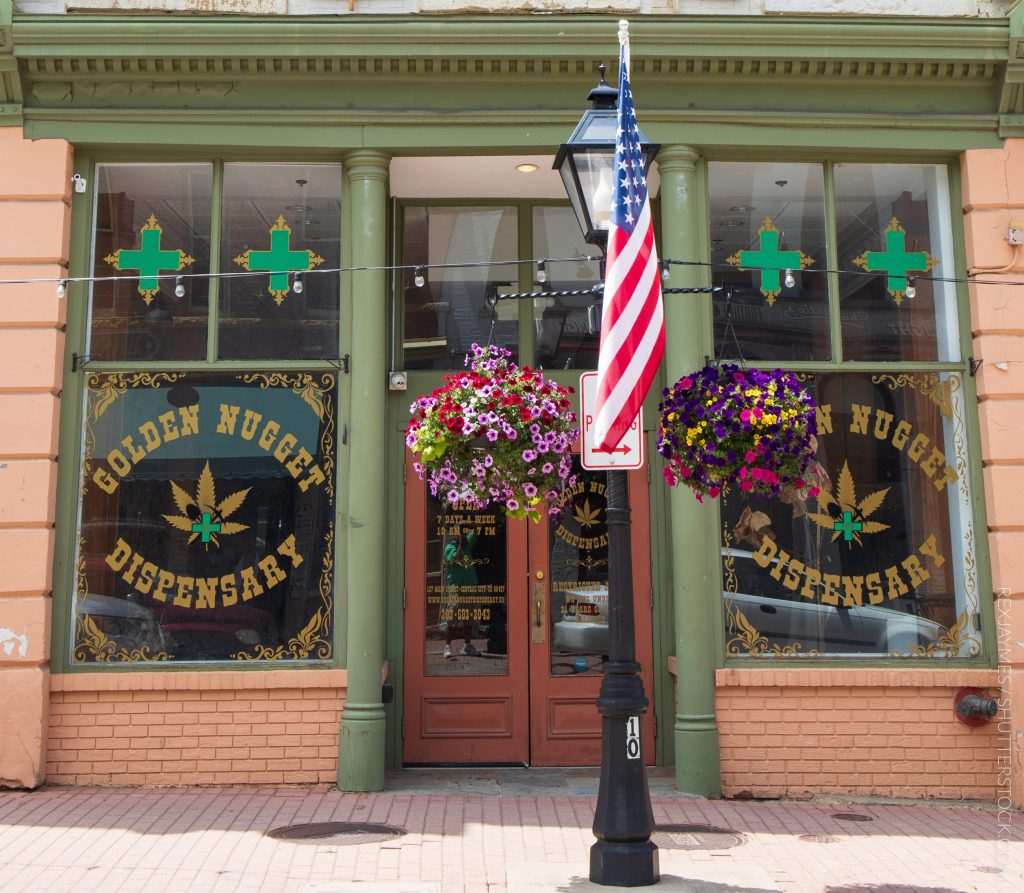 A cannabis dispensary is a pharmacy that sells cannabis products. Recreational dispensaries require government-issued identification proving the customer is over 21. Medicinal dispensaries require the patient to be 18 or over with a medicinal cannabis prescription.
After providing identification, the customer will be greeted by a budtender. Budtenders help educate customers about promotions, terpene profiles and explain the individual effects of each strain. They are your cannabis sales representative and help define the overall experience of the dispensary.
Most dispensaries carry a wide variety of top-shelf locally-grown cannabis flowers and concentrates (infused topicals such as lotions, creams, and balms). Infused edibles such as delicious chocolates, sodas, and gummies are also available.
What's available? – recreational cannabis dispensaries in Denver
Verde Natural Dispensary
Verde Natural is Colorado state's largest indoor living soil cultivation facility. Its state-of-the-art cultivation facility and on-site dispensary are located east of Denver, close to City Park. Initially operating as a medicinal dispensary, it opened its doors to the recreational market in 2017.
Cannabis is cultivated in living soil, mimicking the plants' natural environment, maximising potency and terpenes. Strains are grown under 4650 square meters of solar panels in raised planter beds, and all flowers are hand-trimmed.
Exceptional personnel provide fantastic product knowledge and make the dispensary experience unique. Look forward to a wide variety of in-house genetics from their renowned Super Lemon Haze and GMO to classics such as Cosmic Railway, Key Lime Pie, Golden Goat, Bubble Jack, and Banana Punch.
Verde Natural also organise tours of the facility, allowing guests to see their unique cultivation practice. If you're looking for high-quality organically grown cannabis with exceptional customer service – Verde Natural is for you.
Colorado Harvest Company
Located just south of Denver in the Platt Park neighbourhood, Colorado Harvest Company has been open for medicinal patients since 2009 and opened to the recreational market in 2014. The Colorado Harvest Company produces many in-house strains and provides an exclusive selection of genetics, producing more than 200 pounds of cannabis per month.
Strains are harvested on-site every week, providing the consumer with a constant rotation of newer strains. Expect to find over 40 high-quality strains, such as Candy Rain, Dank Milk, Zelatti, Slippery Suzan, and Jurassic Wanton. Cannabis concentrates such as live resins, waxes, oils, and hashish are also on the menu. If you are looking for fantastic terpenes, their Jurassic Wanton rosin is incredible!
The interior is slick and stylish, with wooden floors and three individual counters for edibles, flowers, and concentrates. Budtenders are very friendly and highly knowledgeable about their products. Great in-house strains and welcoming staff make Colorado Harvest Company a must!
When you're high: cannabis activities in Denver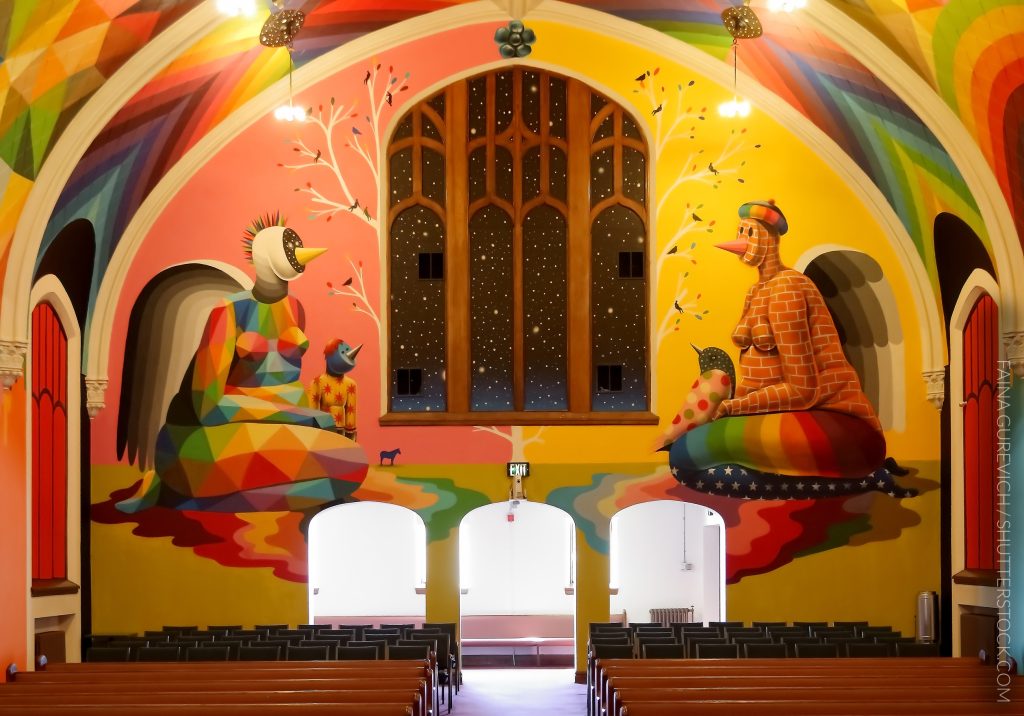 Although recreational cannabis is legal, it is still unacceptable to consume it publicly. In Colorado, Bed and Breakfasts are classed as privately owned houses with guest accommodation. As such, cannabis-focused Bed and Breakfasts can operate legally throughout the state. These are B&Bs where guests can lawfully consume cannabis at their leisure throughout the property.
B&Bs also offer local dispensaries listings, cannabis-friendly activities, and restaurants. There are plenty of great day trips and activities to choose from!
Take a three-hour interactive cannabis concentrate class with a trained expert in extraction. Learn about terpenes and cannabis concentrates, with the possibility of pressing your own cannabis rosin.
Try your hand at Kush and Canvases, a 2.5-hour interactive painting masterclass with the opportunity to consume your cannabis products simultaneously. Let your creative side run wild, and finish your masterpiece on a canvas that can be taken home.
If cooking is your thing – Colorado Cannabis Tours has a delicious introductory class on cooking with cannabis. Practice multiple methods of infusion and perfect your cannabis culinary skills.
Denver Glass Academy offers an introductory Cannabis Glass Class where participants can create a unique glass dab tool.
Visit one of the many stand-up comedy shows, and you might come face-to-face with Colorado's own Doug Benson, the famous cannabis activist and comedian!
The opportunities are endless in Colorado.
2. Los Angeles, California, US
Los Angeles is located on the west coast of America in southern California, running adjacent to the Pacific Ocean. It is the biggest city in the state of California. Los Angeles has always been known for its beautiful beaches, Hollywood movie studios, and impressive theme parks, so it definitely isn't shy about tourism. Everything seems to be done on a much larger scale in the US, and the canna-tourism industry is no different.
Since the 1960s, California has been a hot spot for cannabis counterculture and was heavily influenced by the hippie subculture of that era. The iconic 420 references originated in the San Francisco Bay Area in the 1970s. In 1982, comedy duo Cheech and Chong released the film Up in Smoke and put California on the 'pothead' map. California became the cannabis capital of the US, and Los Angeles became known for its high-grade flower.
California has always been at the forefront of the cannabis movement, legalising cannabis for medicinal use in 1996 (largely thanks to the efforts of the LGBTQ community) and recreational use in 2016. Today, the influence of the 'stoner' counterculture can be seen everywhere across the city. Hip-hop musicians promote cannabis consumption on television, and multi-million-dollar sporting events are sponsored by mainstream cannabis companies such as Leafly and Weedmaps. Cannabis is everywhere.
If you are looking for excellent cannabis culture, LA is the place to be! Keep reading as we take you on a tour of our favourite spots.
What's available? – recreational cannabis dispensaries and tours in Los Angeles
Weed Bus LA offers cannabis enthusiasts the chance to explore a 20,400 square-metre growing facility in the centre of Los Angeles. Patrons receive VIP treatment as the master grower takes you from seed to harvest, with the opportunity to see plants late in the flowering stage.
Med Tours specialises in touring the best dispensaries Los Angeles has to offer. If you want a luxury experience that lets you take in numerous iconic spots, then this may be the best choice for you. Check out some of the dispensaries' unique cultivation facilities and enjoy a small proportion of the Pacific Ocean Road with the opportunity to consume cannabis on board.
Recreational dispensaries in Los Angeles are very similar to those in Colorado. Patrons need to be 21 or over with valid government-issued identification, and recreational users in both states can purchase up to 28 grams of dry flower and eight grams of cannabis concentrates daily. Compared to California's 15% excise and 6.6% sales tax, Colorado's sales taxes are much higher, and recreational users can expect to pay 15% excise and 15% sales tax. So let's check out some of our favourites!
Cookies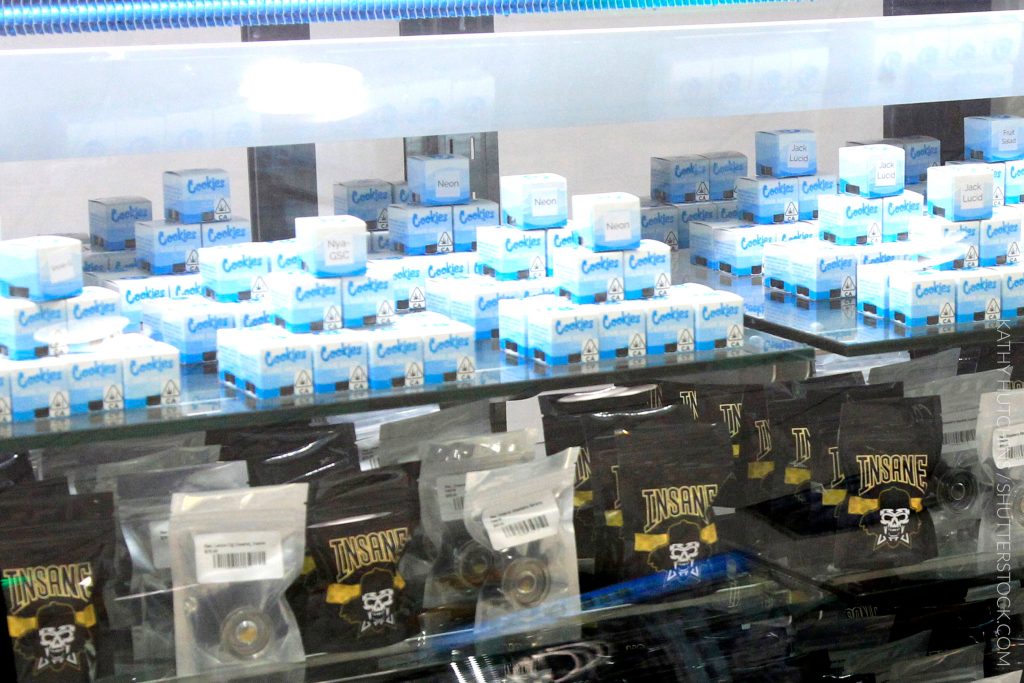 Cookies is located in the fashionable Melrose neighbourhood in West Hollywood and opened its doors as a recreational dispensary in 2018. Renowned for their Girl Scout Cookies hybrids like their Thin Mints and Berry Pie, Cookies has become a must-stop for any budding cannabis enthusiast.
This recreational dispensary is trendy and fresh. Large windows, slick white walls, and Cookies' iconic blue LED lighting provide a spacious and professional environment. Cannabis products are displayed in stylish glass cabinets, with menus projected on high-tech screens.
From indoor and sun-grown strains, expect to encounter up-and-coming genetics such as their Pancakes Cookies, Cake Mix Lemonade, Georgie Pie, and the renowned Gelatti. Their impressive extract menu also includes a wide selection of sauces, rosins, and crumbles – their Berry Pie sugar wax was a personal favourite!
Enthusiastic and professional staff make the Cookies experience unique. If you're looking for a diverse selection of genetics, Cookies is definitely worth visiting.
Sweet Flower Dispensary
You will find Sweet Flower dispensary just a few blocks down from Cookies. In 2006, Sweet Flower started as a medicinal collective, and by 2018, it opened more than a dozen recreational outlets across the city. They have since become one of Southern California's leading cannabis retailers.
Trendy wooden cabinets with glass displays, a polished concrete floor, and elegantly simple white walls make Sweet Flower stand out as one of the most stylish dispensaries in Hollywood.
This recreational dispensary has a diverse selection of flowers, concentrates, edibles, and paraphernalia. Sweet Flower provides a wide variety of high-quality CBD products, such as topical balms and lotions. Their extensive menu of flowers includes Mango Breath, Kush Cake, Lemon Lava, and Beyond Blueberry. At the same time, their exclusive menu of concentrates includes Strawberry Bananaz live resin, Cherry Skittlez temple ball hashish, and Larry OG wax.
Head to Sweet Flowers if you are looking for a dispensary focusing more on the medicinal market, with an impressive range of CBD products and excellent customer service.
When you're high: cannabis activities in Los Angeles
After visiting one of the many cannabis dispensaries across the city, enjoy the town's ambience. Explore the theme parks and countless exhibitions, or head to the beach and soak up some Californian sun.
Watch the solar system from Griffith Observatory, or walk around Griffith Park and find the famous Hollywood sign!
Stop by one of the city's cannabis consumption lounges, allowing customers to lawfully consume cannabis products on-site recreationally within a safe and comfortable atmosphere.
Explore the realms of Stars Wars, head to the jungles of Adventureland, or get lost amongst the endless rollercoasters, log fumes, and tea-cup rides. There is fun for all the family at Disneyland Anaheim.
Universal Studios is a working film studio and amusement park located in the Hollywood hills. Put your feet up in the Universal tour bus and head around the Studios on a guided tour; come face to face with Jaws, or you are welcome to check in at the Bates Motel! Fasten your seatbelts and take on the Jurassic Park ride, a log flume with a terrifying 30-metre drop into the shallow water below. Universal Studios Hollywood is a must-see!
Six Flags Magic Mountain is a massive amusement park for thrill-seekers, with some of the largest rollercoasters on the West Coast. Meet Superman on the Superman the Escape ride, or strap up and ride Goliath, a high-speed rollercoaster with a 75-metre drop!
Venice Beach is one of Southern California's most popular beaches, with its bustling boardwalk and alternative free-for-all attitude. Check out the concrete skatepark with an impressive pool and rhythm section. Walk into one of the many recreational cannabis dispensaries. Try weight lifting at the famous 'muscle beach,' or sit down and soak up some rays on the beach.
Downtown Los Angeles is the central hub for street food. The area is home to hundreds of food trucks from all around the world. East-side LA is home to some of California's best Mexican taco shops. From your gorditas, enchiladas, and fish tacos, Los Angeles' street food is perfect for a quick bite when the munchies hit!
With Los Angeles being the entertainment capital on the West Coast, there's always something to keep you occupied.
3. Vancouver, Canada
Vancouver is a coastal city on the mainland of British Columbia and is surrounded by mountains on three sides. It is located north of the Burrard Inlet and English Bay, large bodies of water connected to the Pacific Ocean. It is the largest metropolitan area on the west coast of Canada and is approximately 50 km from the United States border.
In October 2018, Canada became the largest country to legalise cannabis recreationally, and canna-tourism has increased dramatically. Often referred to as Vansterdam, Vancouver has been embedded in cannabis cultures for years. For decades Don Briere, Marc and Jodie Emery, and Dana Lawson worked towards laying the foundations for a cannabis market – often suffering short periods of incarceration for their heroic activism.
Vancouver is now home to leading-edge cannabis technology, including some of the world's most high-tech cannabis cultivation and extraction facilities, providing a vast selection for the Canadian recreational market. Selected dispensaries also have vending machines providing cannabis products.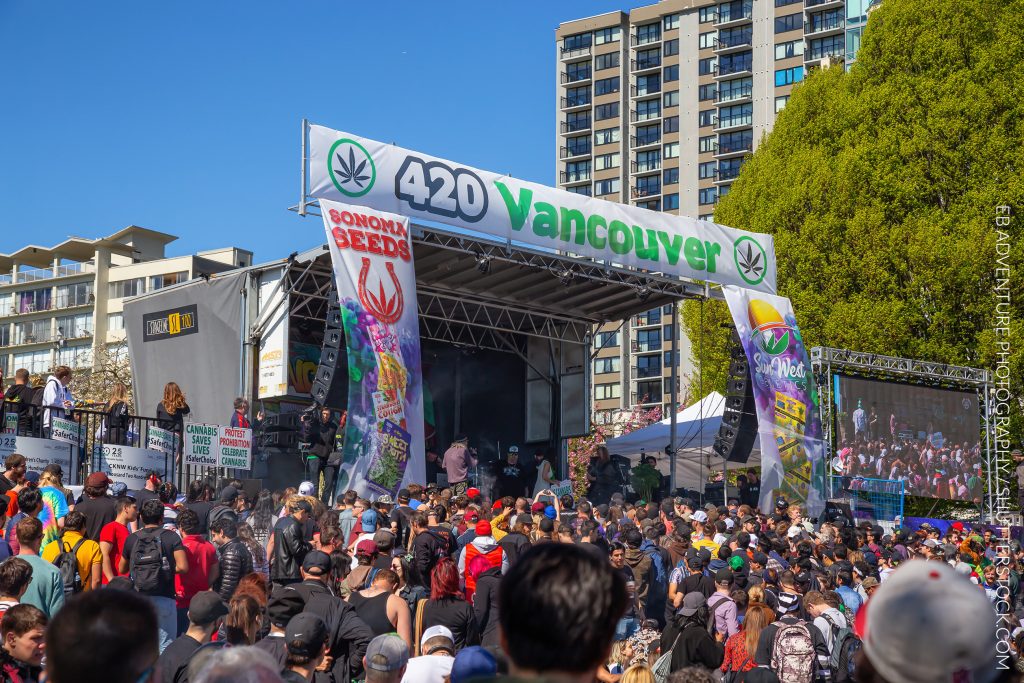 In 2019, Cypress Hill celebrated the world-renowned 420 Vancouver gathering by performing live in front of more than 100,000 people. Their performance highlighted the recreational market's success and put Vancouver firmly on the canna-tourism map.
What's available? – recreational cannabis dispensaries in Vancouver
Take a visit to one of the city's many recreational dispensaries. Since legalisation, Health Canada has been in charge of cannabis licensing, and all cannabis products are quality tested for contaminants and heavy metals. Like the US, cannabis dispensaries provide a wide selection of flowers, concentrates, and edibles.
With cannabis-infused edibles openly available, their popularity has gone through the roof. There is everything you can think of, from infused gummies, sodas, and space cakes to other baked treats!
To regulate the Canadian cannabis market, British Columbia Liquor Distribution Branch created BC Cannabis Stores. These officially licensed government outlets were designed for customers to purchase recreational cannabis online and across selected storefronts across British Colombia.
These establishments are similar to Los Angeles or Colorado; only purchase limits and taxes vary. However, there are plenty of other licenced cannabis dispensaries to visit!
Muse
Muse Cannabis Store is located on the bustling Granville Street in downtown Vancouver. It is a spacious dispensary with a great range of products. Inspired by the beauty of the West Coast, Muse's interior is lush. Wooden ceiling beams, dark mahogany furniture, and elegant lighting make this dispensary comfortable, sleek, and stylish.
Passionate, enthusiastic, and knowledgeable, the personnel at Muse are more than happy to help. Staff always go the extra distance to find something special for the customer.
Muse's extensive range includes a great flower selection, such as their Chocolope Sour Diesel and BC Strawberry Banana. They also have a vast menu of cannabis concentrates from old-school Afghan black hash to waxes and live resins, as well as an exclusive selection of CBD topicals and balms.
If you're looking for an elegant and sophisticated dispensary, Muse is just that.
WEEDS Glass & Gifts
WEEDS Glass & Gifts have three locations across western British Colombia. Their newest dispensary is located in East Vancouver, on Kings Way. They also have a dispensary in the beautiful port of Sechelt, just a short ferry ride away from the mainland. It is an excellent location for exploring the sunshine coast!
The interior is spacious, with stylish wooden floors. An extended counter stretches from the front to the back displaying everything from flowers to paraphernalia. Behind the counter, they have an exclusive range of locally blown glass and art. WEEDS' motto is "tried, tested and true"; with constant in-house quality checks, they live up to their name.
Their extensive menu includes local and guest flowers, concentrates, and edibles. Check out the Afghani Drifter by Greybeard or the Organic Sour Cookies! WEEDS also has the most extensive mail-order service in Canada and provides Northern provinces with limited access to cannabis products, such as Northern Territories and Yukon, with high-quality products.
WEEDS is a real treat for the cannabis enthusiast and should not be missed!
When you're high: cannabis activities in Vancouver
If you're looking to explore the beautiful city of Vancouver, there are plenty of great day-outs and activities to choose from!
Hire bikes and explore nine kilometres of Vancouver's Seawall along Stanley Park. Take a hike into the park itself and discover great hidden beauty. Giant redwoods and lush greenery make this one of the largest urban parks in North America.
Check out the Cannabis Culture Lounge and The Herb Museum! Located on the thriving West Hastings Street, Cannabis Culture is the headquarters for the BC Marijuana Party and home to anything pot-related. The Herb Museum contains over 1500 artefacts, and the consumption of cannabis is permitted in the art gallery and lounge. They even have glassware and dab rigs to rent, an absolute must!
If you're an art fanatic, the Vancouver Art Gallery is home to over ten thousand art pieces, including some fantastic First Nations exhibitions.
Head down to False Creek and relax in one of the many beautiful green recreational areas. The giant orb-shaped building at the peak of the inlet was once home to the 1986 World Expo Exhibition. It is now the location of Science World.
Science World is an interactive technology museum guaranteed to keep tourists occupied for hours. If you're looking for a challenge or fun, hands-on activities, this is the spot!
If you're a cat lover, head to Catfe and enjoy your coffee with our feline friends!
Try snowboarding or skiing at Vancouver's closest resort, Mount Seymour.
If you're into the great outdoors, do not miss Vancouver. Cannabis dispensaries and beautiful hikes make this city any cannabis lover's dream.
4. Barcelona, Spain
Barcelona is located in the region of Catalonia, in the northeast of Spain, on the Mediterranean coast. It is the second-largest city in Spain, surrounded by beautiful beaches and mountains. With a great climate all year round, thousands of tourists flock to the town to enjoy its vibrant atmosphere and attractions.
The city is a multicultural hub filled with a wide selection of sophisticated libraries, elegant art galleries, and unique architecture. Although heavily urbanised, Barcelona is a city full of lush gardens and greenery, and it is easy to get pleasantly lost in one of the city's many parks.
It has been the home of Spannabis, Europe's largest annual cannabis exhibition and trade fair, for over a decade. Spannabis not only celebrates the culture but brings together all the iconic companies in this global industry in one place.
What's available? – Private Cannabis Social Clubs
Cannabis associations can be found throughout Spain. These associations are private, members-only social clubs that can only be accessed through member referrals.
Although cannabis is decriminalised for personal use, it is still illegal to distribute cannabis commercially. Members give donations to the social club in exchange for cannabis products such as cannabis flowers, concentrates, and infused edibles. As such, clubs do not advertise their menu, and cannabis cannot be consumed outside the premises.
WeFlowers
Barcelona's WeFlowers is a cannabis association located in the trendy L'Hospitalet de Llobregat neighbourhood. They offer their members a diverse menu of flowers, extracts, and delicious edibles.
This large and spacious social club has over ten tables to relax. It also includes table football, an exclusive gaming area with a wide variety of consoles, and a rosin press area. Live DJs often play music on various nights throughout the week.
Winning more than 55 Cannabis Cups, they are renowned in the cannabis social club scene. Expect to find locally grown flowers, such as their Amnesia and Zkittlez, with various guest genetics and exclusive concentrates available for members.
If you are a cannabis enthusiast looking for an exceptional menu of premium genetics and knowledgeable staff – WeFlowers is a must for any connoisseur.
The Green Planet
Located in the heart of the city's Gothic Quarter, Green Planet Cannabis Club is a real cooperative, and cannabis is cultivated on-site. Members participate in shared cultivation while accessing some of the best in-house cannabis genetics. All cannabis strains are grown organically and free from contaminants.
There are over ten strains available for members; their Mango Kush, Sunset Sherbet, and Larry OG definitely stand out!
If you're more medicinally inclined, The Green Planet provides appropriate guidance for its members.
They also offer members legal representation, assistance, and excellent cannabis education and support. Meetings are held monthly to discuss all cannabis-related matters within the club. For non-smokers, smoke extractors remove the odour of smoke, so they can also enjoy the club.
The Green Planet's painted murals, unique brick-paved ceilings, and exposed stone walls create an artsy atmosphere filled with character. If you are looking for a relaxing afternoon, The Green Planet is the place to be.
When you're high: cannabis activities in Barcelona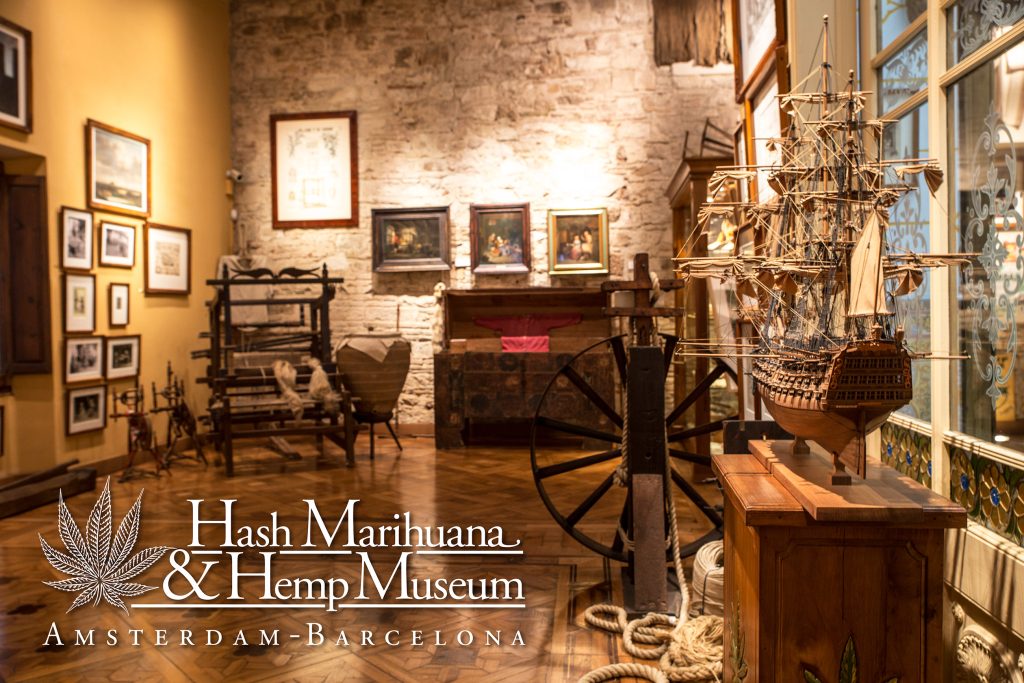 If the cannabis social clubs get a bit too much, there are many great day trips and activities to choose from!
Located in the north of Barcelona, on the grounds of the Gaudi House Museum, are the Park Güell gardens. In 1977, they opened their gates to the public. The garden is filled with Gaudi's colourful mosaics and sculptures. Dense pine trees and lush walkways covered in fantasy flowers make this a must-see!
Just a stone's throw from the famous Ramblas is our sister company, the Hash Marihuana & Hemp Museum – a Modernist palace dedicated to cannabis, holding the world's largest selection of cannabis artefacts and paraphernalia.
Connected to the museum is the iconic Sensi Seeds flagship store nestled within majestic Montjuic stone walls, and it is a must for any cannabis enthusiast!
In 1937, anti-aircraft guns were mounted on the Turo de la Rovira fort to protect Barcelona from an air attack during the Spanish Civil war. Today, the Bunkers del Carmel are disused and offer a tremendous 360-degree panorama, 250 metres above the city. Great for a picnic and an afternoon joint!
Any experience of Barcelona is not complete without a trip to the Ramblas. Witness the hustle and bustle of Barcelona's most famous street. Packed with souvenir stalls, this 1200-metre walkway stretches from Place Catalunya to the Badalona beach.
If you want to surf, head north of Barcelona to Masou for significant breaks all year round.
Head to the MACBA Museu d'Art Contemporani and admire some great contemporary works of art. It is also a popular hang-out, with hundreds of skateboarders practising daily in front of the entrance.
See the fascinating Sagrada Familia, the last works of Gaudi in Barcelona and the largest unfinished Roman Catholic church.
Montjuïc Castle is an 18th-century castle located 173 metres above Barcelona on Montjuic hill. Famous for its lush green gardens and magic fountain, you can watch the magnificent sunsets over the city.
With an abundance of cannabis social clubs and beautiful scenery, Barcelona has earned its reputation as an iconic tourist hub and should not be missed!
5. Amsterdam, The Netherlands
Amsterdam is both the commercial and financial capital of the Netherlands. It is located northwest of mainland Europe and borders the North Sea. The city is known for its beautiful architecture and 17th-century canals. Majestic buildings, cobbled streets, narrow canal houses, and twisting alleyways make the city's centre a UNESCO World Heritage Site.
Cannabis popularity spread throughout Europe along with the hippie subculture and has been present in Amsterdam since the 1960s. Over three decades ago, Ben Dronkers launched the first seed bank in the Netherlands, and by the early 1970s, the first coffeeshops selling cannabis products were open. Leading to a trend that made Amsterdam a prime destination for cannabis tourism.
The Dutch government categorises drugs into two categories. List One is reserved for hard drugs such as heroin, cocaine, and amphetamines. List Two is made up of drugs with less risk, such as cannabis.
All drug laws are based on the 1928 Opium Act, which says that possessing drugs on either list is illegal. However, The Opium Act Directive states that the local authorities will tolerate cannabis retailers (coffeeshops). The official tolerance policy (gedoogbeleid) can be found here.
Although the weather isn't perfect all year round, Amsterdam draws in millions of tourists yearly to see the unique Dutch Baroque architecture and enjoy one of the city's many coffeeshops.
What's available? – Coffeeshops in Amsterdam
In the Netherlands, a coffeeshop isn't just a place where you can buy coffee. Instead, a coffeeshop is where you can purchase cannabis products such as dry flowers, hashish, and edibles.
To enter the coffeeshops, customers must be over 18 years of age and hold a valid government-issued identification or passport. If you are getting worried about the Weedpass, don't worry! It hasn't been implemented, and foreign tourists can still purchase cannabis products. Customers can purchase a maximum of five grams of cannabis daily. The sale of tobacco and alcohol is also prohibited within the coffeeshop.
Here are two of our favourite coffeeshops in Amsterdam.
Club Media Coffeeshop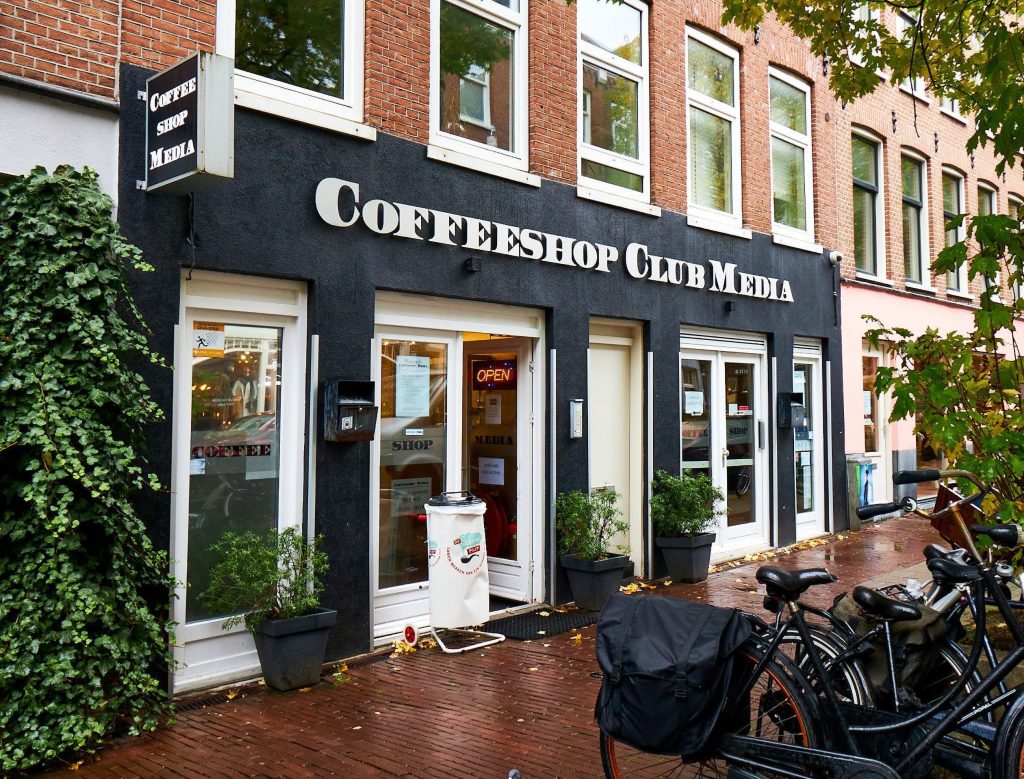 Club Media Coffeeshop opened its doors in 1986 and has become an iconic stop for cannabis enthusiasts. Located in the heart of Amsterdam's hipster suburb, De Pijp, Club Media boasts an impressive range of flowers and hashish – always including a few Sensi Seeds classics!
This coffeeshop is bright, airy, and spacious. Chilled music and super-comfy booths create a relaxing ambience. With a great selection of board games, including chess and backgammon, Club Media is a great place to unwind after a long day exploring the city.
Since 2018, all coffeeshops across the country have had a no-smoking policy, however. However, are some that do have specific areas. As such, Club Media provides an excellent tobacco alternative for those Europeans who enjoy their cannabis mixed. Personnel are very knowledgeable and provide excellent customer service.
With a constantly changing menu and some great cup winners, such as their Amnesia Haze, Club Media is an excellent stop for any cannabis enthusiast. Their delicious coffee is also highly recommended for the coffee connoisseur!
1E HULP
This coffeeshop is located just outside the heart of Amsterdam, on the Marnixstraat. 1EHULP is renowned for its top-shelf cannabis and is highly respected throughout the coffeeshop scene. Staff are exceptionally knowledgeable about cannabis and its products, adding a level of professionalism that many Amsterdam coffeeshops do not have.
Their coffeeshop is one of the slickest in the west of the city. Guests are greeted at the reception. Once you have purchased your products, you are welcomed into a comfy and stylish coffeeshop decorated with lush Arabian interior decor. There is also an iconic house cat called Rizla and spacious booth seating and tables. 1e Hulp is perfect for relaxing after a day sightseeing in the capital.
With a wide selection of classic Dutch strains and some international genetics, 1E HULP has an exquisite menu. Expect to encounter Hazes, White Widow, Amnesias along with Gelatos, Slurricane, and Girl Scout Cookies! If you're looking for professional expertise in a relaxing environment with a great selection of cannabis products – 1E HULP is your coffeeshop.
When you're high: cannabis activities in Amsterdam
Along with a fantastic coffeeshop scene, Amsterdam has so many more attractions to see.
Wander around the Hash Marihuana & Hemp Museum, founded by Ben Dronkers in 1987. The museum displays a large proportion of Ben's personal collection, including thousands of artefacts relating to all aspects of cannabis history and culture.
If you are big on the industrial side of cannabis, the Hemp Gallery (three doors down from the museum) is dedicated to it. The exhibition highlights the long history and modern use of industrial hemp.
Please stop by one of three Sensi Seeds stores or grab a delicious hemp smoothie or beverage at Hempstory. Hempstory is the first hemp-based concept boutique in Amsterdam and is a delightful place to enjoy an afternoon coffee or hemp-based drink!
Visitors are also encouraged to check out the Cannabis College, a free information centre about cannabis; feel free to ask anything!
Since 2013, the SmokeBoat has offered visitors the chance to tour the beautiful city canals while consuming cannabis aboard.
Get baked at one of the city's various cannabis edible courses.
Lose yourself walking around the hundreds of canals around the city, or have a picnic and explore the Vondelpark, a 120-acre park open to the public since 1865.
Just outside the city, the De Paauw Windmill offers visitors a look at a recreation of a 16th-century hemp mill. The indoor block mill house now discovers the best way to beat hemp and obtain quality hemp fibre!
With a wide range of activities, breathtaking canals, and some of the best coffeeshops in the world, Amsterdam is an excellent destination for any cannabis lover.
6. Puri, India
Puri is located in the Bay of Bengal, in the Odisha province in northeast India. It is a seaside resort located around 40 miles south of the provincial capital, Bhubaneshwar. This coastal town attracts many tourists from northern India and neighbouring states, with its golden beaches and ideal climate.
The Puri beach festival occurs for five days every November and has been held annually since the early 1990s. It is a cultural celebration of the state of Odisha's culture, with exhibitions of art and crafts, local cuisine, and dance performances.
Puri is also home to one of the most important sites in the Hindu religion, the Jagannath Temple. It is a temple constructed in the 10th century as a devotion to the deity Jagannath, a form of Sri Krishna. The annual festival of Rath Yatra is known as the chariot festival, a festival of both strength and honour. A sizeable public procession follows the three chariots of Jagannath, Balabhadra, and Subhadra into the Jagannath temple. It is an incredible visual experience!
In India, the cannabis plant has been prevalent in Hindu culture for decades, and religious devotees consume cannabis to honour Lord Shiva. Many devotees consume a mixture of cannabis called bhang lassi, a product made from processed cannabis flowers, leaves and milk.
In Odisha, bhang does not fall within the definition of cannabis (hemp) as defined under Section 2(iii) of the 1985 Narcotic Drugs And Psychotropic Substances act.
Cannabis (hemp) means the flowering or fruiting tops of the cannabis plant (excluding the seeds and leaves when not accompanied by the tops) from which the resin has not been extracted, by whatever name they may be designated.
As such, cannabis can be openly purchased at government-licensed bhang shops.
What's available? – government-operated bhang store
A bhang store is a government-operated storefront that sells cannabis flowers and bhang. The flower comes wrapped in newspaper and is weighed in 10 g packets. It is sold for approximately Rs. ₹120, equivalent to €1.40. Storefronts are often tiny and rustic, with a small counter to purchase cannabis products.
In 2015, The Times of India stated that there are around 240 Government-approved bhang shops in the state, and in 2022 licenses were still being approved.
When you're high: activities in Puri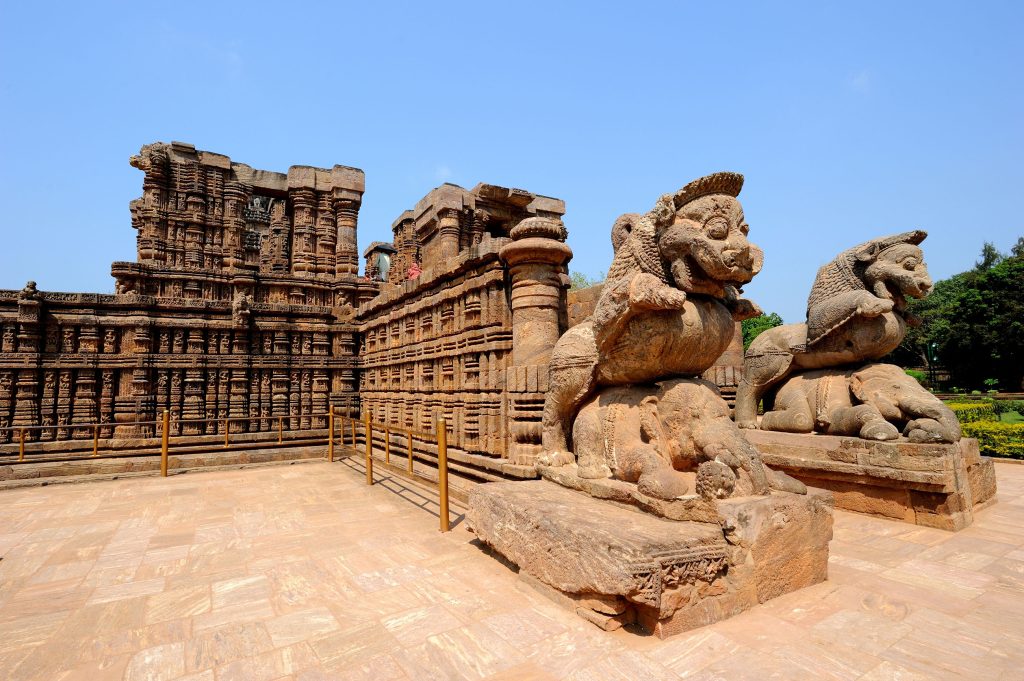 If bhang lassis are not your thing, do not worry. The state of Odisha has many attractions to enjoy. It is a region filled with rich culture and ancient temples. Here we highlight a few of our favourite things to do:
Puri Beach, located on the Bay of Bengal, is a popular tourist destination with golden sands and the occasional surf break – it's a great day out!
Visit the Temple of the Sun in Konark. Standing over 60 metres high, it was constructed in the 12th century by King Narasimha Deva I and dedicated to the God of the Sun. It was introduced into the UNESCO World Heritage List in 1984. Explore the unique geometrical architecture, catch sun rays at dusk and dawn, or relax on the peaceful grounds.
Learn about the ancient practice of meditation and awaken your spirituality — head to the local Ashrama, a religious retreat, and practice yoga with Hindu gurus. Don't forget your chillum!
Try your hand at a traditional Indian cooking course. Learn to cook authentic Orissa recipes, such as Pakhala Bhata, delicious fermented rice cooked with vegetables.
Visit the Chilika Wildlife Sanctuary, located on the largest saltwater lake in Asia. See a wide variety of birds and aquatic life, from dolphins to flamingos.
Take a tour of the capital city of Odisha, Bhubaneswar. The translated name means "Lord of the Universe", and the ancient city is home to more than 700 temples.
India is filled with breathtaking scenery, ancient temples, unique cultures, and traditions.
Puri is a city that provides all that and more. Welcoming people, delicious local cuisine, and golden sandy beaches make Puri a hot-spot for tourism.
7. Nimbin, Australia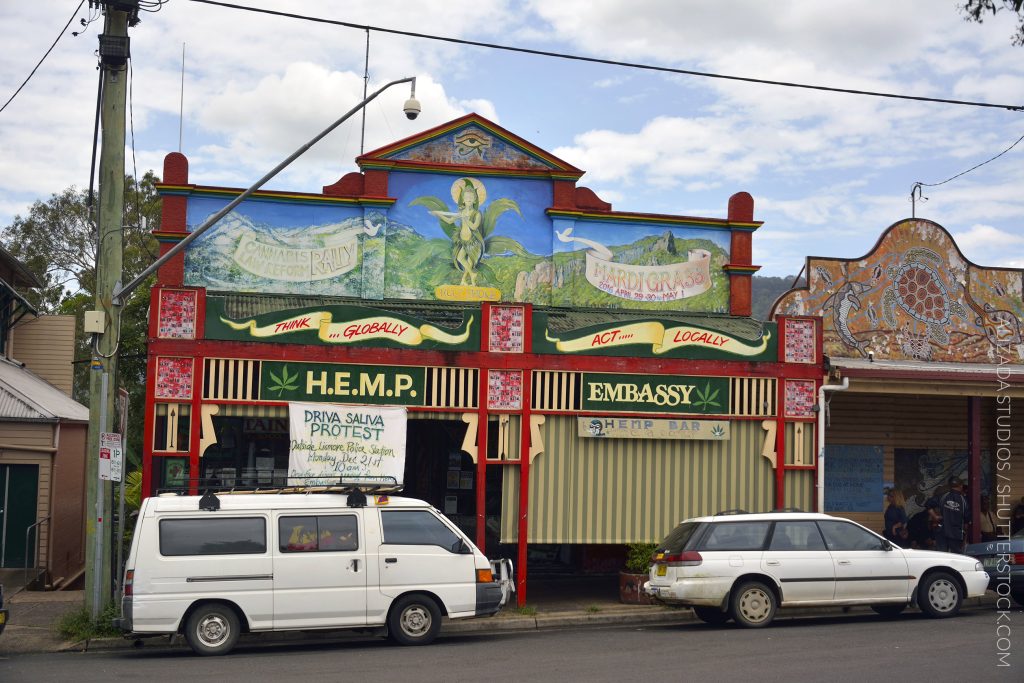 The town of Nimbin is located in the east of Australia in New South Wales. This state is renowned for its excellent climate, beautiful beaches, and vast rainforest. Nimbin lies south of the Queensland border, between dense rainforest and the Tasman sea. It's a lush village filled with new-age hippies and hemp farmers.
Nimbin made a name for itself shortly after the 1973 Aquarius festival, which brought together an abundance of hippies and others pursuing alternative lifestyles. The self-sufficient lifestyle and areas of astounding beauty attract many. It is now seen as the cannabis capital of Australia and draws hundreds of visitors every year.
Famous for its community atmosphere, it's like a small gathering for the alternative lifestyle. You can expect farmers' markets, local businesses rather than commercial outlets, arts and crafts, and the world-renowned Hemp Embassy.
What's available? – Cannabis festival in Nimbin
For over two decades, hundreds of cannabis lovers have united in the small town of Nimbin for Mardi Grass. It is Australia's annual cannabis festival, occurring on the first weekend of May. It's a weekend event that educates people about all the uses of cannabis and celebrates the culture around it.
Join the hundreds of marchers and parade down the street with an inflatable 12-metre-long joint.
Try your hand in a joint building competition – with local legend Bob the Joint-builder holding the championship.

Mardi Grass is a protest to reform current legislation, an educational program, and a celebration of cannabis culture. If you're visiting in May, it is a great weekend trip for any cannabis or nature devotee.
However, if you happen to be visiting during the summer, don't worry! Nimbin is a beautiful retreat with many quaint walks and activities close to the village.
When you're high – cannabis activities in Nimbin
Renowned for its natural beauty, take a walk amongst the Nimbin Rocks. These volcanic rock formations were formed from the eruption of Mount Warning thousands of years ago.
Join the locals at the Nimbin Farmers Markets every Wednesday. The community sells fresh produce and seasonal fruits at this market. Look out for delicious home-baked cakes and chutneys, and enjoy local street art and musicians.
Nimbin's Hemp Embassy is a non-profit association located in the centre of Nimbin. They have been educating people about the benefits of cannabis and providing cannabis-related workshops to the community since 1992. Their on-site shop offers a great selection of hemp-orientated literature and CBD products.
Stop by Peace Park and check out Nimbin Skatepark, a massive open-air concrete skatepark in the heart of town. The park's main attraction is the huge concrete snake which runs into a three-metre-deep pool. There are also two shallower pools and a miniature street course for beginners. It is a skateboarder's paradise.
If you're looking for a great community atmosphere, Nimbin Bush Theatre & Café is the place to go. Located downriver and surrounded by lush foliage, the Nimbin Theatre and Café host various exhibitions and theatrical plays throughout the year.
For over 35 years, the Nimbin Craft Gallery has displayed a wide variety of local and indigenous art from the community. Their exquisite gallery has paintings, wood crafts, pottery, and clothing.
Explore the Nightcap National Park – it is home to the remaining Big Shrub subtropical rainforest and is an area of stunning beauty. Plenty of trekking opportunities and impressionable scenic views make this a tourist hot-spot.
If you're looking to head down under, don't forget to visit Nimbin and enjoy the nomadic lifestyle and scenic views – it's a "stoner's" paradise.
8. Chiang Mai, Thailand
Thailand is renowned as a tropical paradise with an array of delightful rice paddies, enchanting tropical forests, pristine golden beaches, and delicious cuisine. It is also home to Bangkok, the third largest city in Asia, a densely populated concrete jungle!
It has been on the hippie trail since the 1960s, and many young backpackers have dreamed of consuming the beloved Thai Stick. However, Thailand has some of the strictest drug regulations in South East Asia. It was not until 2022 that the stigma began to change, and cannabis was removed from the drugs classification list. Thailand has since become a mecca for the cannabis enthusiast looking to try out some of the local high-grade home-grown.
Located in the northwest of Thailand in the province of Chiang Mai, the city of Chiang Mai is nestled between lush jungle and mountains. It's the tourist hub of the north and attracts many Thai and international tourists.
Previously the capital of the Lanna Kingdom, it is an iconic religious and cultural city renowned for its hundreds of beautiful Buddhist temples scattered across outstanding natural beauty. The central town centre was once enclosed in a 13th-century fortress, and the remaining walls and gates can still be seen around the outskirts.
What's available?
Across Chiang Mai, many up-and-coming cannabis dispensaries are opening with a significant focus on Thai produce. The new regulations have created a plethora of cannabis-based stores and wellness centres; from cafes specialising in cannabis-infused dishes to dispensaries where visitors can purchase high-grade Thai cannabis products.
When you're high – activities around the Chiang Mai province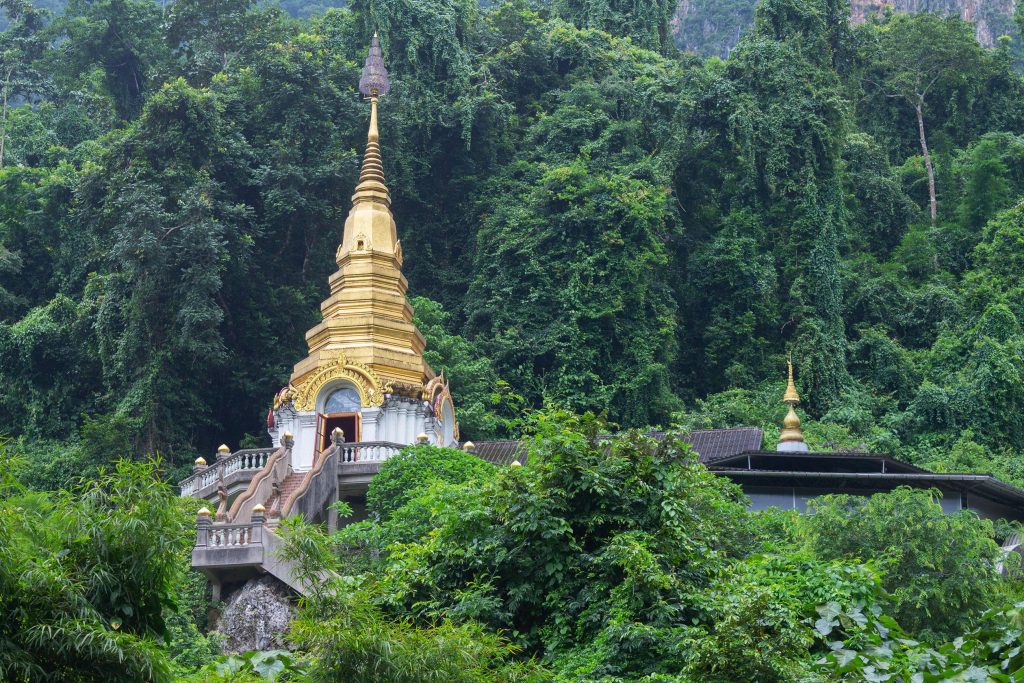 Explore the hundreds of ancient temples. The first temple, Wat Chaing Man, was erected by King Mengrai in 1296. He was the founder of Chiang Mai.
Practice your English with native monks in the monastery!
Every Sunday, Chaing Mai's main streets are closed, and the famous Thapae Walking Street night market is erected. Look for local handicrafts and a wide selection of delicious street food.
Head outside the city and check out one of the few elephant sanctuaries nestled within the wild jungle.
In Thai culture, cannabis has been used for cooking for decades. Now, you can enjoy a wide range of traditional, infused dishes at one of the many cannabis-based cafes popping up across the city.
Thailand is renowned for its diverse street delicacies, from barbequed squid to delicious rice noodles. If you're hungry, head to the street markets!
With its diverse and historical culture, Thailand has a wide range of activities for the avid adventurer and explorer, as well as the opportunity to consume cannabis in privately-owned spaces. If you're looking to enjoy ideal weather, beautiful scenery, and quality locally-grown cannabis, Thailand might be worth a visit!
The future of canna-tourism worldwide
After reading about various cannabis-friendly tourist destinations, you might wonder what is next for cannabis tourism?
With more countries legalising cannabis, things can only be looking up for the cannabis tourist.
The negative stigma cannabis once held is fading away as cannabis is becoming more accepted throughout society.
In the US, most cannabis dispensaries that opened for the medicinal market are now opening their doors to the recreational market – selling both medicinal and recreational products from the same dispensary.
In Europe, cannabis is more openly accepted, with CBD products visible in most health stores. Amsterdam and Barcelona continue to attract more and more visitors due to their lenient policies on cannabis consumption.
Although renowned for their severe drug penalties, various countries across southeast Asia have started their first medicinal cannabis programmes. In India, the government is approving more stores to sell Bhang products, and with a culture so rooted in cannabis, it seems unlikely that they will stop.
Times are changing, and there are now more opportunities to travel to unknown destinations, try different local strains, and support the cannabis community worldwide. We hope to see you soon at one of our Sensi Seeds stores in Amsterdam or Barcelona!
If you've been to some of the locations above, please let us know your thoughts. Did we miss one of your favourites? We would love to hear about all your cannabis tourism tales in the comments below.
Disclaimer:

Laws and regulations regarding cannabis use differ from country to country. Sensi Seeds therefore strongly advises you to check your local laws and regulations. Do not act in conflict with the law.