Cannabis contains over 500 constituents. The most important of these are THC (tetrahydrocannabinol) and CBD (cannabidiol), which both belong to the cannabinoid group. Unlike THC, CBD does not make you high. It does however offer great medicinal potential. That's one of the reasons that we have seen a real boom in CBD over the last few years.
The volume of research into CBD and its medical benefits continues to increase. At the time of writing, the National Institutes of Health (PubMed) service has included over 2,600 studies on CBD in its index. It is the first time in history that such an abundance of research into cannabinoids such as CBD has taken place. This has lead to a clearer picture of how CBD can be used as a therapeutic agent in the treatment of varying conditions.
CBD vs. THC: The issue of psychoactivity
After THC (delta-9-tetrahydrocannabinol), cannabidiol (CBD) is the most studied natural cannabinoid and is under a lot of scientific scrutiny for its therapeutic potential. Of all cannabinoids present in cannabis, CBD and THC are present in the highest concentrations. CBD and THC, although differing in properties, have an interdependent relationship in which the two potentiate and mediate the therapeutic benefits of each other.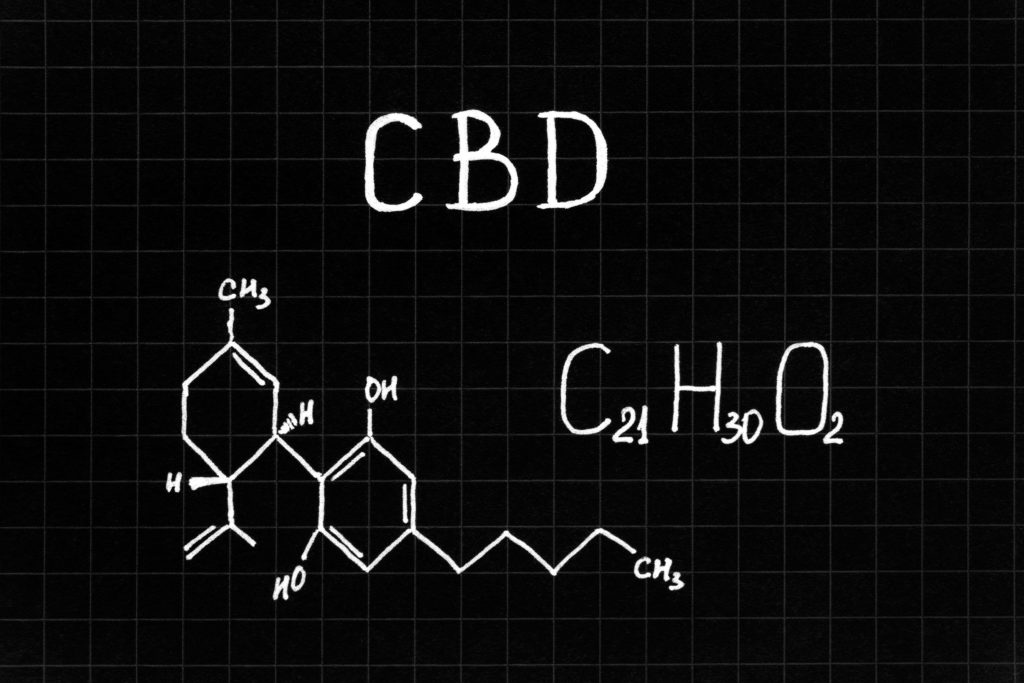 THC causes the psychoactive effect of cannabis, whereas CBD is non-psychoactive. This means that it does not produce sensations of intoxication. In fact, CBD is even considered to be anti-psychotic in its effects, mediating and neutralizing the psychoactivity of THC when the two are used together.
For this reason, recreational strains of cannabis generally contain higher levels of THC, while medicinal cannabis might focus on either CBD or THC, depending on the condition being treated.
One of the biggest hurdles for the medicinal cannabis movement in recent years has been the psychoactivity of THC. The advent of CBD research and understanding has helped to mitigate this problem, demonstrating the possible therapeutic benefits of cannabis in the absence of psychoactive compound, THC. The understanding and popularization of CBD has had a profound impact on the way the medical community and the public interpret cannabis and its place in medicine.
Doctors and healthcare professionals are becoming more open to the prescription of CBD products in the treatment of certain illnesses. The lack of psychoactivity, minimal side effects and the sustainability of CBD production are all reasons that CBD has received positive attention from the medical community. CBD has been legalized almost everywhere in Europe (with the exception of some countries such as Slovakia), in the USA and Australia, and the US government has even patented the medical use of CBD.
CBD and the endocannabinoid system
There are mainly two types of cannabinoid receptors (CB1 and CB2) in the human body, present most abundantly in the central nervous system (CB1) and the immune system (CB2).
These cannabinoid receptors, along with endogenous cannabinoids (cannabinoids produced in the human body) make up the human body's endocannabinoid system. THC's interaction with the CB1 receptor is arguably what leads to the psychoactive effect of THC. CBD, on the other hand, does not have a strong affinity for CB1 receptors, and it exerts its effects in more peripheral manners.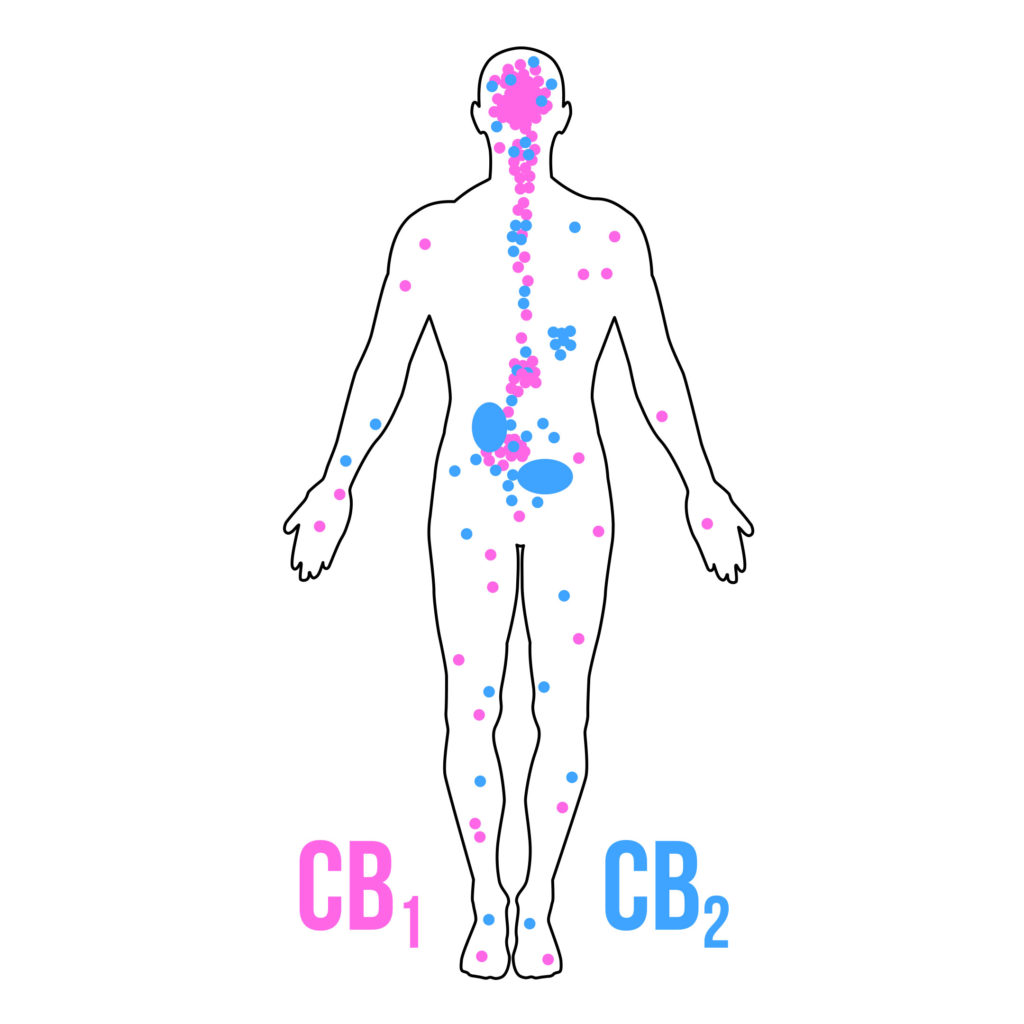 Instead, CBD affects the endocannabinoid indirectly by modifying the cannabinoid receptor's ability to bind to both phytocannabinoids and endogenous cannabinoids. It also acts indirectly on certain enzymes responsible for the breakdown of endocannabinoids. One such example is that CBD inhibits anandamide degradation by enzyme, FAAH. This leads to increased serum levels of anandamide, an endogenous cannabinoid vital to human health.
The endocannabinoid system impacts a wide range of physiological functions because its main objective is to maintain physiological homeostasis. It moderates the function of the brain, the endocrine system, the integumentary system and the immune system. When the endocannabinoid system is stimulated, either by endogenous cannabinoids or phytocannabinoids such as CBD, many different aspects of physical and mental function are affected. This is why CBD, along with other phytocannabinoids, is a potential treatment for a wide range of medical conditions.
Dr Ethan Russo, PhD and cannabis researcher, hypothesizes that a dysfunctional endocannabinoid system is at the root of many treatment-resistant diseases such as migraine, fibromyalgia, IBD and other syndromes. At the basis of his research is an explanation as to why CBD and the endocannabinoid system are such vital targets in the treatment of these particular conditions.
Until the 1960s, it was not even known that the human body contained an endocannabinoid system or that such a physiological phenomenon existed. Since this discovery, the endocannabinoid system has been associated with the human body's healing and recovery processes. This has been an enormous driver of cannabis and CBD research.
Understanding different varieties of cannabis and their CBD:THC ratios
Modern cannabis has, for the most part, been grown with the ultimate goal of increasing THC levels. This is because THC is usually what recreational users search for in cannabis, and until medicinal cannabis was legalized, increasing CBD levels was not an objective. However, since the dawn of medicinal cannabis, there has been a focus on increasing levels of CBD in certain varieties of cannabis.
The hemp variety is naturally more abundant in CBD than the marijuana variety. For this reason, most of the CBD products available on today's market are manufactured from hemp. However, marijuana strains are also sometimes used to manufacture products that have a balanced ratio of THC to CBD. Much of it depends on the target audience of the product.
For example, Charlotte's Web is a high-CBD strain of cannabis that was created for the specific purpose of treating a paediatric patient with epilepsy. This strain has a 12:1 CBD:THC ratio. Although the product contains THC, it leans heavily towards CBD. Sensi Seeds has also developed high CBD strains, one with CBD:THC 30:1 and another with CBD:THC of 6:1.
On the contrary, recreational strains such as Northern Lights usually have higher THC levels than CBD. This does not mean that high-THC strains have no medical significance, as THC has medical properties of its own. The modern cannabis market provides strains with as little as no THC to a perfect 1:1 balance of CBD:THC, to strains that have almost no CBD and contain only THC. The cannabis market caters for just about all needs.
CBD has a wide range of medical benefits
The number of uses for CBD as a medicine continues to grow to the point where we have virtually never come across such a versatile substance before. The pharmaceutical industry until how has not developed a single medicine that has as many applications as CBD. And yet outside of Epidiolex in the treatment of pediatric seizures, there are no other FDA approved uses of CBD because of the lack of double-blind, placebo-controlled randomized data.
CBD is being researched for its potential antiemetic, antipsychotic, anti-inflammatory, detoxifying, tumour-inhibiting, anxiolytic, and antidepressant qualities. Some of these qualities have been heavily investigated while others are still in the initial stages of research. In any case, the sheer number of medical applications warrants further investigation into the effects of CBD and how it can be applied medically.
1. CBD as medicine for epilepsy
The treatment of epilepsy (especially refractory paediatric epilepsy) is arguably the most researched medical application of CBD. As many as 20-40% of epilepsy patients are resistant to traditional treatment, and in light of this, a lot of research has been carried out as to how CBD can help.
74 children and adolescents aged 1–18 for whom traditional epilepsy treatment methods failed were treated in Israel in 2014 with CBD-rich cannabis. On average, the patients took CBD oil for 6 months. The CBD:THC ratio was 20:1, and the substances were dissolved in olive oil. They took 1–20 mg / kg per day of body weight.
The seizure rate during the study was observed and recorded by the patients' parents. The study results were as follows: in 89% of the patients (66 out of 74), the rate of seizures reduced. The parents of 13 children (18%) indicated that the rate of epileptic seizures fell by 75–100%. Twenty-five patients (34%) had 50–75% fewer seizures; 9 (12%) had 25–50% fewer seizures; and 19 (26%) had less than 25% fewer seizures. In 5 (7%) of the 74 patients, it was reported that the severity of their seizures increased with the administration of CBD, so the drug was discontinued.
The Israeli study is not the only one of its kind. In March 2016, the British company, GW Pharmaceuticals announced it had completed a Phase 3 trial on the drug, Epidiolex, with clinical significance. In all, 171 people took part. Half received the CBD-based drug, and the other half were treated with a placebo. In the patients undergoing Epidiolex treatment, there was a median reduction in monthly seizure rate of 44%. For patients receiving the placebo treatment, the equivalent figure was 22%.
2. CBD may replace opioids in the treatment of chronic pain
Chronic pain is a symptom of many illnesses: diabetes, multiple sclerosis, cancer, HIV, rheumatism, and many others. The treatment of pain plays a role in improving the quality of life of patients. Depending on the severity of the pain, people use over-the-counter analgesics such as aspirin, ibuprofen, paracetamol, and/or prescription analgesics such as opioids. Many of these drugs are associated with possible side effects after prolonged use.
Back in 2007, researchers found in animal models that the daily administration of CBD resulted in a reduction in hyperalgesia (excessive sensitivity to pain and reaction to a painful stimulus).
Another non-controlled, open-label prospective study conducted in 2016 by Israeli researchers confirmed that cannabis use reduces pain and opiate use and improves the quality of life of the patient. All in all, 274 patients took part in the study, although it ought to be mentioned that the patients weren't administered pure CBD, but a medicinal cannabis preparation that also contains THC. Nevertheless, the results are very promising:
After six months, the pain symptom score had fallen from a median of 83.3 to a median of 75.0. The pain intensity score also improved. Opiate requirement reduced over the course of the observation period by approximately 44%. Long-term effects of chronic CBD use on pain have not yet been established.
3. CBD as a tumour-fighting agent
In a 2016 review published in the journal, Current Oncology. Both THC and CBD were evaluated in vitro and in vivo. Both cannabinoids have properties that cause tumours to shrink, with CBD being the more active of these two cannabinoids. The authors suggest that CBD should be researched further as an effective anti-cancer drug in the management of neuroblastoma.
Another study published in the British Journal of Pharmacology in 2012 supports these findings. Researchers of this study found that CBD effectively inhibits the growth of various types of tumours. In addition, it down-regulates some pro-angiogenic signals by glioma cells.
The research into the effect of CBD on tumours is still elementary and with very early results. Much more research is required before any conclusive statements can be made about CBD as an anti-tumour agent.
4. CBD in the treatment of depression and anxiety
There is plenty of anecdotal and observational evidence to suggest that CBD is an effective treatment for mood disorders such as depression and anxiety. In certain research, the endocannabinoid system has been implicated in the onset of anxiety and depression symptoms, whereby endocannabinoid deficiency can lead to anxiety and depression.
Other research suggests that CBD acts directly on the 5HT1A serotonin receptor. This is important because many common pharmaceutical treatments for anxiety and depression target the serotonin signalling system. In one Spanish study conducted on animal models, CBD was faster acting on the serotonin signalling system than SSRIs, the type of drug commonly prescribed to patients with anxiety and depression. This suggests that CBD could represent a novel fast antidepressant drug.
Interestingly, CBD may also support hippocampal neurogenesis. In brain scans of people with major depression disorder, hippocampus size was smaller relative to normal brains, suggesting this as a target for treatment of depression. In another animal study, CBD was found to assist chronically stressed mice by encouraging the regeneration of neurons in the hippocampus.
5. CBD as medicine for neurodegenerative disorders
There are a number of neurodegenerative disorders for which CBD has been found to be extremely effective. These include Multiple Sclerosis, Parkinson's disease, Huntington's disease, and stroke.
For patients of Multiple Sclerosis, CBD may be able to help in managing muscle spasticity as well as neuropathic pain associated with this condition. The same has been hypothesized for Parkinson's disease. Aside from having neuroprotective properties, CBD is hypothesized to assist in non-motor control symptoms for those with Parkinson's by targeting the serotonin signalling system.
For Multiple Sclerosis, Alzheimer's, Parkinson's, fibromyalgia and stroke, inflammation also plays a crucial role. CBD's anti-inflammatory qualities may be among the most important in the treatment of these conditions.
6. CBD in the management of schizophrenia and psychosis
Medicinal cannabis for the treatment of schizophrenia, psychosis and other psychiatric conditions remains one of the most controversial applications of CBD. Although there is preclinical evidence to warrant further investigation, the scientific and medical community are reluctant to state anything conclusively.
CBD differs to THC in that it is non-psychoactive and even has anti-psychotic effects. The reason that CBD deserves attention for schizophrenia is that up to 30% of patients do not respond to two or more trials of dopaminergic antipsychotics, which are the primary line of treatment. Furthermore, the medical community has, until now, not yet identified the cause of most psychiatric illnesses and are still in the beginning stages of understanding how to properly treat them.
Researchers discovered in 2012 that CBD improves anandamide signalling and that the increase in serum anandamide levels helps to relieve the psychotic symptoms of schizophrenia. The results of this study suggest that inhibition of anandamide deactivation may contribute to the antipsychotic effects of cannabidiol, potentially presenting a completely new target in the treatment of schizophrenia.
In 2014, the British firm GW Pharmaceuticals started testing a drug called GWP42003, whose main cannabinoid is CBD. Initial investigations showed antipsychotic effects in schizophrenia patients. However, CBD was administered as a supplement to antipsychotic drug treatment already being taken by patients in the study.
7. More therapeutic qualities of CBD
As demonstrated, CBD has been under scrutiny for its possible treatment in a wide range of conditions. However, many people simply use CBD as a nutritional supplement for the wide range of physiological effects it has, even in the absence of illness. Some other therapeutic qualities of CBD might include:
Fundamentally, these qualities can be considered to improve the quality of life, especially of patients with chronic illnesses. Though CBD has not been shown to improve sleep in any randomized, controlled clinical trials, it is often reported by users to assist with sleep latency. It is often underestimated how much a good night's sleep can improve the health of a patient with a chronic illness, and this is why CBD is often used as a supplement to traditional lines of treatment.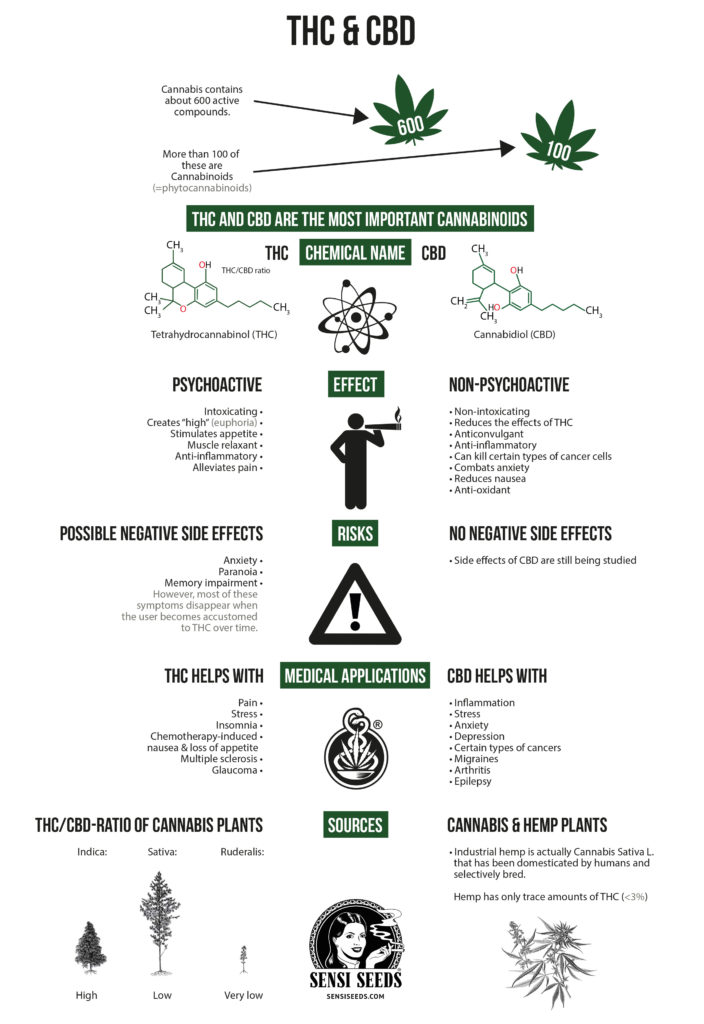 What is CBD oil and how is it made?
CBD oil refers to a concentrated extraction of the hemp or marijuana plant that contains high levels of CBD, and usually negligible levels of THC. Most modern extraction of hemp is achieved with a technique called CO2 extraction, whereby high-pressure CO2 is pumped through a vessel containing hemp plant material. The final product is an oily substance rich in terpenes and cannabinoids.
Certain manufacturers take an extra step after CO2 extraction to isolate CBD. This is called fractional distillation, and results in a near pure CBD powder. This powder is then mixed into MCT oil and sometimes even hempseed oil, creating a pure CBD product devoid of other cannabinoids and terpenoids. This may have benefits for those who, for whatever reason, would prefer to avoid ingesting other cannabinoids altogether.
However, it is usually considered more beneficial to consume a full-spectrum CBD product (has not undergone fractional distillation), as a full-spectrum CBD oil also contains other remedial substances such as terpenes. Furthermore, full-spectrum products have the added benefit of the entourage effect, whereby all the compounds present in a cannabis specimen work together to create the therapeutic effect.
How is CBD oil used?
CBD oil is most commonly consumed as it is, dropped under the tongue. However, it can also be consumed in capsules, edibles, applied topically, vaporized or used as a suppository. Each has its own benefits, bioavailability and targets different parts of the body. For example:
Sublingual application is a general consumption method, where CBD is received into the blood via the aqueous membranes under the tongue.
Capsules are dissolved in the stomach or intestines, depending on what the capsule is made of. They may take longer to take effect but sending cannabinoids directly to the gastrointestinal system.
Edibles are dissolved directly into the stomach.
Topical application of CBD is most often used to treat localized pain or inflammation without the need for ingestion.
Vaporizing CBD is the fastest way to feel the effects, and for this reason is most often used in the treatment of acute anxiety or pain.
Suppositories are one of the least popular ways of ingesting CBD, although it may be the way to achieve greatest bioavailability. It also sends cannabinoids directly to the gastrointestinal system, or possibly even the female reproductive system.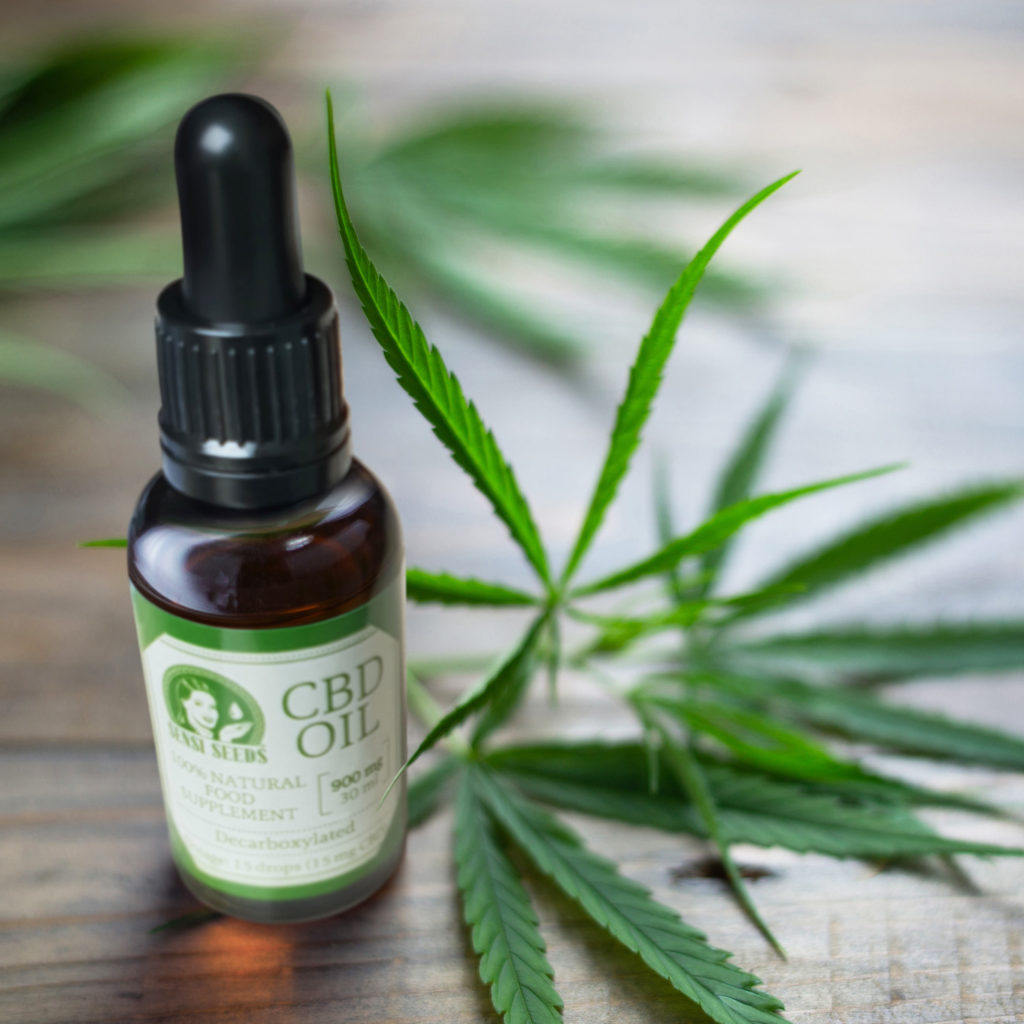 Guidelines for the dosage of CBD
Determining the correct dosage of CBD will depend on the person and the illness treated. It will also depend on the way in which CBD is taken. CBD consumption methods include infusion, CBD-rich oil extracts, sublingual sprays, capsules, edibles, topical products, suppositories, and tinctures.
Finally, each person must take time to think about the ratio of CBD:THC that is most appropriate for them. As mentioned, each cannabinoid has a different role to play in the treatment of certain illnesses, and this will vary from person to person.
If you have little or no experience with CBD or cannabis in general, the most advisable approach is to start with a low dose and then work your way up. You may wish to take multiple smaller doses throughout the day, especially if you are managing a chronic condition.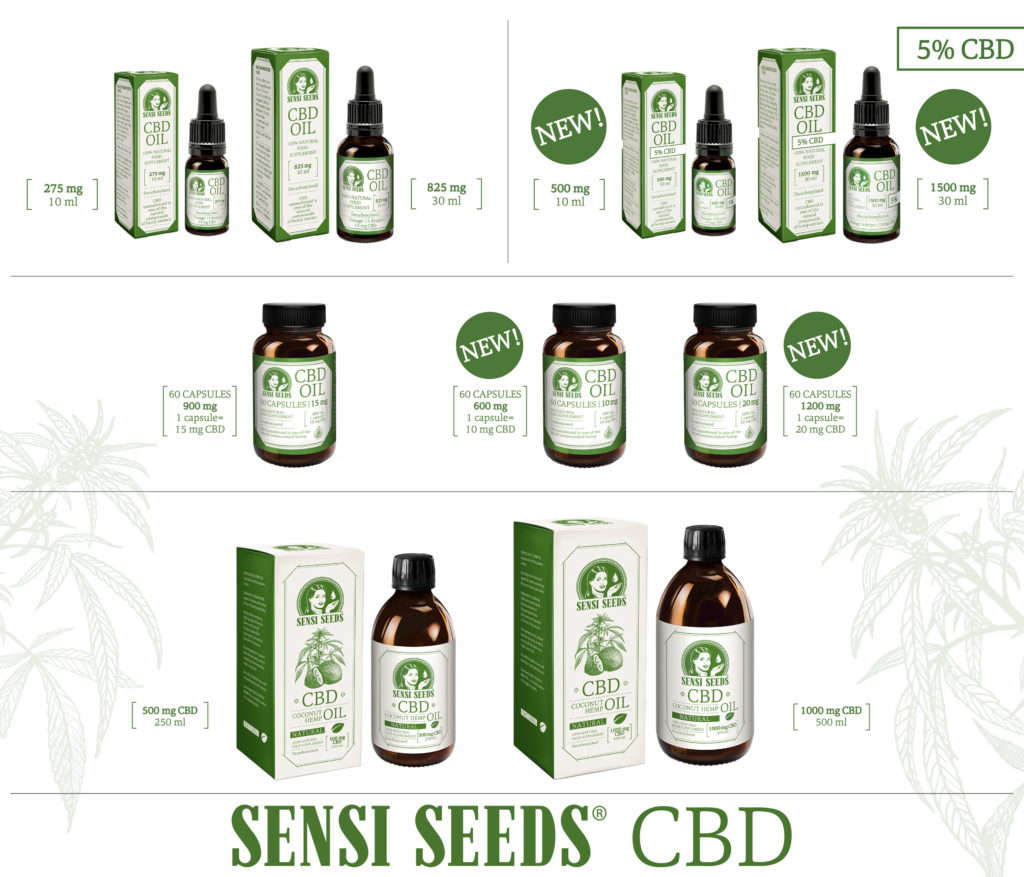 What you need to keep in mind before buying a CBD product
The CBD market has exploded, and the number of CBD products available on the market continues to increase. However, not all CBD products are created sustainably, honestly or with the consumer's best interests in mind. It is very important to scrutinize a product or company before purchasing their CBD product. You can consider the following aspects:
The product should describe the exact concentration of the active ingredient CBD.
The product label should describe the method of preparation used (olive oil, hempseed oil, alcohol, MCT oil, etc.). Certain manufacturers also list ingredients such as terpenes, alkanes, nitrogenated compounds, amino acids, sugars, flavonoids, vitamins, etc.
The product should have usage instructions and specify the normal and maximum doses.
The product should provide a website where access to other analyses, third-party testing or where more detailed information can be found.
Despite how much we already know about CBD, its mechanisms of action and its application in many conditions, there is still a lot to learn and discover with respect to CBD medicine. Continued research is not only encouraged, but much needed to solidify CBD's role in modern medicine. Certain medical professionals have already begun to implement CBD treatment for patients, and as the cannabis movement continues, CBD receives more and more validity from the medical community. It is already clear that CBD has an application in the world of medicine, and on this point alone, more research and understanding is the way of the future.
Disclaimer:

This article is not a substitute for professional medical advice, diagnosis, or treatment. Always consult with your doctor or other licensed medical professional. Do not delay seeking medical advice or disregard medical advice due to something you have read on this website.