Sensi Seeds proudly brings you a new way to take full advantage of the therapeutic properties of hemp and cannabis. Continuing our mission in releasing high quality CBD-based products is of the utmost importance to us. Meet our new CBD Oil Capsules.
Smooth CBD
CBD oil usually comes in a 10 ml or 30 ml bottle with a pipette. Because of its bitter taste, some people prefer not to use it in droplets. That's where CBD Oil Capsules come in: they are flavourless, easy to take, and maintain their potency during digestion.
All the benefits of CBD oil are available in an easy to swallow 15 mg capsule format!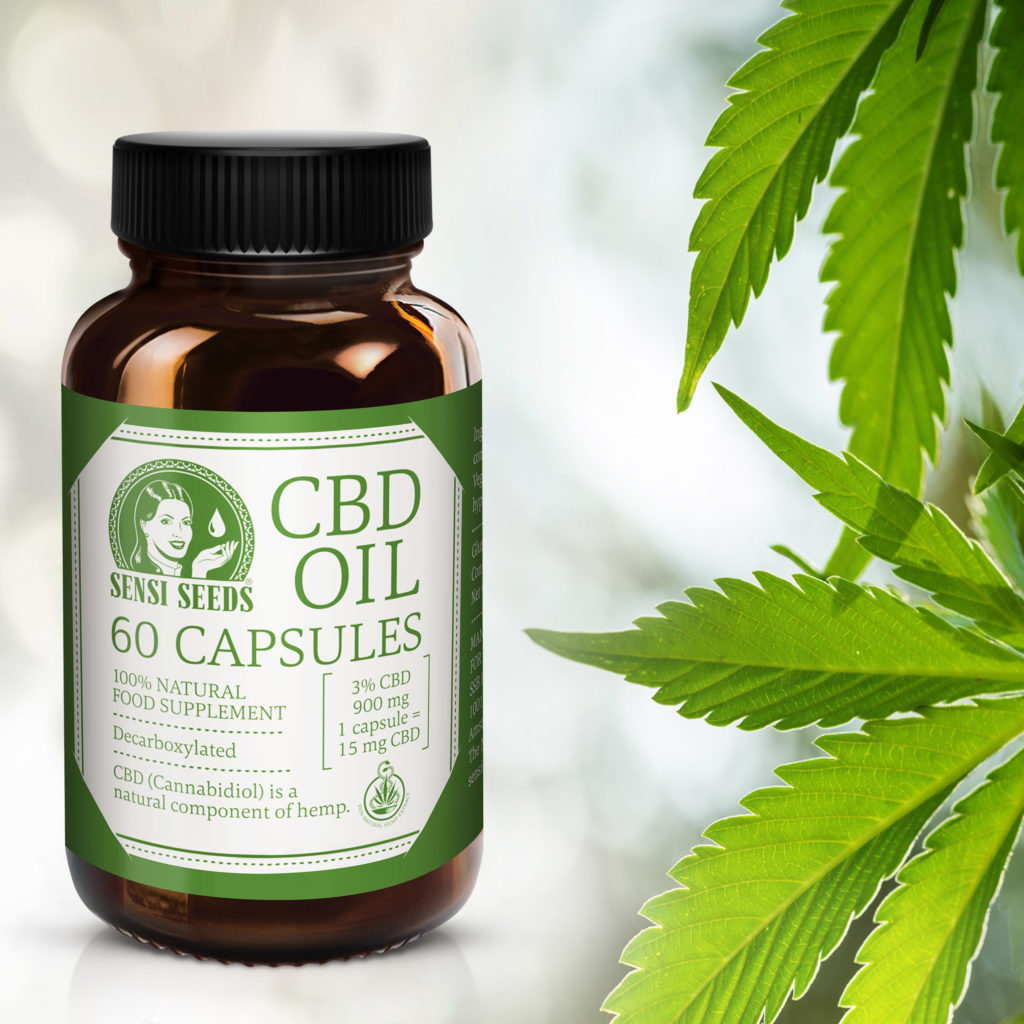 All the medicinal benefits of CBD, accessible to all
You already know all about the amazing benefits of CBD oil: when taken as a food supplement it may help relieve chronic pain, reduce stress, balance mood, promote sleep, and help fight free radicals.
CBD is one of the most sought-after cannabinoids. Its therapeutic value is off the charts; countless studies have delved into the many medicinal properties of CBD, and the list of ailments it can alleviate the symptoms of keeps increasing.
CBD does not have any psychoactive properties, so you can choose to avoid the cannabis high while reaping its benefits.
Personal reports of individual experiences provide a valuable and fascinating glimpse to the power of CBD.
Discover the power of CBD and of other active compounds of cannabis
Sensi Seeds CBD Oil Capsules contain different phytocannabinoids in addition to CBD: CBC (cannabichromene), CBG (cannabigerol), and CBN (cannabinol). They also contain terpenes including: Myrcene, Limonene, Alpha & Beta -pinene, Linalool, B-caryophyllene, Caryophyllene oxide, Humulene, Nerolidol, and Phytol.
Read more to discover what CBD is, how it works, and what makes it different from THC.
High-quality CBD capsules
Sensi Seeds CBD is extracted from plants that we ourselves have grown, which allows our company to better monitor the quality throughout all phases of production. Each capsule contains approximately 580mg of oil, providing 15mg of CBD.
Our product is gluten-free and suitable for vegans by using hypromellose and gellan gum for its capsules. The hemp plants are grown without the use of pesticides or herbicides.
That 15mg per capsule boasts a great quantity to price ratio, especially when considering the care and quality that goes into the manufacture and production.
Sensi Seeds is delighted to continue showing the impressive therapeutic uses that CBD offers and is thrilled to provide an even more accessible delivery system. Discover the great benefits that CBD capsules provide today.
See what it's all about!
Disclaimer:

This article is not a substitute for professional medical advice, diagnosis, or treatment. Always consult with your doctor or other licensed medical professional. Do not delay seeking medical advice or disregard medical advice due to something you have read on this website.