Cannabinol (CBN) is arguably the third best-known cannabinoid after THC and CBD. Mildly psychoactive, CBN is thought to act as a weak agonist of both the CB1 and CB2 receptors, and is known to have various medical uses including as an anticonvulsant and antiemetic. CBN may also be partly responsible for the sedative effect of some cannabis varieties.
Cannabinol, more commonly referred to as CBN, is being researched with the same vigour as THC and CBD. Unlike most cannabinoids, CBN is mildly psychoactive, probably due to the fact that THC is one of its precursors in the biosynthetic pathway. CBN presents medical cannabis patients with a variety of different medical applications especially for its use as a sedative.
Chemical structure of the cannabinol molecule
CBN is a product of THC degradation, and has the chemical formula C21H26O2 and a molar mass of 310.43 g/mol. The unstable THC molecule, which has the formula C21H30O2, loses four hydrogen atoms (which give the THC molecule the tetrahydro- prefix) to form CBN. This process is facilitated by heat and light, and does not require the action of an enzyme.
As with all other cannabinoids, CBN is a hydrophobic, lipophilic molecule. As well as being soluble in fats, it also dissolves readily in organic solvents such as ethanol or methanol. The melting point of CBN is approximately 77°C (170°F), and the boiling point is 185°C (365°F). At room temperature, CBN is a colourless crystalline solid.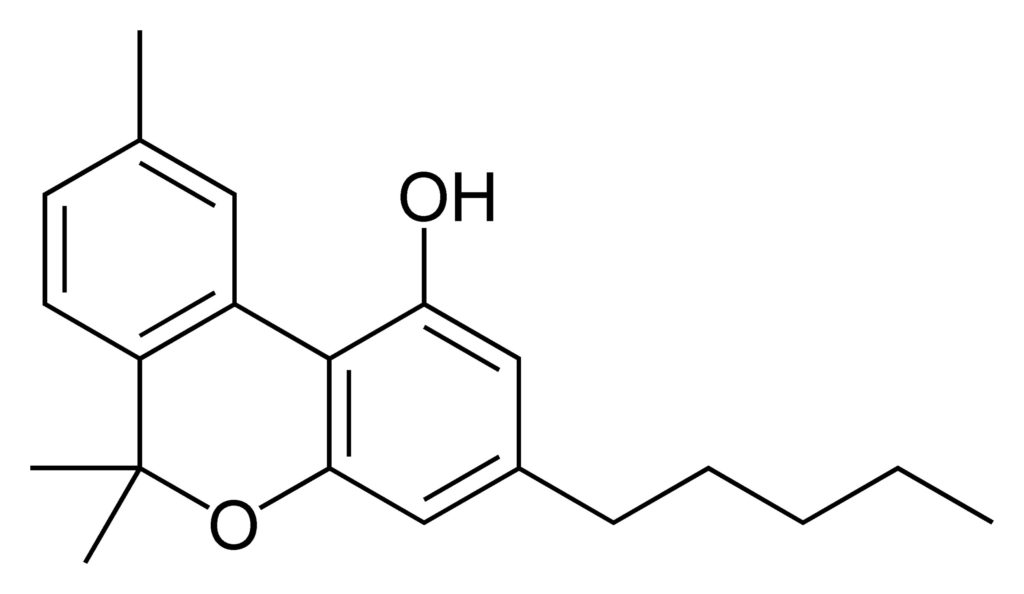 Cannabinol in the endocannabinoid system
As well as being a partial agonist of both main cannabinoid receptors, CBN has been shown to inhibit adenylyl cyclase activation. This enzyme catalyses the vital energy-transporting enzyme ATP and converts it to cyclic adenosine monophosphate (cAMP), another important signalling enzyme, and pyrophosphate.
CBN also affects the TRPV2 receptor, behaving as an agonist. Activation of the TRPV2 receptor evokes a release of the CGRP protein, a neurotransmitter that plays a role in nociception. In this way, ingestion of CBN elicits pain-relieving responses from the endocannabinoid system.
Much like its sister molecule, THC, CBN has a greater affinity for the CB2 receptor than the CB1 receptor. With that being said, its affinity is not as great as that of THC. CBN is a partial agonist of the CB1 and CB2 receptors.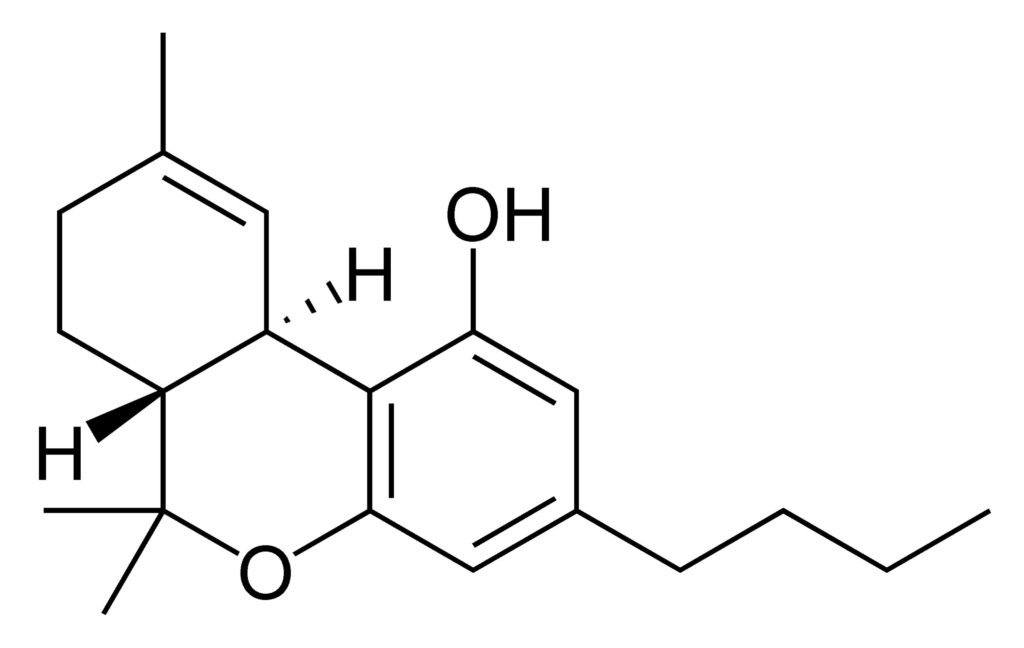 Physiological properties of cannabinol
The CB2 receptor has been shown to modulate immune responses, specifically by suppressing immune cell function. In certain experiments, this has resulted in the delayed onset of disease. CBN has also been studied for its antiemetic and anticonvulsant effects, although these two qualities of CBN are not as pronounced as they are in THC and CBD.
Medical potential of CBN
CBN's molecular structure very closely resembles that of THC and CBD and in terms of the endocannabinoid system, behaves in very similar ways to THC specifically. For this reason, scientists believe that CBN may share some of the same medicinal qualities as THC.
CBN gets most medical attention for its alleged sedative effects. Steep Hill, a US based company who call themselves leaders of cannabis science, technology and research, claim CBN to be a powerful sedative. On their website, they state that a 2.5mg – 5mg dose of CBN causes the same level of sedation as diazepam, a pharmaceutical sedative. However, they have not provided further information or studies that can corroborate this fact.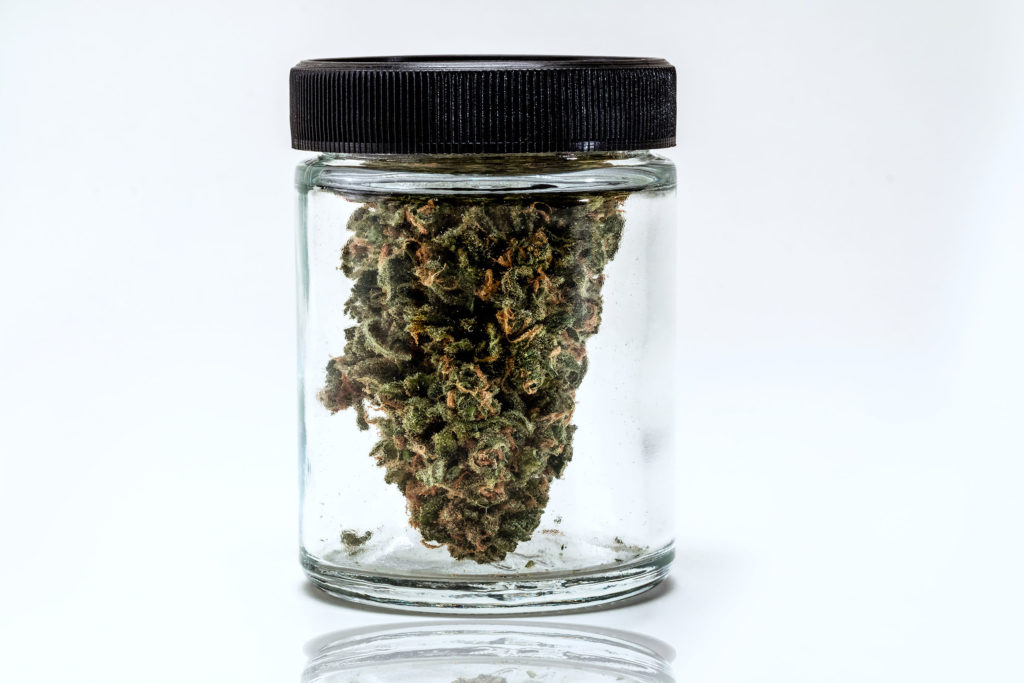 Even though most media attention on CBN is for its sedative qualities, it's more likely that CBN is a powerful anti-inflammatory and antimicrobial substance. Scientific research supports the hypothesis that CBN is a potent antibacterial compound, although there is very little understanding of how it has such an effect. In fact, scientists have called the mechanism of antibacterial action of CBN "elusive and very specific".
According to a 2005 study published in the Journal of Neuroimmunology, CBN may have powerful anti-inflammatory effects, moderating inflammation by targeting the immune system. In this particular study, asthmatic mice that were treated with CBN were observed to have less mucus formation in the lungs.
Finally, it is also hypothesized that CBN is an appetite stimulant. This study was conducted with CBD and CBN on rats. Researchers found that CBN increased the amount of food consumed by rats and the total time spent eating. CBD, on the other hand, reduced the total food consumption in the period the rats were observed.
Although there is still much research to be done, CBN continues to gain the attention of scientists as a potential "THC replacement", as its remedial properties are similar but is less psychoactive than THC. Much remains to be learned about CBN.
Disclaimer:

This article is not a substitute for professional medical advice, diagnosis, or treatment. Always consult with your doctor or other licensed medical professional. Do not delay seeking medical advice or disregard medical advice due to something you have read on this website.