In the context of our 30th anniversary, over the next few weeks we will be publishing a series of articles about the pivotal moments in Sensi Seeds' history. They represent the building blocks of our core values and what we stand for today.
In the context of our 30th anniversary, over the next few weeks we will be publishing a series of articles about the pivotal moments in Sensi Seeds' history. They represent the building blocks of our core values and what we stand for today.
30 years of providing the world with the high quality cannabis seeds and cannabis-related products, 30 years of educating the world to the benefits of cannabis and hemp, 30 years of dedication, and love for the plant that have built our reputation.
Yet, thanks to the incredible thirst for knowledge and fearless entrepreneurship of our founder, Ben Dronkers, we have existed in spirit for much longer than the 30 years we are celebrating. Learn more about Ben's decades of research and travels here.
But Sensi Seeds, in the span of these 30 years of "official" existence, has managed to inspire many, and to become not only an authority in genetics preservation, breeding and philanthropy, but also a reference among cannabis seed companies.
It is of high importance to us to shed a light on the moment Sensi Seeds – and sibling companies – finally could spread their knowledge, products and expertise to a larger audience.
This article will lead you through our Amsterdam years – or how Ben Dronkers' utter commitment to unveiling the secrets of hemp and cannabis to the world panned into the most well-reputed, reliable seed bank, and into other projects that are now considered to be part of cannabis history.
The Sensi Seed Club
After dedicating years of travels and research to studying cannabis genetics, collecting seeds from all over the world, and categorizing them, Ben Dronkers had one broad project firmly planted in his mind: sharing his newfound knowledge of the plant, and ultimately, applying this knowledge. Naturally, breeding new cannabis strains was one of the objectives.
It is in 1984 that Ben Dronkers and his eldest son, Alan Dronkers, began to use the extensive collection of seeds gleaned during Ben's endeavours for crossbreeding purposes. They also elected to use the first stable hybrids to travel from North America to Europe. From there, it did not take long for their own hybrids to see the light of day.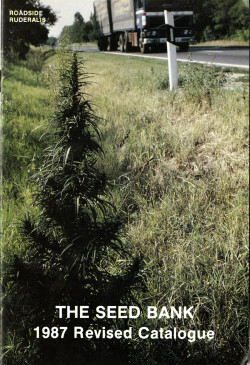 By 1985, and after much practice and research in cannabis growing and breeding, Ben Dronkers decided to make a giant leap towards cannabis history, by creating the now legendary Sensi Seed Club. Some might also know it by its other name: the Sensi Connoisseurs' Club. And true to said name, it was dedicated to those interested in gaining knowledge in growing the fabulous multi-purposes crop that is cannabis. In other words: Sensi Seeds was born, and meant to stay!
It was not long before the club started gaining a following of grateful growers. And with reason; at the time, it was one of the only spots in Amsterdam and even in the Netherlands selling cannabis seeds, together with another: The Seed Bank. The shared goal was to provide seeds to growers as well as to produce new hybrids, which is why the Sensi Seed Club carried on working on cannabis genetics and crossbreeding for years.
At this point, only one thing was missing to take the adventure further: making these products available across multiple platforms. To this end, another entity was created in 1986, and set up in the midst of Amsterdam's Red Light District: the Sensi Seed Club Shop. In the interest of cohesion, and in the name of Ben Dronkers' passion for democratizing the cannabis plant, the shop sold seeds from both the Sensi Seed Club and The Seed Bank, as well as growing equipment. The birth of this shop also happened to mark yet another milestone: the creation of the first all-in-one seeds and grow-shop in the country. The Dutch landscape of cannabis seeds' retail had its almost official neighbourhood.
From retail store to Original Seed Bank
As his then-small empire increased in size, Ben Dronkers never lost sight of his original project: preserving cannabis genetics. In 1991, after years of collaboration, he bought The Seed Bank from its owner, a fellow Dutch Master Breeder, and merged it together with the Sensi Seed Club.
Over years of research, many hybrids resulted from this convergence of breeding skills and genetic libraries. The resulting company, aptly renamed Sensi Seed Bank, inflated its selection from 20 to around 40 different cannabis strains. Among them, original "Sensi hybrids", that were fine-tuned into the delights everyone knows today, such as Skunk #1 or Northern Lights #5 x Haze, but also later additions, such as the world-renowned, all-time favourite Jack Herer.
Most of these strains would later win a plethora of awards, and would grow to become connoisseurs' favourites for decades. As a matter of fact, to this day, some of our original hybrids are still part of the Sensi Seeds selection.
Creating more enthusiasts by sharing the knowledge
As the city of Amsterdam was being taken over by a handful of Dutch Master Breeders, another Dronkers project saw the light of day, in the very same neighbourhood already hosting the very new seed shop/seed bank concept that was to become a big part of the Dutch cannabis seed industry. Indeed, another wish – maybe the most important of all – that drove Ben Dronkers was to inform the public about all aspects of the cannabis plant they did not know about, or forgot about centuries, millennia ago.
In 1985, as the Sensi Seed Club was making its first steps into the emerging cannabis seed industry, another cannabis-friendly venue suddenly became available to tourists, passers-by and enthusiasts alike: the Cannabis Info Museum.
In this small but highly informative, unique spot located a mere few blocks away from the seed store, Ben Dronkers decided to exhibit his own, most treasured possessions, selected with the help of his good friend, American cannabis expert Ed Rosenthal. Indeed, after years of travels and through the main objective of finding and collecting everything-cannabis-and-hemp, he had accumulated an extensive collection of thousands and thousands of items.
The very first permanent exhibition hosted by the Cannabis Info Museum consisted in exclusive items from this collection; artefacts, ancient documents, collectables, hemp and cannabis art, and much more. Soon it gained a somewhat international reputation, thanks to the incessant flow of visitors coming to visit Amsterdam from everywhere in the world. By 2008, the museum had become so popular that it was decided an annex – now well-known as the Hemp Gallery – would be added. More pieces from Ben Dronkers' collection as well as from other sources were set up for the new and improved exhibition, making it a true Amsterdam must-see for any knowledge-thirsty museumgoer.
From there, it did not take too long for it to become the museum as we all know it now. In 2011, both parts of it were temporarily, partially closed, in order to be renovated. It reopened in 2012, as the Hash Marihuana & Hemp Museum. A couple of weeks later, its sister museum, the Hash Marihuana Cáñamo & Hemp Museum, opened in Barcelona, just in time for the Cannabis Culture Awards. The rest, as one says, is history.
Currently, our Amsterdam museum's exhibition counts more than 1100 pieces, and 1300 pieces in our Barcelona location. One might also say that Ben Dronkers' vision for Amsterdam's future in the cannabis industry has become reality. But Sensi Seeds is not done with Europe yet.
#growonsensi