To many, he is simply known as Ben Dronkers' eldest son. To others, Alan is the man responsible for Sensi Seeds' incredible cannabis genetics. To the people in the know however, Alan Dronkers is all the above as well as a recognised author, all round cannabis expert, passionate teacher and incredibly avid student of history. Learn more about Alan in this interview.
To celebrate Sensi Seeds' 30th birthday we sat down with Alan Dronkers in his house in Thailand to discuss the plant that unites us all: Cannabis Sativa L.
Hi Alan, it's good see you again! To start off with, could you tell us what your very first encounter with cannabis was like?
I can remember it very clearly actually. I was around 8 or 9. My father took me aside and told me that he was smoking hashish, and that I had to keep this to myself.
"You can not tell that to anyone", he said.
So obviously, the first thing I did was to tell all my friends at school. I remember my friends asking me what hashish was. I had no clue!
When was the first time you smoked cannabis?
My first experience with cannabis was around my 14th year. I was travelling with my father throughout Pakistan and India. We found ourselves on the waters of a lake in Kashmir… it was an amazing spot, in between all these house-boats made out of carved wood. The scenery there is just breath-taking, with people hanging out of the windows fishing, some sitting on a wooden pole while fishing… you encountered countless surprises there! It really made me think of a kind of Disney land. And that was where I shared my first hash joint with my father.
It was an unforgettable experience!
What did you think of your father's endeavors at the time in your youth?
In my youth, my father had a shop in which he sold clothes. He really got busy with growing cannabis when I was around 14-15 and he opened Sensi Smile coffeeshop around a year later in Rotterdam.
This was commercially interesting for him of course but the principle behind it was that there was no coffeeshop in Rotterdam and that he believed people should be able to get cannabis locally. In those days, people had to go all the way to Amsterdam to be able to visit a coffeeshop. So what he did was simply to arrange a shop and stick a giant weed leaf on the window of a shop. This led to us being busted around 70 times within a 2 year period.
I was still at school in those days, and after my lessons, I would go see if the shop was still open or if it had again been closed down. I remember cases in which the police would have scraped half the weed leaf off, given up, and then covered the entire window in white paint to make sure you the leaf couldn't be seen anymore.
Our job we made sure to get it open again as soon as possible!
What does the plant represent to you?
Well, I'm not so much a religious person as a spiritual one. And there is no doubt to me that the plant is holy.
That is what it comes down to. There is a documentary from a doctor in Sri Lanka, about Buddhist medicine, which explains it well. This link to the sacramental aspects of the plant is one present in many faiths. Buddhism, Catholicism, Shintoism…
This has become a main focus for me. Even in the museums, I remember arguing continuously with my father to integrate elements of different faiths in the museum. Why? Because I believe it belongs there. If there is a debate surrounding the issue and people are discussing it, writing papers about it, it belonged there. And when I was told that it was too controversial, well… the entire museum was controversial!
How did people react to what you were undertaking?
If there is a moment I have to remember it would be the press conference we organised for the launch of a book called Marihuana Hennep, Pleidooi Voor Mens En Plant (Marijuana Hemp, Plea For Man And Plant) in 1992. A lot of journalists came to check out what was going on, not knowing what to expect.
My father starting discussing the War on Drugs and how this affected the Netherlands, which was unique at the time. No one really discussed this. He then went on to medicinal uses of cannabis and you could see the journalists thinking that Ben had smoked too much of his own stash. When he went on to explain how producing hemp seed could help solve the world hunger, they really thought he'd lost his marbles!
In the resulting articles, we were portrayed as idiots, a bunch of stoners. No one paid the book any mind, or even read it. They just disregarded us entirely. And this followed us around for quite some time. People always criticized instead of seeing that what we did was good, constructive.
I clearly remember one of the journalists who wrote a scalding article following the press conference. I met him again 10 years later, together with my father, and he really had to bite the bullet because we had thoroughly proved him wrong!
How have things evolved since the 90s?
It is only since the last couple years that you see former ministers and other famous individuals come visit us or that we are interviewed in well-known magazines such as Het Financieele Dagblad (Dutch Financial Newspaper). In one of these articles, a journalist described my father as being a visionary, similar to Henry Ford. I found it amazing to read! His vision was finally being acknowledged.
Today, you see a lot of articles about hemp in magazines. Articles in which they describe it as something new and revolutionary. In fact, they owe it to what we did!
I remember the countless nights that my father and I slept at the HempFlax factory, constantly busy trying to figure out solutions to issues we encountered. He would bounce his ideas off on me and vice-versa. It was this drive and passion that led to constant development and turned HempFlax into the industry leader it is today!
You played an essential role in developing the genetics we know and love. How did that learning curve go?
Jack Herer, Jack Flash, Black Domina, Juicy Fruit, Marley's Collie, Mr. Nice, these are all strains I worked on.
I worked together with a lot of breeders over the years and was able to learn a lot from them. In the beginning, I stood by while the tests took place, while the choices were made between plants for breeding projects. I saw it all and was able to learn from it and apply it to my own projects.
What were your main goals and objective when you were developing the genetics?
It really depends on the parameters you are breeding for and what type of plant you are breeding with.
For Sensi Seeds I always looked at flower development and resin development. For HempFlax, I would focus more on fibre production, or seed production. A good example of this is the Mexican Sativa. That strain produces an incredible amount of seeds! This could make it a very interesting candidate for producing seeds for nutritional purposes.
A lot of people know of your role in developing Sensi Seeds genetics but few know of your extensive knowledge of cannabis in general, particularly its history. How did that come to be?
Many say that I am " The Breeder" of Sensi Seeds but my heart lies with educating people about cannabis. In 1990, I moved up to Amsterdam to help out with sales at Sensi Seeds in the beginning and I would provide people with information about growing. Each client that came in needed a half hour's worth of information. Later on we had a catalogue explaining it all, lights, nutrients, etc.
I didn't just sell the seeds however. I also travelled throughout the Netherlands in search of information on hemp and its history. This search for information lasted for several years. Actually, it never really stopped! We had help from several people across the globe including Chris Conrad and Mikki Norris, whose work is still displayed today in the museum in Amsterdam.
In those days, no one from the cannabis community was willing to talk to the press about their cannabis activities. This meant that if anything was going to be printed about cannabis in the newspapers, they would come to the museum. The Museum effectively became the go-to place for anyone writing about cannabis.
In order to be able to do this however, you needed to be constantly on your toes and up to date with all the developments linked to cannabis in order to be able to provide a statement. This led my father and I to have almost constant contact in order to discuss our position on matters, to know what to tell the media and what to base our argumentation upon. Most of the time, we corrected the mistakes published in articles, trying to set things right.
Basically, we were constantly busy, trying to get the information out there. It was a very inspiring time!
A lot has changed since then. Medicinal cannabis is slowly becoming accepted worldwide, hemp is making a comeback. What are your thoughts on peoples' perception of cannabis nowadays?
We are currently experiencing a cultural shift. A while back in the Netherlands, an archeological team found a grave dating back to the Bronze age in the Netherlands. In this grace, they found traces of hemp and hemp pollen. 25 years ago, you would not have found this detail in the press. Archaeologists would not have paid attention to it.
Today, you see that archaeologists have paid attention, identified it and concluded that these remnants had been used for medicinal purposes! Archeologists today know of the therapeutic applications of cannabis. Even only 10 years ago, this wasn't the case!
Sensi Seeds genetics have in effect served as a building block to the cannabis industry as a whole. What do you think of this?
Back in the day, we were rebels and trying to change things for the better. The drive has always been to do things really well, and to make things better for cannabis and the community as a whole, despite the government doing its best to prevent any form of development in the field.
If you look at the video of the Cannabis Castle Tour which was filmed in the 90s, you'll notice that everyone in it is big in cannabis now. Huge players in the United States. All in all, we can be very proud. Very proud.
And finally, one of our most common questions: what is your favourite Sensi Seeds strain?
Jack Herer, no doubt. And before that, the NL#5xHaze.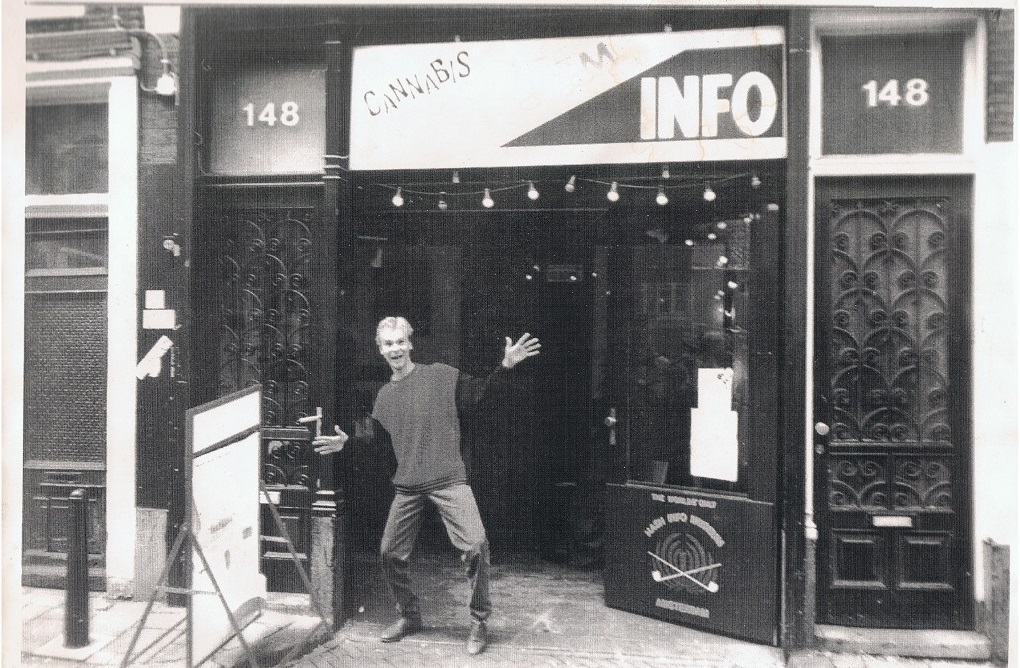 SOCIAL MEDIA QUESTIONS FOR ALAN DRONKERS
From Chris Thompson on Facebook
What is the most important aspect of breeding?
Being able to select and make the right choices.
You have a set of parameters that you use to classify the results. But in the end, what it came down to was heredity. Mendel said it all!
Oh and one of the most important factors: choosing the right male !
What characteristics do you look for in selecting a cultivar for breeding?
The parameters depend on which direction your breeding efforts are aimed at. And what type of plant you are breeding with.
For Sensi Seeds we always looked at flower development and resin development. If a plant really stinked, the terpenes would not be suited to our purposes. It might be suited for another one though! It really comes down to the parameters you choose.
Do you still look for land races (IBL) or do you still pull material from the Sensi vaults?
Absolutely. We are still currently looking for land races in Eastern Europe and Central Europe. I cannot say if they will be used for industrial or medicinal applications though.
From Dave Hunt on Facebook
Favourite indoor and outdoor strains? Keep it coming, Alan!
Any cannabis plant grown from seed. Growing from cuttings can be really boring I find… Plants from seed can surprise you, show you something you have never seen before, something with potential.
How does early skunk do indoors?
It will do really good!
Thank you to everyone who took the effort of sending us questions. Keep an eye out for our next interview with Ravi Spaarenberg!
#growonsensi