Unfortunately for many who work in the cannabis industry, the risk of cannabis allergy is very real. This reaction is characterised by a red, prickly rash over exposed skin, often accompanied by mild to moderate respiratory irritation (often including coughing and sneezing). It's most often found among those who work in close contact with the growing cannabis plant.
Although the incidence of cannabis allergies among consumers is generally low, those who work in close contact with the growing plant often report allergy symptoms. Cannabis pollen as well as certain proteins found to be present in the growing plant have been identified as the main culprits for cannabis allergens. Contact with these allergens can cause dermatitis-like symptoms such as redness and rash, as well as sneezing, coughing and shortness of breath.
Those prone to allergies from contact with the cannabis plant are often prone to allergies from contact with many other plants. A cannabis allergy should not be confused with Cannabis Hyperemesis Syndrome, which is associated specifically with cannabis consumption. Cannabis allergies occur by contact and exposure to cannabis pollen (working on a cannabis farm, trimming, etc.).
What are the symptoms of cannabis allergy?
Cannabis allergy symptoms are most often reported to be similar in presentation to contact dermatitis, and are most commonly reported by individuals who work on cannabis farms, trimmers and sometimes even those who work in dispensaries. Such individuals typically report itchiness and redness on skin, which can develop into a rash or hives in severe cases. The eyes may also become red, itchy and inflamed.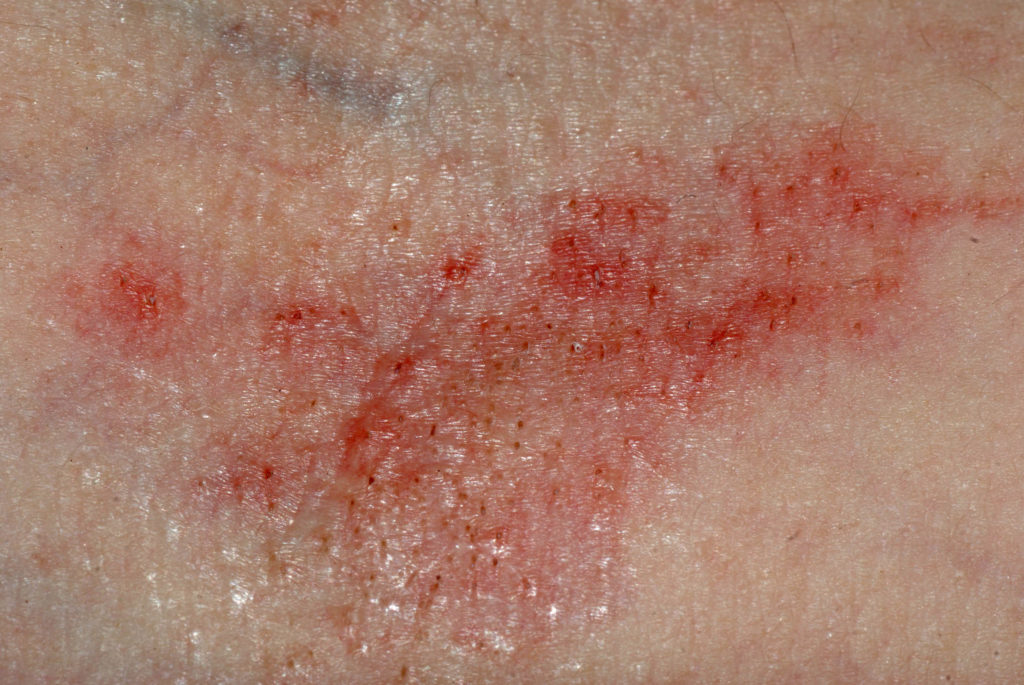 As well as dermatitis-like symptoms, cannabis allergy can also cause respiratory symptoms including allergic rhinitis, asthma. Other symptoms include allergic conjunctivitis, food allergy, eczema, drug eruption, contact urticaria and anaphylaxis.
In severe cases of cannabis allergy, anaphylactic shock can occur. Anaphylactic shock is characterized by the rapid onset of symptoms such as itchy rash, shortness of breath, lightheadedness, throat or tongue swelling, vomiting, and low blood pressure. If untreated, anaphylactic shock can cause loss of consciousness and even death (although there do not appear to be any known deaths as a result of cannabis-induced anaphylaxis).
What causes cannabis allergy?
First off, it is important to differentiate between true cannabis allergy and allergic reactions to substances found in cannabis that are not endogenous to the plant, such as moulds or dust mites. It is well known that poorly grown and poorly stored cannabis can contain both, and both are well known to cause strong allergic reactions in many individuals.
There have been several cases of severe reactions occurring in individuals who smoke mouldy weed, and at least one death has been attributed to it (although importantly, the individual in question was severely immune-compromised due to recent surgery).
However, cannabis allergy itself is a specific allergy to a substance or substances contained within the plant. In fact, there are several substances that may represent a risk to sensitive individuals, and it may be that different cases of cannabis allergy occur in response to different substances.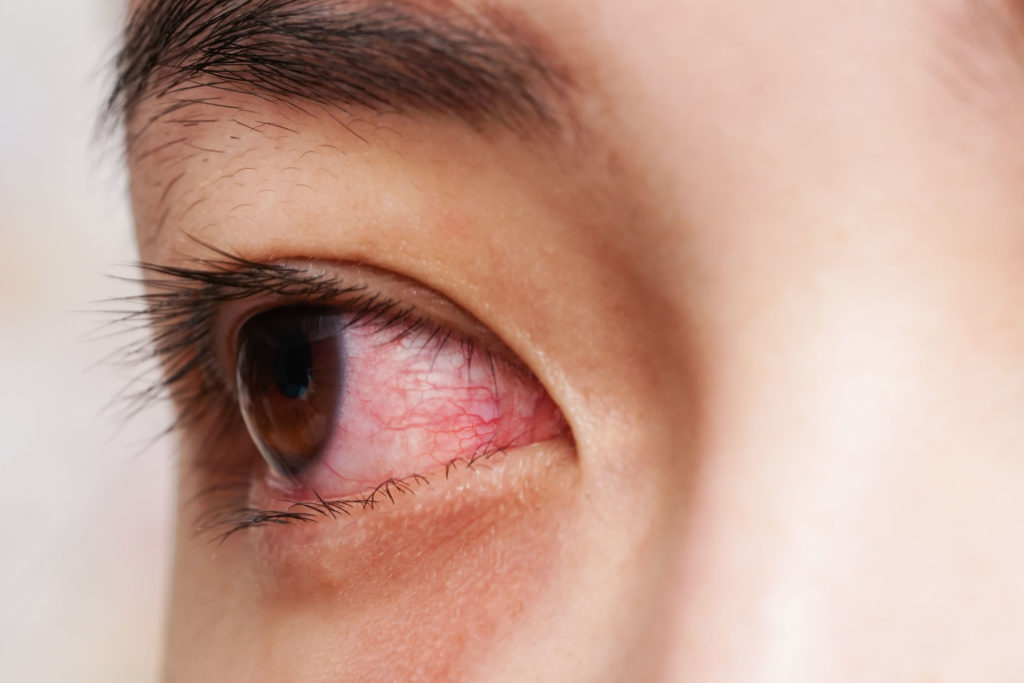 Histamine is an organic nitrogenous compound, and is synthesised in the body by the decarboxylation of the amino acid histidine. Histamine has a vital role in regulating local immune response. When allergens are present at certain key areas of the body (such as the mucous membranes), histamine is released by mast cells or white blood cells known as basophils in a process known as degranulation.
Degranulation is a mechanism whereby certain cells involved in immune response release cytotoxic compounds that destroy invading microorganisms such as allergens. When such allergens enter the body, the molecules of the free-floating antibody protein known as immunoglobulin E (IgE) bind to Fc receptors found on the surface of the mast cells and basophils.
The allergens then bind to the IgE, and the cell begins to release histamine. This triggers the inflammatory response and increases the permeability of the capillaries to allow certain white blood cells and proteins to directly attack the invading pathogens.
This is the physiology behind how the body deals with allergens. The immune response is important for maintaining health, especially against foreign bodies. However, allergies are often considered to be an overreaction of the immune system, producing histamine in the absence of an actually threatening foreign substance. Different substances in cannabis (and in other plants) trigger this sensitivity in certain individuals, resulting in symptoms otherwise referred to as hay fever.
Different cannabis allergens
The most likely allergen to cause a reaction is cannabis pollen. This is typically only produced by male plants, but can also be produced by females that express hermaphroditic male flowers (and in severe cases of hermaphroditism, there can be a significant amount floating in the air).
Cannabis and hemp pollen has been shown to cause allergic reactions in several studies, and individuals who show sensitivity to it typically also are sensitive to pollen from other plants. A study conducted in 2000 in the U.S. Midwest showed that 73% of the subjects were sensitive to cannabis pollen, and that each of those individuals was also sensitive to local plants such as ragweed, Russian thistle and cocklebur.
However, this does not explain the cases of cannabis allergy that are caused by female plants with no signs of hermaphroditism. In these instances, something else is clearly to blame, and scientists have pinpointed almost a dozen possible culprits.
Most of the possible allergens found in cannabis are proteins, and many of them have been found in other plants and have been confirmed to be allergens. Several studies have pointed to the existence in cannabis of a particular type of protein known as a lipid transfer protein (LTP), which are often implicated in allergies.
Cannabis LTP, the possible key to the allergy
Several studies into cannabis allergy have pointed to the existence of an LTP or LTPs present in the growing plant. One study published in 2007 actually reported that a unique LTP had been isolated in cannabis, which was subsequently named Can S3. In at least one study, patients have shown specific sensitivity to the substance described as Can S3 when undergoing skin prick tests and other immunological test. However, as Can S3 sensitization is not absolute, other cannabis allergens probably play a role.
In a pertinent study published in the Annals of Allergy, Asthma & Immunology in 2013, the researchers did not find any evidence of an LTP protein present in cannabis. However, they found strong evidence of other common allergens.
Other potential cannabis allergens
In the same 2013 study mentioned above (published in the Annals of Allergy, Asthma & Immunology), several other potential allergens for cannabis are isolated and identified. Common allergens found in nature were confirmed to be present in cannabis including RuBisCO, a protein that is fundamental to the photosynthesis process. It has been implicated in many other cases of plant allergies.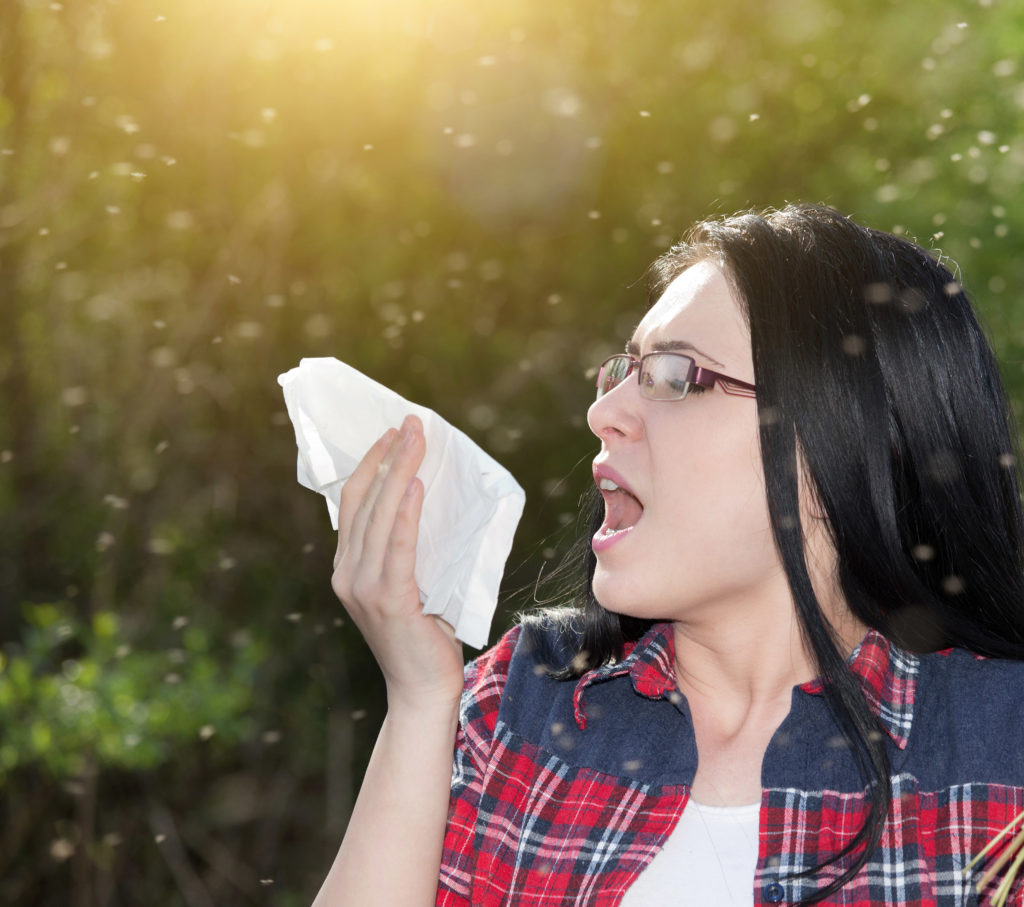 As well as RuBisCO, researchers identified a protein in cannabis known as oxygen-evolving enhancer protein 2. It was a prominent allergen in this research, although interestingly, it has never been identified or investigated as an allergen in any other allergen study, cannabis or otherwise.
Along with these two proteins, several other potential candidates were found: ATP synthase, GAPDH (a major known allergen in wheat and fungi), PGK (yeast allergy), BiP (hazelnut allergy).
Cross-sensitivity with other plants
Individuals who are found to be allergic to cannabis are also found to be allergic to tobacco and tomato. This association has been noted on several occasions, and it has also been noted in a study published in 2011 that latex also has cross-reactivity with this group of plants.
In a 2008 study conducted in Spain, it was found that cannabis sativa Leaves sensitive individuals were highly likely to be sensitive to tomato and peach.
Interestingly, being sensitive to pollen does not necessarily mean that an individual will be allergic to cannabis, and vice versa. In the 2011 study, it was found that pollen allergy was not associated with cannabis allergy itself. This implies that individuals can be allergic to only the pollen, or only the other allergens present, but that it is unlikely for someone to be allergic to both.
How to reduce symptoms of cannabis allergy
For the most part, allergic reactions can be treated with antihistamines (a group of medications that stop the production of histamines by immune cells). Hay fever symptoms as well as allergies to fruits and other plants can be reduced with an antihistamine. However, this is not true for anaphylaxis that usually requires adrenaline administration.
Therefore, there is no true cannabis-specific medication for dealing with allergy. Those who experience cross-sensitivity can simply use the same medications they would use to treat other plant allergies.
Otherwise, there are various ways in which one can minimise exposure to cannabis allergens, especially during times when risk of exposure is high. High exposure risk is generally limited to workers in close physical proximity to the plants. However, as demonstrated in the US Southwest, pollen can travel for miles, and can therefore cause high-risk periods in certain areas at certain times of the year.
Wearing long-sleeved clothing is advisable, as well as masks, gloves, goggles, and other physical barriers to contact. Use inhalers, antihistamines, and epi-pens only if allergy symptoms occur. Ensure that airflow is optimum, so that allergens do not hang around in the air too much.
Finally, the best method for ensuring that allergic reactions do not occur is to avoid exposing oneself to the source as much as possible. Many individuals that work with cannabis continue to expose themselves year after year in the hope that their sensitivity will decrease, but this is highly unlikely to be the case. If seriously affected, avoiding all physical contact and proximity to the plant is recommended, which may mean that continuing to work with cannabis is impossible for some.
Disclaimer:

This article is not a substitute for professional medical advice, diagnosis, or treatment. Always consult with your doctor or other licensed medical professional. Do not delay seeking medical advice or disregard medical advice due to something you have read on this website.