The majority of cannabis growers destroy any males the second they display signs of gender, and now that feminised seeds are available, many will never see a male in their room. But male cannabis plants have a surprising array of uses, beyond simply providing pollen to make new seeds. Here, we take a look at what male cannabis plants are good for.
1. Good male plants make good fathers
Good-quality male specimens are essential for any cannabis breeding program. In providing pollen to females, the males are also contributing half of the DNA that will make up the subsequent offspring. Thus, selecting males which display advantageous traits can produce offspring that will retain those traits.
Some traits can be distinguished relatively easily, such as growth rate, overall health and resistance to mould, hermaphroditism and pests. While characteristics that may have an effect on flavour and potency are less obvious, expert breeders can spot various subtle clues as to a male's potential as a breeding father.
Males cannabis plants also important in breeding autoflowering strains, as their growth pattern traits can be passed down while the flavour and potency profile of the female can be retained—with a little skill and perseverance.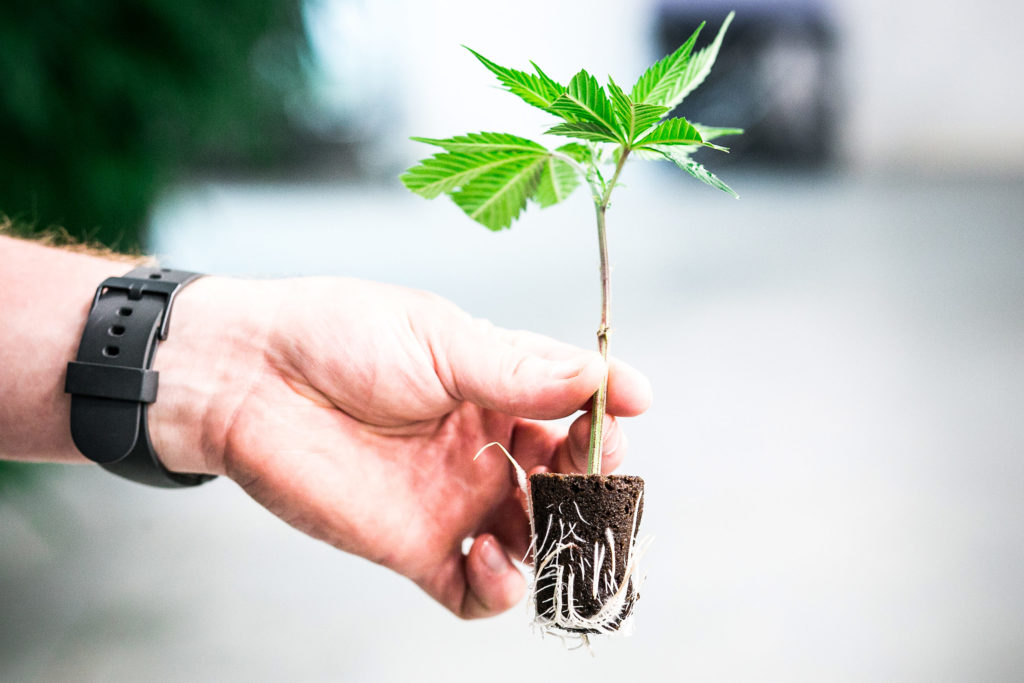 In typical controlled breeding programs to select males, identical female clones are bred with a variety of males and the results compared. Thus, males are selected on the basis of the quality of their female offspring. Their own phenotype may not correspond exactly with that of the female offspring, as male and female phenotypic expression vary greatly in cannabis, but it does appear that certain inherited traits are expressed.
It has not been empirically proven that the potency of a male cannabis plant affects that of its female progeny, although breeders have found it to be the case in the course of their experiments.
Of course, a large degree of trial and error is often involved in selective breeding programs. It is easy to understand why since until the female offspring have produced a harvest, it is impossible to discern the impact the chosen male had on resultant phenotype with any degree of precision. However, both males and females begin to produce cannabinoids and terpenes early in the flowering period, and clues to their final potency and flavour can be discernible.
Typically, growers will squeeze or pinch flowers and leaves to release their aroma; while this is a rudimentary technique, the information it yields can be valuable.
2. Male cannabis plants do serve an evolutionary purpose
Cannabis and most other species in the Cannabaceae family are dioecious, with males and females existing as separate plants (very few flowering plants possess this characteristic). The vast majority (over 80%) of flowering plants are hermaphroditic, meaning that each individual flower is comprised of both male and female sexual organs.
Monoecy (where separate male and female flowers exist on the same plant) and dioecy are both rare, each comprising around 7% of flowering plant species. The remnant is made up of variations or mixtures of the three main types, (namely gynomonoecy, andromonoecy and trimonoecy) —where plants express both hermaphroditic flowers and female or male, respectively.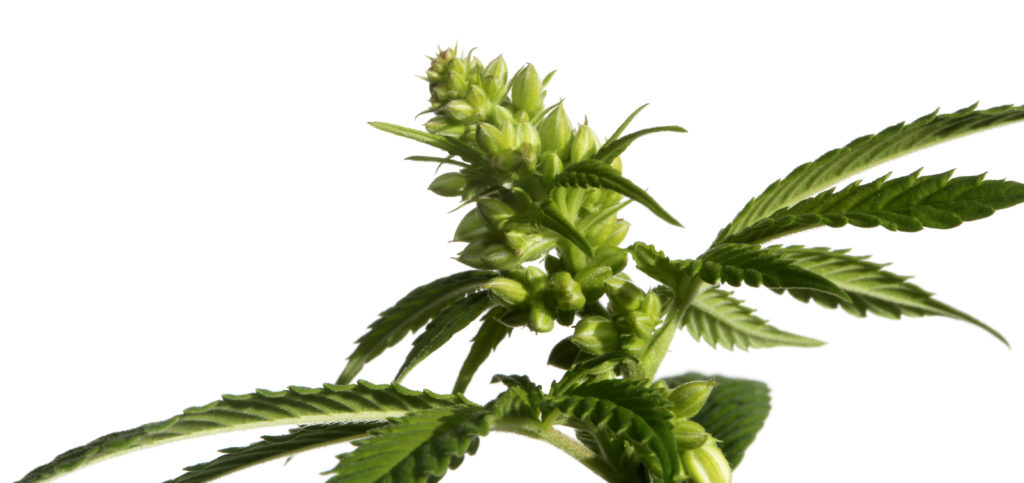 It is thought that dioecy confers a selective advantage in certain plant populations as it maximises the chances of genetic recombination. In hermaphrodite or monoecious plants, both male and female sexual organs are produced by the same plant. If it self-pollinates it will produce offspring whose DNA is identical to the parent. This lack of variation can very quickly lead to inbreeding and weakened genetic health in a population.
However, many hermaphroditic species have built-in genetic mechanisms that preclude self-pollination, a condition known as self-incompatibility.
It appears that monoecy and dioecy evolve in plants if the genetic mechanism for self-incompatibility has been lost (although they are each only present in around 7% of species, the capability has evolved independently in around 38% of all genera). There are several examples of dioecious plants expressing monoecious phenotypes in response to environmental pressures. But where those populations have again spread to more favourable locations, they gradually tend more towards dioecy.
This is an effective mechanism to ensure cross-pollination and genetic diversity in the absence of self-incompatibility.
This is borne out by cannabis, which has several monoecious strains and a great tendency to produce monoecious plants in dioecious populations, particularly in times of stress, and is entirely capable of self-pollination. In cannabis, numbers of males can drastically diminish for short periods in adverse conditions, but a strong and healthy male population is the default method to ensure long-term health and viability of the species.
3. Males are not always lacking in potency
While most people believe that male cannabis contains no cannabinoids, this is well-established to be untrue. A study from 1971 compared the cannabinoid content of males and females found in several locations including Lebanon's Bekaa Valley, Turkey and Morocco.
The study found that while cannabinoid concentration was generally higher in female plants, males nonetheless exhibited significant concentrations. Overall cannabinoid content of male flowers was generally lower than that of female flowers. In one instance, Hizzine 3.9.1969, overall cannabinoid content (CBD and Δ1-THC) in male flowers was actually higher than in female flowers from the same locale.
When looking at THC and CBD separately, the results are even more interesting. Generally, CBD was consistently higher in female plants than in males, although there are several exceptions. However, the results for THC, the main psychoactive compound in cannabis, were somewhat surprising.
The Hizzine 3.9.1969 type exhibited higher concentrations of THC in all parts of the male plant compared to the female. At 0.2% against 0.04%, the THC content of Bekaa 26.6.1969 males was five times that of females. At 1.2%, the male upper leaves of the Hizzine 3.9.1969 actually represented the single highest THC concentration of all plants in the sample. Ratios of THC to CBD were highly variable.
More recently, a study into Thai landrace varieties found that males contained 0.722% to 0.848% THC, with a THC:CBD ratio of 1.9 (usually, ratios of higher than 1 are classed as drug types and those with lower ratios are classed as hemp). A UNODC bulletin from 2005 also stated that gas chromatography analysis indicated that THC content of male plants in Morocco was comparable to that of females.
The leaves' THC content was recorded at 0.4% for both male and female plants, while flowers displayed a range of 0.4-0.7% for females and 0.2-0.5% for males. Males express resin glands most abundantly on the small upper leaves.
4. Hashish & concentrates from male cannabis plants
Depending on the origin of a specimen of hashish, it is possible that it contains resin from males that were not removed from the field. Although most growers in traditional hash-making areas such as Morocco and Lebanon remove the male plants from the field early to prevent pollination, this is not always the case. Sometimes males are end up being harvested and processed along with the females.
There are anecdotal reports of growers and breeders using their male flowers, leaves and stems to make hashish and concentrates, with varying degrees of success. As overall resin content is likely to be fairly low, it is usually preferable to use large numbers of plants, or to use methods which extract the maximum from the plant. A few of these methods worth mentioning are QWISO and butane extraction.
It is also possible to use male cannabis plants to make cannabutter and various other oils and infusions. Although there is little definite evidence on the psychoactive effects of male plants compared to that of females, anecdotal reports indicate that the effect is more 'high' than 'stoned', and can be enjoyably cerebral.
5. Male cannabis plants can also be used to produce juice
Another potential use for male cannabis plants is in making raw juice. The evidence for juicing is sparse. But indications are that cannabinoids in their acid form may have some pharmacological benefits, similar to their familiar non-acid form but without the potential disadvantage of psychoactivity. As males contain the same cannabinoid acids as females, although in differing concentrations and ratios, they may also be juiced to derive their benefit.
Male cannabis plants should be juiced in much the same manner as females. All parts of the plant can be used, except for the toughest stalks. It is generally advisable to also omit the largest and most fibrous fan leaves, as their high chlorophyll content can impart an unpleasant, bitter taste to the juice.
6. Fibre from male hemp plants
A Hungarian study from 1996 investigated the respective properties of male and female hemp, and found that male hemp fibres differed from female in several important aspects. They differed so much that traditional peasant farmers were reported to go to great lengths to separate the males from the females in the fields, as well as conducting all stages of the retting, decorticating, spinning and weaving processes separately.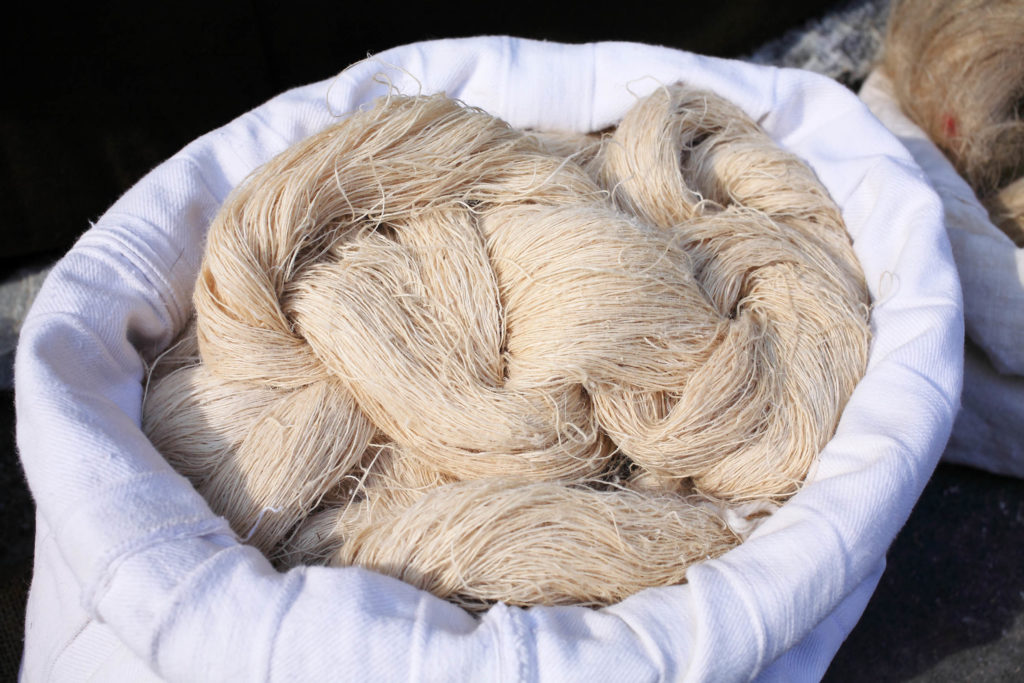 Chinese texts from the 16th century BCE also apparently support the belief that "the fibre of the male hemp plant is the best".
According to traditional wisdom, male hemp fibres are considerably finer and softer than female fibres. As a result, they were reserved to make finer grades of cloth, while the females were used to make rougher textiles such as canvas and sackcloth. These fine textiles made from male hemp fibres were then used to make a variety of household items such as tablecloths, towels and bed linens.
The Hungarian study found that female fibre was stronger than male fibre, but that male fibre exhibited higher torsional resistance and flexibility. The overall fineness of a fibre is influenced by its torsional resistance and flexibility, and thus male fibre was concluded to be significantly finer than female. Male plants were also noted to contain a greater percentage of fibre, at 31.5% to 29.6%.
7. Male cannabis can make good companions
Cannabis has been used as a pesticide and repellent in a variety of ways throughout history. Its dried flowers and leaves have been used to make pesticide and repellent extracts, and pure cannabinoids have been demonstrated to exert antibacterial and antimicrobial effects. As well as this, cannabis can be used as a companion plant.
Various studies have been performed over the years that attest to the ability of cannabis to ward off unwanted pests. It has been grown alongside cotton to ward off cotton worms, surrounding vegetable fields to ward off cabbage caterpillar, interplanted with potatoes to protect against potato beetle and potato blight fungus, alongside wheat to repel root maggot and as a general repellent against European chafer larvae.
Cannabis also suppresses plant growth of unwelcome species in the surrounding area, such as noxious chickweed, as well as repelling harmful nematodes such as the potato cyst nematode, the root knot nematode and the soybean cyst nematode.
It is thought that it is the terpenes produced by cannabis that are largely responsible for repelling insects and pests, particularly limonene and pinene. Both male and female cannabis plants produce terpenes, and some growers will interplant their males among their vegetables rather than consigning them to the compost heap.
Some growers, who are fortunate enough to live in a country where outdoor cultivation is a possibility, actually maintain males and females in the same garden. Though they do keep them far enough away that male pollen will not affect the females too seriously. If one or two males are situated a few metres away from females, preferably in a sheltered spot so that the wind does not have too much effect, the result is more likely to be a light scattering of seeds in occasional flowers rather than a fully seeded crop.
This way, growers can produce smokeable female flowers while also guaranteeing a supply of fresh, healthy seeds for next season's crop.
Disclaimer:

Laws and regulations regarding cannabis cultivation differ from country to country. Sensi Seeds therefore strongly advises you to check your local laws and regulations. Do not act in conflict with the law.