Prohibitive drug policy has a lot of negative consequences, including contamination. Luckily, as cannabis legalization continues, it's becoming less likely to encounter contaminated cannabis. Occasionally contaminated cannabis or 'grit weed' does still crop up, and it's best to know what's in your buds and how to be sure.
The most common cannabis contaminants are industrial ones, which are virtually impossible to detect without a third-party laboratory analysis. However, these contaminants are a side-effect of the legalization of cannabis (growing in large scale operations). The illegal drug market on the other hand occasionally produces 'laced' cannabis, which is contaminated with substances used to make the bud look or feel stronger but may have negative impacts on health.
The only real way to avoid contaminated cannabis is knowing what kinds of contaminants are used and how to identify them visually and with tactile inspection.
Different kinds of cannabis contaminants
There are different ways to detect a contaminant depending on which one is used. The most common contaminants are Brix, sand, sugar and hairspray. They are all used to make a lower-quality batch of cannabis look better than it really is by making it heavier or "stickier" to the touch.
Aside from this, there are also industrial contaminants such as pesticides and heavy metals. It is very difficult for the regular consumer to identify these contaminants, which is why many companies provide third-party analyses on their products. Most contaminants, whether industrial or otherwise, generally decrease the quality of the overall cannabis experience and might even pose health risks to those who consume them.
1. Sand as a cannabis contaminant
When growing outdoors, attachments of sand and soil cannot always be avoided, especially not as the plant gets stickier while flowering. Sometimes, small materials such as sand can remain in the transportation medium such as a plastic bag. Nevertheless, cannabis is often intentionally contaminated with sand or quartz sand. This may make the bud appear more trichome-rich and may also make the bud heavier.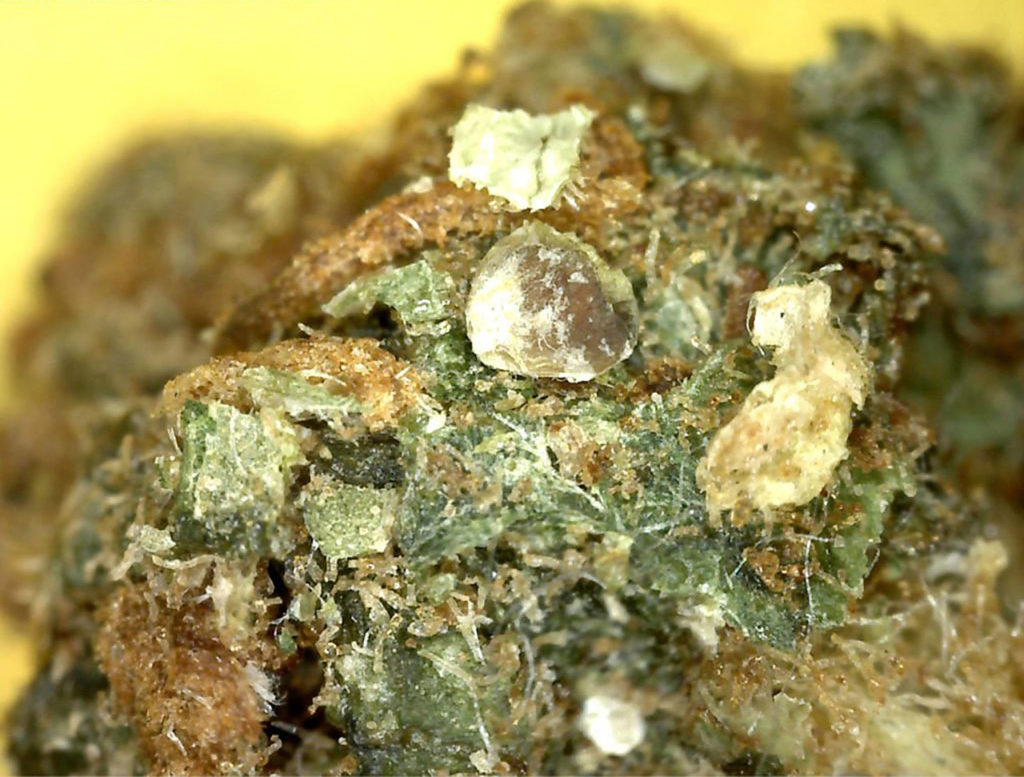 Inhalation of quartz (cristaline silica dust) or sand poses a threat of silicosis, a form of pneumoconiosis, which is a serious lung disease causing inflammation in the upper lobes of the lungs. However, onset of silicosis is usually only caused after large amounts are inhaled and over an extended period of time.
2. Sugar as a cannabis contaminant
Cannabis that tastes sweeter than usual could be infused with sugar. Standard glucose tests available in pharmacies using small paper strips can detect this instantly. Sugar is a commonly used as an "extender", giving the plant more dry weight so that dealers can profit.
The sugar is dissolved in boiling water which, when it has cooled, is sprayed on the plants. The water evaporates leaving a sticky layer. If white sugar has been used, the buds may have a very pale appearance; brown sugar is also used as it appears closer in colour to mature trichomes.
Sugar is sometimes used to enhance tobacco smoking and is frequently added to tobacco during the manufacturing process. Thus, the effect of sugar inhalation has been examined in the context of tobacco smoking. Smoking sugars increases the levels if formaldehyde, acetaldehyde, acetone, acrolein and 2-furfural in tobacco smoke and significantly contribute to the adverse effects of smoking tobacco.
Although this has not been confirmed in the context of cannabis, it can be hypothesized that inhalation of sugar contaminants may cause many unwanted health effects for consumers.
3. Brix fertilizers used to "extend" cannabis
The true meaning of "Brix" is a unit of measurement to measure the weight of certain sugars and carbohydrates in plants. All plants require a certain degree of sugar and carbohydrates in order to grow and survive, and this includes cannabis. Certain chemical fertilizers are manufactured for the purpose of increasing Brix and therefore encouraging a growth spurt.
Brix fertilizers are sometimes used as a means of increasing the weight of cannabis. The buds are supposedly dipped in this fertilizer after harvest and then hung up to dry. Doing so makes the buds heavier and therefore the dealer has a greater profit margin.
It is very difficult to identify Brix as a contaminant as it is virtually invisible. However, buds may burn harshly and users may notice a chemical-like taste from buds that are laced with Brix fertilizers.
4. Hairspray as a cannabis contaminant
Hairspray is often used as a means of preserving old, dried out cannabis. This was perfectly exemplified prior to the renovation of the Sensi Seed Bank, where customers could see long colas that were perfectly preserved with hairspray.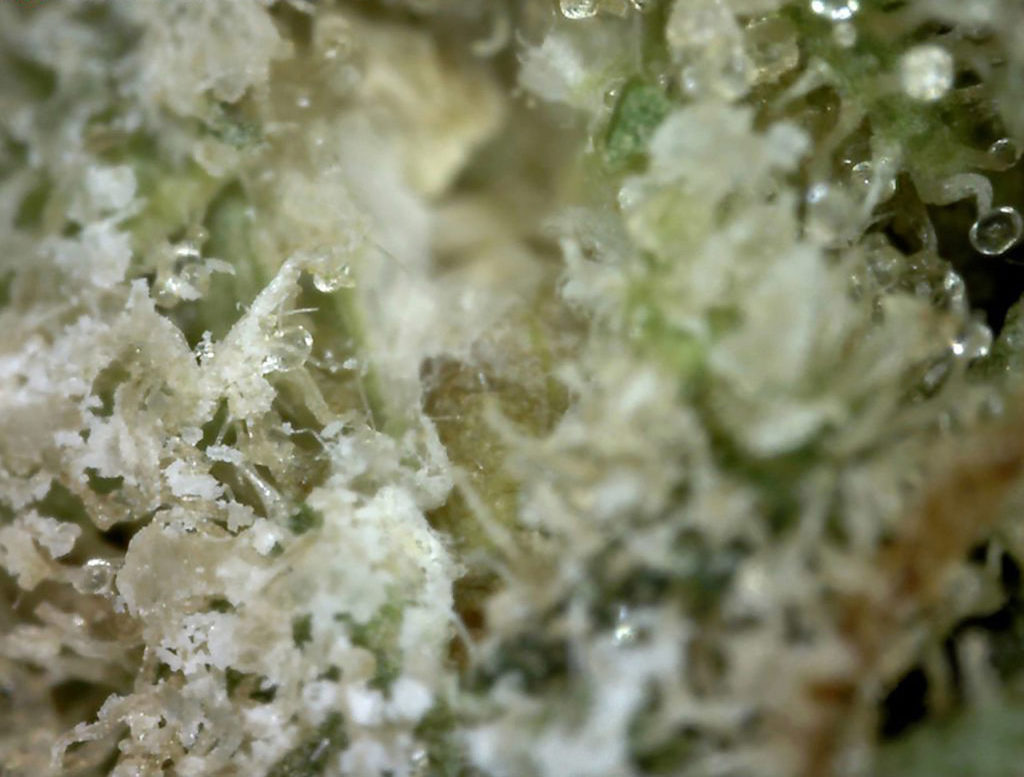 Hairspray is also sometimes used to increase the aesthetic value of cannabis. Buds appear shinier, stickier and overall, stronger.
Naturally, hairspray is not recommended for inhalation. It is flammable for starters, and secondly, contains harsh chemicals that should not be consumed orally let alone inhaled. It is often easier to detect hairspray compared to other contaminants as it has a strong, chemically perfumed fragrance. Hair-sprayed buds also are prone to becoming hard and compact.
5. Industrial contaminants: fertilizers and pesticide
Fertilizers, pesticides and fungicides are often used in the growing process to protect against certain pests and stem rot. Although they are used for better growth, they often negatively affect the user of the final product and the natural environment. It is virtually impossible without third-party laboratory testing to identify the presence of fertilizers and pesticides. They are invisible to the naked eye and sometimes don't even affect the taste of cannabis.
Pyrethrins (insecticides for plant protection and crop spraying) potentially lead to neurotoxicity (damage of the nervous system). They may also provoke serious asthma-related symptoms, although the connection between pyrethrins and asthma is yet to be confirmed.
Industrial contaminants are somewhat of a by-product of the legal cannabis industry. In order to maximize plant yield, deter pests and increase profitability, chemical fertilizers and pesticides are used. These contaminants are not characteristic of the black market for cannabis, although some clandestine growers will use such contaminants.
Industrial contaminants can be removed to a certain degree using a technique called flushing. This means that for the last stage of plant life, plants are not given fertilizers or nutrients but simply water, allowing the plant to flush itself from any nutrients or chemicals remaining in the flowers. However, this does not eliminate all contaminants and isn't the most efficient method.
6. Lead splinters and lead dust
Lead, as a heavy metal, is intensely hazardous to health and therefore perhaps the most dangerous substance added to cannabis. Extremely difficult to spot with the naked eye because of their dark colour, lead splinters can only be identified under a microscope (a small pocket microscope for example).
Lead poisoning can lead to damage of the central and peripheral nervous system. It may affect the brain, liver, kidneys and bones and is particularly dangerous to an unborn foetus. Apart from a few exceptions, lead compounds are rated as hazardous to reproduction.
In 2007, the German city Leipzig reported 597 cases of users that smoked lead contaminated cannabis. Around 163 consumers had lead intoxication that necessitated treatment and 73 users had lead concentrations that required monitoring. Out of 160, 113 consumers were in need of medical treatment, and 35 were hospitalized. Lead is stored in the teeth and bones and can therefore take a long time to successfully flush it out of the body (sometimes up to 37 years). This video shows George Wurth from DHV (Deutscher Hanf Verband = German Hemp Alliance) giving a statement about cannabis lead contamination (available in German only).
7. Fungus as a cannabis contaminant
Mouldy and musty smelling, fungus infested cannabis is relatively easy to identify. Based on the degree of moulding, the cannabis can show white, furry dots. Mouldy cannabis usually occurs during the grow cycle or as a result of poorly stored and cured cannabis buds.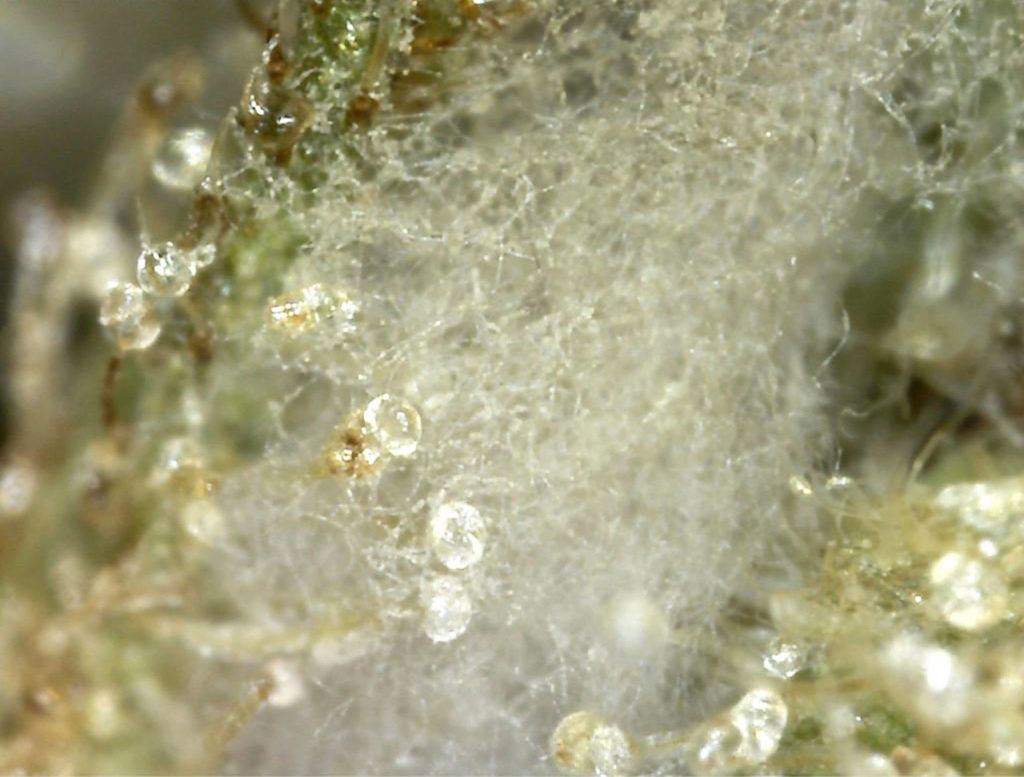 Mould spores can be threatening, especially for users that already suffer from allergies or asthma, or have a weak immune system. Also people with no previous health issues can experience symptoms like breathing problems, mucous membrane irritation and headaches.
8. Glass and glass splinters in cannabis
Pieces of glass in cannabis, mostly of industrial origin, can generally not be found with the naked eye, but they can be seen with a (pocket) microscope.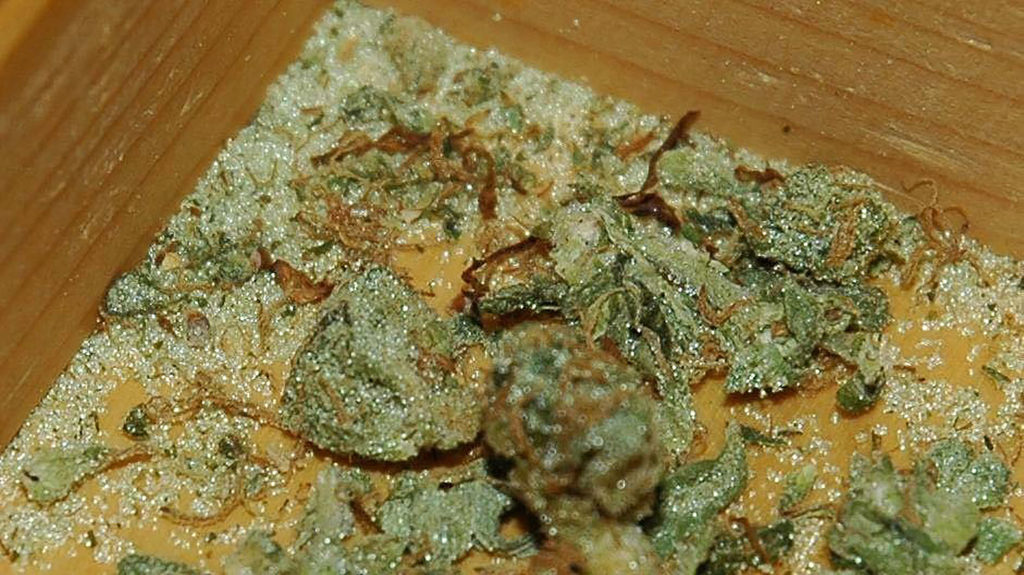 High temperatures (through burning) cause the glass particles to burst, whereby sharp-edged fragments can develop. Once in the respiratory system, they can cause damage from minute cuts. Scarring on the wounded tissue can lead to the lung disease silicosis, but only when cannabis contaminated with glass is being consumed continuously.
9. Talcum powder to change the appearance of cannabis
Talc is a matt white mineral that feels greasy, and is therefore often called soapstone. Cannabis coated with talcum powder is supposed to look more resinous and heavy, but it turns much lighter in colour also. Furthermore, it loses the typical cannabis smell.
Talc dust affects the respiratory system and bronchial tubes in a negative way. Excessive inhalation of talcum powder may cause respiratory illnesses such as pulmonary talcosis.
How do I know if my cannabis is contaminated?
Now that you know some of the common contaminants that can be found in cannabis, you are better equipped to pinpoint cannabis that has been laced. You have five senses, and if you can use all of them to inspect a piece of cannabis, you should.
1. Visual inspection
Before consuming a new batch of cannabis, be sure to closely inspect the bud, using a magnifying glass if necessary. Look out for whitish crystalline substances (that are NOT trichomes—the difference can be negligible with some higher-quality contaminants, so be careful!), as well as stems that appear to be caked in a foreign substance. Stems can often be a clearer indication of contaminants, as the fine particles can often be hidden among the irregular surface of the buds themselves.
Visual inspection should help you identify sugar or glass granules on the bud, as well as any mould or fungus that might be hiding in the bud or on the stems.
2. Tactile inspection
Rub a piece of bud or stalk between your fingers to test for the presence of spray. You may feel a chalky, dry texture, as well as individual grains of grit, glass or sugar. As well as using your fingers, you can also touch the tip of your tongue to the bud and then rub your tongue along your lips or the roof of your mouth to test for grainy substances. Be careful not to swallow any contaminants, as they could be harmful.
3. Taste and smell
The taste and smell of cannabis can tell a lot about which contaminants, if any, are present in the bud. However, you don't always want to wait until smoking it to detect contaminants. You can smell the bud for anything that smells perfume-like in the way hairspray would smell perfume-like. You can also put your tongue on the bud. If it tastes sweeter than usual, it may be sugar coated.
4. Other methods of detection
If you have already begun smoking a joint, you may assess the quality of the smoke itself. If the smoke is particularly harsh and chemical, it may indicate the presence of contaminants. As well as sprayed contaminants, it may also indicate mould or excessive, unflushed nutrients.
Either way, if your bud tastes particularly bad or harsh, it may very well contain chemicals harmful to your health. Well-flushed, professionally grown cannabis should have a clean, juicy taste, so always pay attention to the flavour.
Another very important means of detection is checking your ash. Some common contaminants, particularly building grit, cause the ash of cannabis joints to become hard and compacted, so that when the joint is tapped the ash remains in place. Such ash may also be very dark in colour, although this is not always the case.
General tips for detecting laced cannabis
Enlightenment and education – both Sensi Seeds goals – are crucial for protecting the consumer in all matters of cannabis. Listed below are a few general tips that can help recognize contaminated or laced cannabis and, hopefully, prevent the consumption of contaminated marijuana. Exercise caution when:
the buds are suspiciously heavy
the cannabis burns through like a sparkler or Shisha coal after lighting it up
the burning tip of the joint gives off sparks
a chemical, plastic-like smell develops while burning
ash residues are hard and black and turn oily and greasy after light pressure
the buds are particularly white and look coated in a crystalline or shiny substance
buds are particularly crumbly and fluffy, and fall apart easily
the buds do not dry out when kept exposed to air
residue can be found in the packaging: granulate material, crystals, and sandy, powdery substances
Anytime cannabis is purchased, it should be examined for contaminants. Knowing that contaminated cannabis still circulates the market and that there are ways to identify it helps consumers to err on the side of caution when purchasing cannabis.
Help and information
Because of the illegal drugs trade, people injured by contaminated cannabis cannot just return or complain about their cannabis, or hold the seller accountable. That's why it is crucial for users to be informed.
For this reason the DHV maintains an extender detector – a database of known contaminants – and an online platform on which victims can report their experiences.
The Cannabis College Amsterdam, a non-profit information centre based in the heart of Amsterdam, gives advice about everything related to the subject of cannabis. They also educate visitors about cannabis extenders and their dangers to health.
Several drug checking initiatives in Germany, Austria, Switzerland and The Netherlands offer the option of having drugs checked for certain substances such as cocaine, MDMA and ketamine. However, other substances such as magic mushrooms, cannabis and smart-products are not tested.
Approach to solving the problem of contamination
The legalization of cannabis is one approach to solving the problem of contamination. Theoretically, in a properly regulated system, plants could be cultivated under supervision and regulation. Consumers could obtain information and receive training. Production, distribution and consumption would be aligned with legislation.
The lawgiver would have more control over the quality of cannabis through decriminalisation and regulation of the industry as a whole.
Ultimately, the general legal cultivation of the plant for personal use, whether for medicinal or recreational reasons, would be a meaningful action in order to prevent the dangers of extenders in cannabis. All in all, these are qualities of a properly designed legal cannabis system.
Disclaimer:

Laws and regulations regarding cannabis use differ from country to country. Sensi Seeds therefore strongly advises you to check your local laws and regulations. Do not act in conflict with the law.