The topic of cannabis and asthma is somewhat infamous among patients as well as within the medical community. Many patients are aware of how cannabis can positively impact their lives and many wonder if they can smoke cannabis despite their asthmatic symptoms. You'll find the answers here, from the benefits cannabis for asthmatics and the do's and don'ts of cannabis use.
Asthma is a chronic respiratory disease that currently affects up to 339 million people worldwide, causes approximately 1000 deaths per year. Cannabis has been used as a means of treating the symptoms of asthma for millennia, in various medicinal traditions including those of ancient India and China. What do recent scientific studies say?
1. Cannabis has analgesic (pain-relieving) properties
Although pain is not necessarily considered to be a primary symptom of an acute episode of asthma, studies have shown that up to 76% of patients experience chest pain during an attack. Generally, asthma-related pain is characterized by a deep ache or sharp stabbing sensation that develops gradually over the first few hours of the attack, and slowly dissipates as the attack recedes.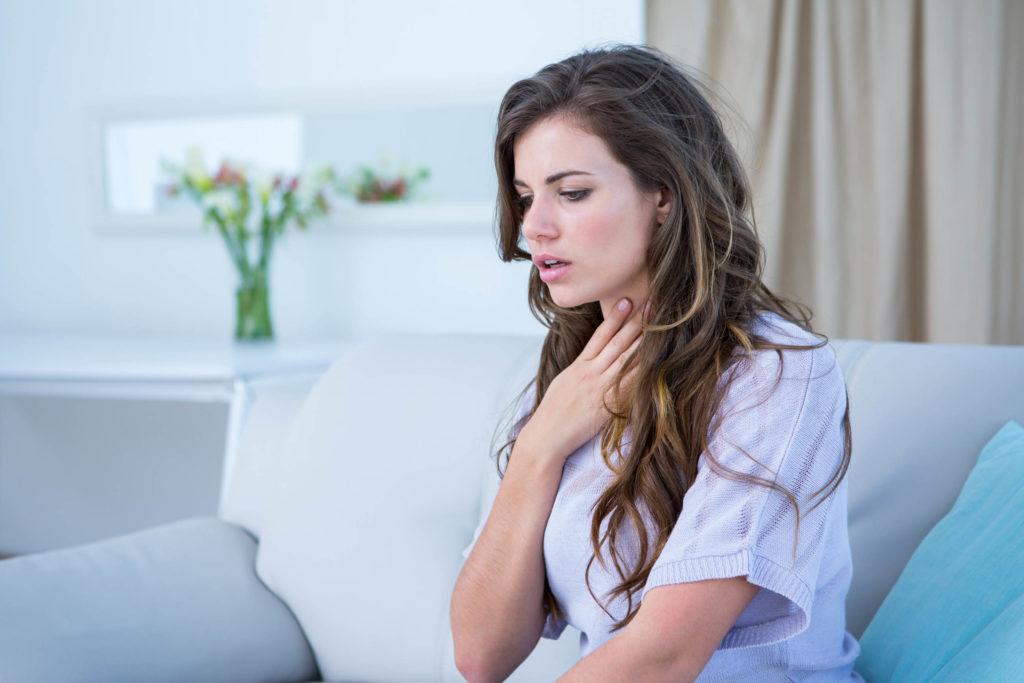 While there are no studies that specifically investigate the ability of cannabis to treat asthma-related pain, several studies into the general effect of cannabis on asthma have noted subjective improvements in pain. The known bronchodilatory and analgesic effects of certain cannabinoids suggest that they could be useful in managing asthma-related pain. Cannabinoids can do this both by reducing pressure and constriction in the lungs, and by acting directly at the nociceptors (pain-sensing nerve cells) themselves.
2. Cannabis is bronchodilatory
The ability of cannabis to act as a bronchodilator is perhaps its most significant property in terms of the treatment of asthma. During an asthma attack, the bronchioles (the branching network of tubes that carry oxygen to the alveoli) become constricted, causing the rate of oxygen flow to drastically reduce.
Generally, the extent of bronchoconstriction during an attack is determined by peak expiratory flow measurements, which are taken from patients and compared to readings taken in normal circumstances. The difference between the normal rate of airflow and the limited airflow during an attack can thus be determined.
A preclinical study showed that administration of cannabis in various forms can significantly improve bronchoconstriction both during an asthma attack and in normal circumstances (sufferers of severe asthma often have lower-than-average airflow compared to non-asthmatics even when an attack is not occurring).
In the early 1970s, a spate of studies were published investigating the bronchodilatory effects of cannabis for asthmatics. A study in 1973observed that cannabis smoke—unlike that of tobacco—caused a bronchodilatory effect; a 1974 study found that while the bronchodilatory effect of cannabis was weaker than that of isoproterenol, its effects lasted longer, and a 1976 study found that cannabis was as equally effective as salbutamol, although the latter achieved maximal bronchodilation somewhat more rapidly.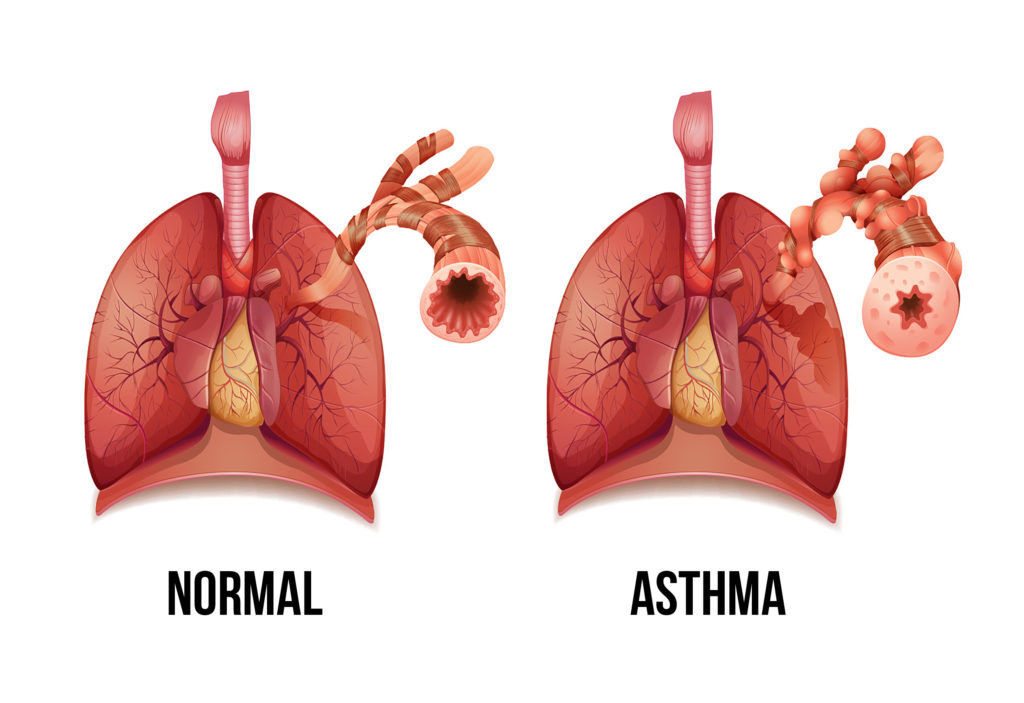 As with much of cannabinoid science, there are complicating factors. For example, a 2000 study found that the endogenous cannabinoid anandamide could actually exert a biphasic (two-stage) effect on lung tissue: it strongly inhibits bronchial constriction in the presence of an allergen or irritant (in this case capsaicin) but causes bronchial constriction in normal circumstances such as when no irritant is present. Indeed, some patients administered with THC have reported experiencing bronchial constriction. Thus, further research is needed to determine exactly how cannabinoid treatments should be used across the board.
3. Cannabis is an antispasmodic
It is thought that cannabis can exert a bronchodilatory effect mostly through its ability to reduce inflammation. However, it is also thought that cannabis' ability to reduce muscular spasms (involuntary contractions) plays a significant role in the management of bronchoconstriction during an asthma attack. The bronchi and bronchioles are composed of smooth muscle, and during an attack, they contract and narrow as well as becoming inflamed.
In a study published in 2014, researchers took bronchial lung tissue from 88 human patients and subjected it to electrical field stimulation to cause the muscle tissue to contract. They then administered THC, the endogenous cannabinoid 2-AG, and various synthetic agonists of CB-receptors type I & II. They found that certain agonists of the CB1-receptor, including THC, reduced muscle contractions in a dose-dependent manner. Furthermore, it was observed that the endogenous cannabinoid 2-AG had no effect.
4. Cannabis is both an expectorant and anti-mucosal
The ability of cannabis to act as an expectorant is somewhat controversial. It has been used as such for thousands of years, and appears in the ancient pharmacopoeia of China and India, but modern research has been sparse and has thus far yielded only ambiguous results.
Countless people throughout the world report an expectorant effect after smoking or vaporizing cannabis. If it were noted only in smokers of cannabis, it could easily be dismissed as a result of the irritation caused by smoke particles. The fact that an effect is experienced even when inhaling vapour suggests that an active substance in cannabis is causing it.
However, most existing research actually points to the propensity of cannabis to cause production of mucus. For example, a study published in 2014 observed increased mucus secretions in habitual cannabis smokers, along with damage to the tissues of the airways. Thus, further research into the expectorant and decongestant effects of cannabis could be advantageous.
These were the top four benefits of cannabis for asthmatics as far as medical research is concerned. Next up are five do's and don'ts when it comes to using cannabis as asthma patient. We spoke to one asthma patient, Mark, about his experience using cannabis with his medical condition.
Meet the patient: Mark
Mark is a Dutchman and one of the cannabis experts we have the honour of counting in the Sensi Seeds team. He lives in the Netherlands, where the weather can be very humid, and where pollen and various plant matter is known to fly around, even in big cities, and especially in spring.
Mark has suffered from asthma all his life, and has been medicating with cannabis for more than two decades.
In order to give a concrete reference to our readers, here are a few details about how Mark handles his condition, and the severity of his symptoms.
Cannabis treatment: Daily vaporization of dried cannabis flowers (approx. 2 grams per day).
Physical activity: Mostly sedentary, with daily, average pace walking.
Background: From very severe (daily severe difficulties + frequent attacks + regular visits to ER + antibiotic treatments) to manageable (aforementioned treatment + difficulties once to twice per year).
Due to all these years of self-medicating, Mark has accumulated a large amount of empirical knowledge in terms of what works best when it comes to cannabis and asthma. Read his do's and don'ts below.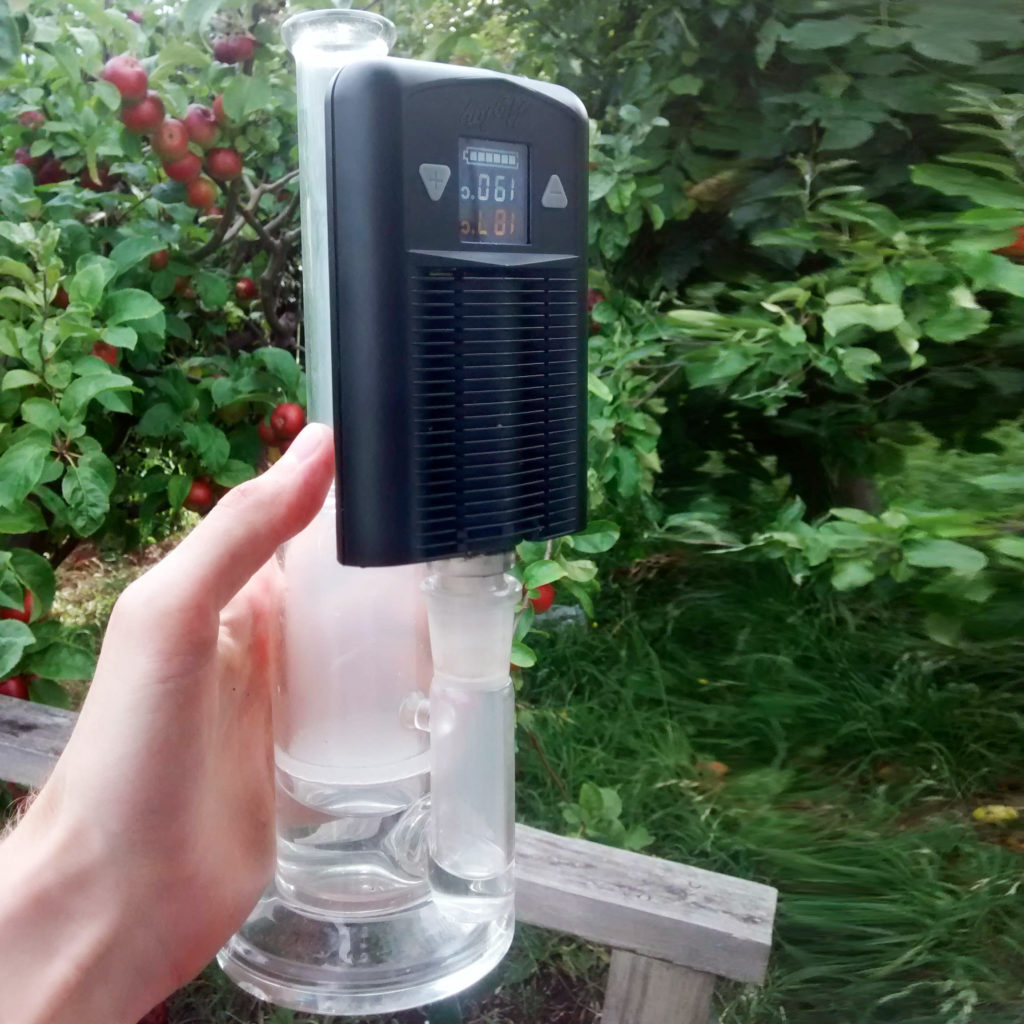 Cannabis and asthma: What to do? 5 Do's
1. Choose vaporizing over smoking
Cannabis has the potential to alleviate symptoms experienced by asthma patients regardless of the method of consumption. However, this does not mean all of these methods are equal in efficiency. It also does not mean that using any of the least asthma-friendly ones is entirely harmless. Key elements to consider are:
Optimal safety
Potential for instant relief
Controllable dosage and efficiency
Smoking cannabis is not recommended, as depending on the severity of your condition, it may escalate an existing asthma-related crisis, or even trigger one. Edibles, on the other hand, because of certain variables such as the time they may take to release their effects, can be used as a long-term treatment, but would not be reliable enough in the case of an attack. This is why for emergency treatments, vaporizing is definitely the best option for cannabis and asthma. Not only is the release of cannabinoids in the body close to optimal, the risks for the lungs are at an absolute minimum.
Of course, smoking cannabis is not harmful to the average, healthy human body. But, as an asthma sufferer, you need to watch out for anything that can irritate or negatively impact your respiratory system.
2. Select the best vaporizer possible
Needless to say, the quality of your vaporizer is of the utmost importance, even if you only use it for recreational purposes. To put it simply, a poorly manufactured or non-adapted vaporizer will not vaporize properly. For instance, combusting the substance used rather than vaporising it makes the entire experience fairly pointless.
And of course, if you are using such a vaporizer in the context of a respiratory disease, it could turn out to be a hindrance rather than a source of relief.
Buying pen-like items can be tempting for portability reasons. However, the smaller the vaporizer, the more chances key elements will underperform or simply be absent.
Based on this statement, home vaporizers have a tendency to provide satisfying performances. However, a number of portable vaporizers can also be of use. At Sensi Seeds, we are quite partial to two creations from our friends at Storz and Bickel, and many of us highly recommend them – including Mark, our patient here.
3. Learn how to vaporize cannabis
Consumers that use cannabis for recreational purposes often only have one objective in mind when they start vaporizing: to inhale some vapour. And surely enough, this sole objective leads most people to acquire, over time, a satisfactory method of vaporizing.
When vaporizing for medical reasons, it is necessary to inhale sufficient vapour without causing more irritation to the airways. For instance, a violent coughing fit can make an attack go from distressing to life-threatening in a short amount of time.
Mark's ultimate method for vaporizing: Slow and steady wins the race; take small calm 'hits' from your vaporizer, as if drinking a thick milkshake. Try to get some sort of calm vaping/breathing rhythm going. One hit from the vaporizer through the mouth, followed by three normal breaths (through the nose if possible). A three to five second vapour inhalation seems good enough, close to 10 becomes too much. Hold the vapour for a second or two and calmly exhale.
4. Optimise your vaporizing experience
Once you have found the vaporizer of your dreams, and you have mastered the vaporizing rhythm that suits you best, very little remains in your way. Yet, even the smallest things can become obstacles!
Avoid the most basic consequences vaporizing can have on your respiratory system by always having the necessary elements to counter them:
Itchy/dry throat: always have a big bottle of water nearby and take sips regularly (do not wait for your throat to itch or until you cough).
Go easy on your lungs: start vaporizing at a lower temperature such as 180°C (360°F). Work your way up if needed, but do not exceed 220°C (430°F). A flow of air that is too warm is not recommended for your lungs.
Inhalation of plant matter: ensure your vaporizer's accessories include mesh filters to prevent bits from travelling to your lungs, especially if you suffer from hay fever, a common sister disease of asthma.
Regarding hay fever: do not rub your eyes after you have handled cannabis flowers
Keep your vaping equipment as clean as possible using alcohol and lint-free cloths
5. Customize your vaporizer with a water pipe
Many vaporizers, especially home vaporizers, have the necessary connections allowing them to be hooked to an additional device. Connect a water pipe to your vaporizer, and vaporize through the warm water. This will help you inhale when your lungs are already in a bad shape.
However, ensure that the water does not get too hot as it could have the opposite effect. If you feel like your lungs are filled with mucus, opt for a dry vaporizing session instead. Warm, dry air is good for the lungs.
Cannabis and asthma: What not to do? 5 don'ts
1. Don't smoke cannabis if you have asthma, let alone tobacco
Smoking tobacco can be extremely harmful to one's lungs, mostly on a long-term basis. To asthma sufferers, its negative effects can have quite immediate impact.
Depending on the severity of your asthma, it can also be damaging to smoke cannabis. Vaporizing can provide the desired effects of cannabis, with virtually no danger.
2. Don't use cannabis "dabs" (for medicating)
Dabs are becoming increasingly popular. Medicinal cannabis dabs are also gaining ground, but in the context of asthma, they simply don't fit the bill. Dabbing does not equate vaporizing, as it can potentially expose your lungs to an overwhelming experience. Besides, the potency of most dabs can be a hazard, especially if you are already in a state of major stress and/or anxiety.
3. Don't give up on your pharmaceutical treatment
It may be tempting to give up on pharmaceutical drugs altogether, especially when cannabis-induced results exceed expectations. However, existing anecdotal evidence, including this article, is not enough to guarantee safety in all possible asthma-related situations.
Asthma is by nature unpredictable, as it depends on literally hundreds of factors ranging from environmental ones to dietary habits, and even psychological states. Ironically enough, you could even experience a small panic attack following the realisation that your inhaler is not in your pocket, which could in turn trigger an asthma-related issue. Do not underestimate the multiple effects your prescription drugs can have on you, including the placebo effect.
4. Choose the first time you experiment with cannabis wisely
Waiting until your asthma symptoms manifest to try to medicate for the very first time is not recommended.
Instead, make sure to experiment in a peaceful, safe context, and while you are not experiencing any major respiratory issue. You need to acquire sufficient knowledge about your body, and how it responds to various degrees of cannabis intake. This means that you should be ready to counter any issue that could arise due to your lack of experience: possible coughing, inappropriate dosage, etc.
Once you have a clear understanding of how vaporizing can affect your breathing, throat and mouth, you can ease into using it to palliate to symptoms such as short breath, wheezing, tightness in the chest area, for recovering after a severe attack, and even to actually counter a full-blown asthma attack.
5. Don't prioritise your desire to medicate with cannabis over your life
We understand the thrill of finding a solution to a medical problem that is all-natural, non-invasive, and possibly, overall more efficient. However, in the same way you should never solely rely on an inhaler to keep you healthy and safe, cannabis should not become your lifesaver. Keep your inhalers handy. And if you are experiencing a critical asthma-related issue, don't try to talk yourself into good health. Try to gauge the situation objectively, and if necessary, call a doctor.
Are you an asthma patient yourself? Mark, the interviewee, and Jay, the interviewer, both are. Tell us about your personal experiences with cannabis and asthma in the comments section below!
Disclaimer:

This article is not a substitute for professional medical advice, diagnosis, or treatment. Always consult with your doctor or other licensed medical professional. Do not delay seeking medical advice or disregard medical advice due to something you have read on this website.