Social Anxiety As with so many psychological and neurological conditions, it can be difficult to ascertain the precise relationship at work; does the sufferer experience the symptoms due to their cannabis use, or do they use cannabis because of their condition?
Cannabis has long been known to be strongly linked to a range of related conditions including agoraphobia, social anxiety disorder and avoidant personality disorder. Sufferers of these conditions are demonstrated to be more likely than the general population to develop dependence on cannabis, as well as tobacco and alcohol. As with so many psychological and neurological conditions, it can be difficult to ascertain the precise relationship at work; does the sufferer experience the symptoms due to their cannabis use, or do they use cannabis because of their condition?
Similarities between SAD, AvPD and related disorders
Social anxiety disorder (SAD or SAnD; less commonly referred to as social phobia) is a spectrum disorder, characterized by fear of social situations that can cause impairment in everyday life. At its most severe, this disorder renders sufferers unable to work or perform everyday functions. More commonly, sufferers are able to perform to some degree in social situations, but are far more likely than the general population to heavily "self-medicate" with drugs or alcohol to reduce inhibitions and social stress.
Avoidant personality disorder (AvPD) is considered by some within the medical community to be simply another term for SAD at its most extreme, as the two disorders are so closely related. However, others consider AvPD to be characterized by a fear of close interpersonal relationships, while SAD is more closely related to a fear of performing in social situations. Few sufferers of SAD match the DSM-III-R criteria for AvPD, whereas many sufferers of AvPD display symptoms of SAD. Furthermore, the fact that a small but significant number of patients are diagnosed with AvPD but not SAD strengthens the argument that the two disorders are separate, but closely related.
Agoraphobia is another similar condition, in which sufferers feel little to no control in unfamiliar environments; common triggers include crowds, travelling, and wide-open spaces. For many, agoraphobia is not a social phobia; however, others find their symptoms are compounded by an extreme fear of social embarrassment. Individuals in this latter group are often known as social agoraphobics. Cannabis use has been linked with agoraphobia and anxiety disorder, with many patients reporting an increase in agoraphobic tendencies after commencing cannabis use.
Panic disorder (PD) may also be closely related to SAD and AvPD, and agoraphobics may or may not exhibit PD symptoms too. Although there is high comorbidity with anxiety disorders and agoraphobia, the relationship with cannabis use may be somewhat different. In one study, many sufferers of PD reported initial onset of symptoms within 48 hours of cannabis use, and up to 40% of regular cannabis users reported at least one panic attack after commencing use of the drug.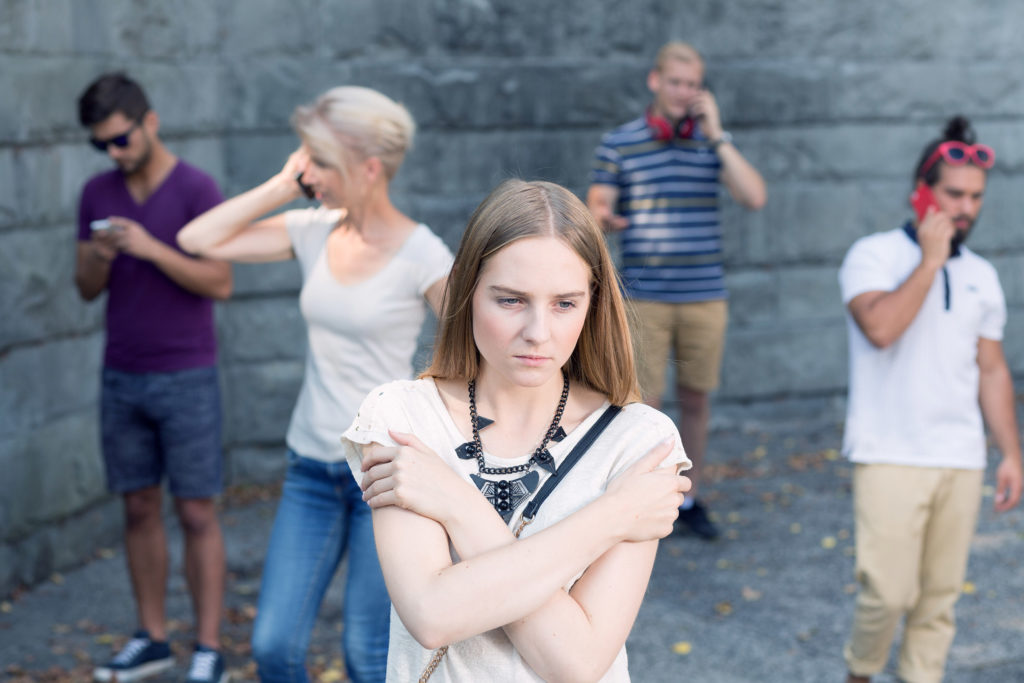 The relationship between cannabis dependence and anxiety disorders
A study from 2008 found that in a sample group of SAD sufferers, individuals were 6.5 times more likely to be dependent on cannabis than the general population, as well as being at 4.5 times greater risk of alcoholism. Another study, in France, determined that 29% of a sample group of 90 highly-dependent cannabis users suffered from SAD, 16% from panic disorder with or without agoraphobia, and 9% from agoraphobia without panic disorder.
Overall, it is clear that long-term cannabis users display a far higher rate of SAD than the general population. Social anxiety disorder is thought to be the third most common psychological disorder after depression and substance abuse, with a current prevalence rate of between 1-4% of the U.S. population. However, other sources put the current prevalence at as high as 7.1-7.9%, with a lifetime prevalence rate of 13%. The World Health Organization (WHO) estimates an overall world lifetime prevalence rate of 7%.
Regional variation in rates of anxiety disorders
While it is difficult to ascertain precise figures due to varying diagnostic procedures, it is clear that there is much regional variation in prevalence: up to 52.7% in Udmurtia (a federal subject of Russia), and as low as 0.4% in Taiwan. The remarkably low figure in many east Asian countries may be due to the difficulty of establishing cross-cultural criteria for the disorder: other tests have shown Latin American countries to have the lowest prevalence rates for SAD, and east Asian countries to have the highest.
Avoidant personality disorder is less common, with an estimated lifetime prevalence rate of 0.5-1.3% of the U.S. population; agoraphobia affects approximately 1.7%. There is less regional variation with these conditions than with SAD, although some still exists: Norway has particularly high rates of AvPD (around 5%), and agoraphobia varies from as low as 0% in metropolitan China to 4.8% in South Africa.
Sufferers seek to "self-medicate" to control their symptoms
The fact that this regional variation does not correspond well to the variation in cannabis consumption rates implies that these conditions do not arise as a result of cannabis use; rather that sufferers, wherever they are located, are more likely to seek out cannabis (or whatever psychoactive substance is available locally) to relieve their symptoms.
This argument is greatly strengthened by the recent findings that cannabidiol (CBD) causes a reduction in the social fear and anxiety felt by sufferers of SAD; however, this does not preclude the possibility that THC, known to be highly psychoactive, plays some role in the emergence of the symptoms themselves.
When an individual suffers from an acute episode of anxiety, the brain undergoes an increase in blood flow through the periaqueductal gray matter of the brain, responsible for defensive behavior such as the "fight or flight" response, while simultaneously experiencing a reduction in the prefrontal cortex, responsible for executive function such as rational decision-making.
How CBD may reduce symptoms of panic and anxiety
In another study, when individuals suffering from SAD were medicated with CBD they were found to undergo increased blood flow in the right posterior cingulate cortex, which may play an important role in interpreting the reactions of others. Simultaneously, sufferers experienced decreased blood flow to the hippocampus and parahippocampal gyrus, key to the formation and recall of memories, as well as to the inferior temporal gyrus, which is thought to be involved with perception of faces.
Separate research has also shown that CBD acts as an anxiolytic, or anxiety-reducing drug, which modulates defensive behaviors evoked by threatening stimuli when injected directly into the periaqueductal gray matter (PAG) in rats. The effect of CBD in the PAG can also be said to be anti-aversive, in that it reduces aversion to stressful situations, and panicolytic, or panic-reducing.
The periaqueductal gray matter contains CB1 receptors; however, as CBD is not thought to act on the CB1 receptor, its effect is believed to be indirect. CBD is thought to inhibit anandamide uptake in the PAG; anandamide is a CB1 receptor agonist, and substances which limit its uptake have been shown to be anxiolytic (prevent or reduce anxiety).
The areas of the brain affected by anxiety disorders, which include the prefrontal cortex, amygdala, hippocampus, hypothalamus, and PAG, are believed to work together to control the individual's response to stressful stimuli. The fact that all these regions contain CB1 receptors implies a relationship. However, while anandamide and other direct agonists of the CB1 receptor may have anxiolytic effects in small doses, they are often anxiety-inducing in larger doses. Inhibitors of these agonists, on the other hand, do not increase anxiety even when administered in large doses.
Exactly what processes are at work is still unclear, and will remain so until further research is done. However, inhibition of memory recall may aid in the suppression of unpleasant memories of prior social embarrassment, while an increased ability to gauge reactions may boost confidence and aid in social performance.
The tendency to become dependent on cannabis is therefore problematic. While many varieties contain significant quantities of CBD, the effect of THC in large doses has repeatedly been shown to induce anxiety and panic. Sufferers of anxiety and panic disorders are unlikely to have a consistent source of cannabis that contains the correct ratio of cannabinoids, including high CBD and levels of THC low enough to be anxiolytic.
However, breeders are beginning to make such strains available, such as the Israeli-bred Avidekel, which contains 16% CBD and less than 1% THC. If sufferers of panic and anxiety disorders such as SAD, AvPD and PD can safely access cannabis varieties such as this, the potential for exacerbation of symptoms from use of high-THC varieties can be limited, and recourse to other therapies can be lessened.