New In March 2015, Hempstory opened its doors in the centre of Amsterdam. Hempstory is a welcoming shop that tells, in its own way, the story of a forgotten plant. There is lots to learn, see, and, of course, buy. A must see, when you visit Amsterdam.
In March 2015, Hempstory opened its doors in the centre of Amsterdam; a welcoming shop on Oudezijds Achterburgwal 142 with a special assortment of hemp products. Anyone expecting shelves laden with cannabis and hemp gimmicks will be disappointed, though. Hempstory is a shop that tells, in its own special way, the story of a forgotten plant. There is lots to learn, see, and, of course, buy.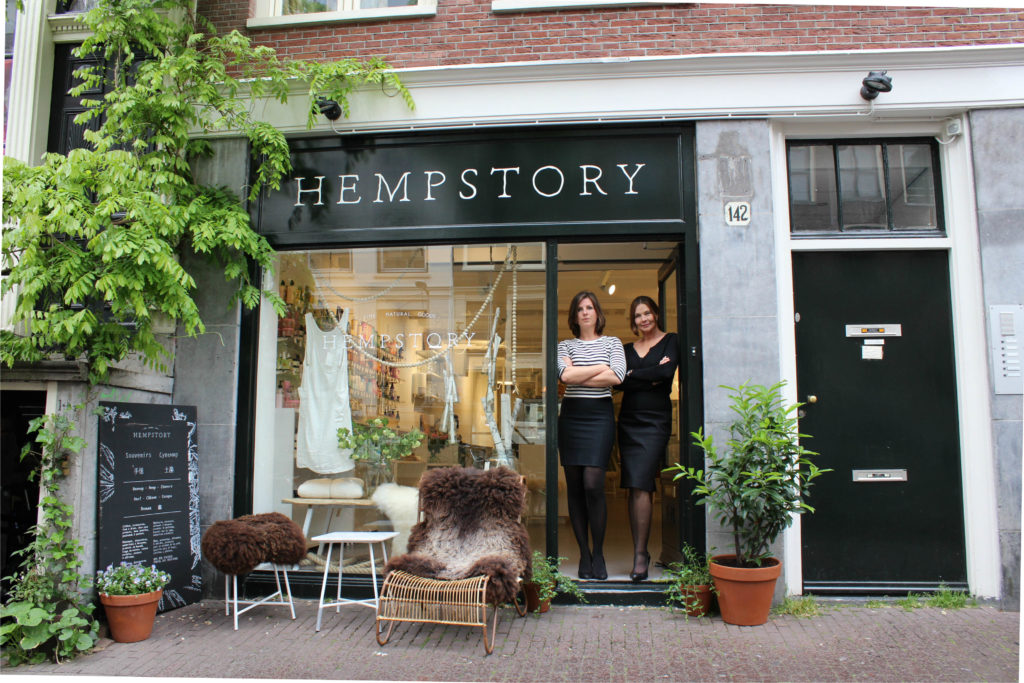 The Hempstory assortment consists of lots of beauty products, nutritional products, clothing, accessories, and home furnishings. Hemp is the main, or even the only, raw material of every single product. The addition of the mini cafe, where delicious coffee, tea and home-made hemp delicacies are served, means that Hempstory has something for all the senses. And that's not all. Sustainability, organic production and fair trade are all key values of Hempstory.
A shared passion and a perfect match
The preparations for Hempstory started in May 2014. Now, a year later, all the hard work has paid off. Linda Lindquist and Marijn Blaauw run Hempstory. They met during the Media Styling programme at Academie Artemis, and their shared love for natural and organic raw materials blossomed into a friendship. Excited by the idea of a hip hemp shop, the two entrepreneurs had their first brainstorming session.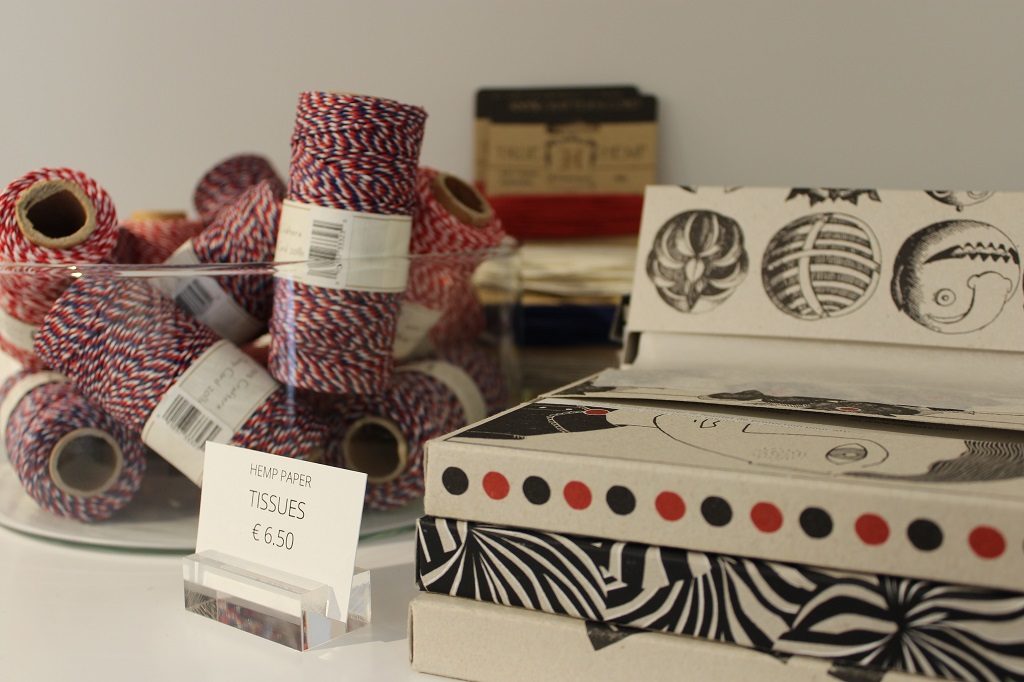 Linda is no stranger to the world of hemp. "Twenty years ago I was involved in the foundation of the HempFlax factories," she relates. "I worked on their PR, advertising, marketing and packaging until 6 years ago. It taught me a great deal about hemp. I admire all the brave pioneers that are committed to bringing this hugely versatile plant back into society, just like Ben Dronkers did in the Netherlands by means of HempFlax."
Marijn: "My family runs a health food shop, so I was brought up with it. There is a lot of cross-over with sustainability and the belief that products should be good products through and through. That demands a pioneering attitude and perseverance. I think that Linda and I are a perfect match in this regard. We are both passionate about certain raw materials. We are also a very good match as colleagues. We work in the same way and complement each other."
The story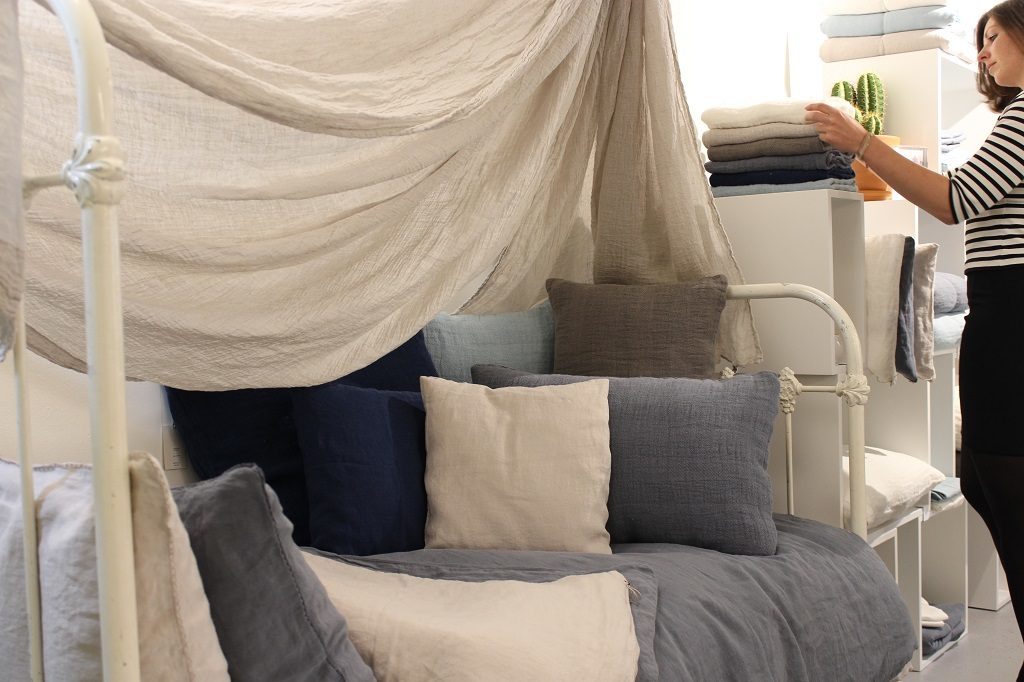 A tour of the shop shows that the opportunities are almost endless. Hemp oil and shelled hemp seeds have become familiar food products over the last few years. A bicycle lock made of hemp rope is less unusual, though. Nor will many people have heard of hemp milk and protein powders for making shakes.
"Hemp oil has a unique make-up of Omega 3, Omega 6 and Gamma Linolzuur (GLA). It is rich in 8 essential amino acids, as well as vitamins B and E," explains Linda. "Very nutritious, and great for your skin, too. Food and beauty products are given pride of place in our shop."
Linda and Marijn also set great store by offering a platform for small, passionate entrepreneurs who create innovative products. Linda: "The French brand Cousu de fil blanc is a great example. The name translates to 'sewn with a white thread', which is also incorporated into the packaging, and it is the French expression for a white lie. One of their product lines is called 'Les Fleurs du mal' ('The flowers of evil') after a volume of French poetry by Baudelaire that was published in the 19th century. Seven of the poems in the collection were banned for depravity. Three forbidden plants are the raw materials of the soap and eau de toilet line: absinth, poppy and hemp. It's a good story that's been beautifully packaged."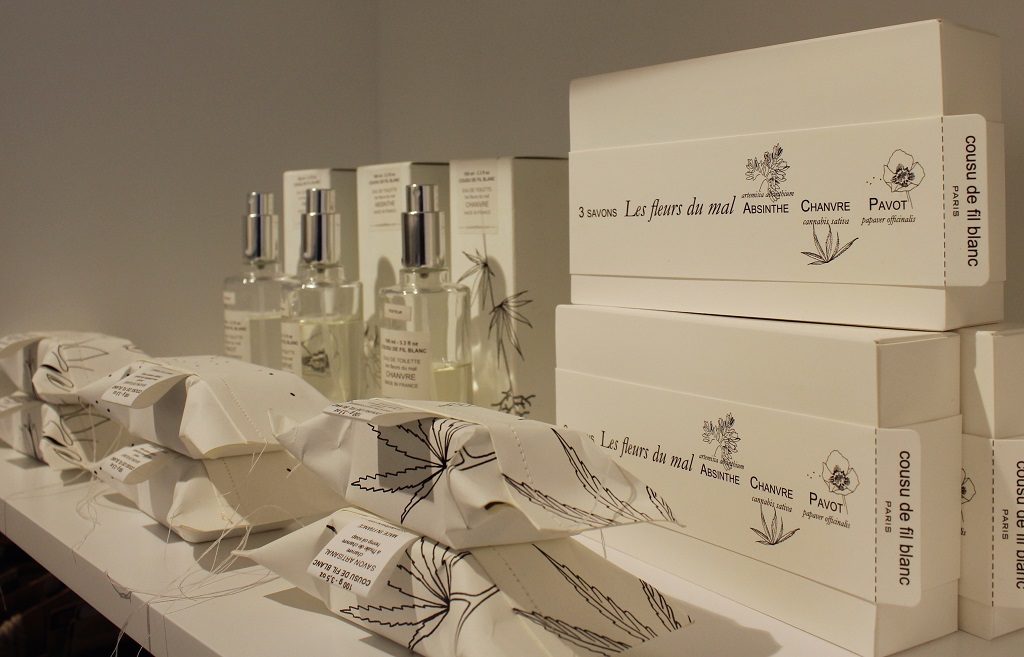 One raw material, one love
The shop is hip and a fun place to be. Great attention has been paid to detail and the presentation of the products. There is a mini cafe at the back of the cafe that opens onto a patio full of green plants. Not what you'd expect on a narrow canalside street in the middle of Amsterdam.
Marijn: "It's great that we both have a background in styling. We turned the hemp story into a very open and light-filled shop." Linda continues, "We made a conscious decision to omit the recreational cannabis look and feel. Not that we're against it; on the contrary. To keep the shop accessible, there has to be a strict divide between the two, otherwise it becomes confusing for a lot of people."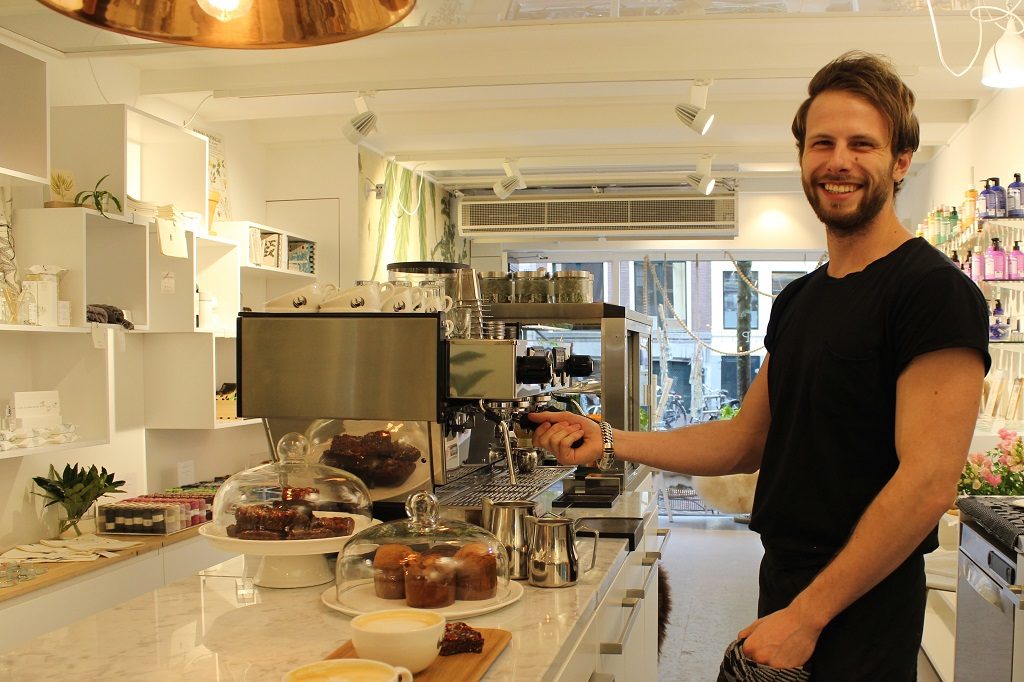 The purpose of Hempstory is that people who have no interest in cannabis at all can learn about hemp in a very positive way. Marijn: "We have really wonderful products and we want to make a contribution to acceptance. It's fun to see that some people only realise what the store's concept is once they've looked at some five or six products."
Hempstory is open Monday to Wednesday from 10am to 8pm  and Thursday to Sunday from 10am to 9:30pm. By mid-September 2015, Hempstory will open an inspiring webshop with lots of background information at www.hempstory.nl.