We are proud to announce our new Sensi Seeds project, Breeding Grounds. It's a program developed for the cannabis community, where we collaborate with seedbanks worldwide to showcase a variety of up-and-coming genetics!
Here at Sensi Seeds, we strive to give back to the cannabis community and are incredibly excited to work with both renowned and up-and-coming seedbanks in our Breeding Grounds program.
Our breeders have selected only the best traits from a wide range of enchanting cultivars throughout our vigorous breeding programs to develop a range of exclusive genetics. The collection includes Sensi Seeds x Fat Beans and Sensi Seeds x Humboldt Seed Company, amongst others.
Fat Beans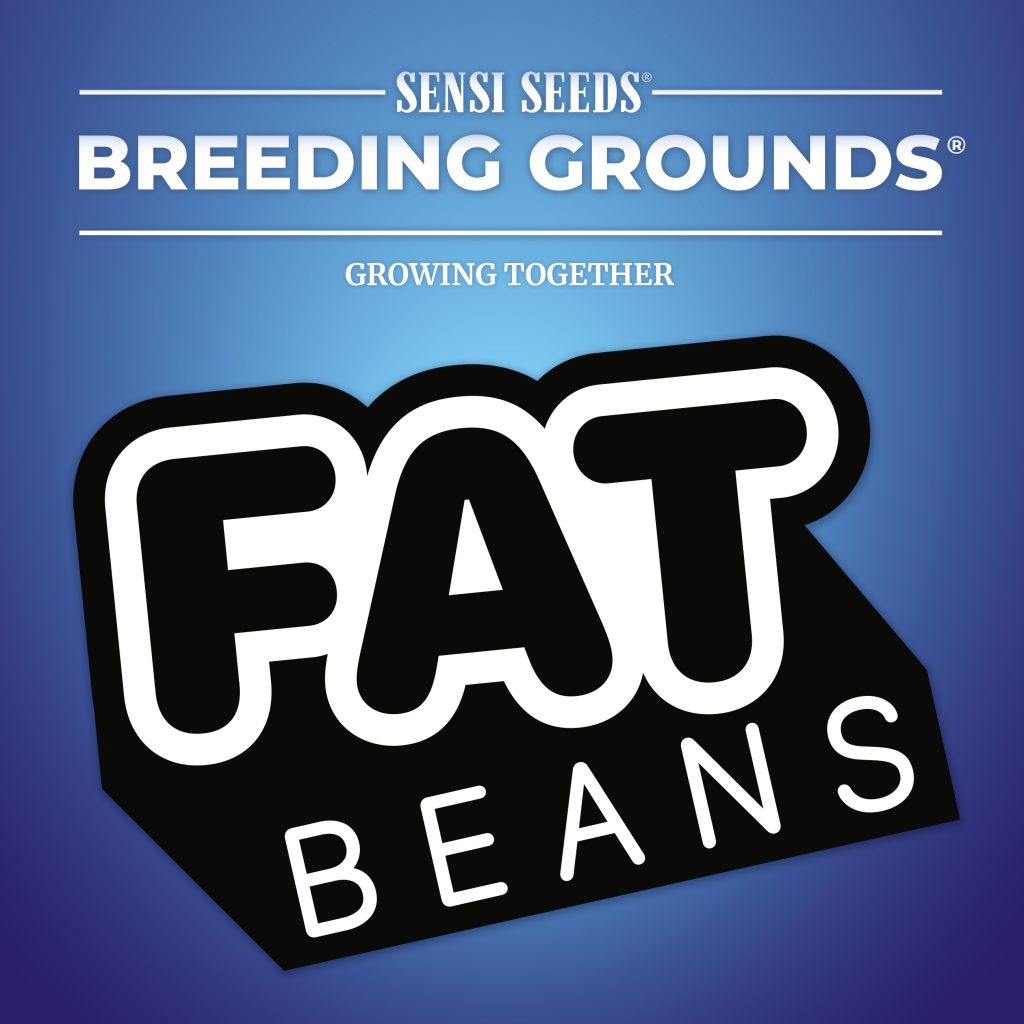 We are honoured to collaborate with Fat Beans, Denmark's leading seedbank, deeply embedded within the Danish cannabis scene. Fat Beans have a wide variety of cup-winning cannabis genetics, and all strains are produced legally under license in Denmark, with provenance and traceability. As part of this exclusive collaboration, our breeders have collaborated with those of Fat Beans. We've handpicked our favourite resulting genetics and have rewarded them with a place in the Sensi Breeding Grounds catalogue.
Cutter Merhi, the CEO of Fat Beans, describes: "The partnership between Sensi Seeds and Fat Beans Seed Bank marks a significant moment in the annals of European cannabis."
He continues to quote, "For Sensi Seeds, this new partnership is simply a continuation of its legacy as a trailblazer in the cannabis world. However, for Fat Beans, it represents a remarkable chance to grow and learn from the best in the business. As one of the original cannabis companies, Sensi Seeds has had a significant impact on the industry and has helped to shape the culture of cannabis. With a legacy spanning over three decades, Sensi Seeds is a true pioneer and continues to lead the way in the industry today. Its iconic logo has become synonymous with quality and reliability, making it one of the most recognisable and respected brands in the cannabis world.
I vividly remember the Sensi Seeds logo from my childhood trips to Amsterdam with my family. As a child, I also saw the logo at my uncle's house in Kuwait, my cousin's farm in Lebanon, and my father's drawers in Copenhagen. I didn't understand its significance at the time, but it looked impressive and seemed important. As I got older, my suspicions were confirmed – Sensi Seeds was a "hash company with much respect," as my Uncle Ziad put it. He had met Ben Dronkers in the late 90s and was a big fan. I was, too, instantly!

In my teens and early twenties, I was inspired by the bold moves and innovations of Ben Dronkers and Nol van Schaik. I also became increasingly frustrated with the prohibition of cannabis, so I took up activism. Opening a coffee shop in Copenhagen in 2012 with the support of Sensi Seeds was a personal victory for me. It made my uncle proud and didn't slow down my activism.

Later, when I founded Fat Beans, I had yet to learn where it would take me. It was just a necessary step for my small shop in Copenhagen to have our own seeds. But a couple of years later, Sensi Seeds showed interest in Fat Beans and decided to team up with me. This had to be a dream – a dream of bringing cannabis to the people and having the plant legalised worldwide. A dream that is becoming a reality. A dream that I am beginning to realise I have woken up from and am now experiencing."
We want to thank Cutter for his extremely kind words and are incredibly excited to work with his young and energetic company. So, let's check out these exciting new strains!
Choco Automatic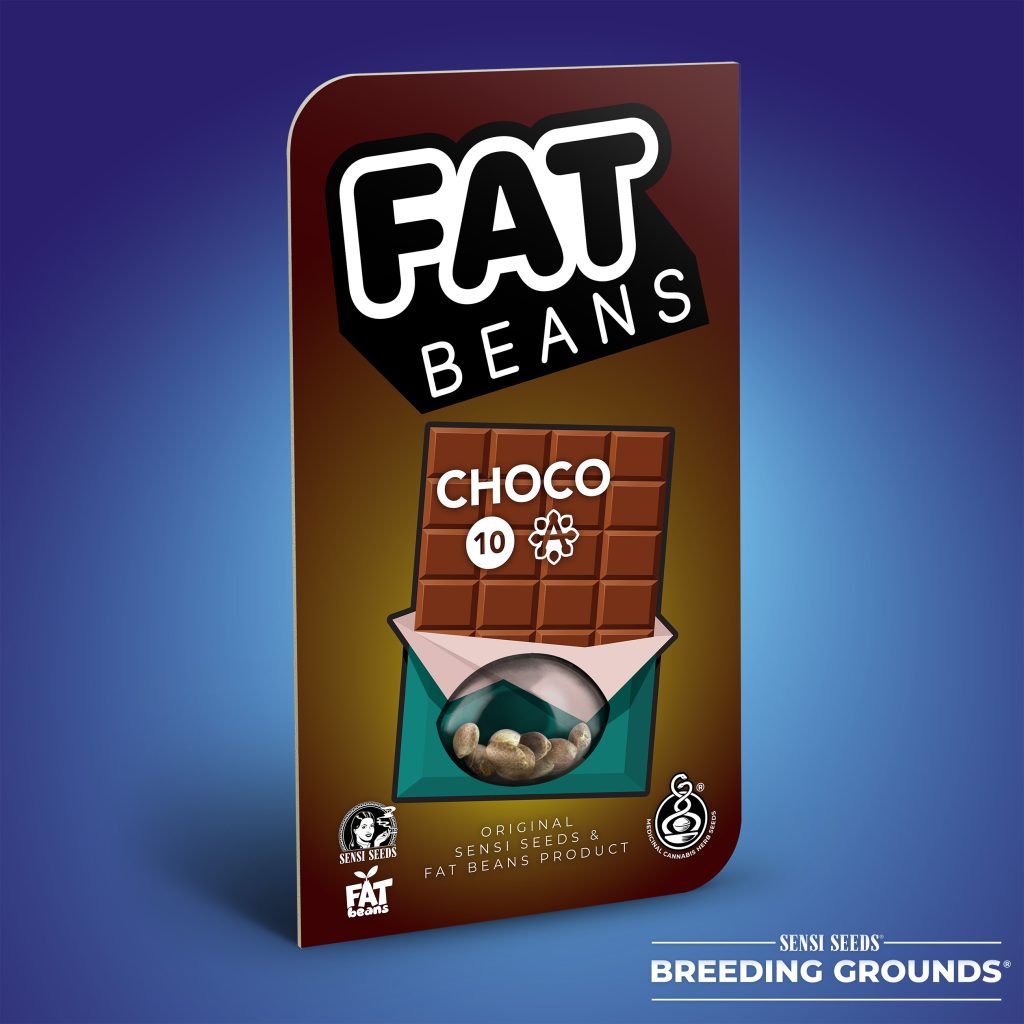 Choco Automatic is the result of extensive breeding efforts by crossing Chocolope, Haze, and a Thai variety. We worked hand-in-hand with Fat Beans on adding this strain to the Breeding Grounds project, and are proud of the result. It's a sativa-dominant hybrid strain with a lifecycle of just 75 to 85 days, making it a fast and easy option for growers of all levels.
It's an extremely tall cultivar and can reach heights of up to 140 cm. Its parent strains are renowned for their heavy yield, and outdoor growers have reported harvests of up to 100 grams per plant. With deep, dark notes of freshly-made chocolate and undertones of earthy sandalwood amongst a background of tropical fruits, it's sure to make your mouth water.
When it comes to effects, Choco does not disappoint; with THC levels reaching up to 25%, many have reported an uplifting, cerebral high with increased creativity and concentration. It's an invigorating and stimulating strain, ideal for a productive day. If you're looking for a fast-flowering, high-yielding, automatic variety, why not give Choco a try?
Glamour Automatic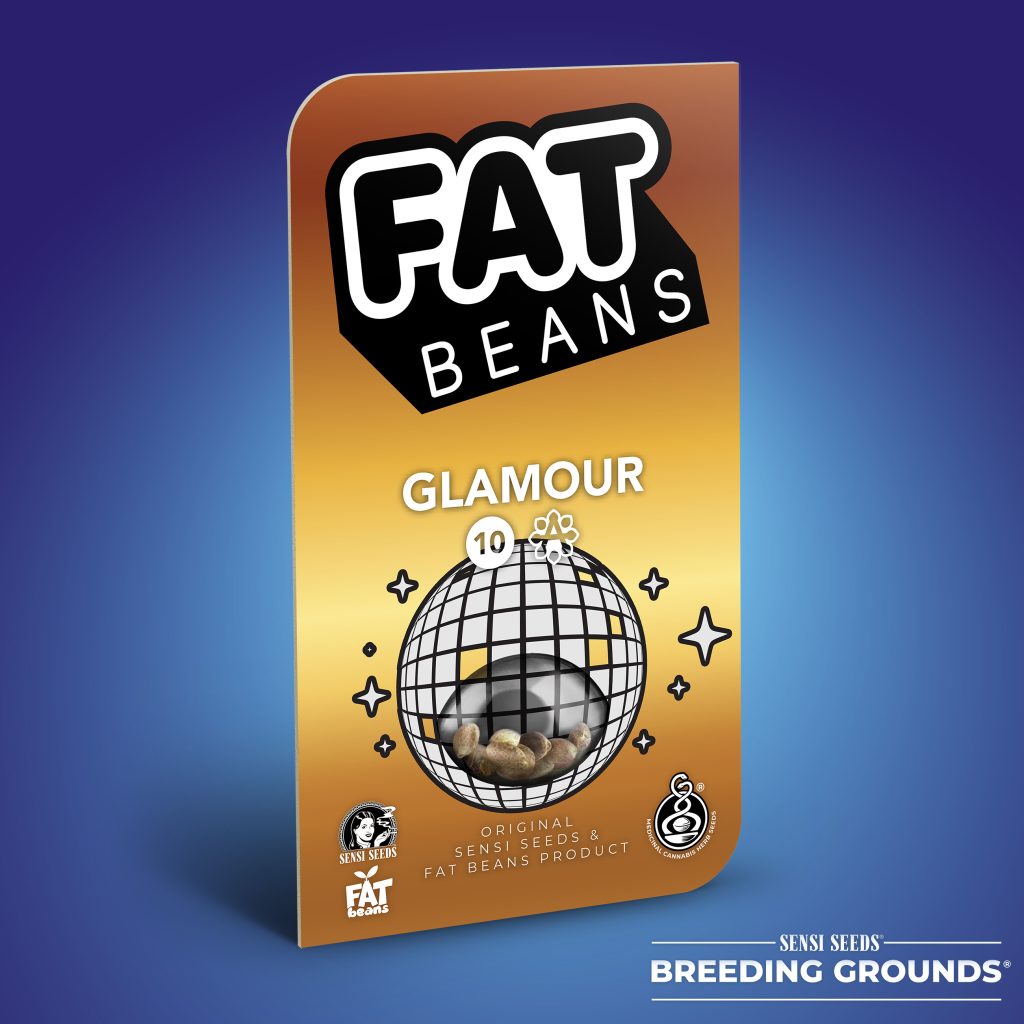 Glamour Automatic is the queen of the autoflower cultivars! It has a compact structure with short internodal gaps and heavy foliage. Sturdy branches with deep green foliage and an abundance of purple hues can be seen throughout the flowering period.
Growers should be prepared for plants to reach no more than 70 centimetres in height; Glamour Automatic is an ideal strain for those with limited growing space. The bud formation is large, chunky, and dense clusters of buds with a heavy resin coating. Threaded with beautiful deep orange pistils, Glamour exhibits a wide variety of purple hues toward the end of flowering. Clusters of buds run up the upper stem and branches; however, flower clusters remain dense, not open like a sativa.
Its aroma is a complex mix of fresh tropical fruit with undertones of spicy hashish and creamy sandalwood. With a THC content of up to 23%, users have reported an initial feeling of uplifting and cerebral euphoria, followed by a relaxing, soothing, long-lasting body high.
Gorillaz Automatic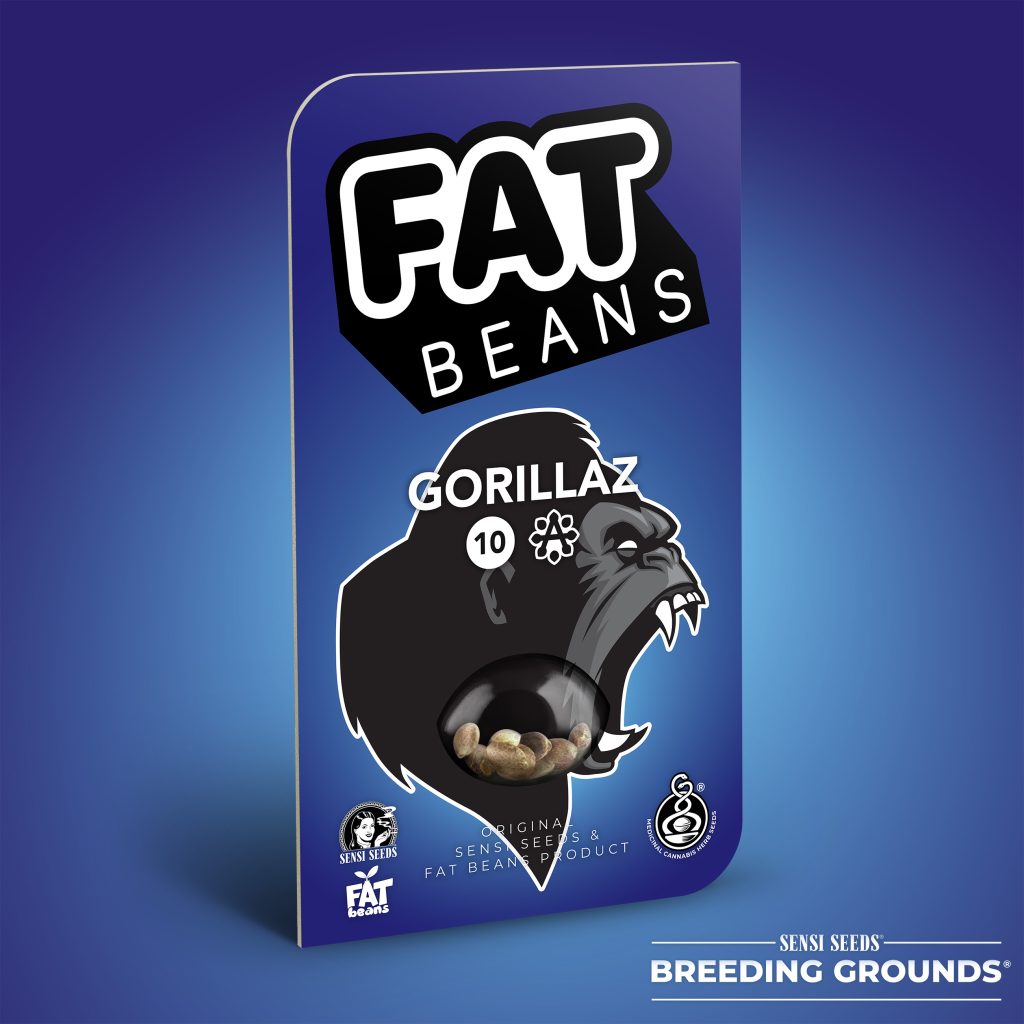 Gorillaz Automatic is an indica-dominant cultivar renowned for its dense medium-to-large, chunky calyxes packed tightly together. It's a very resinous plant, and deep purple hues with dark green foliage can be visible during flowering. It was developed by crossing Chemdawg with Sour Diesel, Chocolope, and a wild Ruderalis.
This cultivar has a tall posture and can reach heights of up to 150 cm, with yields reaching up to 200 grams per plant. With a lifecycle of just 70 to 80 days, Gorillaz packs a punch with its impressive THC content reaching up to 27%. Sweet aromas of freshly cut fruit with loud diesel notes and undertones of spicy sandalwood and hashish make an enchanting terpene profile.
An uplifting cerebral high that boosts creativity and happiness, which gradually dissipates into a soothing body stone. For cannabis concentrate enthusiasts, beware, this cultivar makes some excellent rosin.
Pineapple Automatic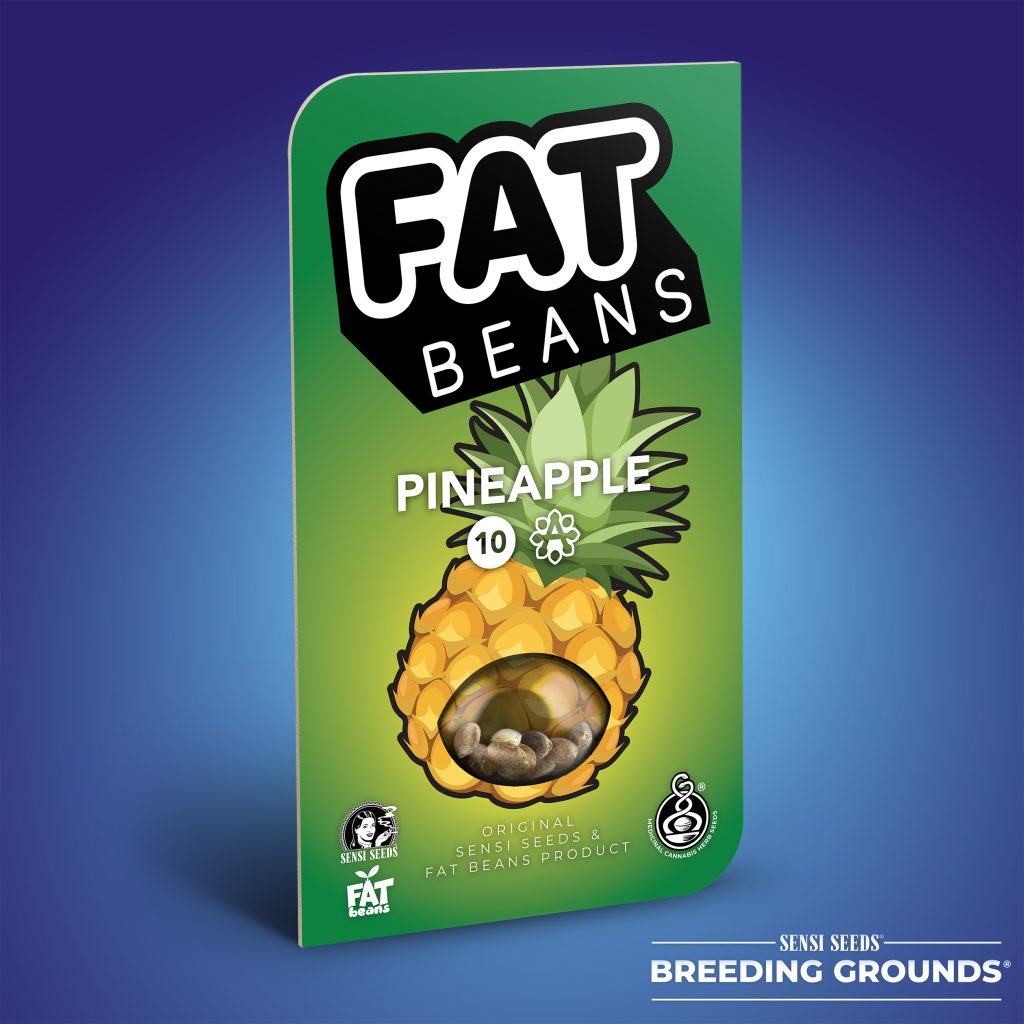 With a lifecycle of only 75 to 85 days, growers alike will be able to enjoy the sweet and zesty aroma of fresh pineapples and citrus in no time. Pineapple Automatic plants can reach up to 110 cm tall and yield up to 200 grams, making them an excellent choice for those looking to maximise their harvest. Growers can expect dense, light-green, large resinous buds covered in dark orange pistils and a layer of creamy white trichomes.
Exceptional terpene profile reminiscent of freshly cut pineapple among a background of tropical fruits. It's a paradise for your taste buds! The effects of Pineapple Automatic have been reported to make you feel relaxed and calm, with an uplifting-cerebral euphoria followed by a relaxing, soothing, long-lasting body high.
For the inexperienced smokers among us, Pineapple Automatic has an extremely high THC content which can reach 25%, and shouldn't be underestimated. So, grab a seat, light up, and let the sweet and relaxing Pineapple Express transport you to a tropical paradise.
Zkittlez Automatic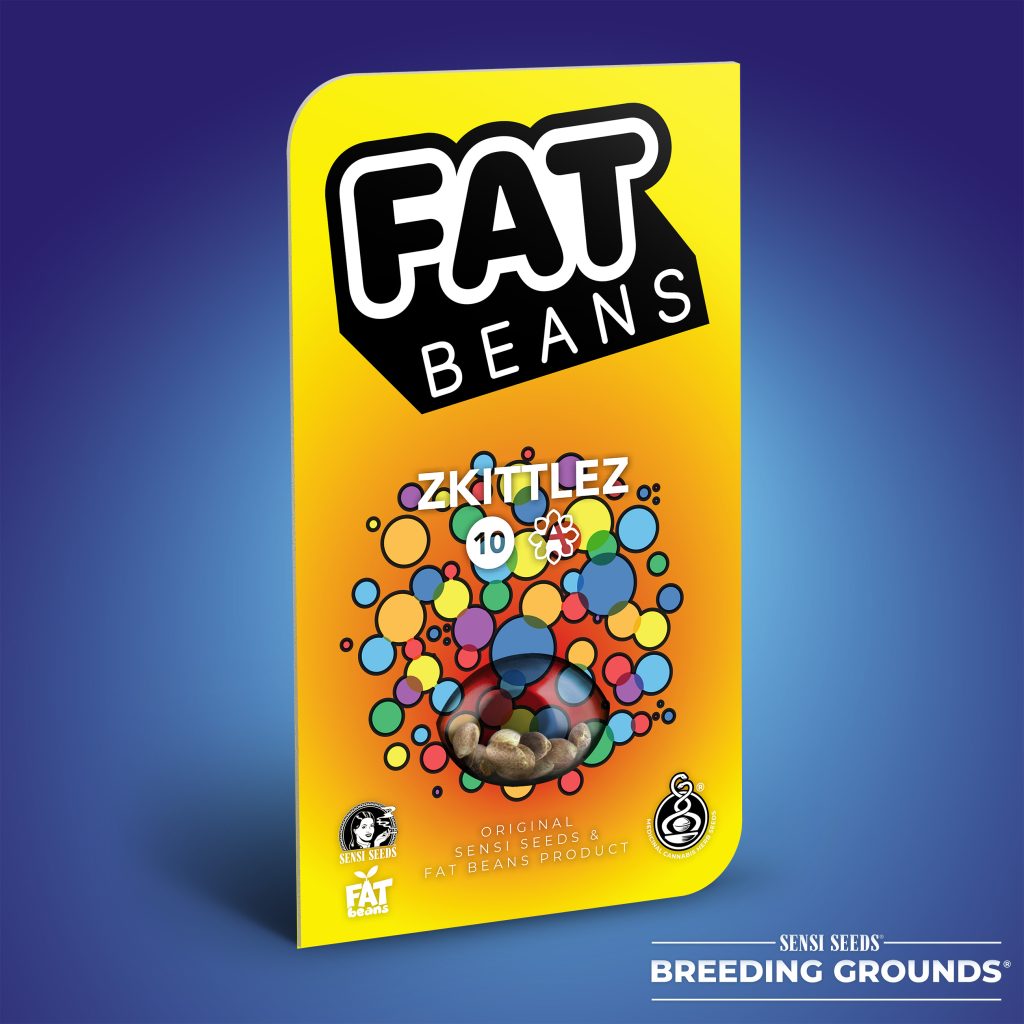 Zkittlez Automatic was developed by crossing Grapefruit with Grape Ape and a hardy ruderalis in our Breeding Grounds program. It's a world-renowned, indica-dominant hybrid with an exotic fruit terpene profile and high THC content of up to 24%.
This fast-flowering autoflower is ready in just 75 to 85 days from seed to harvest, making it a quick and easy-to-grow strain, ideal for growers of all experiences. It can reach heights of up to 130 centimetres, and indoors, in optimal conditions, Zkittlez Automatic has the potential of up to 220 grams of dense, fragrant buds.
With an exotically tropical terpene profile, it's a cannabis lovers' dream, with an abundance of limonene, humulene and pinene, emitting vibrant aromas of fresh grapefruit and tropical among a background of dark mahogany. Like a typical indica dominant strain, Zkittlez has long-lasting effects, and many have reported a full-body stone that soothes the muscles and relaxes the body. So, sit back, and let Zkittlez transport you to a tropical paradise.
Mandarine Jam Feminized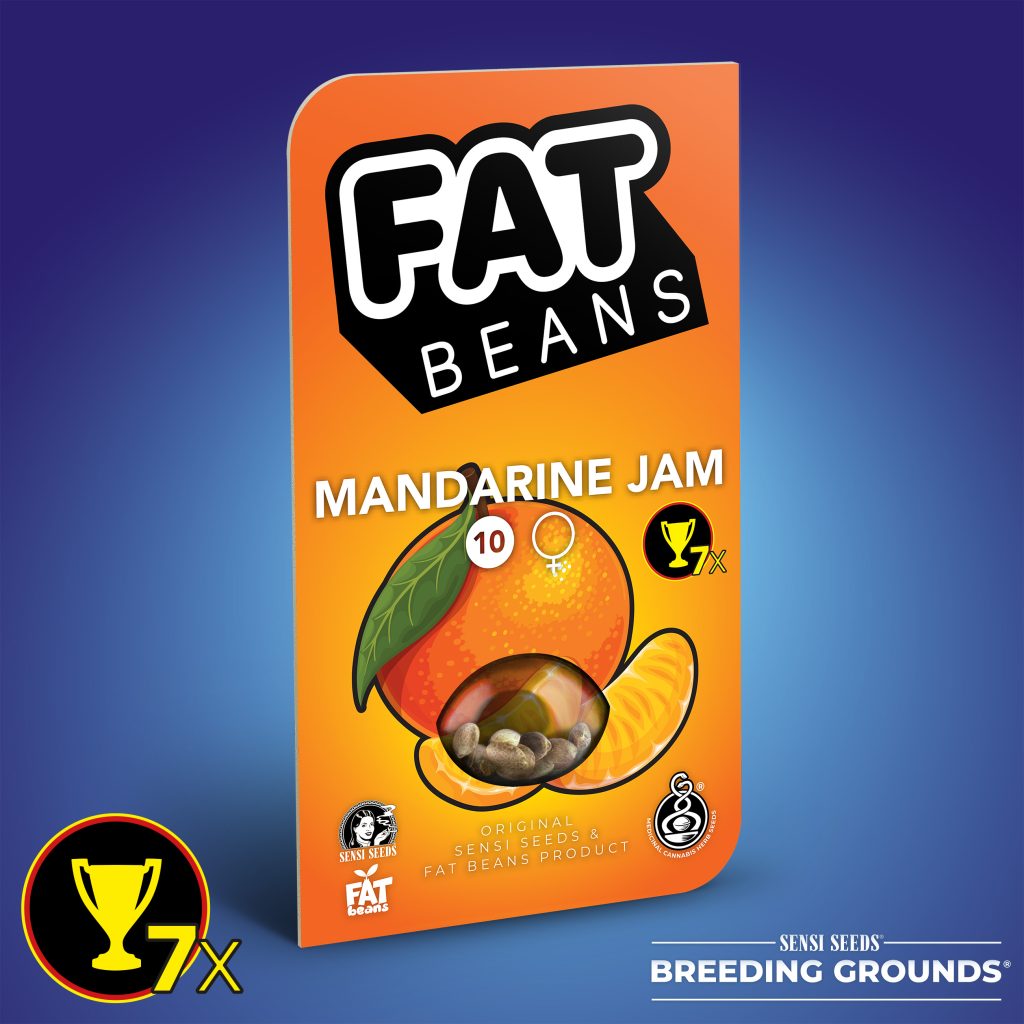 Mandarine Jam is a 70% indica-dominant hybrid created by crossing a Pink Kush with a unique Lemon Haze phenotype. Today, it is one of the most sought-after strains in the European market, winning multiple cannabis awards throughout 2022 for its high-quality flower and extractions.
It is an incredibly versatile and robust strain with an exceptionally short flowering time of up to 50 days, making it an ideal choice for growers who want fast results. The plant is characterised by its multiple lateral branches, bushy structure and dense bud formation. It flourishes outdoors in open soil and can reach substantial heights of over 2 metres. However, if overhead height is a problem, this strain is best suited for SCROG, amongst other training techniques.
Mandarine Jam is an aesthetically pleasing cultivar to have in your garden with a loud, enticing aroma of freshly peeled mandarins and tropical fruits. The taste of this strain is distinct and very recognisable, with a mouth-watering flavour of zesty-orange rhine that leaves your saliva glands drooling.
The high provides the user with euphoric, uplifting effects and dissipates into a soothing, relaxing body stone, and it's perfect for unwinding after a long day. With a THC content of up to 24%, it's a must-have strain for any up-and-coming grower or cannabis enthusiast.
Humboldt Seed Company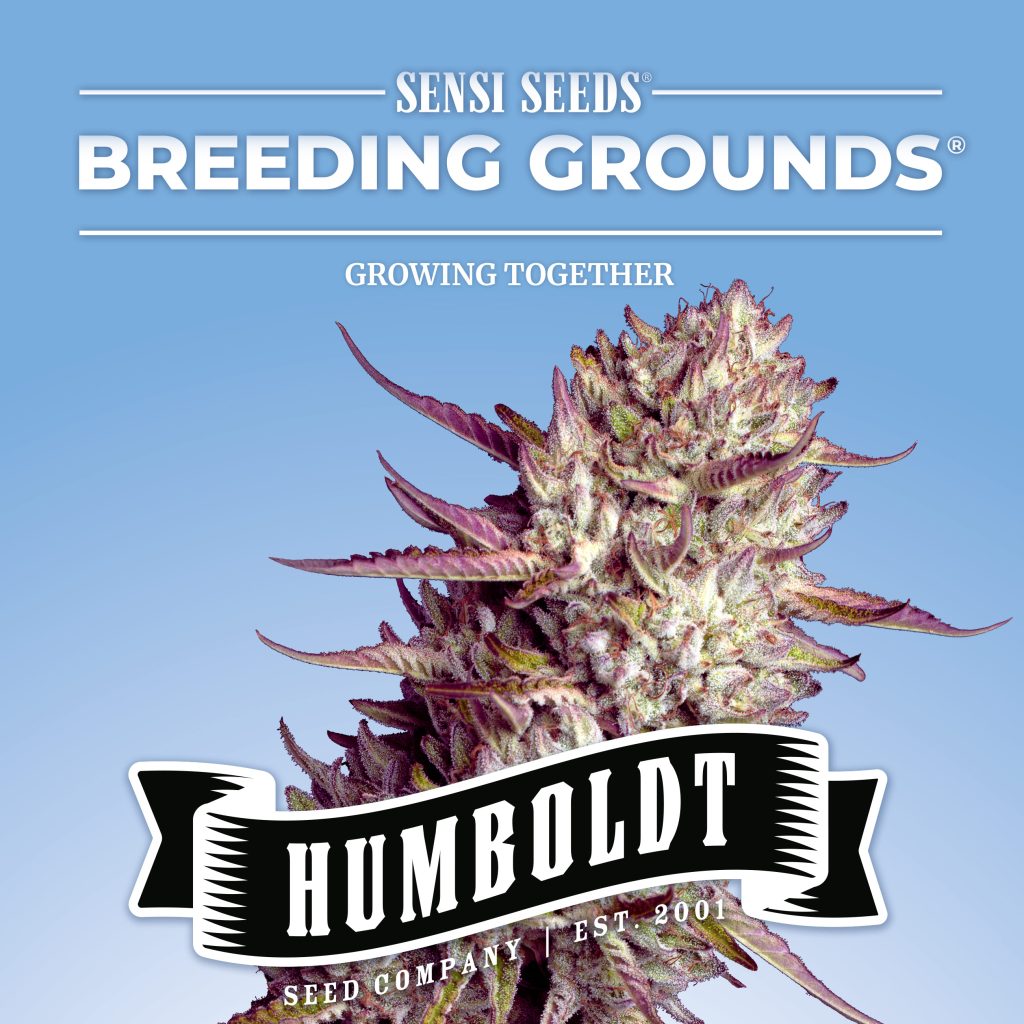 Introducing a leader in cannabis breeding and strain development, Humboldt Seed Company. Based in the heart of northern California in Humboldt county, Benjamin Lind and his team of cannabis enthusiasts have provided high-quality genetics since 2001. They have been at the head of the game regarding phenohunting. On top of that, they've collaborated with many local breeders to provide the cannabis community with an array of exclusive, high-quality genetics from northern California.
Also leading the market in packaging, Humboldt Seed Company is the first seedbank to provide scratch-and-sniff seed packing, allowing the cannabis enthusiast to smell the strain's terpene profile in hand.
Benjamin Lind, the Co-Founder of Humboldt Seed Company, said: "After a visit to the Sensi Seeds Amsterdam facility and spending time with Ben & Ravi Dronkers, the founding family of Sensi Seeds, what started as a casual visit evolved into a heavy knowledge exchange and it became clear that we had the synergy to create something epic together."
He says, "Both Sensi Seeds and Humboldt Seed Company have a history curating novel Cannabis Sativa L. lines from around the world and a passion for ancient strains. Both of our families have worked for generations to preserve the very best lines and bring them to the modern market. We both evolved on different continents, with different selective pressures. Even though we live a world apart, we have a very similar philosophy based on love and respect for the plant."
Here at Sensi Seeds, we are proud to collaborate with the Humboldt Seed Company and will release two feminized and two autoflowering strains as a result of this exclusive collaboration. Benjamin states: "It was natural we would cross-pollinate the 'best from Amsterdam with the best of Northern California!". So let's check out the new collaboration strains.
The Bird Feminized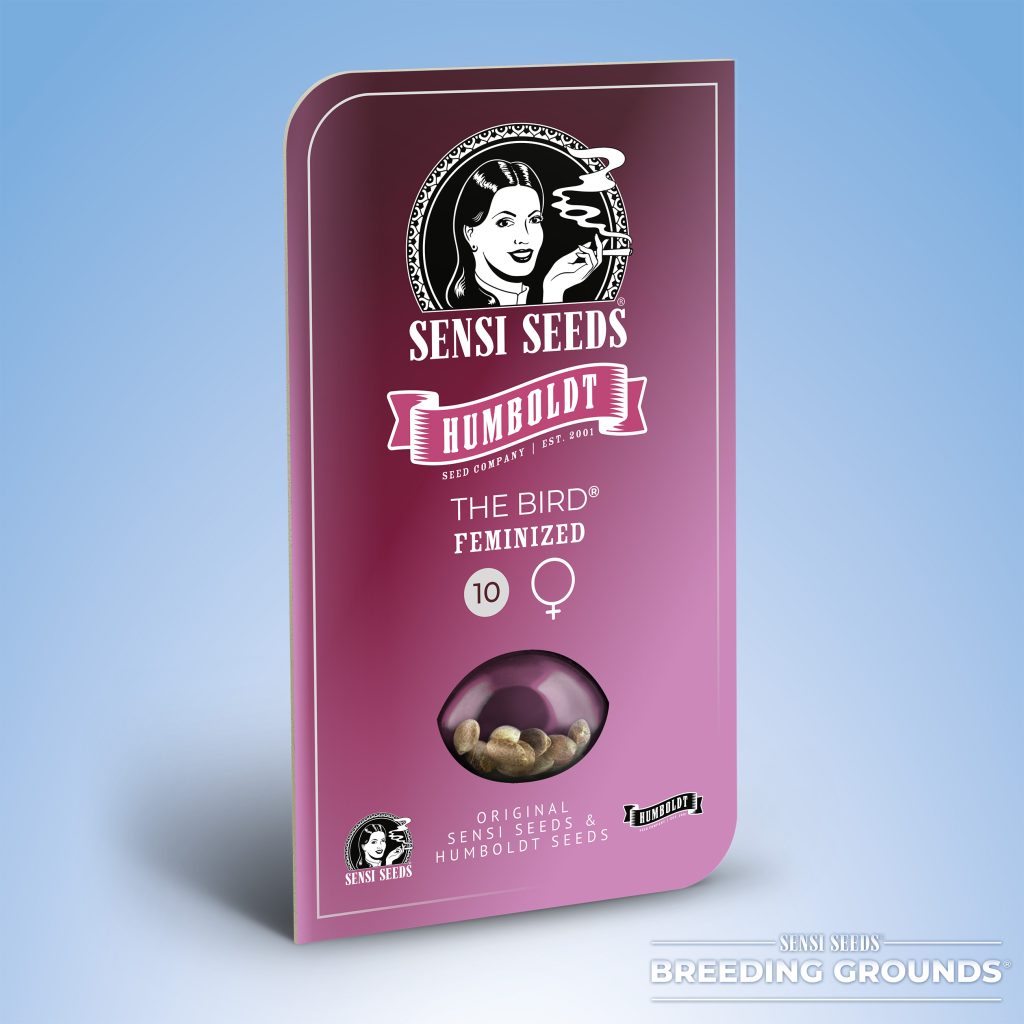 The Bird is a feminized, 70% indica-dominant strain created by breeding our legendary OG Kush with Humboldt Dream and Larry Bird. It's a compact plant ideal for temperate and continental climates with an average flowering period of up to 50 days. Bud formation is dense, with an array of trichome and purple foliage during flowering.
If you're looking for an aesthetically pleasing terpene profile and long-lasting body stone, look no further than The Bird. With a complex terpene profile made up of loud notes of diesel, skunk, and creamy pinene. Many experienced users have reported a long-lasting body stone, so beware, this indica-dominant cultivar could leave you grounded!
Purple Berry Muffinz Feminized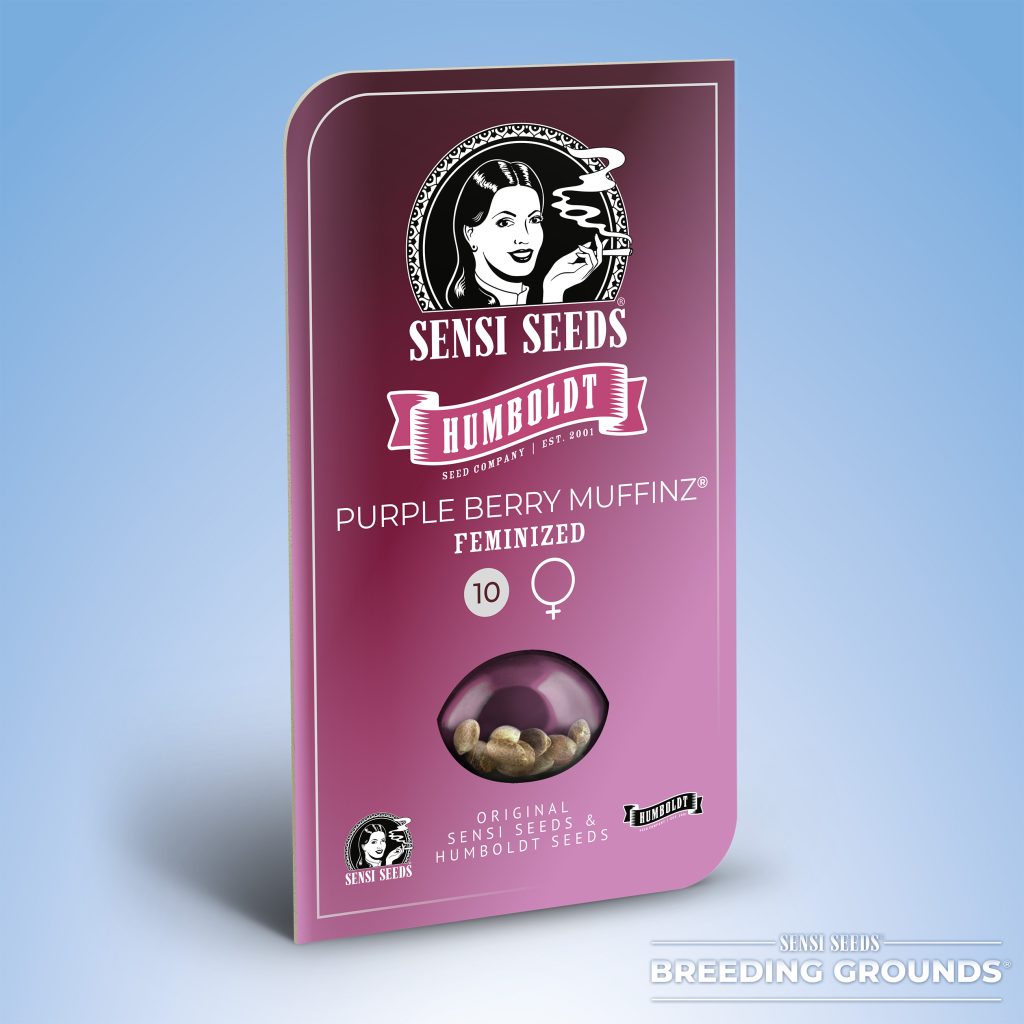 Purple Berry Muffinz is a feminized, balanced hybrid created from our award-winning Purple Bud with Blueberry Muffin and Zkittlez. It's an extremely compact, high-yielding strain with a flowering period of up to 45 days and is ideal for all climate zones.
Throughout flowering, there's a deliciously sweet candy aroma with hints of freshly picked strawberry and subtle undertones of diesel that overwhelms the senses. Clusters of flowers remain dense, and frosty, dense purple-hued flowers fill the short internodal gaps.
The effects can leave the consumer increasingly energetic and giggly with an uplifting high, followed by a relaxing and soothing body high. Purple Berry Muffinz is a classic hybrid with an enchanting terpene profile and is ideal for daytime use.
Pineapple Kush Cake Automatic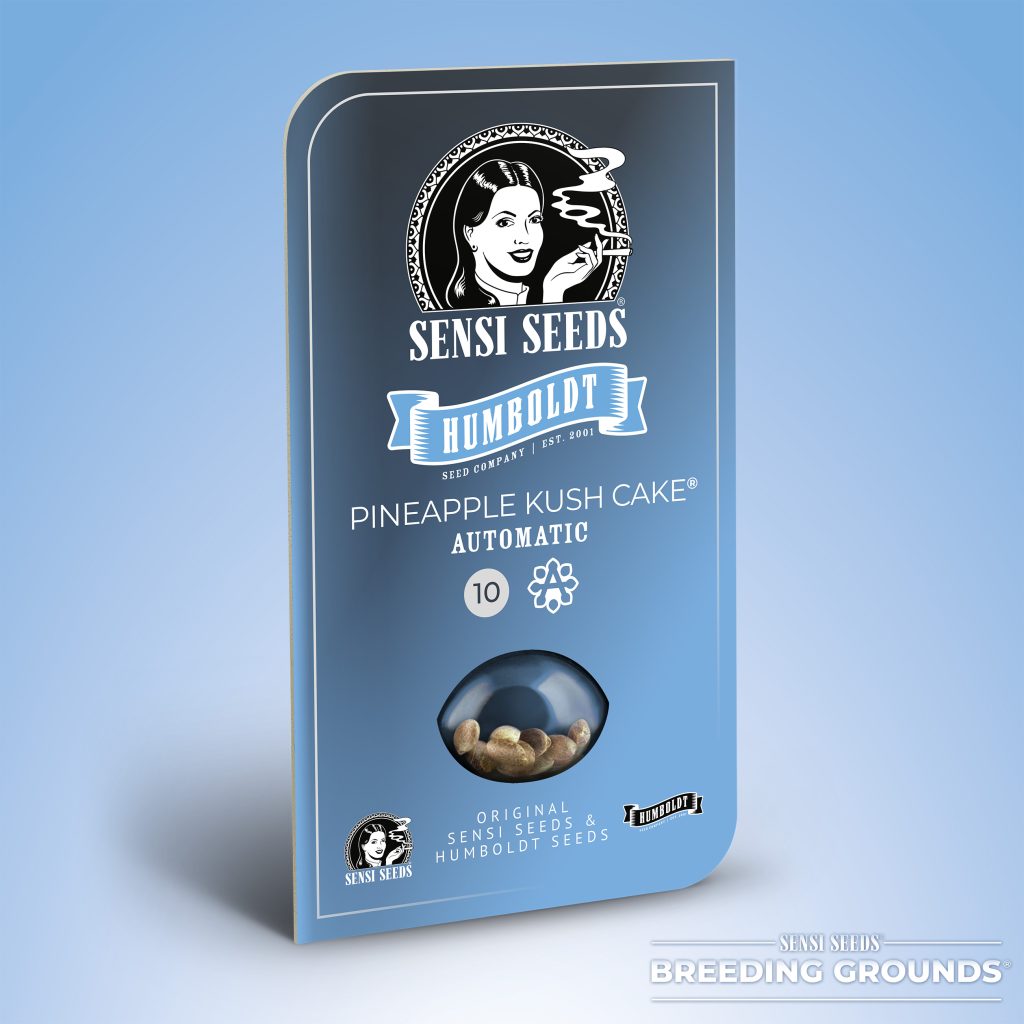 Pineapple Kush Cake Automatic was developed for Breeding Grounds by crossing Pineapple Muffin auto with Sensi Seeds' Banana Kush Cake Automatic. It's a balanced 50/50 hybrid and an ideal cultivar for temperate/continental climates. Due to its autoflowering traits, Pineapple Kush Cake does not need a change of photoperiod to begin producing buds, and it takes 80-90 days from seed to harvest.
This robust, highly resilient plant can produce bountiful yields of dense, resin-covered buds. With an abundance of myrcene and alpha-pinene, Pineapple Kush Cake has loud notes of fresh pineapple with undertones of sandalwood. Connoisseurs report an uplifting cerebral high with a sense of euphoria and happiness, followed by a relaxing and soothing body high. It's a classic easy-to-grow hybrid perfect for novice and experienced growers alike.
Amnesia Jelly Automatic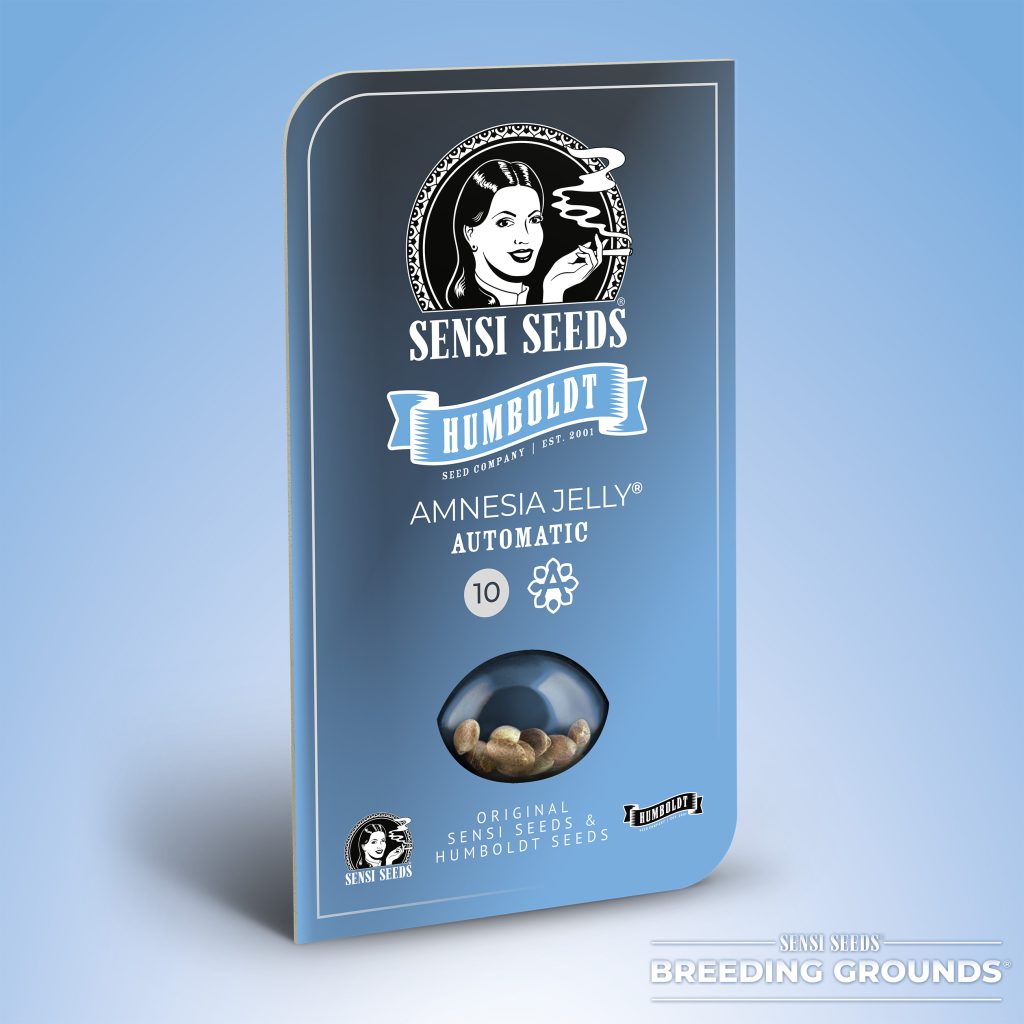 Amnesia Jelly Automatic is a feminized autoflowering strain created from breeding Mint Jelly Auto with our Sensi Amnesia XXL. It's a low-maintenance strain that takes up to 95 days from seed to harvest. Although this strain is sativa-dominant, it's highly resilient to mould and can flourish in continental climates.
Large, densely structured buds covered in resin produce an extremely sweet and fruity terpene profile with uplifting cerebral effects similar to a classic Haze. An uplifting cerebral high sweeps over the user with increased euphoria and happiness. It's an ideal sativa for increasing creativity and productivity.
The increase in advanced breeding programs
The cannabis world is constantly evolving, and we are still proud to be at the head of the game 38 years later when it comes to developing genetics.
Our Breeding Grounds program aims to support up-and-coming seedbanks and breeders. It gives us the accessibility to introduce genetics into the Sensi Seeds catalogue that we feel would benefit the cannabis community.
By intertwining genetics from different breeders, we can enhance the traits of these cultivars to meet our customers' needs better. Our vigorous breeding programs help make the cultivation process easier for everyone looking to grow the highest-quality genetics on the market.
We hope you enjoy our exclusive new collaboration genetics. Which strain are you most excited about? And, If there is a collaboration you would like to see next, let us know in the comment below!
Disclaimer:

Laws and regulations regarding cannabis cultivation differ from country to country. Sensi Seeds therefore strongly advises you to check your local laws and regulations. Do not act in conflict with the law.