Many of us are limited to a small, indoor space for our cannabis grows–but limited space does not necessary have to mean tiny harvests. With the right approach to maximizing your grow-room space, your eventual yield will be correspondingly higher.
1) Use compact lights
Many small grows struggle to accommodate high-wattage HPS lighting–not just due to heat issues, but also due to the large size of the lights themselves. In small grow tents (less than a metre squared) it may be advisable to use CFL or LED lighting systems, which are often smaller and more compact in size, and possess built-in reflectors (or in the case of LEDs, provide unidirectional light without the need for a reflector at all).
2) Ensure light distribution is optimal
To get the most out of your grow space, however small it is, it is important to ensure that the maximum possible light is reaching as much of your floor space. With the right system of smaller lights carefully affixed around your grow space, it should be possible to achieve equal or superior light coverage compared to a single, central HPS light source.
3) Use vertical space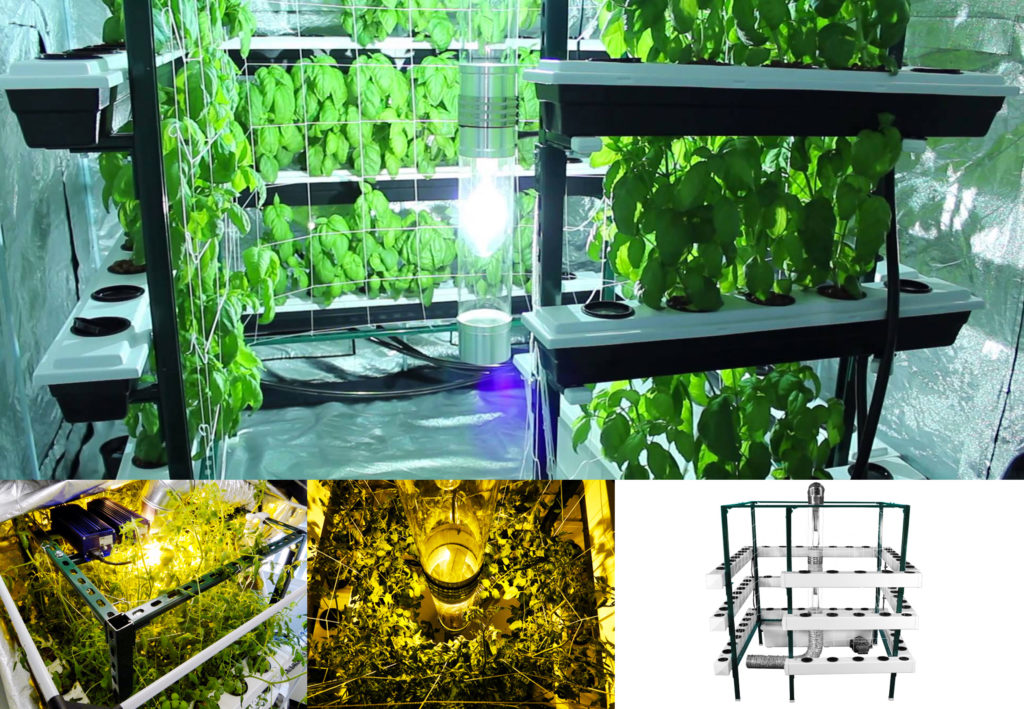 If your floor space is limited, why not grow upwards instead? As indoor tent technology improves, there are ever-increasing options for specially-designed tents that are divided vertically, with several separate grow compartments. Or, if the (often very high) price tag of many of the higher-end systems puts you off, there is always the option to create your own vertical compartments. If going the DIY route, be sure that the floors of your compartments are strong enough to bear the weight of your mature cannabis plants–this also usually means that your side supports must be strong enough to bear the weight of both the plants and the compartments.)
4) Use SCROG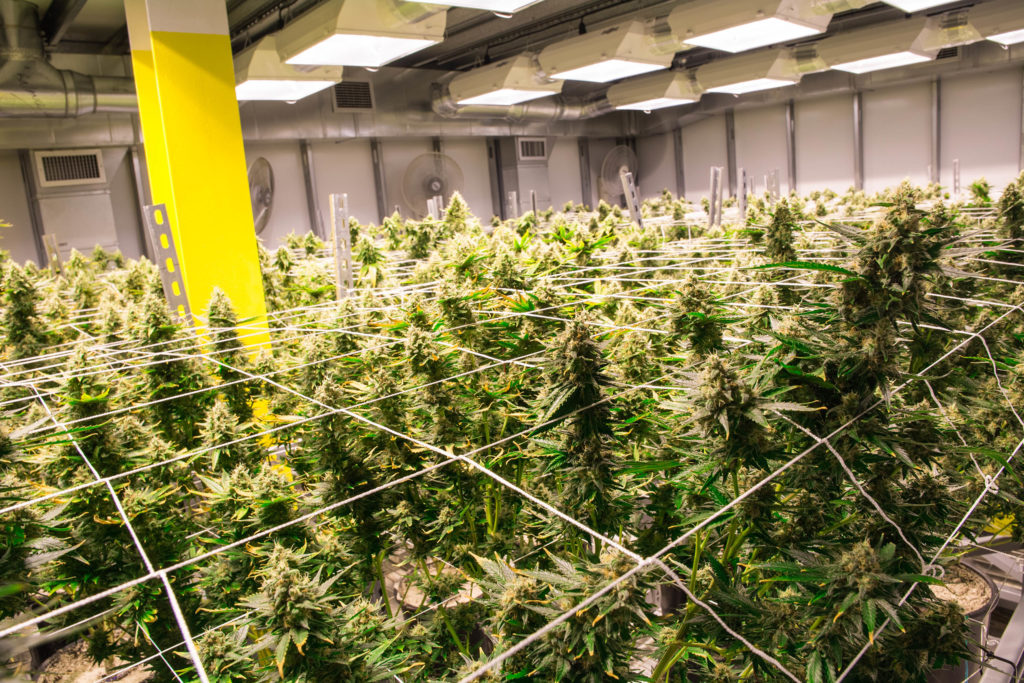 The Screen of Green (SCROG) technique is invaluable for smaller grows, as it encourages uniform, neat growth of flowers and allows the light to penetrate equally to all flower sites. SCROG is a simple technique that involves placing a screen (usually made of chicken wire or similar material) between the light source and the plants. As the plants grow towards the light, their branches grow through the screen and can be tied to it with twine or string. Light penetration can therefore be maximized by training the branches to evenly fill out the screen, and as the branches are preventing from growing past the screen, they do not crowd each other out.
5) Ensure equipment is optimized
In a small grow space, the equipment you choose will have a great effect on how much you can get out of your space. Of course, fitting the brightest and most powerful light for your space is the primary requirement (cool CFLs and LEDs may be preferable, as mentioned above). If using HPS lighting, it may be worth choosing a cool-running ballast such as the ReVolt, which claims to run 15% cooler than comparable ballasts, so that grow room temps do not get out of control. Anything that does not need to be located inside the tent, such as the ballast, should be placed outside. Opting for fans that can be affixed to the sides of your tent over tower or floor-air circulators will save floor space.
6) Think about container shape and size
If you are growing in containers, you have some leeway when choosing the dimensions of your pots so that your space is utilized most effectively. For example, if your vertical space is limited, choose short, squat pots, so that roots can grow outward rather than down. Of course, pots should never be too shallow, as containers can dry out very quickly if this is the case.
7) Consider hydroponics
With the right setup, hydroponics can save huge amounts of space compared with traditional container grows. When using containers, a substantial amount of space is required so that the roots have room to grow freely and access the required amount of nutrients. With hydro systems, the roots can occupy a far smaller space, as their needs are being met with nutrient-rich water which is constantly renewed.
8) Select the right strain!
When growing in a confined space, choosing the right strain can represent a huge advantage. Generally, indica or even ruderalis strains provide advantages over sativas due to their compact size, short internodes, and lack of 'stretch' during the early flowering period. However, this is not to say that sativas cannot be grown in small spaces–with the right training and vegetative period, some hobby growers have achieved amazing results with sativas grown in tiny cupboards!
9) Optimize density & size of plants
Along with the strain itself comes consideration of its specific properties and behaviour, which can give the grower valuable clues as to how to get the most out of the crop. For example, if the cannabis strain is known to continue branching after the switch to flowering, it may require more space per plant than strains which do not branch so readily. Ultimately, finding the ideal density and size of your preferred strains will allow your plants to develop strong, healthy and dense buds; get it wrong and you could be left with lots of small, underdeveloped buds, or get decent buds but fall far short of the possible maximum yield.
10) Encourage tight, closely-spaced branching–discourage stretching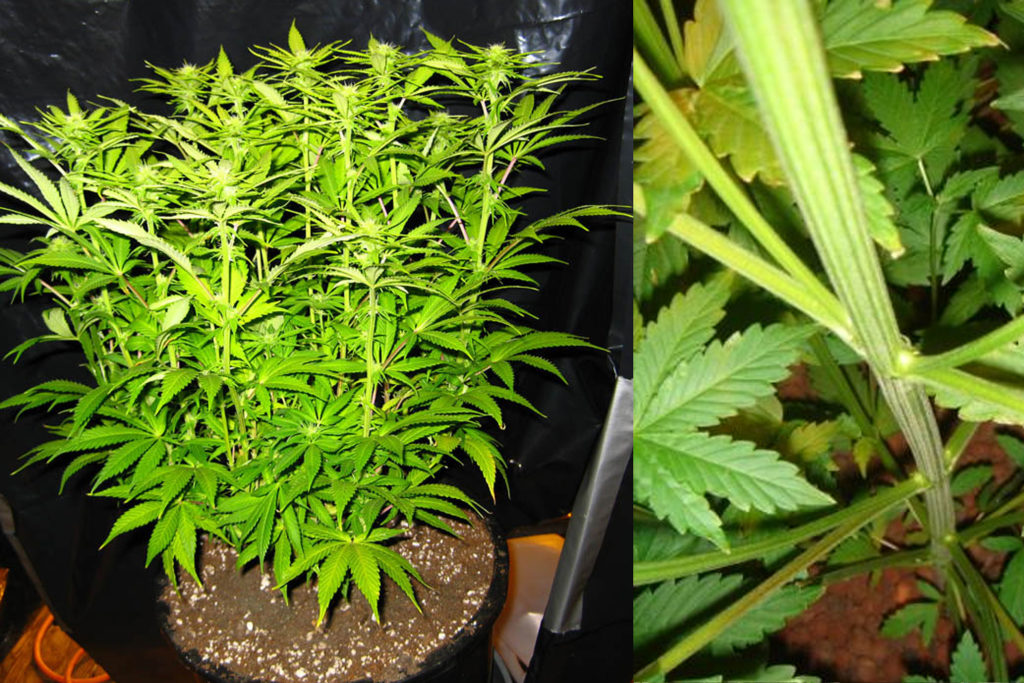 Stretching can be a nightmare for any grower, no matter their grow space, as it can result in loose, light buds, and can dramatically reduce yield. But for the small-scale grower it can literally result in your plants growing up to or even beyond your light source, which if using hot lights can burn your plants badly if not caught in time. To minimize stretch, ensure that your light source is at the correct distance from your plants (the further away it is, the greater the stretch), ensure plant density is not too high (as competition for light will cause stretching), and use topping and training techniques if all else fails.
Disclaimer:

Laws and regulations regarding cannabis cultivation differ from country to country. Sensi Seeds therefore strongly advises you to check your local laws and regulations. Do not act in conflict with the law.