Maximising ultimate yield at harvest is one of the most complex aspects of growing cannabis, and there are varying reports on how best to go about it. Here, we have collated some of the basic, tried-and-tested methods that will set you on course for achieving bumper crops.
Selecting high-yielding strains
In terms of yield, not all strains are equal. For example, landrace strains are often fairly low yielders compared with modern commercial hybrids, which in some cases are capable of producing remarkable harvests. Furthermore, yield is just one trait that is selected for in the world of commercial hybrid breeding—others include flavour, aroma, potency and growing characteristics such as height and bushiness. Thus, the most potent or fragrant strains may not be the highest yielders, and vice versa.
So, to ensure a high yield—perhaps if growing commercially or attempting to make your personal supply last year-round—choosing the right strain should be the first consideration. A good selection of high-yield strains can be found here. However, if the strain you ultimately choose is considered a low yielder, there are several techniques out there to get the most you can out of it.
Optimising growroom conditions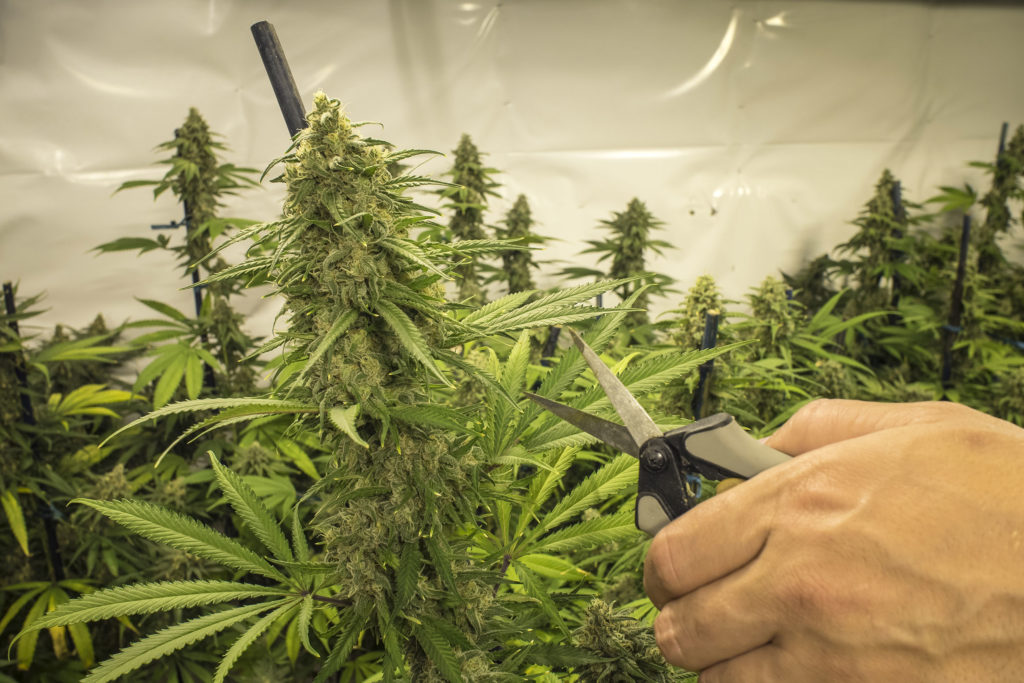 First off, maintaining non-optimum growroom conditions will almost always reduce your eventual yield. Incorrect levels of airflow, temperature, and humidity are the most common mistakes, along with incorrect nutrient levels, pH, or frequency of watering. Even if plants show no outward signs of distress, it is all but inevitable that optimising your variables will give them a noticeable boost.
For beginner growers, it may be helpful to look at your first few grows as being practice runs, where successfully growing, flowering and harvesting your plants without losing them to disease, pests, deficiencies or toxicities can be chalked up as a win. For some, this may be the case right off the bat; for others, particularly those growing in atypical conditions, a great degree of trial and error is required before any kind of harvest is assured.
Once you are achieving consistent results, you can start to play around with tweaking your variables, such as lighting, nutrient regimes, and so on. With time, you will begin to discern first-hand the effect of the different tweaks you try out. Of course, the variability between strains is very high, and "what is sauce for the goose may be poison for the gander"—e.g. some varieties thrive on high nutrient levels in feed, while others may suffer disastrous nutrient toxicities as a result.
Increasing light intensity
While the period of darkness is almost universally known to be crucial for successful flowering of cannabis, awareness of the importance of light intensity during flowering is somewhat lower among novice growers. Quite simply, the intense light of the daytime feeds the photosynthesis reaction that produces sugar for flower growth, while uninterrupted darkness allows the production and release of the flowering hormone florigen, without which cannabis plants simply do not flower.
Therefore, maximising light intensity is one important option when it comes to maximising yield. The typical indoor growroom light is a 600W high-pressure sodium (HPS) lamp; if this is switched out for a 1000W, the lumens available to the plant increase from around 90,000 to around 135,000. Some growers report their yields almost doubling after switching to 1000W lamps. It is also possible to switch to using two 600W lamps instead of one, which may allow for improved light coverage.
600W vs. 1000W bulbs
The argument over whether 2 x 600W lamps are better than a 1 x 1000W lamp is still ongoing in the growing community. Many state that the lumen per watt ratio is more favourable with 600W lamps, which was certainly true in the past, but may be less so now that super-efficient 1000W bulbs are being developed and marketed. Others argue that the superior canopy penetration offered by 1000W bulbs renders them far superior even when all other factors are considered. As usual, playing around with your variables is always the best way to work out what is right for your particular situation.
One vitally important thing to bear in mind if increasing your light intensity is that almost every other variable will have to be adjusted accordingly. 1000W lamps give off far more thermal energy than 600W lamps, so adjustments will need to be made in order to keep your room within range. Using air-cooled tubes to direct hot air straight out of the room is one option; increasing the strength of your exhaust fan is another. To avoid excess heat issues altogether, investing in some high-quality, intensive LED lighting systems may be the way forward (and may save you a considerable sum on your electricity bill).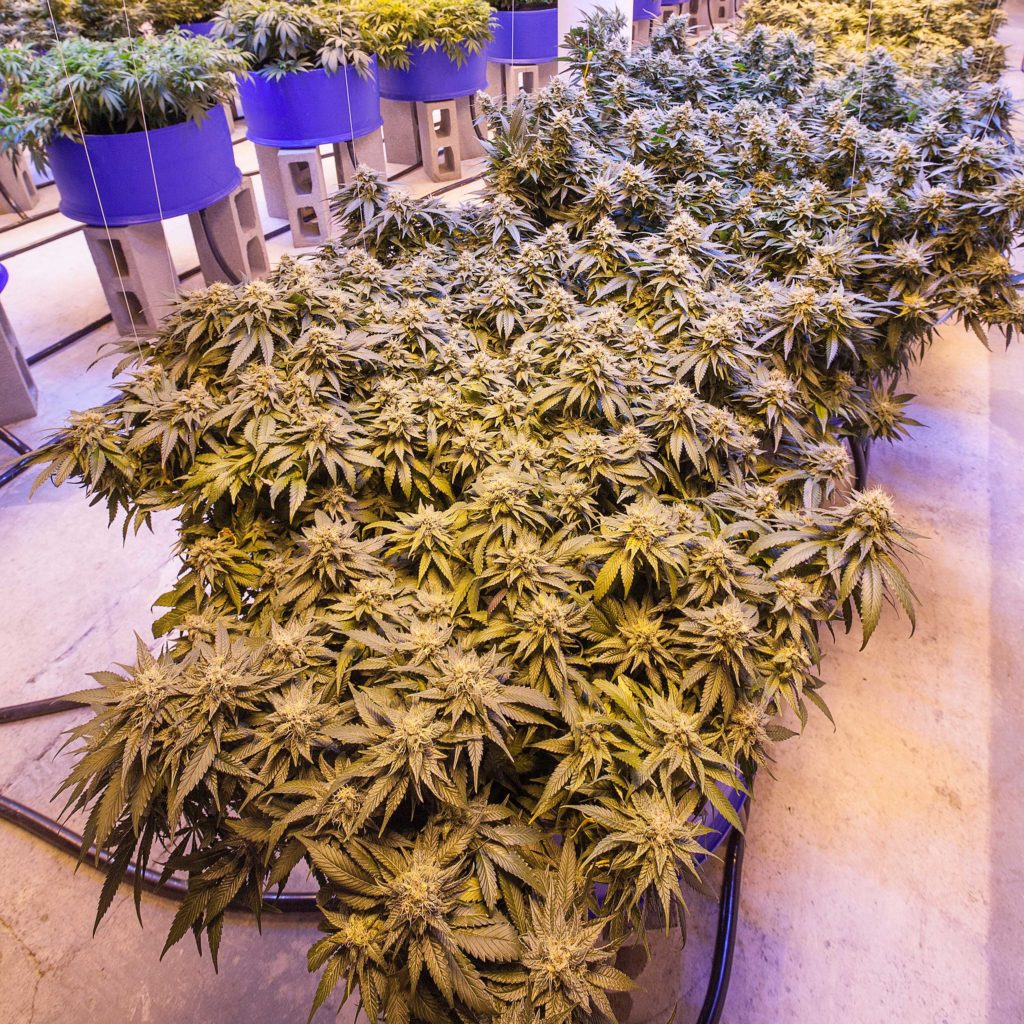 Using CO2 gas to improve yields
Another interesting possibility when seeking to maximise yield is the use of carbon dioxide gas (CO2). There is a substantial amount of research providing evidence of the effectiveness of adding atmospheric CO2 when seeking to maximise yields of various crops, including cannabis. Most of the available literature recommends CO2 levels of 1500 parts per million (PPM) to achieve noticeable gains; levels higher than this may be detrimental, and lower levels will not bring noticeable improvements.
Use of CO2 also goes hand-in-hand with elevated growroom temperatures, so it is well worth considering if you do decide to switch to higher-intensity lighting. Plants growing in CO2-enriched environments are able to thrive in higher-than-normal temperatures, and as CO2 is a vital part of the photosynthesis reaction, increasing its atmospheric concentration when light intensity is increased stands to reason. More light plus more CO2 equals more photosynthesis, and therefore more sugar to go into flower production.
Selective pruning and training to maximise light penetration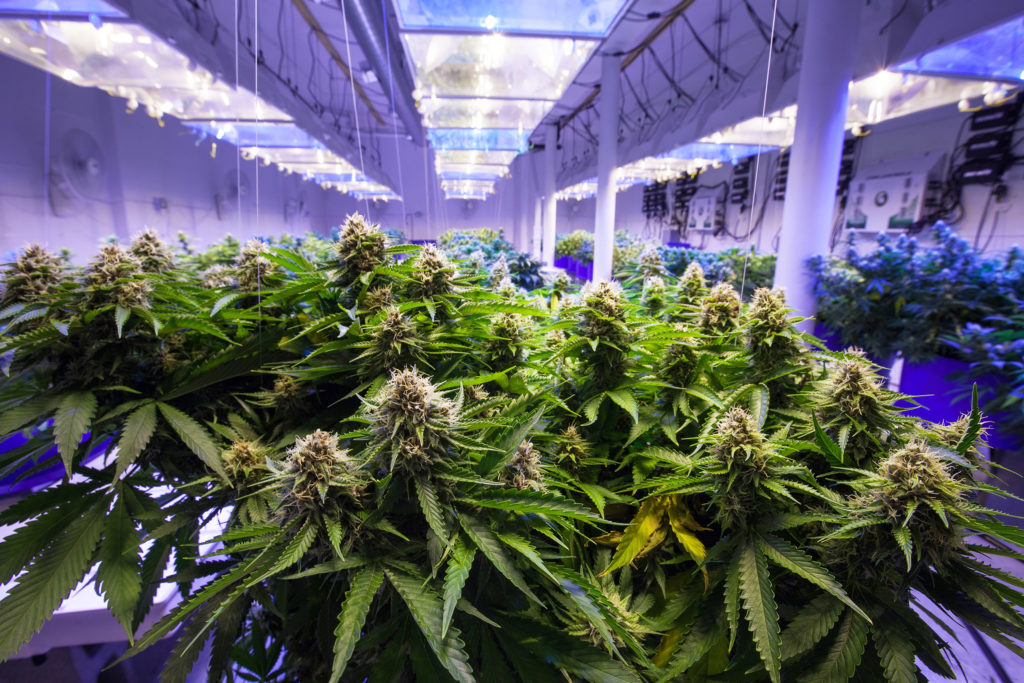 Another important aspect of maximising yield is optimising light coverage and penetration, and one of the easiest ways to do so is to train and selectively prune your plants. While plants are in the vegetative stage, supercropping techniques can be utilised. One technique involves "topping", or cutting the terminal branch tip so that the next two lateral branches become the "main" branches. If this is repeated every week or so, by the time flowering commences there should be at least double the normal amount of branch tips, and therefore more room for flowers to grow. Use of ties and trellises can also assist in keeping branch tips evenly-spaced so that they have equal access to light.
Access to light is highly important when trying for bigger yields. In order to ensure that as much useful light as possible is hitting the flower sites, the larger fan leaves can be gradually trimmed back as the flowering stage progresses. As light penetration from most indoor lighting systems drastically declines at distance of over 30cm or so from the bulb, it may also be advisable to trim off much off the lowermost leaves and branches, as the energy the plant puts into these sites could be better used higher up the plant.
Disclaimer:

Laws and regulations regarding cannabis cultivation differ from country to country. Sensi Seeds therefore strongly advises you to check your local laws and regulations. Do not act in conflict with the law.