There are various ways to approach outdoor cannabis growing. Some growers prefer to simply sow seeds or plant seedlings straight into the open ground, while others prefer containing their plants within planters or pots. Here, we take a brief look at the pros and cons of each method.
Growing Cannabis outdoors in pots
Pros:
1 – One of the most obvious pros of growing outdoors in pots is the fact that your plants are therefore easily transportable. This provides a degree of flexibility to the grower that planting straight into the soil simply does not afford.
For example, if living in an area of occasional extreme weather, the ability to carry your plants to a sheltered spot can be a huge advantage. Leaving plants at the mercy of gale- or hurricane-force winds, driving rain or sleet, or golfball-sized hailstones can be disastrous, and months of hard work can be ruined in one night.
Similarly, if you are growing at a time of year where hours of daylight are not optimum, moving your plants to an artificially-lit room (or a dark room if days are too long to induce flowering) can mean the difference between a good harvest and a non-existent one.
2 – Another advantage of growing outdoors in pots is the ability to control the growth rate and eventual size of your plants, which can be highly useful if concealment is an issue.
Some varieties of cannabis (particularly sativas and sativa-dominant hybrids) can easily exceed two metres in height, meaning that if nosy neighbours are taking an interest, your plants will be easy to spot and identify.
Containing your plants in pots ensures that once they have run out of space for the roots to occupy, they will cease vegetative growth.
3 – A third advantage of growing in pots is the ability to control the uniformity and quality of the growing medium, and to fix any problems that may arise by simply transferring to a new pot with new soil.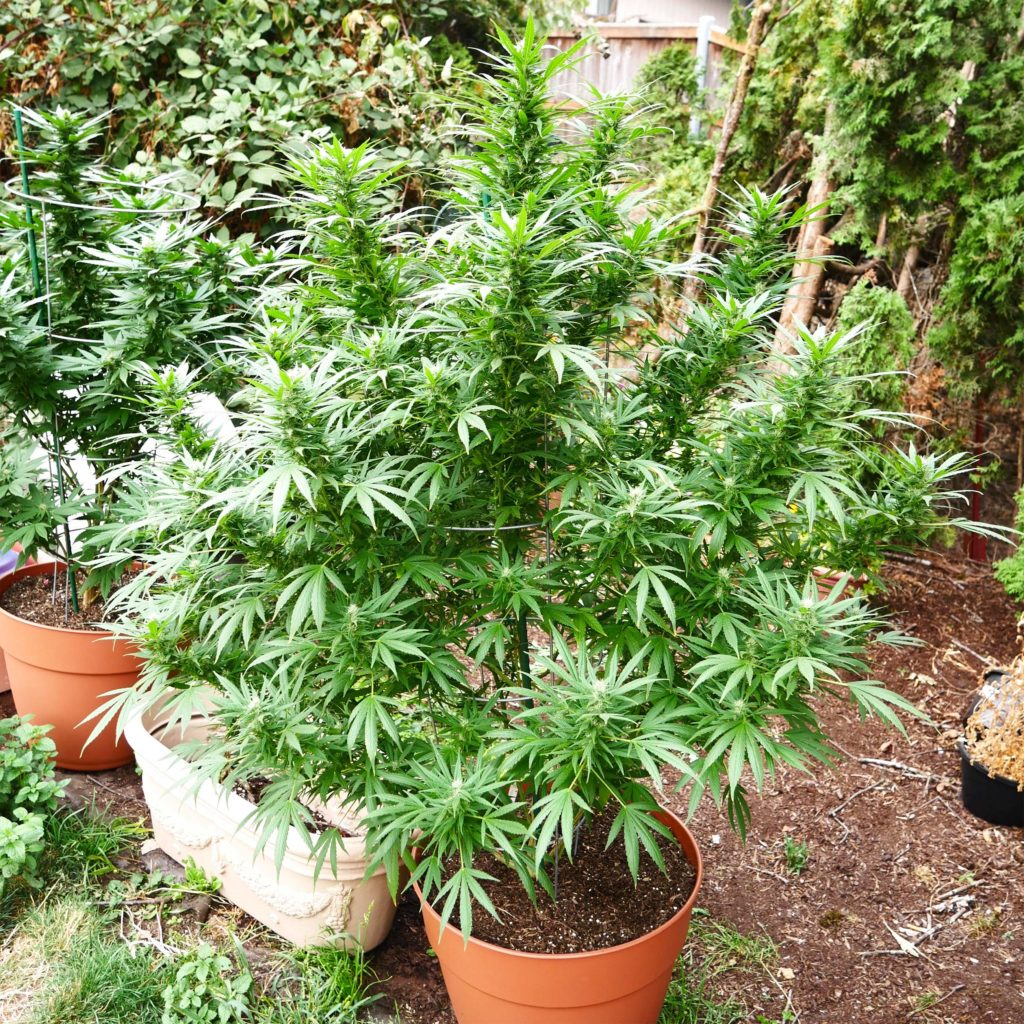 You can be certain that your pots contain only what you put in them, and that no mixing with native soil has occurred. This may also go some way towards controlling unwanted pests and bacteria, although in an outdoor environment total control of this aspect may be difficult.
Cons:
1 – On the other hand, containing plants in pots may be undesirable for the very fact that it restricts growth, thereby reducing potential harvest and general overall health of the plant. Of course, there are some huge pots available for outdoor cultivation, but if you truly wish to maximize the potential of your large plants, restricting their access to soil is not the way to go.
2 – Another potential problem lies in the fact that plants are transportable in pots—it's a definite advantage for many outdoor growers to be able to move plants indoors or into a greenhouse if necessary, but the fact that you can pick them up and carry them around also means that other, less well-intentioned people can do the same.
If your site is very remote and there is little chance of trespassers discovering your crop, this may not be an issue, but for many back-garden growers in villages and towns the world over, theft is a very real concern.
3 – Another possible disadvantage is the need for more regular and meticulous maintenance when plants are in pots. Hand-watering is typically essential, as even if your pots are in a position to receive water from precipitation, they will not have access to the groundwater or moisture held within the topsoil—which for plants grown in open soil, can potentially entirely negate the need to water by hand.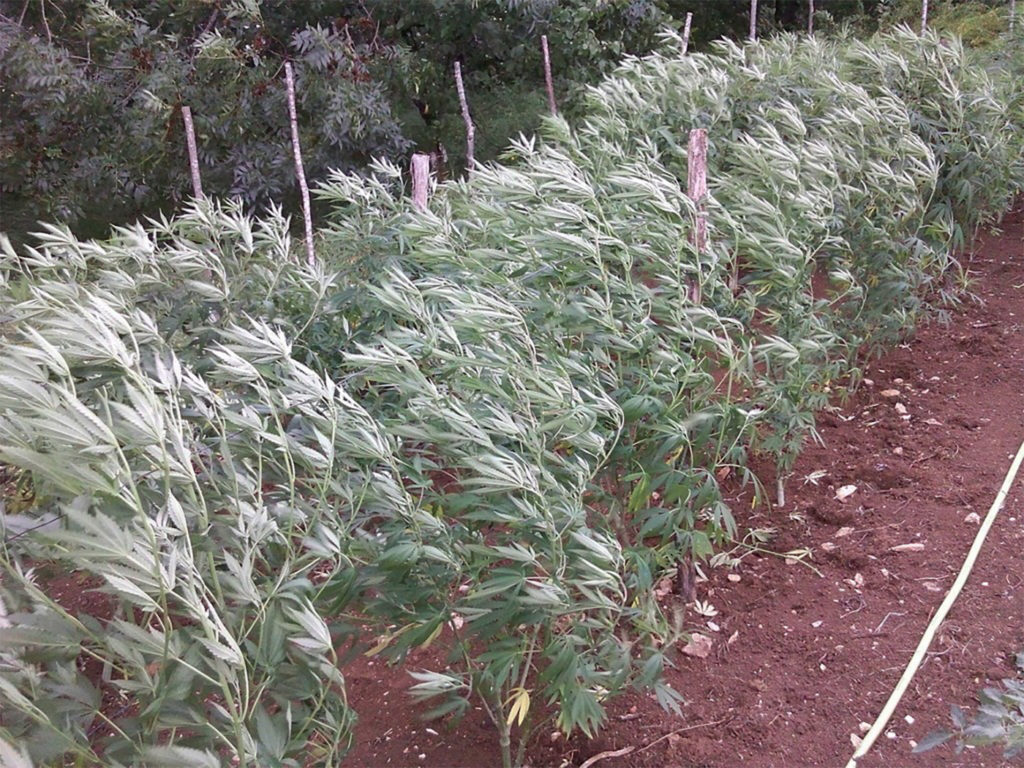 Growing cannabis outdoors in open soil
Pros:
1 – The most obvious advantage of sowing seeds or planting seedlings in open soil is the fact that they have full, unrestricted access to nutrients and whatever moisture can be reached by the roots. As the roots are able to freely grow downwards, they may be able to fulfill their water requirements purely from the groundwater.
This ensures that your plants can achieve their full potential in terms of height, vigour and eventual yield, and also means that less maintenance is required. If conducting a 'guerrilla grow' in a site that is not easily accessed on a daily basis, open soil is often preferred for this reason.
2 – Another potential advantage of growing in open soil is reduced set-up cost. While purchase of pots is not generally going to break the bank, keeping costs low is generally a good thing, from the smallest hobby-gardener to the biggest criminal outfit.
When factoring in the fact that growing in pots generally necessitates the need for several transplants throughout the plant's life into incrementally bigger pots, cost of pots alone can run into the low hundreds for a small grower, and possibly even thousands for large-scale growers.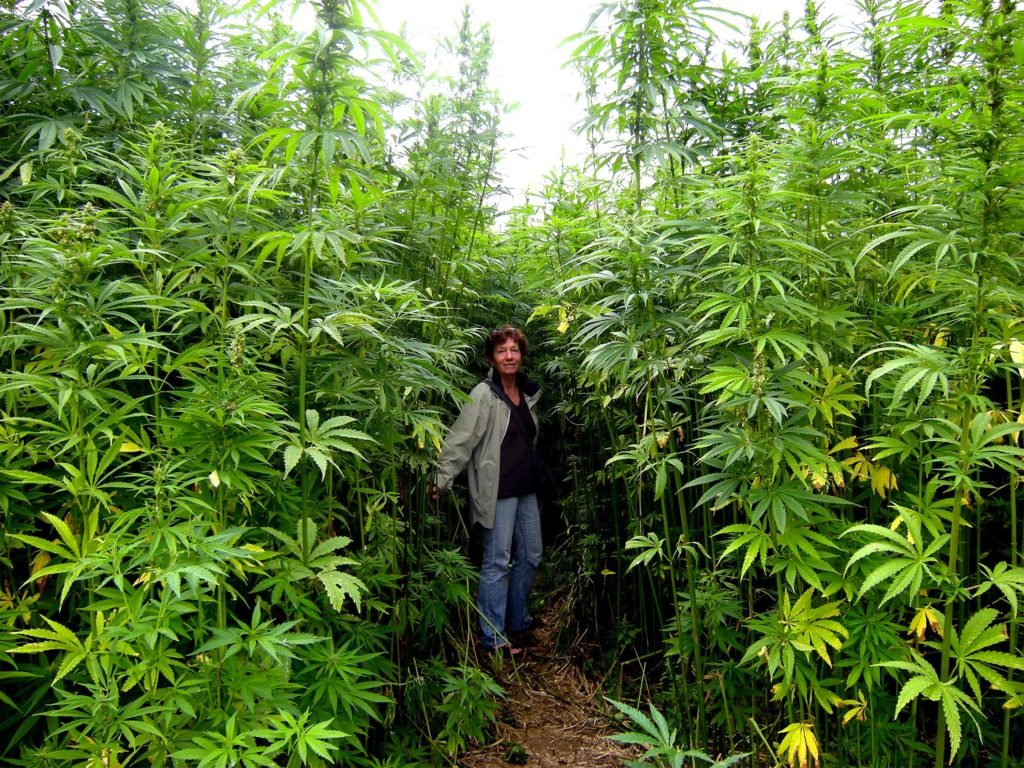 Cons:
1 – Of course, growing cannabis outdoors in open soil means your plants are not transportable, which is an advantage if theft is an issue, but can also be a great disadvantage.
Non-transportable plants means that you are at the mercy of the weather and season—if thunderstorms, gales, or floods occur, your plants may well not survive them, unless you are able to construct screens or wire cages to protect your crop from the worst of the severe weather.
2 – Furthermore, if your plants cannot be moved, they must be grown only at favourable times of year, as they cannot be moved into a well-lit or completely dark space if natural daylight is preventing them from flowering or from vigorous vegetative growth.
3 – Another big concern with growing cannabis outdoors in open soil is the quality and uniformity of soil. Most growers opting for this method will make great effort to ensure that the soil is appropriate in terms of drainage, consistency, and pH, and will often mix the soil with additives such as lime (to increase pH), sand (to improve drainage), or manure (to increase available nutrients).
However, without an impenetrable barrier between your plants' soil zone and the native soil, these efforts can be negated—by agricultural runoff contaminating your soil zone with toxic chemicals, for example.
Disclaimer:

Laws and regulations regarding cannabis cultivation differ from country to country. Sensi Seeds therefore strongly advises you to check your local laws and regulations. Do not act in conflict with the law.