In nature, cannabis plants are typically found in warm, sunny, and humid conditions with a light breeze to grow strong, resilient stems. Mimic those conditions using a propagator, a light, and a household fan, and set your seedlings up for success!
The seedling stage of cannabis plants begins when the first two rounded leaves unfurl, and lasts for 2 – 3 weeks. By this time, the seedlings will have grown their first few pairs of serrated leaves, which usually have up to five fingers. Once this has happened, the vegetation stage begins, but for now, here are the best conditions for cannabis seedlings.
When should cannabis seedlings be exposed to light?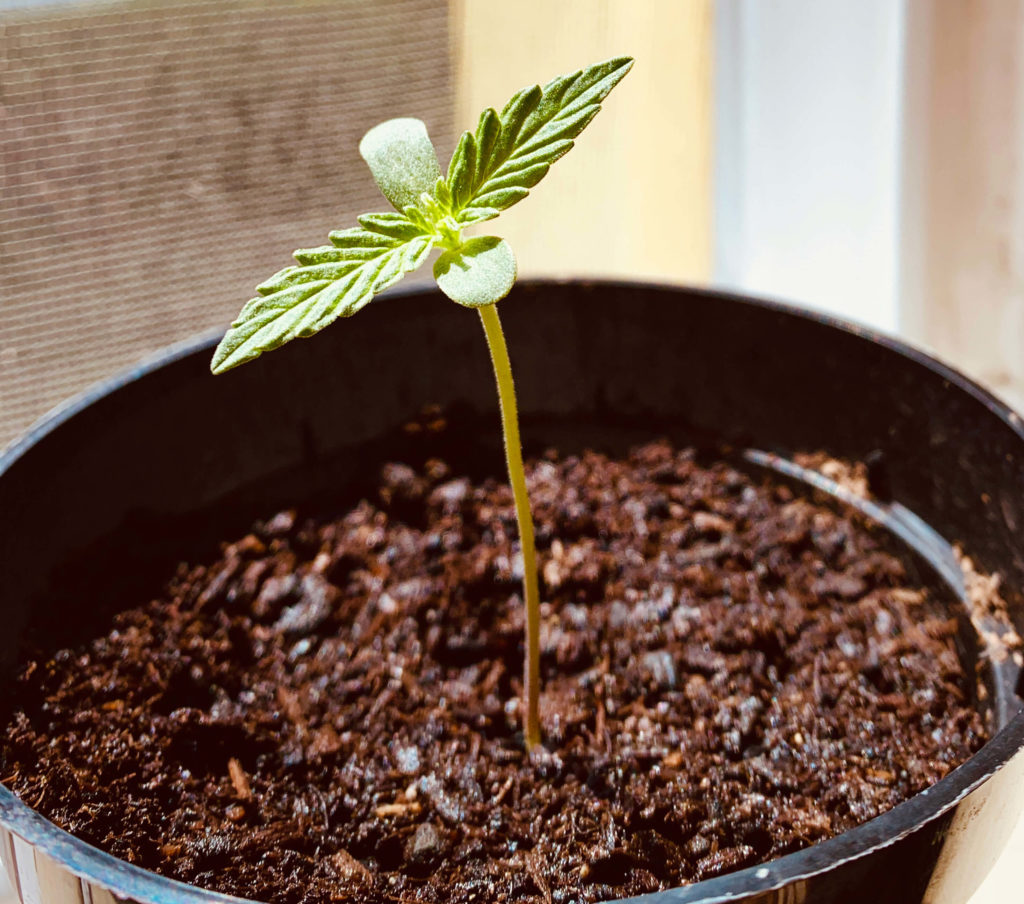 Seedlings need exposure to light right after the sprout breaks the surface of the grow medium. This is because the first leaves you see (cotyledons) are photosynthetic, meaning they are fully capable of capturing light and converting it into energy used for plant growth. Ideal light exposure and temperature will vary between strains depending on their intended grow climate.
Outdoor seedlings and light exposure
To begin, keep young seedlings inside to protect them from the elements.
Find a sunny window and place your seedlings in direct sunlight for at least 6-8 hours for the next 10 – 14 days.
Gradually increase the photoperiod by an hour a day – working up to the 18/6 cycle.
Indoor seedlings and light exposure
Expose to light source once seedlings emerge from the soil.
Use a blue-light spectrum for optimal results.
Follow the 18/6 light cycle for the next 2-3 weeks.
Keep seedings at a safe distance from the light source to avoid heat stress.
What is the best temperature for cannabis seedlings?
Your seedlings will need to be kept within strict temperature settings to ensure they grow strong stems and healthy leaves. Keep your seedlings in a warm and bright place, like a windowsill where they can get plenty of sunlight. Indoor grow temperatures are set with the use of artificial light (HID lamp, fluorescent, or LED). Keep the daytime temperature to a constant 22-25°C (70-75°F). At night, keep the conditions cooler at around 18°C (65°F).
If temperatures are too hot or seedlings are too close to the light, they can burn and chances of survival are remarkably lowered.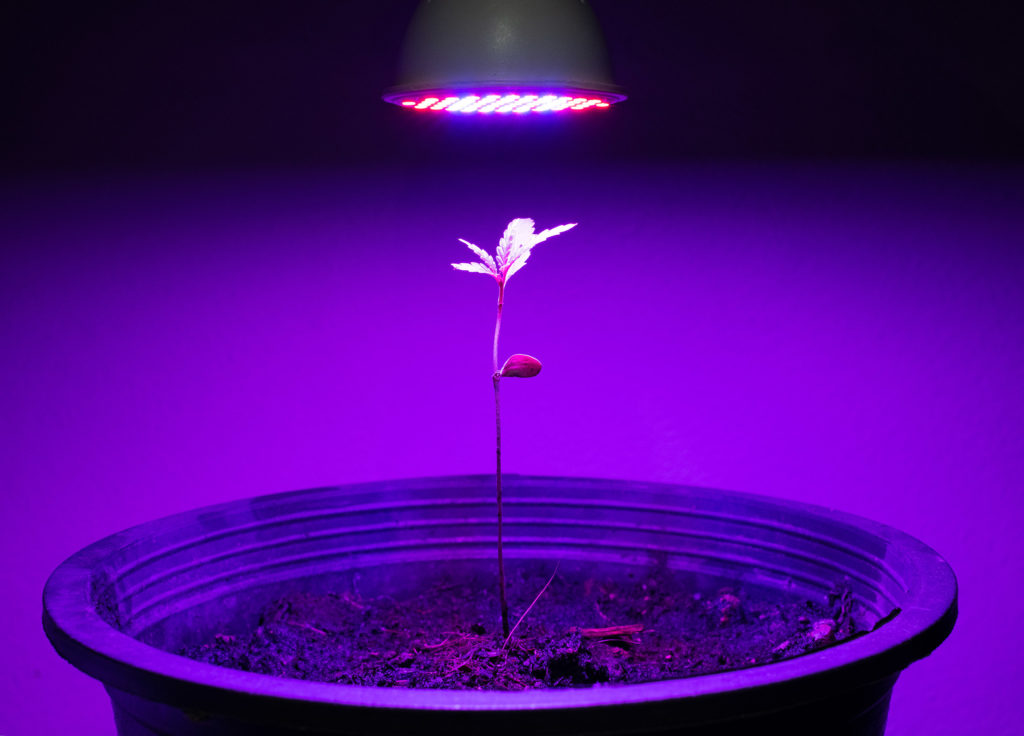 Safe distances for seedlings from different light sources:
HID lighting (metal halide lamp): 50 cm from the bulb
Compact fluorescent lamp: 15 cm
Fluorescent tubes: a few centimetres
LED Lights: 30 cm
Light schedule
Set your light schedule for 18 hours of sunlight and 6 hours of darkness with a blue light spectrum. This is what is commonly referred to as the 18/6 light cycle. Light intensity can be increased when 2-3 sets of healthy, green, serrated leaves have grown. That's when seedlings enter the vegetative stage.
Intensity dimming LEDs are optimal as they provide a spectrum of light for every stage of growth.
What is the best humidity for cannabis seedlings?
High humidity will ensure young and fragile seedlings won't grow tired and thirsty. They use the moisture in the air to easily feed their tiny root systems. Humidity can be managed with the use of a propagator and keeping a spray bottle nearby. The ideal relative humidity (RH) for seedlings is 65 -80% RH.
How to use a propagator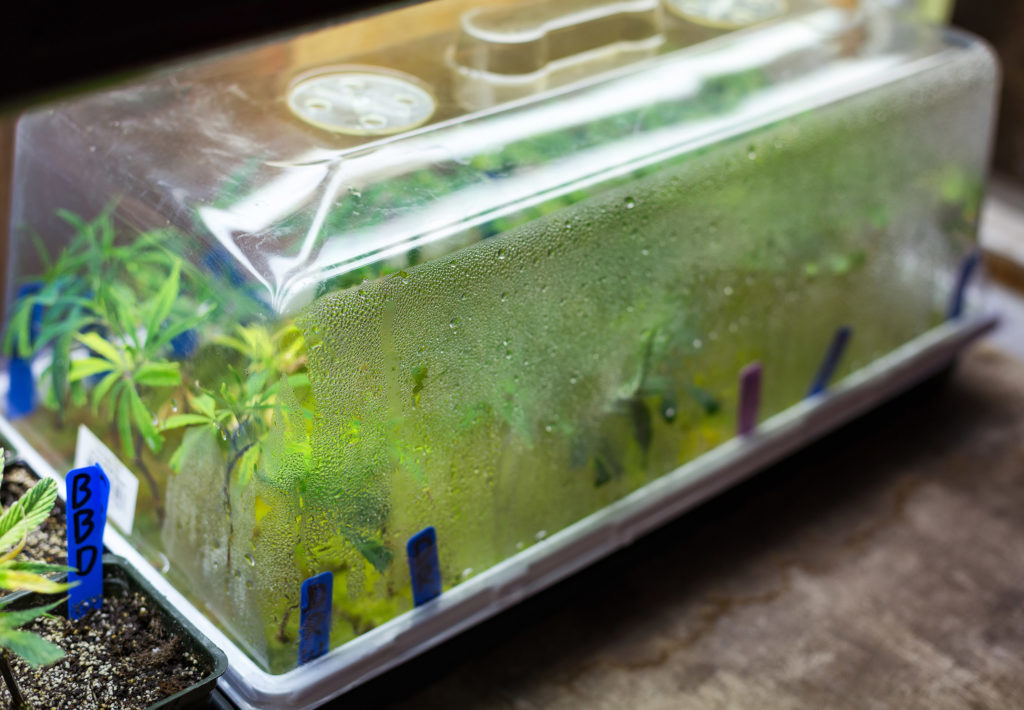 A propagator is an essential item in your grower tool kit. It's the perfect place to keep young seedlings because it offers protection and makes it easy to hold moisture in the substrate, keep in humidity, and allow for light exposure. DIY propagators are an inexpensive option, and can be made using items around the house such as plastic bottles, egg cartons, and yogurt containers.
Place your cannabis seedlings on a flat plastic tray with a translucent cover on top.
Poke a few holes to allow for air flow.
Check on your seedlings regularly to ensure they haven't dried out, and spray with water when necessary.
Place propagator under the preferred light source or on the windowsill.
Using a propagator for outdoor seedlings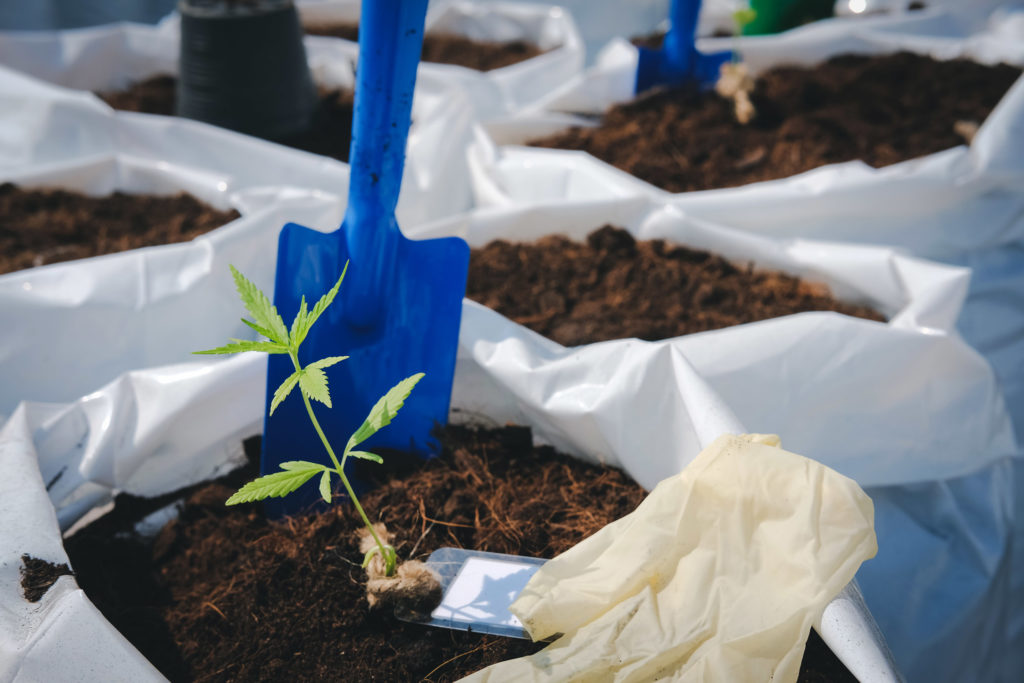 Introduce your seedlings to three hours of outdoor sunlight during the sunniest time of day.
Increase time in the sun by an hour each day (weather allowing).
Bring back inside during the night.
Repeat this every day, and after two weeks cannabis seedlings will be strong enough to live outdoors permanently.
Keep your seedlings inside the propagator until they grow taller than 7 cm, or a second or third pair of serrated leaves can be seen.
Using a propagator for indoor seedlings
Remove seedlings from your propagator once they are taller than 7 cm or 2-3 sets of serrated leaves can be observed.
Place a very weak fan near the seedlings, blowing near the tip of the plant.
Air flow for indoor seedlings
Wild cannabis plants grow robust stems by dancing gently with the breeze. This airflow is key to good structural integrity. It also prevents mould and helps seedlings stay healthy.
Set an oscillating household fan near the seedlings.
Set the fan to the lowest setting.
Direct airflow near the tip of the plant.
How to water cannabis seedlings
During the seedling stage, as your stem grows up towards the light, the roots of a cannabis plant are growing into the soil in search of water and nutrients. Watering away from the plant base forces the roots to search for water. Fostering a minor struggle for water promotes healthy and robust growth.
Water away from the cannabis plant base.
Let medium dry before watering again.
Check whether your soil is dry by lightly pressing your finger 2-3 mm into the soil. Watering your seedlings is a gentle balancing act. Keep a close eye and ensure that the conditions stay moist.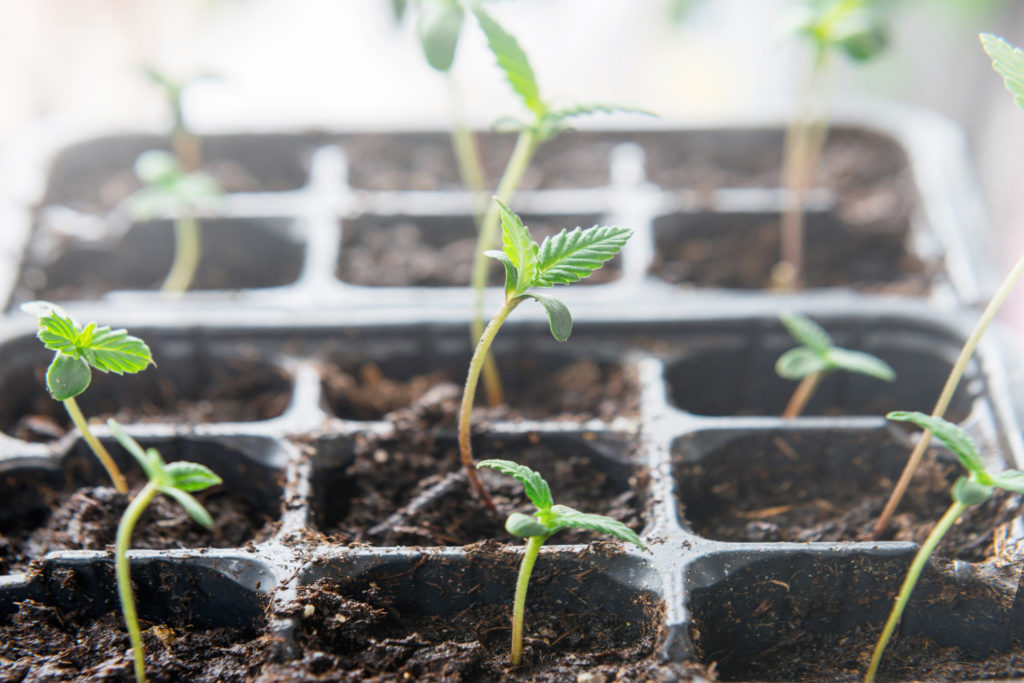 Soil pH for cannabis seedlings
Cannabis plants require slightly acidic, moist, and well aerated soil to facilitate growth.
Pots and Containers for cannabis seedlings
A container around the size of a cup, or 250 ml, is perfect for cannabis seedlings. Once they are taller than the pot is deep, carefully transplant them to 5 litre pots, then the size of the final pot is up to you. Tip – do the final re-potting before flowering begins, to avoid stressing them.
Rockwool cubes and blocks can also be used for seedlings, and can be planted out into soil or into larger blocks as above.
For the next 14 days, pay your cannabis seedlings loads of attention. They will thank you for it. Keep your grow conditions consistent, and your plants will be healthy and ready for the vegetative stage. The foundations are set, and you have the best genetics to ensure a successful crop.
Now it's over to you. Remember to be patient and enjoy the process. Did we miss anything out, or do you have any burning questions? Post them in the comments below. Do you have experience caring for seedlings? Drop in some tips and tricks!
Disclaimer:

Laws and regulations regarding cannabis cultivation differ from country to country. Sensi Seeds therefore strongly advises you to check your local laws and regulations. Do not act in conflict with the law.