Transplanting is the process of re-potting plants into new, larger containers. Transplanting is a delicate process, and can be tricky to get just right for beginner growers.
This basic guide covers why, when and how to transplant or "re-pot" your cannabis plants, for growers using soil, coco or soilless mix.
Why should cannabis plants be transplanted?
When your plants are small, keeping them in small containers trains the roots to grow at an even rate, and to remain shorter, denser and more evenly-branched. This fills up the container and utilises the maximum amount of soil.
A small container also prevents over-watering; overly-large containers can cause damp rot in small plants if too much water remains in the container without being absorbed by the small root system.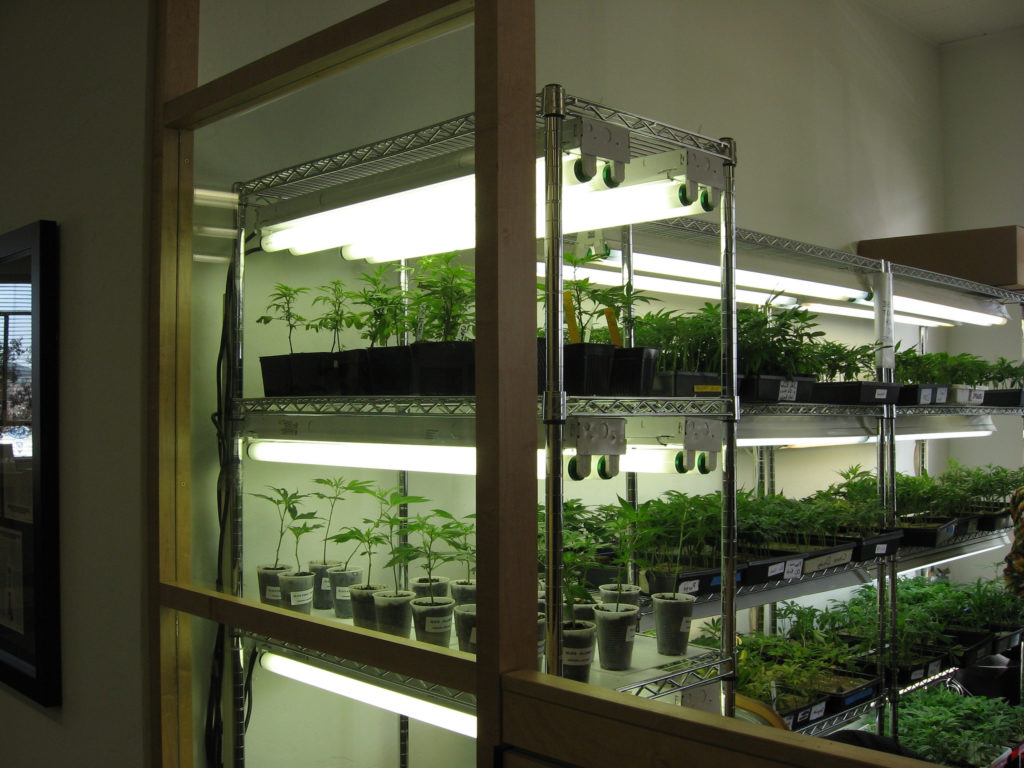 After a while, however, your plant will outgrow its small container and its growth rate will sharply decline and cease, unless it is given a larger container with more soil for its roots to expand into. When there is no more space for the roots, the plant is considered "root-bound".
Therefore, transplanting your plants into incrementally larger containers throughout the vegetative period provides the optimum balance between encouraging short, dense roots, while ensuring that sufficient water and nutrients are always available.
When should cannabis plants be transplanted?
Your cannabis plants will make it quite obvious when they need to be transplanted. Your plants will start to dwarf their container and will require very frequent watering, often draining their container of water within hours of their last feed. They will also wilt more easily if left without water for too long.
If growing outdoors in warm, sunny climates (or indoors under high-intensity lighting), transplanting may need to occur relatively frequently due to the rapid rate of growth—as often as once per week at first is quite typical for indoor grows, with frequency dropping off to once per fortnight for larger plants closer to flowering.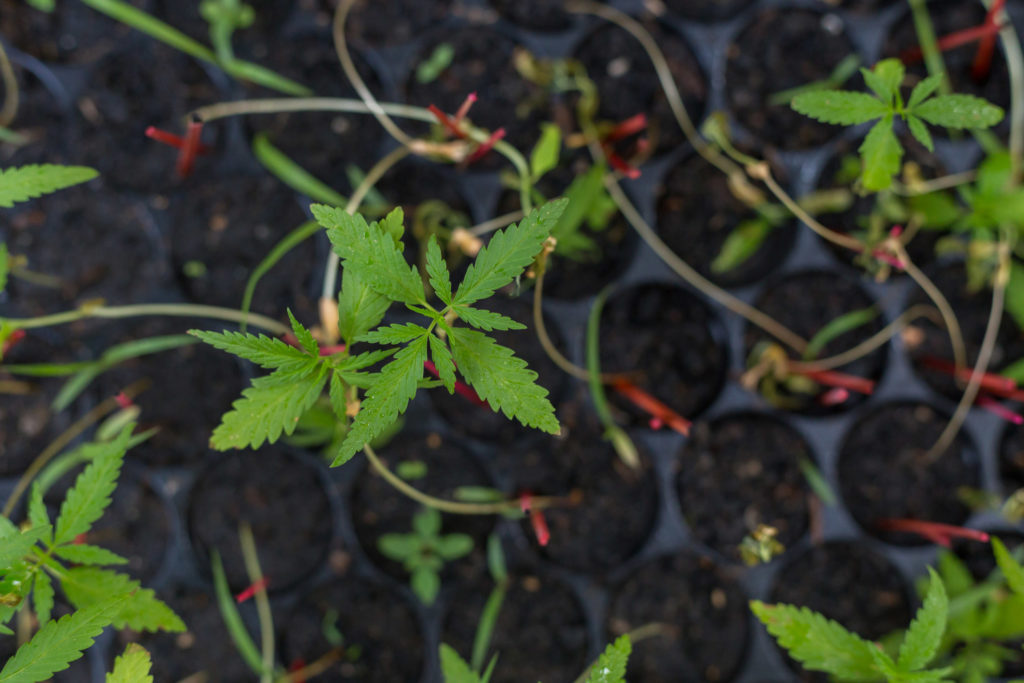 You can choose how many times to transplant your plants based on the length of your growing season (more relevant for outdoor grows) and your space limitations (often more of a problem for indoor growers). As long as your plant has sufficient hours of light per day, it will continue to increase in size as long as it has space to expand into.
How should cannabis plants be transplanted?
The process of transplanting cannabis plants is simple, but care must be taken to avoid damaging delicate roots and stems. First, you will need new containers that are substantially larger than the last ones.
Typically, the first containers used will be small pots with a volume of one litre or less (typically around 8-15cm in diameter). A container with a capacity of 2 litres (typically 15-20cm diameter) is the obvious next step, followed by 4 litres, 10 litres and finally 15 or even 20 litres. Most indoor growers will stop at somewhere between 10 and 20 litres due to space considerations.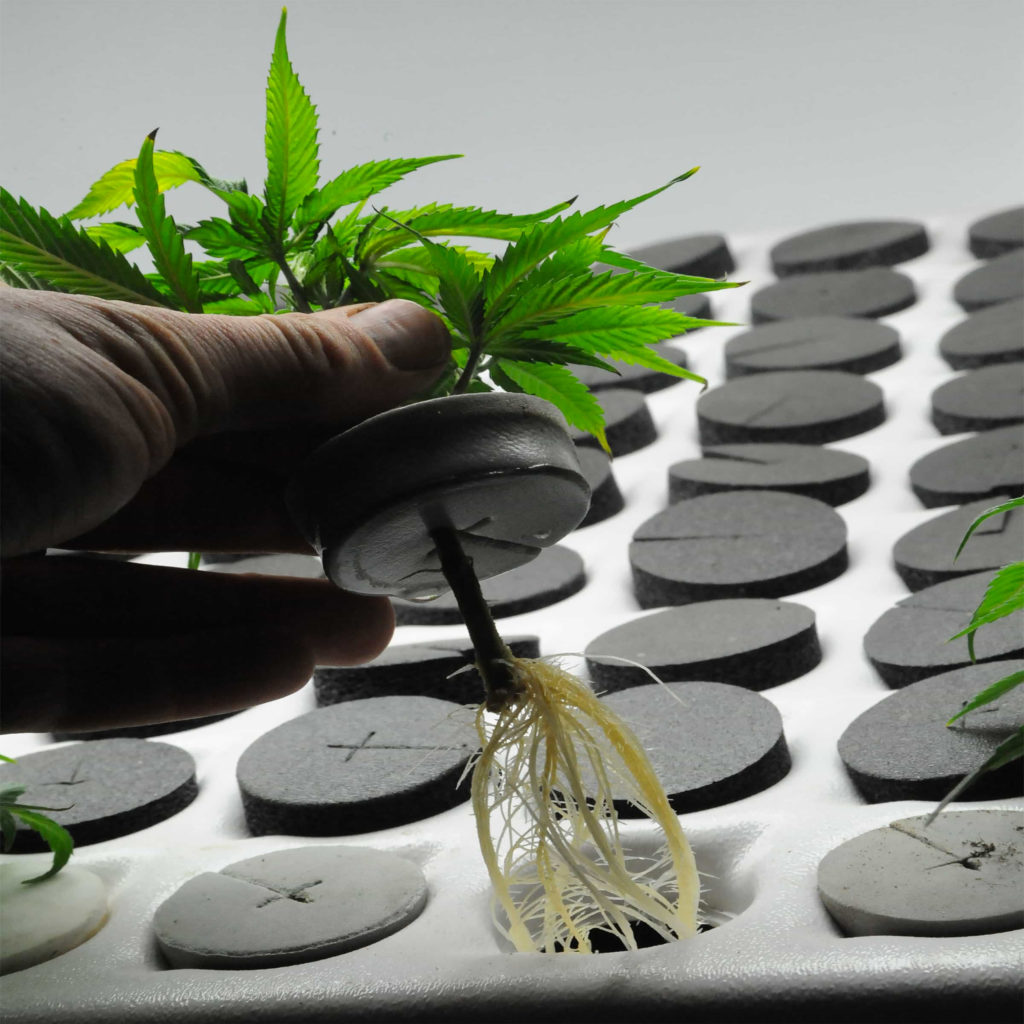 Half-fill your new container with soil or soilless mix, ensuring that the existing root ball will fit comfortably inside. Lightly press down the soil to ensure a firm consistency that will allow good drainage.
Take your plant and firmly grasp it by the base of the stem, while gripping the base of the pot. Upend the container—this can get messy if soil is loose, so this step should be done outside or on plastic sheeting.
Lightly tap on the base of the container with one hand, while gently pulling the plant with the other hand. All going well, the plant should gently slide out with little resistance.
The root ball (which should retain the shape of the container) must then be placed in the new container. Soil should be added to the container to surround the root ball, and stamped down to ensure that it is firmly packed in.
Other things to consider when transplanting
To minimise the stress of transplanting, some growers recommend leaving plants unwatered for 24 hours prior to the process. Allowing the soil to become too dry is not ideal, but if it is too wet, it may break apart more easily and the roots may be disturbed.
After transplanting, some growers will lightly water with a nutrient solution half or two-thirds the usual strength. Some growers also reduce the light intensity to provide a low-stress environment for the plants.
Most cannabis plants are hardy enough to endure a simple transplant without undergoing too much stress, and do not need to be treated any differently than usual. However, some strains (particularly sativas) may be more delicate than others, and when cannabis plants are very small, they are delicate no matter the strain. Following the above steps will ensure that the process is as stress-free as possible, both for your plants and for yourself.
Disclaimer:

Laws and regulations regarding cannabis cultivation differ from country to country. Sensi Seeds therefore strongly advises you to check your local laws and regulations. Do not act in conflict with the law.