HPS vs LED HPS lights vs LED lights: the question is one that every indoor cannabis grower has considered, and usually more than once! To shed some light on this sometimes difficult decision, we've collected various comments and conducted a Twitter poll. And what is your opinion? Tell us in the comments.
Our series on "Your Opinion" continues with a look at the views on HPS (High Pressure Sodium) lights versus Light Emitting Diode (LED) lights. The debate on which lighting system will produce better results can be found on virtually every cannabis forum. It is also not a clear-cut yes or no answer, as many growers use different systems – including combining the two types of lighting – at different stages of the cultivation process.
The question of LED vs HPS lights can also be affected by what continent you are living on. In Europe, electricity is more expensive than in the US. This tends to lead to gardeners in the US growing under 1000 watt bulbs, whereas their European counterparts lean towards 600 or even 400 watt bulbs.
Our expert author Seshata has written this well-researched, in-depth look at the various different lighting systems for cannabis cultivation, for those interested in learning more about their options.
As well as collating comments from various forums around the internet, we took a quick Twitter poll for some up-to-the-minute feedback on your opinion on HPS vs LED, and also asked about the reasons for your answers and what could influence your choices. The results can be seen in this handy infographic, and read in full below.
The results of our Twitter poll: LED vs HPS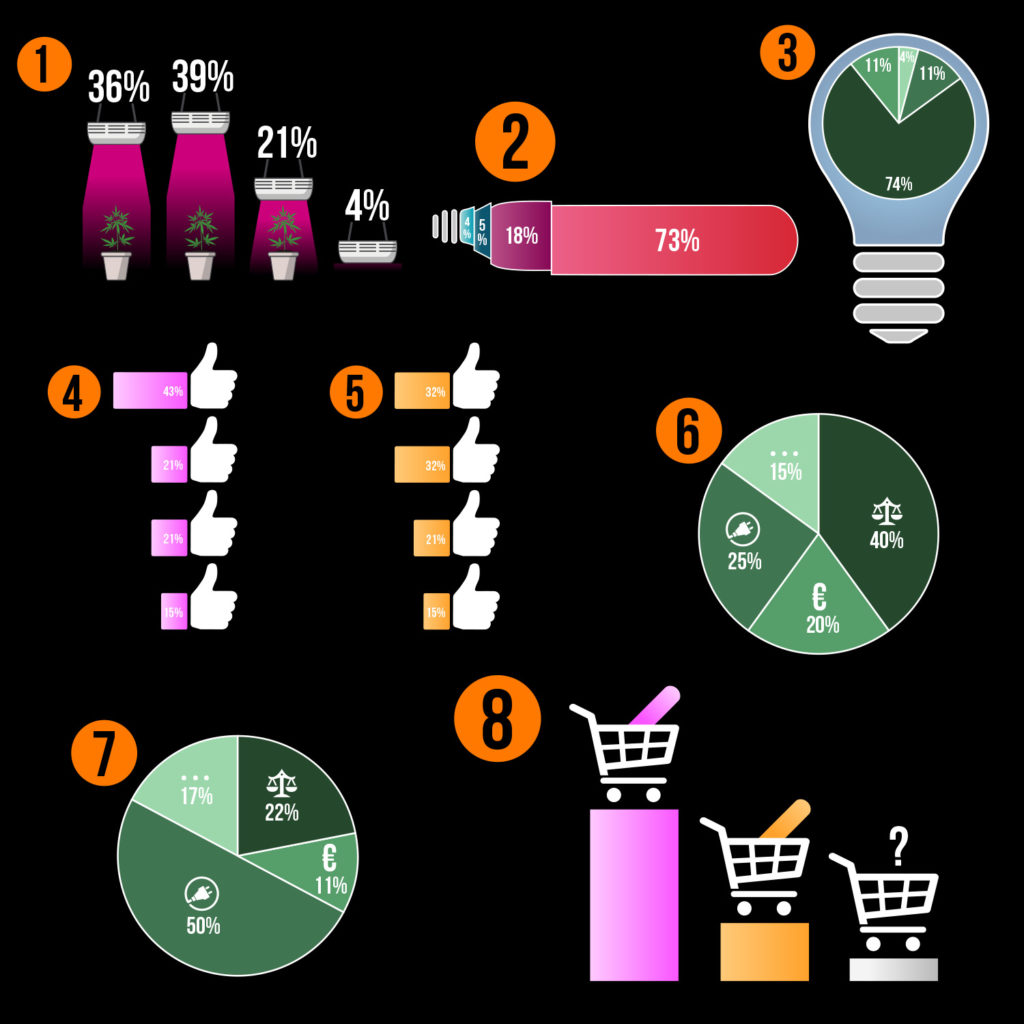 1.Have you ever grown using LED lights? 
yes – 36%
no  – 39%
no, but I would – 21%
no, and I wouldn't – 4%
2. Have you ever grown using HPS lights? 
yes – 73%
no – 18%
no, but I would – 5%
no, and I wouldn't – 4%
3. Have you ever grown using a combination of LED and HPS?
yes – 11%
no – 74%
no, but I would – 11%
No, and I wouldn't – 4%
4. Were you satisfied with the results from LED?
yes, very – 43%
yes – 21%
yes, but could have been better – 21%
no – 15%
5. Were you satisfied with the results from HPS? 
yes, very – 32%
yes  – 32%
yes, but could have been better – 21%
no – 15%
6. If you were going to buy a new lighting system, what factor is most important to you? 
yield – 40%
cost – 20%
electricity usage – 25%
other – 15%
7. If you were going to buy a new lighting system, what factor is least important to you?
yield – 22%
cost – 11%
electricity usage – 50%
other – 17%
8. If LED cost the same as HPS, would you choose LED?
yes – 68%
no  – 23%
don't know – 9%
Conclusion Results
LED lights have been tested on yields and many times people were happy with the results. For indoor growers a good quality LED for a HPS price would be the best option, as concluded from the poll. Yields are more important than electricity costs. As an example: LED can achieve up to three times the yield per watt than a HPS does. But LED is more expensive and 68% would consider LED over HPS if the cost was the same.
Comment from Henry on Plantozoid.com (x):
"Quality LEDs will outperform HPS, I agree. But they get a bad reputation, because there are so many low quality lights out there that don't perform as advertised. Also, there's a bit of a learning curve when switching to LED. I think a lot of growers don't get the results they expected on their first grow with LED and quickly decide LEDs don't work."
Comment from Mark on Plantozoid.com (x):
"Because HPS produces high-energy photons with a smaller wavelength which means plants see the photons as being smaller and they tunnel down into the matter further, meaning more energy is captured. LED produces low-energy photons with a larger wavelength so that the photons are perceived as bigger to the plant, and less energy is captured. This is proven again and again in tests.

Using the LED during vegging produces higher Calyx to Leaf ratios and also reduces node spacing so we produce short squat plants perfect form Fimming or the Screen of Green method. But for flowering, that 1000w HPS will ALWAYS be better than any LED now or in the future!!!! PERIOD. Also.. if you are using CO2 injection with LED's you may as well stop. Your plants can benefit from up to 1300 ppm CO2 ONLY if the light is very bright AND if it is very hot.

Think for a second about heat… what is it? Infrared radiation. Which is what? Infrared photons. So heat produced by those HPS lights is seen by the plant as a massive flood of photons in Infrared spectrum! The plant wants to capture all of those extra photons but needs CO2 to help with that part of the ATP cycle. You can't get that extra yield with LED's. Just turn your CO2 off because it is making no difference or switch to HPS for your flowering cycle if it's feasible."
Comment from COorganics on 420magazine.com (x):
"In my particular situation I would never switch from HPS to LED. Then I would have to run more heat which is quite a power draw. It seems, in my limited experience, that LED is great technology for warmer climates (less heat) and also uses less power which would be nice."
Comment from PlatinumLED on 420magazine.com (x):
"It's an example though that once again.. you cannot equate growing power or intensity levels of LED grow lights to their wattage consumption. You're working with drivers and diodes.. and many different grades and types of drivers and diodes.

You need to look at the individual light, the spectral emission and the overall PAR emitted vs watts consumed. There is a HUGE difference in quality and emission from one to another.. and you get what you pay for.. and this goes both ways. Any little money you spend on cheaper lights will only come back to cost you very dearly in the short and long run with vastly decreased yield, increased power consumption, increased canopy temps, safety issues, etc etc"
We would also love your feedback! Let us know your opinion in the comments below. HPS or LED – what do you think?