On December 9, 2011 the Polish parliament voted to amend its law against drug addiction (ustawy o przeciwdzialaniu narkomanii) to give the prosecutors the option not to prosecute for possession of small amounts of drugs for personal use .
This amendment was passed only a month after two Polish Nobel Prize winners –  former President Lech Walesa and the poet Wislawa Szymborska –  signed a call for reductions in sentences for possession of small amounts of drugs.
Faster, cheaper and more effective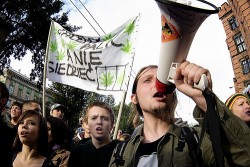 This is not unlike the Portuguese drug policy which has already been in place for  10 years. The former Head of the Polish Ministry of Justice, which commissioned the new law, has repeatedly stated that the changes will allow addicts to be helped more effectively, as well as increasing resources for the fight against hard drug  traffickers.
The Director of the National Bureau for Drug Prevention Wilamowska Barbara, meanwhile, has explained that the amendment should reduce the number of lawsuits.
Finally the director of the Polish Drug Policy, Agnieszka Sieniawska says the new system will be faster, cheaper and more effective as evidenced by Portugal since 2001.
Legalization of all drugs in small amounts
Meanwhile, Polish political party the Palikot Movement is calling for full legalization of all drugs in small amounts. A new party in the Polish political scene, the movement won a surprising 10% of the votes in the last elections in October 2011.
In a bill that should be submitted to Parliament this week, Palikot proposes to limit the possession of cannabis to 30g per person. Maximum amounts have been proposed for all other drugs, and in addition Palikot proposes legalizing the cultivation of cannabis for medicinal use.
One thing is sure, a wind of pragmatism is blowing over several European countries where more and more elected officials want to end the inefficient and costly prohibition of cannabis, and Poland seems eager for change.