New exhibition Cannabis and music are inseparable for many people, and when you add art to the mix, the result is a parade of album covers that span genres from reggae to death metal. Enjoy some of the most interesting cannabis cover art at this summer exhibition in the Amsterdam Hash Marihuana & Hemp Museum!
Following the success of The Pope Smokes Dope in the Barcelona branch of the Hash Marihuana & Hemp Museum (which was extended by a month due to visitor interest), the exhibition is now coming to the Amsterdam museum venue, from June 3rd until September 3rd 2017. Here, we delve into the connection between cannabis, music and album art.
As legendary comedian Bill Hicks once said, "If you don't believe drugs have done good things for us, do me a favour. Go home tonight, take all your albums, all your tapes, and all your CDs, and burn 'em. Because you know what, the musicians who made all that great music that's enhanced your lives throughout the years? REAL fucking high on drugs."
Cannabis, art and music
The worlds of cannabis and the arts have been overlapping and, to some extent, interchangeable since ancient times. In the days when shamanistic or religious practices comprised a blend of medicine, spirituality, music, art, and altered states, there was no division between inspiration and divine communication, no separation of science and magic. In the last 150 years, Western civilization has consolidated the compartmentalization of these disciplines like no society before. Despite this, the link between music and cannabis refuses to be severed. On the contrary, it is currently growing stronger.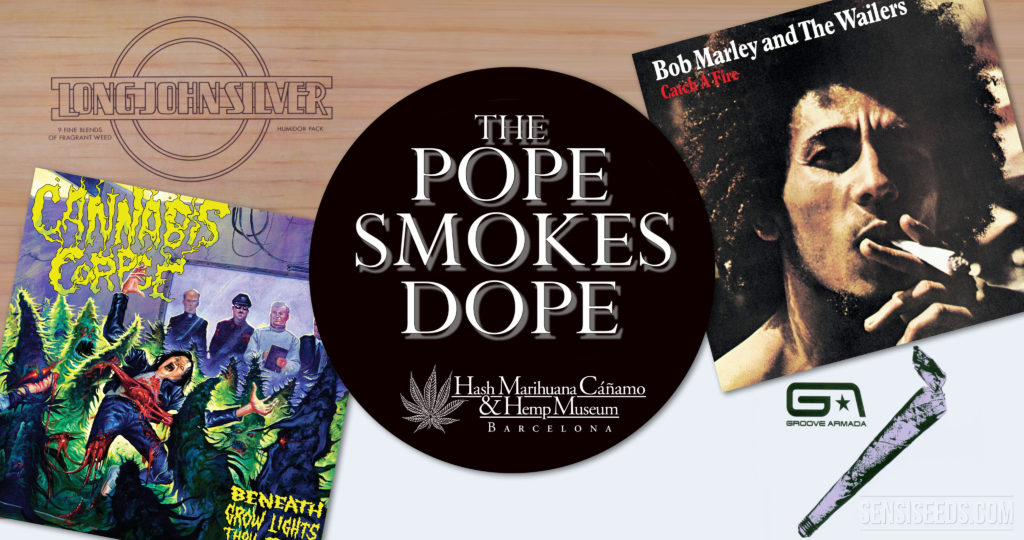 The Pope Smokes Dope
The exhibition is called 'The Pope Smokes Dope' in reference to the album of the same name by David Peel. Peel, who sadly passed away last month aged 74, was a street musician, "anarchist and marijuana evangelist".  He also wrote the 'stoner anthem' 'I Like Marijuana', which was misquoted by Time magazine, thus providing the title of his first album 'Have A Marijuana' in 1968. He is credited with being the first person to use the word 'motherfucker' in a song lyric, namely 'Up Against The Wall' (which simply goes "up against the wall, motherfucker" over and over again, before cheerfully ending "cha cha cha!"). Not a man to rest on his laurels, in 2011 he joined the Occupy movement and recorded a new version, 'Up Against The Wall Street'. In 2015 he released what was to be his final album, 'Give Hemp A Chance'.
Controversial at the time, and banned in many countries, 1972's 'The Pope Smokes Dope' was produced by Yoko Ono and John Lennon. In the same year, the couple released 'Some Time In New York City' (John's third post-Beatles album), featuring the song 'John Sinclair', which David Peel was well aware of. This number was penned in protest at the sentencing of cannabis advocate, White Panthers founder and MC5 manager John Sinclair to ten years in prison for passing two joints to an undercover police officer. Not only did Lennon put the song on his album, he performed it on television and at The John Sinclair Freedom Rally. Sinclair was released less than three months after 'Some Time In New York City' went on sale.
Young, fierce, innovative, and high
Brilliant though they were, to modern eyes Ono, Lennon, Sinclair and Peel look like quintessential hippies and the musical and political turbulence of the 1960s and 70s seems quaint and almost innocent. The advent of a new wave of young, fierce, innovative and outspoken musicians who openly discuss and advocate cannabis use, such as Rihanna, Miley Cyrus, Childish Gambino, Lady Gaga and Nicki Minaj, is continuing to break down the tired old image of 'stoner' or 'hippy' musicians. The cover of Rhianna's single 'Diamonds', depicting her perfectly manicured hands rolling a joint filled with diamonds, is featured in the exhibition. Of course, musicians have also played into the comic value of the 'stoner' image; Afroman's 'Because I Got High' is the ultimate expression of this self-deprecating humour, and likewise is part of The Pope Smokes Dope.
Timeless appeal of 'reefer music'
This type of portrayal of cannabis use by musicians – open, pragmatic and yet still seen by some as confrontational – is a far cry from the early days of jazz, when the inspirational herb had to hide behind a parade of slang synonyms, meant only to be understood by those already "in the know". Louis Armstrong released his track 'Muggles', which was one of the names for cannabis, in 1928. The 1951 album 'The Louis Armstrong Story (Vol III)', which also features Ed Hines, showcases this song and is featured in the exhibition. Three decades later, the label Stash Records released 'A Very Special Stash – The Best of Reefer Songs', a compilation of the best cannabis-related jazz tunes from the 1920s and 1930s (also on display), showing that these songs and their subject matter have a timeless appeal . Not all reefer songs of this era were concerned with concealing their subject matter, however – jazz vocalists Cleo Brown (in 1935) and Georgia White (in 1937) recorded versions of 'The Stuff Is Here And It's Mellow', an upbeat, bouncy, piano-driven tune that goes,
"Lock the windows and close the door,
Start the party up once more!
Hey, hey, let's get gay,
'Cause the stuff is here!"
A parade of cannabis themed album covers
By 2013, any need for subtlety in cannabis lyric references was long gone. This was the year that Cannabis Corpse, the band who love death metal and cannabis so much that they have based their entire career upon these two pillars, released 'Beneath Grow Lights Thou Shalt Rise'. The cover of this album depicts a man being dismembered by a grow room full of evil cannabis plants, some with glowing red eyes! Definitely don't miss seeing this album cover if you visit the exhibition.
Rounding out the 'pot parade' of cannabis themed album covers on show at the Hash Marihuana & Hemp Museum are records by artists whose names or music have become synonymous with cannabis use. A selection of these are Missy Elliot's 2003 hit 'This Is Not A Test!', which opens with 'Pass That Dutch'; Wiz Khalifa's 'Rolling Papers' from 2011; Snoop Dogg's 1993 debut 'Doggy Style', and many more. Naturally, no collection of cannabis album art would be complete without 'Catch A Fire' (1973) by Bob Marley and the Wailers, 'Countryman' (2005) by Willie Nelson, and 'Legalize It' (1975) by Peter Tosh. Not only English language albums are exhibited. You can also view 'Ganja Smoka' (2002) by German reggae artist Benjie, and Dutch Ska band Doe Maar's 'Skunk' from 1981.
The Pope Smokes Dope opens at the Amsterdam Hash Marihuana & Hemp Museum on Saturday the 2nd of June 2017 and runs until the 3rd of September 2017. A ticket for the museum includes entry to the exhibition. Don't miss it! And what is your favourite cannabis-related album cover? Let us know in the comments below.