Opiate dependence can have severely detrimental effects on normal life and everyday function, and can be extremely difficult to overcome. Cannabis can not only reduce the need to take opiate-based painkillers in the first place, but may also help to alleviate withdrawal symptoms even in existing cases of addiction.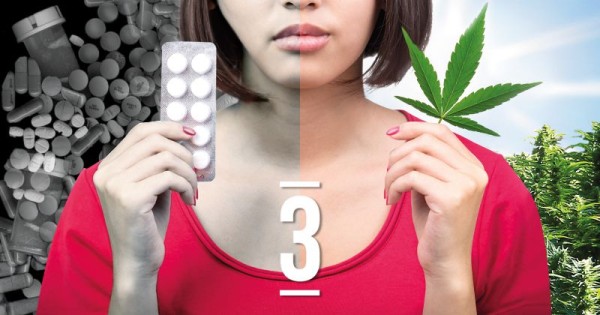 1. Analgesic/ chronic pain relief
Chronic pain is one of the primary reasons for utilization of opiate painkillers. It is also one of the primary reasons for utilization of medical cannabis: in a patient survey of 350 Michigan-based medical cannabis patients, over 85% of respondents reported that they used cannabis to treat pain.
Cannabis' proven ability to treat chronic pain has enabled tens of thousands of patients in several US states to reduce or even eliminate their need for opiate-based painkillers, and in doing so has significantly reduced the number of painkiller-related deaths in those states.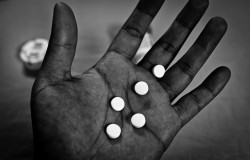 A study conducted in 2010 using data from the Centers for Disease Control & Prevention (CDC) found that over forty individuals per day die from prescription painkiller overdose in the USA—more than the number of deaths attributable to illegal heroin and cocaine use. In the thirteen states with medical cannabis, it was found that the rate of prescription painkiller overdose was up to 25% lower than in non-medical states.
Even more tellingly, it was shown that the longer that medical cannabis had been available (and had thus become known and available to more people), the stronger the correlation was. In states that had had medical cannabis for a year or less, the decrease in painkiller deaths was around 20%; in states that had had medical laws for five years or more, the decrease was up to 34%.
2. Cannabis is Neuroprotective
Dopaminergic & endocannabinoid signalling
The endocannabinoid system has various functional similarities to the dopaminergic signalling system. The dopaminergic system is a fundamentally important set of signalling processes which help to control the brain's "reward system".
The "reward system" itself is a vast and hugely complex set of related areas of the brain, and includes the hippocampus, the hypothalamus, the amygdala, the frontal cortex and various other structures.
As well as providing sensations of reward and pleasure in response to stimuli that register as positive, the dopaminergic system is a vital part of the body's pain response on occasions of negative stimulus.
Opiates are a class of drug with huge significance to medicine, due to the fact that they are the best-known and most effective agonists of the dopamine receptors. Primarily, opiates are useful as painkillers, with morphine and codeine being two well-known examples of opiate painkillers. Due to their dramatic effect on the subjective experience of reward and pleasure, opiates can be highly addictive; furthermore, they can be exceptionally hard to cease usage of, due to their propensity to cause physical dependence and severe, crippling withdrawal symptoms.
How the signalling systems interact to mediate individual response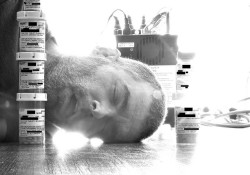 Although the dopaminergic system and the endocannabinoid system are classed as separate, there is plenty of evidence pointing to the fact that use of cannabinoids can have effects on the dopaminergic system. Indeed, it seems that the dopaminergic and endocannabinoid systems are fundamentally linked, and that this relationship determines the individual response to cannabinoids and opiates; however, this relationship is far from being fully understood.
It is well established that cannabis can reduce the likelihood of a patient in pain turning to opiates to control their symptoms. However (and although our knowledge of this area of neurology is in its infancy), there is promising evidence that use of cannabinoids may help to alleviate opiate dependence even in existing addicts. It is thought that cannabinoids can help to activate the same receptors activated by opiate use, and that by doing so, the need to use opiates themselves is therefore reduced.
A 2009 study in the journal Neuropsychopharmacology found that in rats, exposure to THC or its synthetic analogue dronabinol could block opiate dependence in rats. However, the effect is not as simple as it may at first appear to the reader: in fact, this blocking effect of THC was only relevant to rats that had been deprived of maternal support, and did not affect the response to opiates in rats that had not been maternally deprived.
Furthermore, the tendency to develop dependence on opiates was far more prevalent in the sample group of rats that had been maternally deprived compared with the control group. It appears that the effect of THC was realized not only through its action on the dopamine receptors, but also that THC's effect on the cannabinoid receptors themselves caused the knock-on effect of releasing more dopamine.
The implications of this for humans are obvious. A vast body of research over decades has strengthened the argument that exposure to a negative environment (such as maternal deprivation, or low socioeconomic status) has a fundamental effect on the likelihood of an individual becoming dependent on pharmaceutical substances in order to experience "reward". If a substance with fewer negative effects can be substituted for one with demonstrably very great negative effects, the overall impact on both the individual's health and that of the wider population is obvious.
3. Neuroprotective, via an alternative mechanism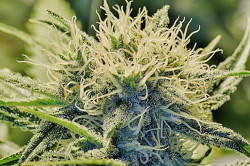 The above section discusses how THC may be useful in removing the need to take opiates; the action of THC is in many ways similar to that of opiates in that it can agonize certain dopamine receptors and cause the release of dopamine, triggering the subjective experience of reward. However, there is an alternative mechanism via which cannabinoids may reduce or altogether remove the need to take opiates, which rather than THC, focuses on CBD.
CBD is an antagonist of the endocannabinoid receptors, and its presence mediates the ability of THC to activate the cannabinoid receptors and release dopamine. A 2006 study for the Journal of Pharmacology and Experimental Therapeutics found that CBD, via its receptor-blocking mechanism, could cause a reduction in the reward experienced by presence of opiates, and may help to reduce the reward-seeking behaviours (the search for a "fix") in dependent individuals.
While this may not prove as successful in treating existing addicts who are currently dependent on opiates, it may have two important roles to play. Firstly, for ex-users at high risk of relapse, it may help to reduce the desire to engage in reward-seeking behaviour; secondly, for those who have not become dependent on opiates but may be at higher risk due to negative childhood environment—such as children in care homes or those of particular socioeconomic deprivation—it may reduce the likelihood of opiate dependence ever occurring.