Travelling with medicinal cannabis With the new law on cannabis as a medicine, medicinal cannabis became marketable in Germany. Since then, it has been possible to bring it with you to other European countries. Read about what you need to consider here.
More and more EU countries are adopting laws on the use of medicinal cannabis. Yet, legislation varies greatly, which means cannabis patients who intend to travel with their medicine have to bear a few things in mind, since even after approval as a medicine, cannabis flos is subject to other rules than conventional drugs. All cannabinoids, regardless whether they are a ready-to-use product, extract or flower, are prescribed and merchandised as so-called "marketable narcotics". Because in most countries only Sativex, Marinol, Dronabinal, or Canames are approved, it is only permitted to bring these drugs on holiday or on business trips when travelling from these countries. This requires a "certificate for carrying drugs for the purpose of medical treatment – Article 75 of the Schengen Implementation Agreement", which every EU member state can issue. In addition, a patient in Germany must fill out this form from the doctor and have it stamped by the appropriate health authority. In Germany, this is provided by the respective public health authorities, which sometimes levy a small charge for handling. The implementation agreement was introduced in order to simplify the legal trade of narcotics in the medical field inside the EU and, therefore, authorises export from the issuing country and import into other EU states.
Such a certificate entitles a patient to carry 28 days' worth of medicine. On flights, the medicine must be carried in the hand luggage along with a copy of the prescription and the certificate.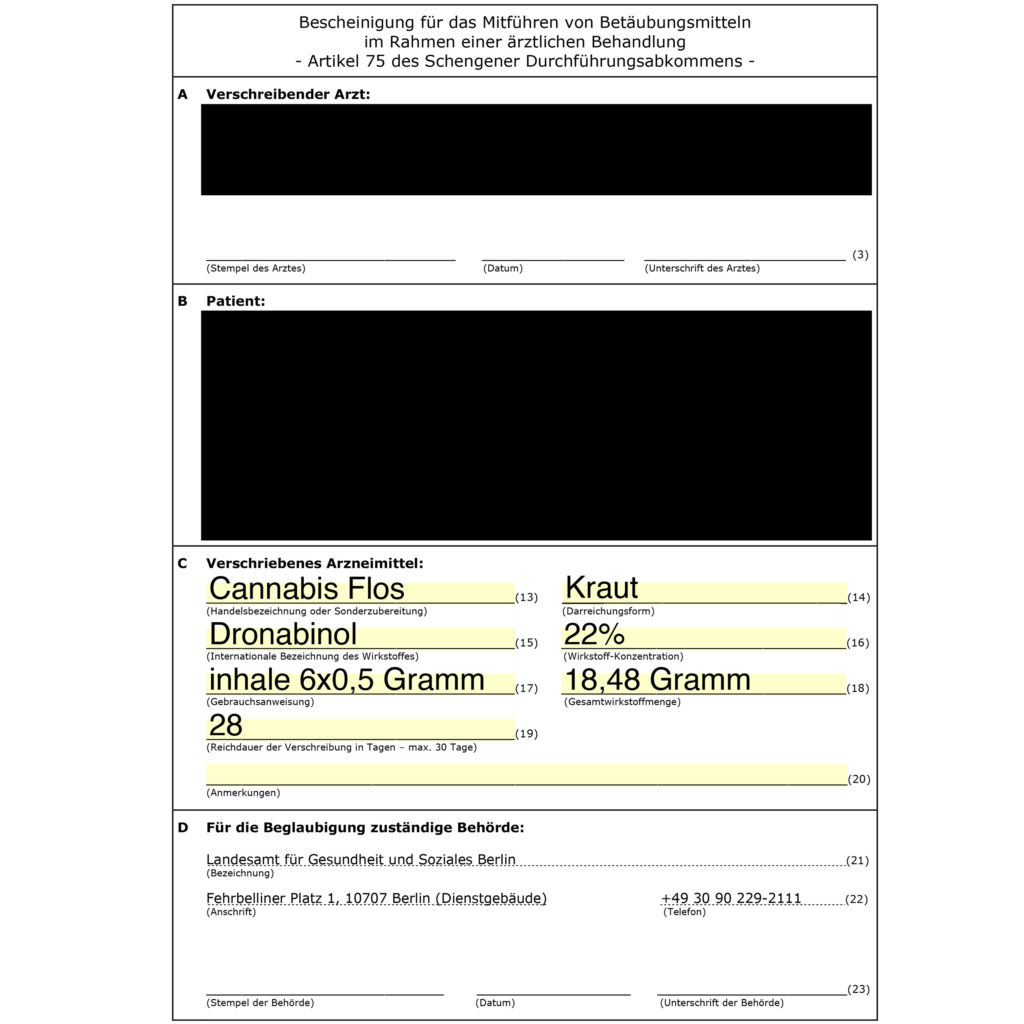 Cannabis flowers on the move
Until March 2017, cannabis in Germany was still an illegal substance which fell under Annex 3 of the German Narcotics Act and was only permitted to be obtained with an "exemption for self-therapy with cannabis flos". Since the legislative change in early March, medicinal cannabis now falls under Annex three, which has made it a "marketable drug". A few local health authorities had already issued cannabis patients with a certificate before the official reclassification pursuant to the implementation agreement, which the relevant federal agency tolerated taciturnly, although strictly speaking it was not entirely legal. However, in Germany, medicinal cannabis flowers prescribed and acquired since March have been unequivocally marketable and may be carried within the EU.
Patients from countries such as the Netherlands, Italy or Germany, where cannabis flowers are also classified as marketable drugs, can carry with them their necessary 28-day requirement to other EU member countries. The procedure is the same as for ready-to-use products, whereby just as for flowers, the active ingredient quantity has to be specified in milligrams. For instance, a patient who has been prescribed three grams of "Bedrocan" cannabis daily, can carry 84.18 grams of flowers from the pharmacy. In addition, it should be noted that the 84.18 grams contains precisely 18.48 grams of THC, which amounts to a THC content of 22%. Otherwise, the same rules apply as for ready-to-use products. The drug should also be carried in the original, sealed container.
Under EU law it is, therefore, theoretically possible to legally carry cannabis flowers into countries such as Austria, Belgium or France, where they are still completely illegal, based on their respective legal position, even as a medicine. To date, there are no known cases in which, upon presentation of the corresponding documents, patients have had to suffer any consequences.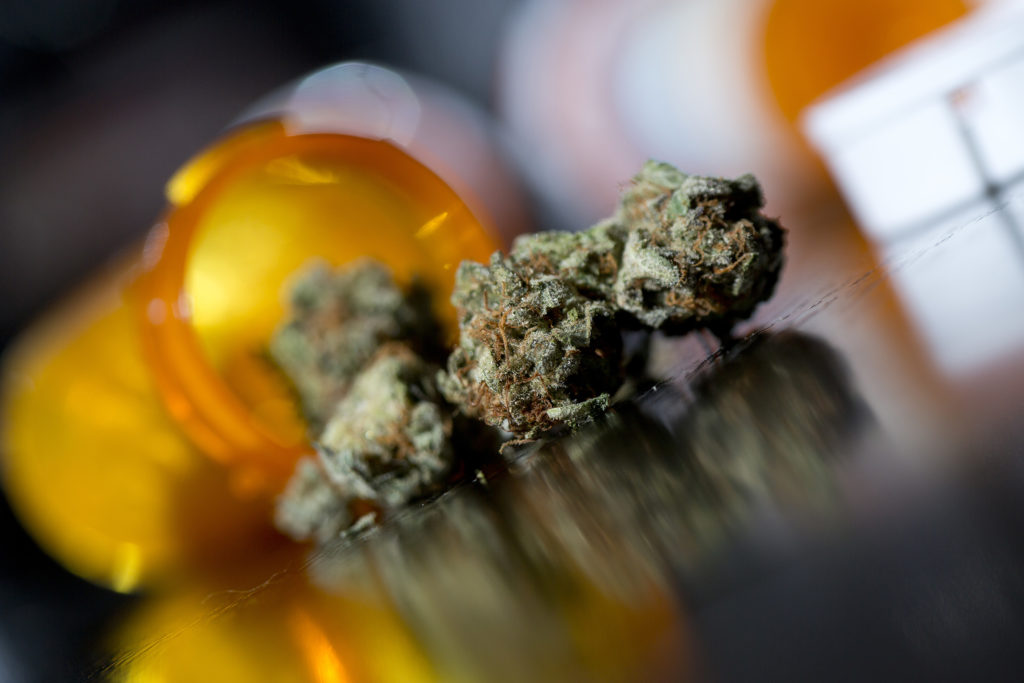 Exporting medicinal cannabis outside the EU
Now things get more complicated. Anyone having to bring medicinal cannabis into a non-EU country can use this form to request export from Germany, which entitles the bearer to a 30-day export permit. At the same time, the patient must obtain an import licence from the destination country. This can only work if both countries have a medicinal cannabis program at a national level, since entry formalities are controlled by federal agencies internationally. For Jamaica, for example, this is not a problem, but many countries still do not issue an import licence for medicinal cannabis.
Even Canada explains on its health ministry website that the export and import of medicinal cannabis for patients is fundamentally prohibited. However, as Canadian medicinal cannabis flowers have been exported to the EU since 2016, there is reason enough to inquire directly with Health Canada whether this information is still up-to-date:
Dear Ms XXX,
My name is Michael Knodt, I live in Germany, I am a freelance journalist and plan to take a business trip to Canada in the autumn.
In accordance with German law, I purchase medicinal cannabis from the Netherlands and Canada in German pharmacies. Since cannabis has been classified as a marketable drug in Germany, I would be entitled to take a 30-day supply of my medicine on journeys to countries outside the EU. To this end I would have to carry with me the medical prescription, the unopened medicine and the document completed in the Annex.
Would this be permitted under Canadian law?
If not, would my prescription be valid in Canada for obtaining medicinal cannabis flowers from the government programme?
Would it be possible as a traveller to receive a medical prescription in Canada?
Please allow me an additional question in relation to the International guidelines for national regulations for travellers who are treated with prescription drugs. According to your website: "Even if you are allowed to own or produce cannabis under Canadian law you are not allowed to carry cannabis with you when entering or leaving the country. Import or export of seeds or dried plant parts is also prohibited."
Are Canadian cannabis patients allowed to carry a 30-day dosage to countries such as Jamaica, the Netherlands, Germany or the Czech Republic, which have a medicinal cannabis programme in so far as the destination country permits import?
I would like to thank you in advance for your support.
Kind regards.
M. Knodt
Health Canada's reply:
To 1. No, Canadian cannabis producers are not allowed to accept any prescriptions from other countries under Canadian laws.
To 2. No, travellers to Canada are not allowed to import medicinal cannabis.
To 3. No, persons must obtain a prescription from a Canadian doctor or surgery authorised to do so.
To 4. No, Canadians are not allowed to take with them any medicinal cannabis into countries with a corresponding law.
Kind regards
XXX
Canada does not give local residents or visitors the option to continue their cannabis therapy on trips, whilst more and more producers of medicinal cannabis obtain export licences to sell Canadian flowers to Europe. This leads to the ludicrous situation in which flowers grown legally in Canada, which are obtained legally by patients in Germany in the pharmacy, cannot be taken to Canada.
Israel's Ministry of Health, which also has a medicinal cannabis programme, has not commented despite repeated written and telephonic requests, and has so far  not disclosed any information about medicinal cannabis when travelling.
It is no surprise that the economic interests of the cannabis business are once again being regulated ahead of those of individual patients. In order to avoid any reproach and criticism that economic interests would take precedence over the interests and needs of cannabis patients in terms of international rules on medicinal cannabis, countries such as Israel, Canada or Uruguay must quickly find a legally binding solution that enables legally produced and acquired medicinal cannabis flowers to be carried across borders as well.