cannabis TV series The representation of cannabis and its consumers is of the utmost importance. Good news! There are now TV series entirely dedicated to cannabis. In case you didn't know about any of them, here is a top 3 to get you started.
Cannabis-themed TV series have been absent from the general cultural landscape for a long time. Ironically enough, in spite of that, writers and producers of otherwise mainstream shows have not shied away from the topic. In fact, the so-called "cannabis episode" has turned out to be quite the milestone for a lot of comedies, to the point of almost becoming an accepted trope.
In more recent years, due to the boom of legal cannabis, and of cannabis activism, TV writers have let go of any remnant of subtlety. Thus, began the era of cannabis-themed TV series –  and it was about time it did!
3 – Disjointed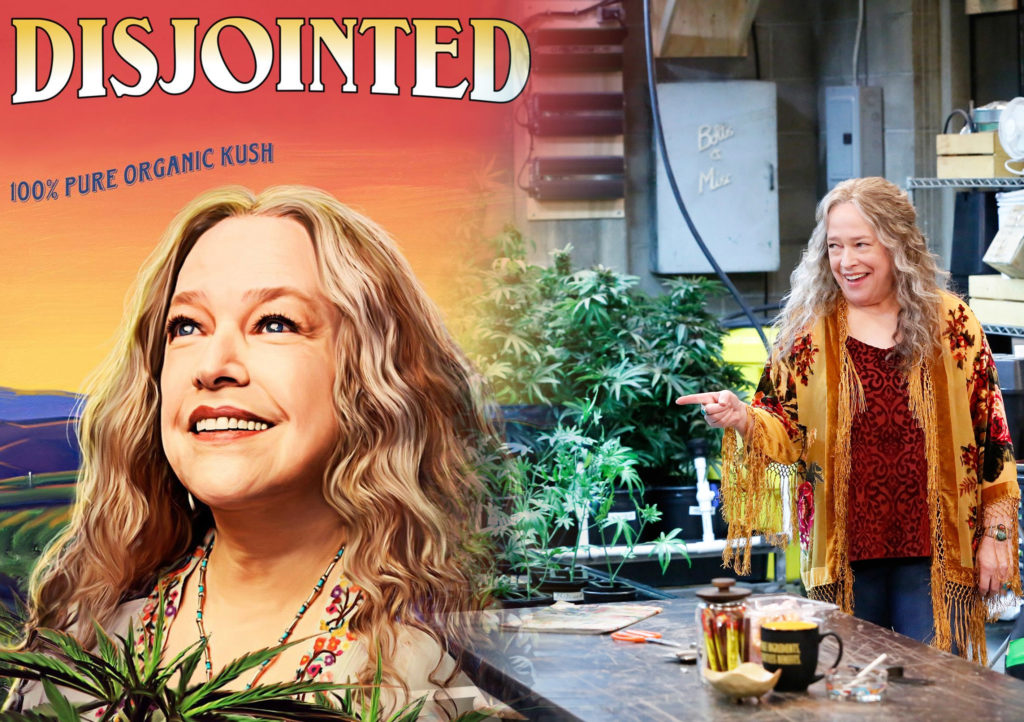 Disjointed is a Netflix sitcom starring Kathy Bates as the owner of a medicinal cannabis-focused dispensary located in Los Angeles, USA. The show follows the day-to-day life of the owner and her team of budtenders as they navigate the cannabis industry, and encounter your obligatory stoner and/or tree hugger clichés.
Disjointed is a tad of a revolution in the landscape of sitcoms filmed in front of a live audience. Chuck Lorre, one of the series' creator, is a serial sitcom producer who has a knack for covering somewhat unbecoming topics, such as drug addiction, modern family structures, etc. Disjointed is no exception, addressing the cannabis industry as a whole within a comedic setting. Add to this the definite A-list stamp brought by Kathy Bates' presence, and there you have it: one of the first family-friendly-ish sitcoms about cannabis.
Some episodes delve into aspects of the cannabis world that do not seem to have any place in less cannabis-themed TV series. Activism, cannabis politics, what it means to be famous in the industry, the search for Mother Nature, etc. All in all, Disjointed is not exactly the most avant-garde cannabis show in existence. But perhaps this is precisely why it is so valuable. While effortlessly watchable by fans of the cannabis plant, it is a series best consumed alongside a non-cannabis-savvy audience. The normalisation of cannabis still has a long way to go, and this new ally is more than welcome.
Watch with: Your parents, your friends who giggle at the mention of prescription cannabis
Or watch this instead: Weeds (2005-2012), its middle-class-y, criminally-inclined predecessor
2 – Time Traveling Bong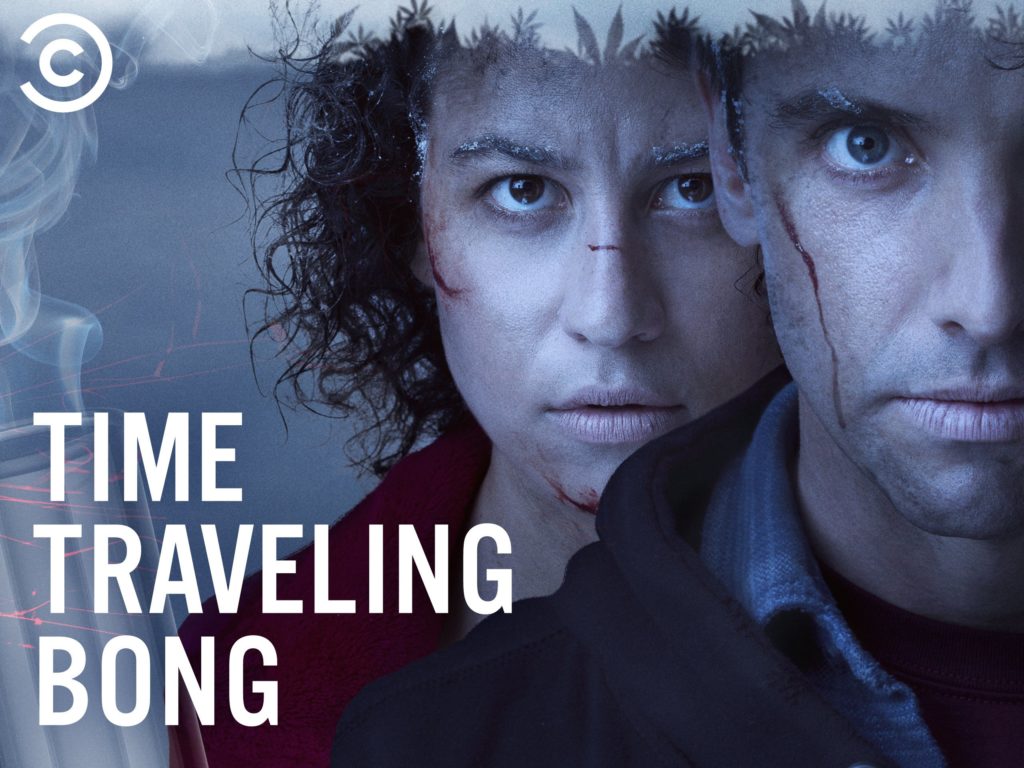 Time Traveling Bong is a mini-series in three parts which shows the completely wacked story of two cousins who discover a – guess what – time-traveling bong. The seemingly standard piece of smoking paraphernalia allows whoever smokes from it to jump through space and time, leading to a fantastically hazy adventure.
Still unsure why this cannabis-themed TV series should be worth your attention? Consider this: the shamelessly stoner-focused show is available for viewing online free of charge. Moreover, it stars one of the resident potheads of Comedy Central, Ilana Glazer. Creator and actor of cannabis enthusiasts' favourite "female stoner comedy" Broad City, the talented comedian has dedicated her craft to the representation of highly functional stoners. If you are familiar with Glazer's other works, this will definitely be right up the same smoky alley.
It is also worth mentioning that works of fiction involving cannabis consumers generally stay away from anything going beyond the (worn out) problematic of Life, How ToTM. So think twice before you decide to pass on time-traveling potheads. Just saying!
Watch with: Your favourite fellow cannabis lovers
Or watch this instead: Broad City (2014- )
1 – High Maintenance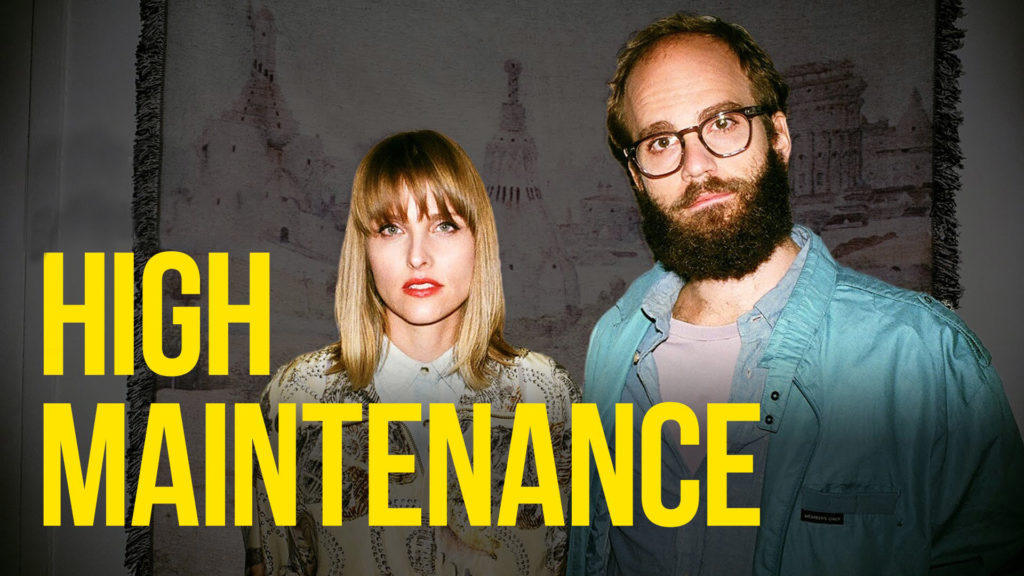 We can't stop talking about High Maintenance! Unbeknownst to most of its target audience, this cannabis-themed TV series has been around since 2012. After a successful 6-season run as a web series, it came to a halt in 2015, only to be revived as a full-fledged TV series in 2016 by HBO.
The concept is still the same. High Maintenance follows "The Guy", an independent delivery guy who provides clients with cannabis in the greater New York City area.
If you've ever lived in a country where cannabis is illegal, seek no more. This highly realistic – and hilarious – cannabis show will certainly remind you of all the single details that make a smoker/dealer relationship special. Irritating, life-saving, one-sided, invaluable, difficult, … in other words, high maintenance, whatever this means to you and your own cannabis dealer.
Each episode focuses on one or several customers, with some of them coming back every now and then for an always delightful follow-up. The customers shown represent the full spectrum of why one would want to buy cannabis illegally. Casual recreational smokers, party animals, patients, curious hipsters, etc. And via all of them, several shades of familiar behaviours that will certainly remind you of situations you've been in the middle of yourself.
Watch with: Your friends who never acquired cannabis from a dealer, your friends who did
Or watch this instead: Mary + Jane (2017), Snoop Dogg's short-lived series about a cannabis delivery service in Los Angeles