Jamaica is often associated with cannabis use. However, until 2015, the law stated that prison sentences could be given to those caught with even a small amount of the drug. Now, cannabis use has been decriminalised, and Rastafarians are free to use it as part of their religious practices. Jamaica's medicinal cannabis market is also starting to grow.
Recreational cannabis
Decriminalized

Medicinal cannabis
Legal since 2015
Cannabis laws in Jamaica
Can you possess and use cannabis in Jamaica?
Prior to 2015, it was illegal to possess and use cannabis in Jamaica. This comes as a surprise to many, as the country is often portrayed by international media as a haven for cannabis users.
The old laws meant that those caught in possession of cannabis were sentenced to up to five years in prison, and given a fine of up to $100 per ounce, or up to three years in prison and a fine.
In 2015, Jamaica's government amended the Dangerous Drugs Act. This introduced new laws regarding the legal status of cannabis. These include:
The decriminalisation of possessing two ounces or less of cannabis. If caught with a small amount, the offender can no longer be arrested or taken to court, and will not be given a criminal record.
The introduction of a 'ticket fine' system. If the offender is caught with two ounces or less of cannabis, he may be issued a ticket (similar to the tickets used in driving offences). The individual would then have 30 days to pay J$500 to any tax office.
Also, possession of over two ounces of cannabis is still regarded as a criminal offence. If the offender is caught with a larger amount, even only for personal use, he can be arrested and taken to court, and may be given a fine, or even a prison sentence. The offence would be noted on his criminal record too.
Using cannabis in public areas, or within five metres of a public area, is also against the law (this is the same for cigarettes in Jamaica). Public places are specifically listed in the Dangerous Drugs Act and include bars, restaurants, tourist establishments, workplaces, government offices, and any other locations that are "accessible to the public".
The amendments refer to adults and minors. However, minors caught with cannabis are referred to the National Council on Drug Abuse. The same applies for adults who display signs of being dependent on cannabis.
Exceptions to the rules
In accordance with the 2015 law amendments, Rastafarians will be legally allowed to use cannabis for religious purposes. They can only do so in areas that are registered as places of Rastafarian worship.
Additionally, if someone wants to use cannabis to treat symptoms associated with cancer, or other terminal or severe chronic health conditions, the law now permits it. Medicinal cannabis can also be imported into the country.
Can you sell cannabis in Jamaica?
If for medicinal, scientific or research purposes, companies can apply for a cannabis retail licence in Jamaica. All applications are approved by the Cannabis Licensing Authority.
For all other circumstances, cannabis sale and supply are both illegal in the country. The amendments to the Dangerous Drugs Act not only decriminalised cannabis use but also increased the fines associated with selling and trafficking illegal drugs.
This is perhaps in a bid to tackle the country's significant drug trafficking problem. According to The International Narcotics Control Strategy Report (released by the US State Department), Jamaica is the largest source country of cannabis in the Caribbean. Some of the cannabis produced is exported to other Caribbean nations, in exchange for firearms and other illegal items.
This is mostly due to Jamaica's geographic position, and its coastline, which is difficult to patrol. Taking advantage of the significant numbers of tourists passing through each day, drugs smugglers often use 'mules' to carry illicit substances out of the country.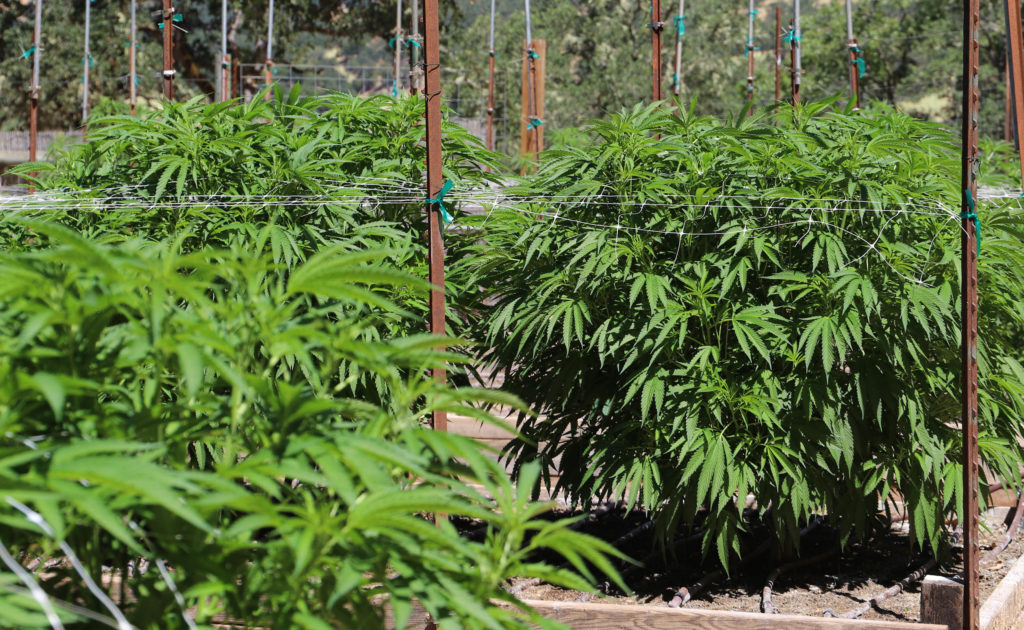 Can you grow cannabis in Jamaica?
In 2015, Jamaica's government legalised the limited cultivation of cannabis plants, for personal use only. Now, the Dangerous Drugs Act states that each household is permitted to grow up to five cannabis plants. Rastafarians aged 18 or over can apply to cultivate cannabis for religious purposes.
Also, the government created the Cannabis Licensing Authority. This was put in place to manage and regulate the medicinal cannabis industry, and cannabis cultivation for research purposes. The organisation also oversees Jamaica's hemp industry.
Small amounts of cannabis cultivation may be legal, but large-scale farming is not. However, this doesn't stop farmers across the country from growing the plant. According to The International Narcotics Control Strategy Report, Jamaica is a "major illicit drug-producing country" where 5,000 hectares or more of illegal cannabis is grown or harvested each year.
In 2017, the government launched Alternative Development Programme in a bid to transition current cannabis horticulturalists into the legal, licensed industry. Hoping to gain better control over the country's cannabis industry.
However, in 2020, Verald Vassell (a stakeholder) commented: "From an Orange Hill point of view, the Government has promised us some land but to this day we haven't gotten it. I don't know exactly what is going on."
He also highlighted the issue with officials destroying crops.
"These farmers want the government to cease from cutting down their products," he said, "because over the years this is what these people have lived off." He added that the government "acknowledged that a transition period is needed. But in the meantime, if you destroy these people's crops, how do they eat?"
In May, 2021, in the House of Representatives, Minister Audley Shaw addressed his concern for the slow development of the cannabis industry. He supported the Cultivator's Special Permit which aims to lower fees and requirements for local farmers ."Jamaica has some of the most experienced and knowledgeable local cannabis farmers, who have been growing high-grade ganja for decades. As the industry develops, there will be increased demand for cannabis, and our subsistence farmers will help to fill this demand".
Since June 30, 2021, The Cannabis Licensing Agency, have issued 81 cultivation licenses; 29 applications are currently being processed, and 338 applications are at the conditional stage.
Is CBD legal in Jamaica?
CBD is legal in Jamaica, as the government recognises that its THC levels are not significant enough to produce a 'high'. However, the CBD industry is in its fledgling stages, and as such, products are hard to obtain. They're also often expensive.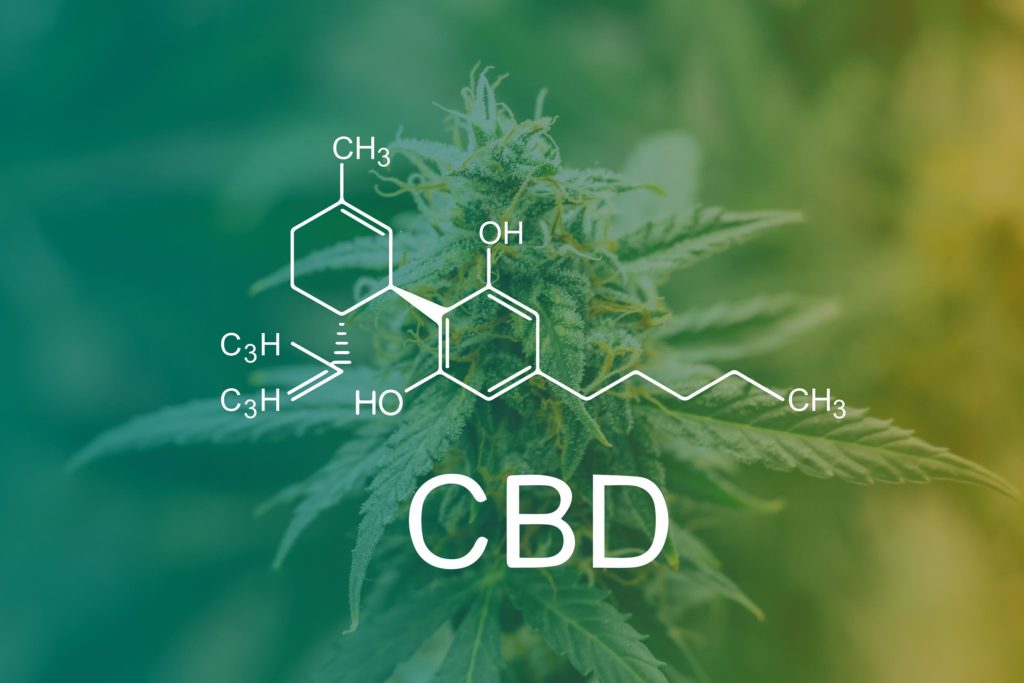 Can cannabis seeds be sent to Jamaica?
Cannabis seeds are no longer illegal in Jamaica, and can be used to cultivate up to five plants at home. They can be sent into the country via the mail.
Medicinal cannabis in Jamaica
Under the 2015 amendments to the Dangerous Drugs Act, a person who is suffering from cancer, terminal illness, or severe chronic illness may import cannabis products for medicinal purposes.
To do so legally, patients must receive certification from a registered medical practitioner, confirming that they are suffering from the illness. The practitioner must also specifically recommend the use of medicinal cannabis for them, and all imports must comply with regulations.
Nevertheless, medicinal cannabis is becoming more widely available in Jamaica, and adults (over the age of 18) are allowed to consult a licensed doctor for a medicinal recommendation.
In 2018, Jamaica's first medicinal cannabis dispensary opened, at Kaya Farms. There are now medicinal dispensaries throughout the island.
In 2020, the first resort-based cannabis dispensary opened at the world famous Hedonism II Resort in Negril ,at HeedoWeedos premier medical cannabis dispensary. All the cannabis sold in the dispensary is cultivated by locally, licenced farmers, and resort guests must have a medical card in order to make a purchase.
Many medicinal resorts have since popped up over the island. Coral Cove Wellness, located in Westmoreland, allows licensed guests, to purchase products from their onsite cannabis dispensary and offers "pharmaceutical grade products that are delivered to your door, beach lounger or hammock."
Visitors and medicinal cannabis
Visitors to Jamaica are also permitted to use medicinal cannabis, providing they apply for a permit. This permit lets them buy and possess up to two ounces of cannabis at a time, for medicinal purposes only.
To obtain a permit, visitors must prove that their medical practitioner prescribed or recommended it to them. Otherwise, they can sign a voluntary declaration to confirm this is the case. There's a fee involved too.
Cultivation for scientific purposes
Additionally, institutions or other SRC-approved bodies may apply to cultivate cannabis for scientific research and medicinal use. Cannabis can only be grown on approved land, and if grown with the relevant licence, the farmers are exempt from standard cannabis cultivation laws.
Indeed, Jamaica looks set to cash in on its growing medicinal cannabis industry. In 2018, the first shipment of cannabis for medicinal purposes was sent to Canada for testing. This potentially marks the start of trading between the two countries.
Industrial hemp in Jamaica
The amended law defines hemp as a "ganja plant having a THC content of less than 1%". It's excluded from the provisions in the Dangerous Drugs Act being recognised as a practical fibre that can be used for a variety of purposes.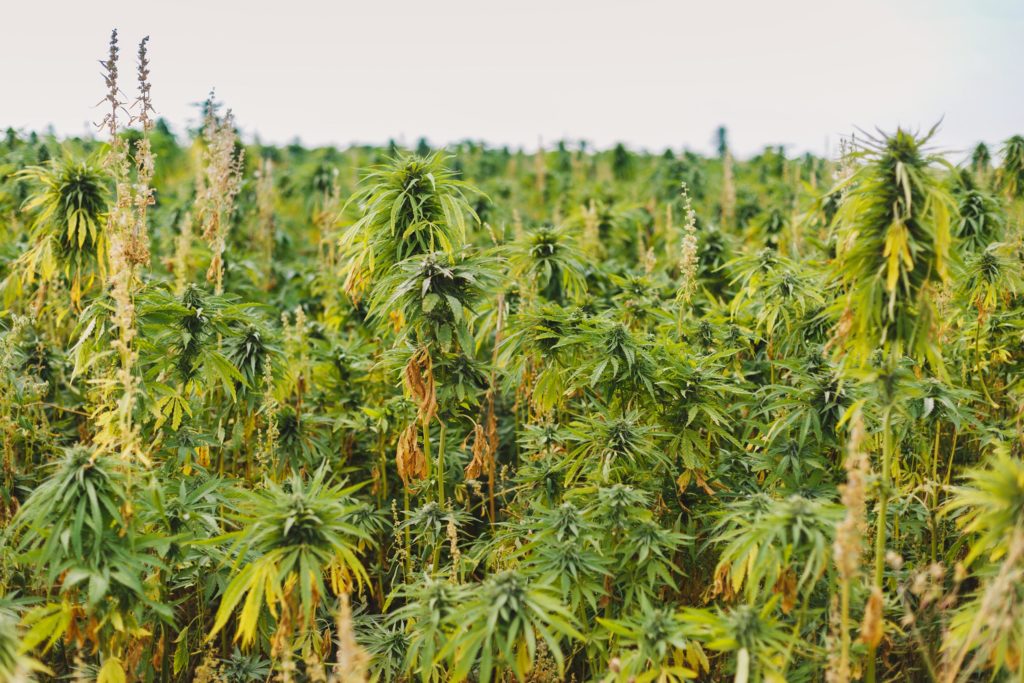 Its cultivation, sale, import, export and processing are all regulated under a licensing regime, which is established by the Cannabis Licensing Authority.
However, in spite of the fact that hemp is legal to grow, Jamaica's government has stated that it has no intentions of actively developing a hemp industry.
Dr Machel Emanuel, principal researcher of the Life Sciences Department at the University of the West Indies, pointed out that, while Jamaica's farmers are skilled at growing cannabis, they don't have the same expertise when it comes to hemp.
"Growing the plant for its fibre and seeds takes a very different protocol," he says, "because Jamaica's human resource and level of competence is not necessarily within that field."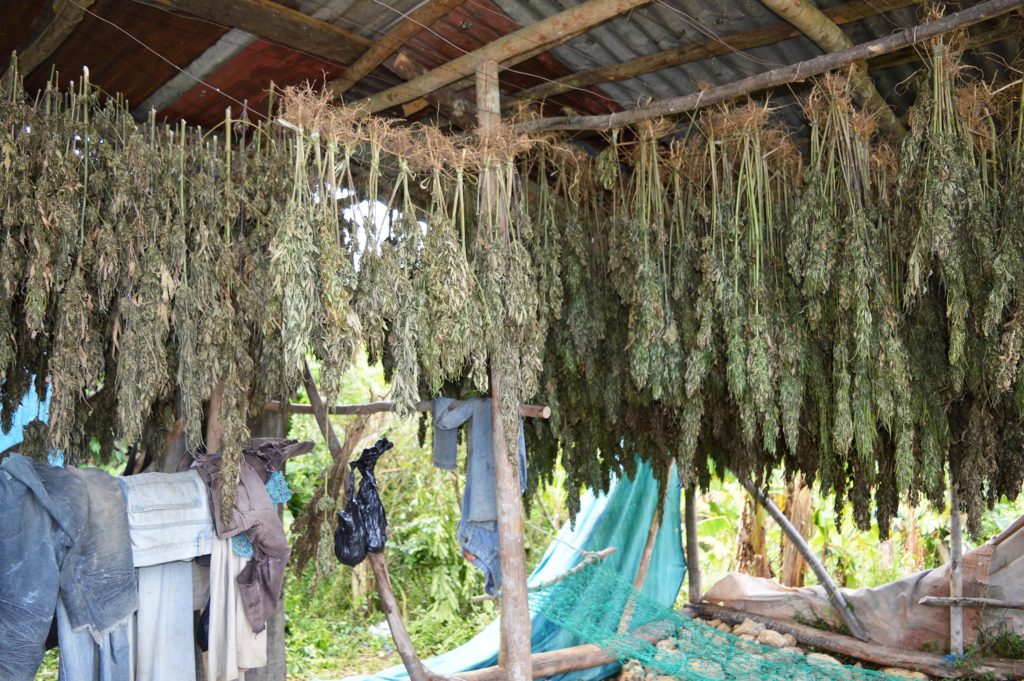 Good to know
If you are travelling to Jamaica (or currently live there), you may be interested to know the following:
Cannabis history
Jamaica has strong connections with cannabis. It's often regarded as part of the island's culture, along with Rastafarianism and music. However, the plant didn't arrive in Jamaica until as late as the 1800s. This is far later than most other parts of the world.
It was introduced via the indentured East Indian labourers, and gradually adopted by the Jamaican people for medicinal and recreational purposes. In the 1930s, Leonard P Howell and other Rastafarian elders incorporated it into their religious practices. They claimed that the plant had strong Hebrew origins.
In 1913, the country's 'white elite' and evangelical worshippers introduced the Ganja Law. The law not only prohibited cannabis use, but also gave enforcers special rights to use brute force against those who were caught breaking it. For many, it was a sign of colonial oppression, and did nothing to reduce the number of cannabis users in the country.
Now, the law has finally changed and no longer penalises those caught with limited quantities of cannabis for personal use.
Attitudes towards cannabis
Attitudes towards cannabis in Jamaica are mostly tolerant. This wasn't always the case, however. In the past, many people in the country were frustrated with international perception of Jamaica as the 'land of ganja', and the government maintained its strict anti-cannabis laws until 2015.
This has shifted in recent years. For example, the law now recognizes the importance of cannabis in Rastafarian sacraments, something that would have been unheard of a few decades ago. Medicinal cannabis is legal, and people are even permitted to grow the plant in their own homes. In fact, in terms of its laws, Jamaica is now one of the most progressive countries in the Americas.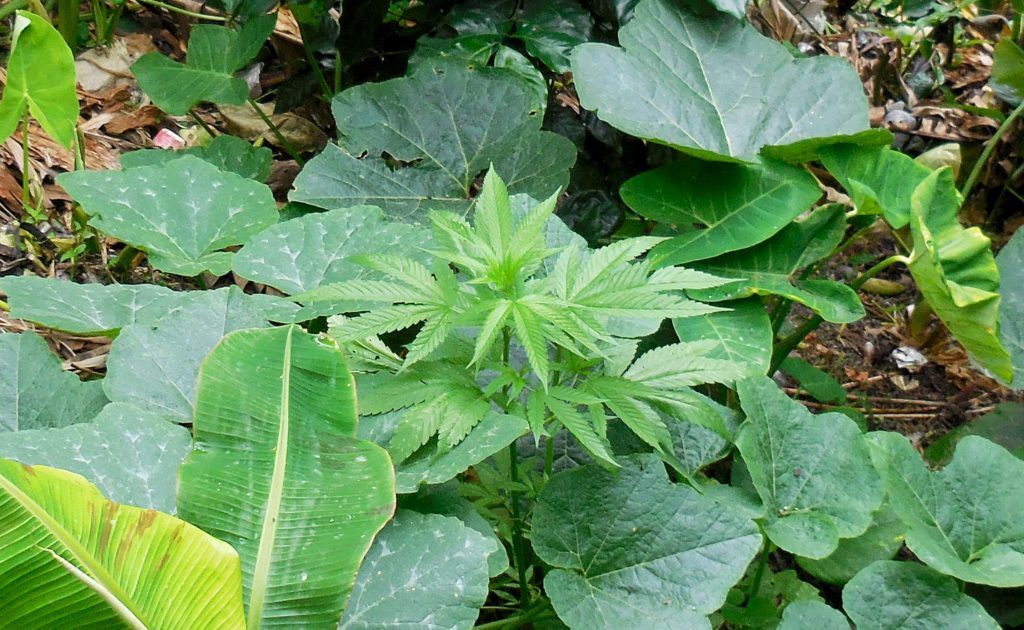 Jamaican cannabis strains
Prior to 2015, cannabis crops were often eradicated by the police. This forced farmers to explore modern hybrid strains, which offered shorter harvest cycles (giving them the chance to harvest their crops before being caught by the authorities).
Now, with the law adopting a more progressive stance, cultivators are able to return to older landrace strains.
The first Cannabis Cup was held in 2015, as part of the Rastafari Rootzfest. Local cannabis growers brought along 65 flower and hash strains to enter into the competition. Experts analysed the strains, and realised that hybridisation was well established in most of them.
A few were original landraces, such as the Longtime Weed, which, as the name suggests, boasts a long flowering period.
Cannabis and Rastafarians
In the past, the Rastafarians of Jamaica were persecuted for their use of cannabis, which takes a prominent role in their religious practices.
The hostility towards Rastafarians reached a pinnacle in 1963, during the Coral Gardens Massacre. Prime Minister Bustamante, the first prime minister of the country, was quoted to have said: "bring in all Rastas, dead or alive", and the authorities duly fulfilled his request. Over 400 people were imprisoned after the event, and the government issued prison sentences even for those who possessed tiny amounts of cannabis.
This was deeply problematic for the Jamaican Rastafarian people, who regard cannabis as a sacrament. The plant has deep religious significance for them, as they believe that it grew on the tomb of King Solomon.
Ras Iyah V, a Rastafarian board member of the country's Cannabis Licencing Authority, comments: "Just as people eat when they're hungry and drink when they're thirsty, they smoke ganja when they want to nourish their souls. It helps connect you with your inner being, the God being."
Until 2015, it was illegal for Rastafarians to even smoke a single joint. Now, Jamaica's government has ceased its persecution and tolerates cannabis use by this minority group, as long as it's for religious purposes.
Will it be legalised in the future?
It's difficult to say whether Jamaica's government will take the next step and fully legalise recreational cannabis use. At the time of writing, only a handful of countries in the world have done this, and it's still too early to say what the impact of their laws are.
However, given the progressive amendments the country has made to the Dangerous Drugs Act, full legalisation may happen in the future.
Disclaimer:

While every effort has been made to ensure the accuracy of this article, it is not intended to provide legal advice, as individual situations will differ and should be discussed with an expert and/or lawyer.